photos by Keith Borgmeyer and Anthony Jinson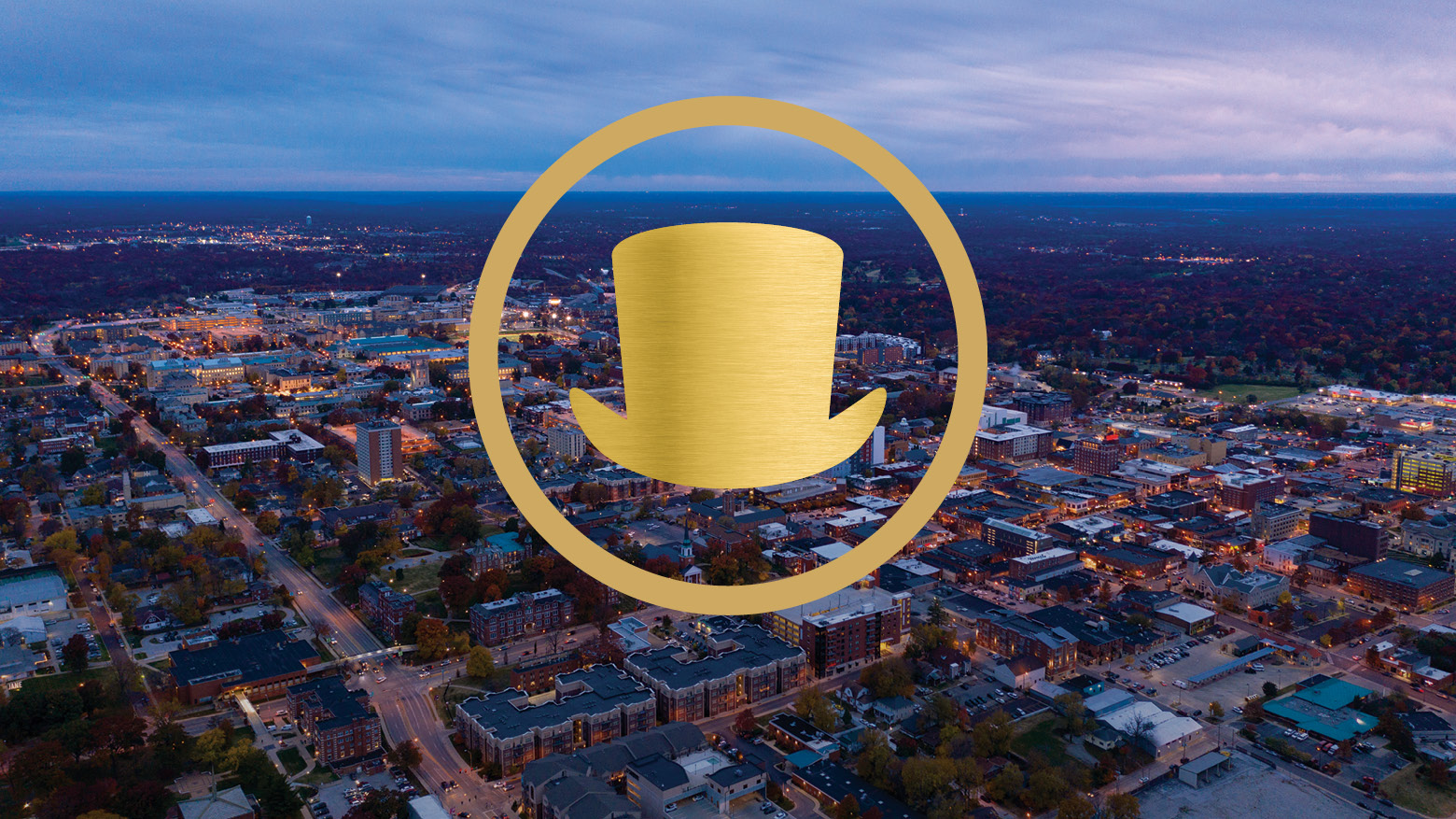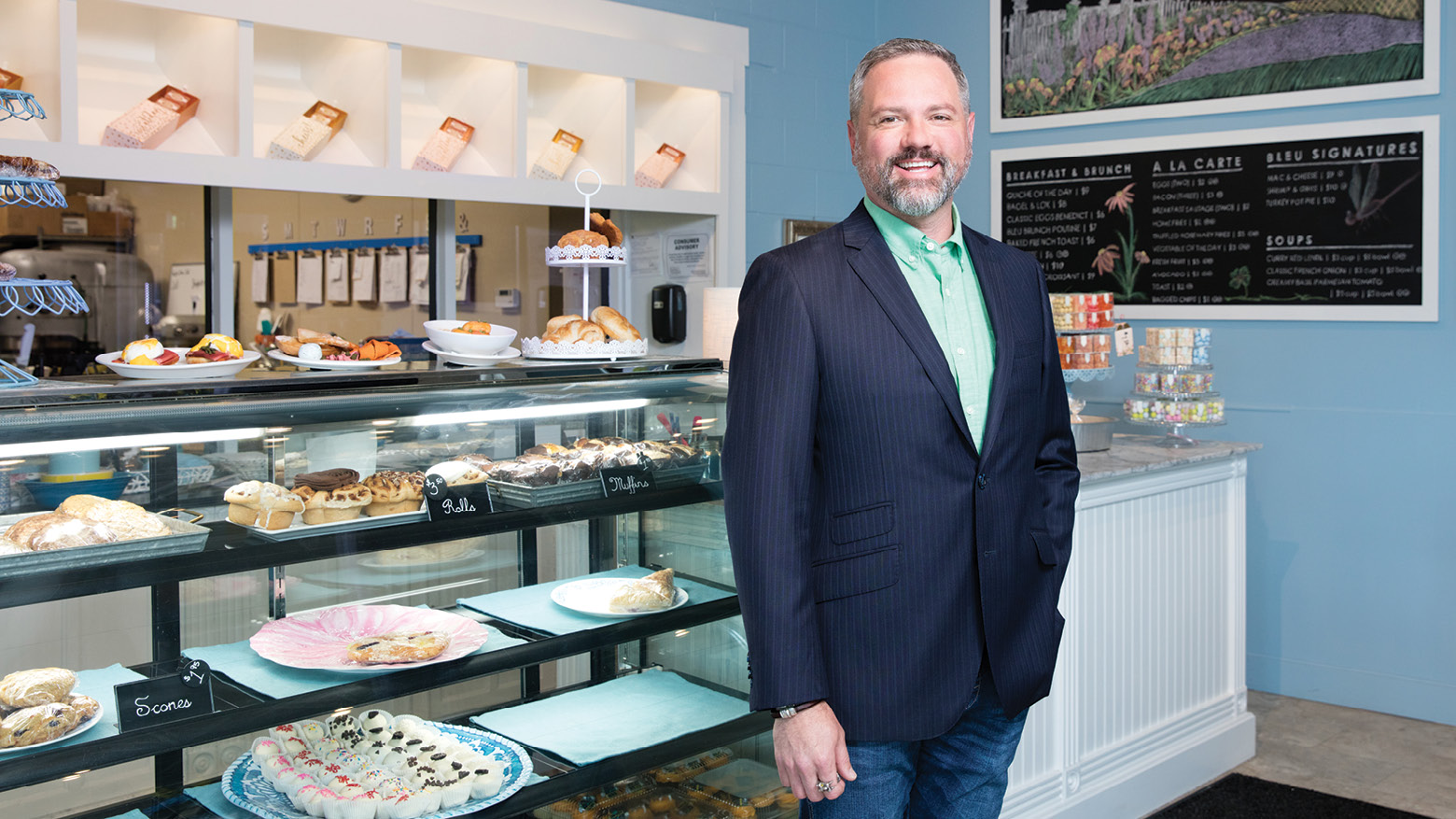 When reflecting on the winners of this year's Top of the Town awards, one thing is for certain: Columbia's business community is thriving! New business ventures, expansion of popular coffee shops, and growth in companies building their legacies here all tell that story. And the professionals who run these businesses are making just as much of an impact on the community through their leadership both in the workplace and in their volunteer efforts.
Learn a little bit more about these amazing people and businesses by getting to know our first and second place winners of our fifth Top of the Town awards. Congratulations, everyone!
Top Place to Work: 1-25 employees
124 E. Nifong, 660-537-1983
Jesse and Megan Walters opened Camacho Coffee, a coffee roastery, in September 2017. They sell their single-origin coffee beans, which are air roasted, to local eateries like B&B Bagel, and you can also find it on local grocery shelves. Camacho Coffee donates 10% of their sales to three charities in the area.
2601 Rangeline St.,
Ste. 101, 573-447-6666
The Grind Coffee House, owned by Ahmed "Aucky" El-Tayash, opened their second location last year on the north side of town and included a drive-thru service. The first location, on the south side of town, is near Rock Bridge High School and opened in 2016. If you aren't sure what to order, try the Aucky, named after the owner.

Pictured: Camacho Coffee founders, Jesse and Megan Walters.
Top Place to Work: 26-50 employees
10 Southampton Dr., 573-442-7500
The first Las Margaritas Mexican restaurant opened up in 2012 with a patio overlooking a lake where customers can enjoy the signature lime margarita. They now have three locations, and all are owned by Francisco Esquivel. The newest location opened downtown earlier this year. They offer a range of Tex-Mex and authentic Mexican foods.
7125 W. Henderson Rd., 573-445-4770
Manor Roofing & Restoration was founded in 2006 by owner Nick Allen. They work on commercial and residential exterior remodels and new construction. They provide products and services for roofs, siding, windows, doors, and decks. Team members go through extensive training to meet industry standards. Manor Roofing & Restoration supports and sponsors many local charities.
Top Place to Work: 51+ employees
1400 Veterans United Dr., 800-884-5560
Family-owned, Veterans United focuses on helping military veterans and current service members become homeowners. This full-service lender has a team of leaders with a variety of experience to help create the best loan experiences for their customers.
2635 S. Providence Rd., 573-777-5001
Iron Gate Real Estate is a new company in Columbia that's already making quite the impression with their customized service and technology. Their agents are constantly trained and mentored in order to provide the best service possible to their clients. It is a fundamental goal of theirs to enhance and impact the local economy and culture.
Top Salesperson
First Place: Megan Meier-Walters, House of Brokers
1515 Chapel Hill Rd., 573-808-6457
Megan Meier-Walters is an agent with House of Brokers Realty. House of Brokers is a real estate partnership that provides professional and personal service. Meier-Walters also co-owns Camacho Coffee with her husband, Jesse Walters, and has volunteered at Big Brothers Big Sisters of America since 2014.
2635 S. Providence Rd., 573-881-3400
Laurie Kempker has been a real estate agent for five years and currently works with Iron Gate Real Estate. She specializes in helping first-time home buyers, those looking for rental properties, and those selling land or houses. Her service area includes everything from Columbia all the way to the Kingdom City area.
Top Office Digs
1400 Veterans United Dr., 800-884-5560
For more information, see Top Place to Work, 51+ employees.
2635 S. Providence Rd., 573-777-5001
For more information, see Top Place to Work, 51+ employees.
Top CEO
720 E. Broadway, 573-874-8100
Steve Erdel is the CEO of Central Bank of Boone County. Since becoming CEO in 2006, he has led the Columbia-based bank to great success. One of the larger projects he's worked on while CEO is overseeing the bank's name change, in 2015, from Boone County National Bank. Central Bank of Boone County is a well-known company with more than 140 locations across the Midwest.
10620 N. Highway VV, 573-443-8383
Adam Kinser owns ServiceMaster of Columbia with his wife, Aniceta. Since 2002, they have specialized in removal of water, mold, soot, odors, and sewage. He treats his employees like a family. Kinser also cares for his clients by keeping them in the loop with the process and by helping them prevent a disaster from happening.
Top Staffing Company
1729 W. Broadway, Ste. 4, 573-446-4250
JobFinders is an employment service that helps people find the right job for them. They provide temporary staffing, training, career counseling, and more. The company was founded in 1986 by Anne Williams. They believe in integrity, communication, and commitment. JobFinders is a Missouri Certified Women's Business Enterprise.
1000 W. Nifong Blvd., Bldg. 8, 573-875-0605
Kelly Services is a staffing agency that was founded in October 1946 by William Russell Kelly. They provide for job seekers in education, science, engineering, and more. Kelly Services help connect people with companies.
Top Commercial Realtor
2501 Bernadette Dr., 573-445-1020
Paul Land is the owner of Plaza Commercial Realty. He has 32 years of service in the Columbia and Boone County area devoted to commercial real estate brokerage. Land is an active member in the Society of Industrial and Office Realtors. He is known as the market leader in commercial property and transaction volume in leasing and sales.
213 N. Stadium Blvd., Ste. 203, 573-443-3200
Gina Rende is a commercial real estate salesperson with Maly Commercial Realty. She has been with the company since 2014. Her skills in customer service and sales help her excel at her job. Rende helps find companies the right spot to locate their business to succeed.
Top Commercial Lender
3855 Forum Blvd., 573-447-8707
Eric Morrison is the senior vice president and the Columbia market president of Providence Bank. Morrison has been with Providence Bank since 2010. He has great leadership skills, as well as customer service, business development, and marketing skills. He is a part of the Emerging Professionals in Columbia group through the Columbia Chamber of Commerce.
15 S. Fifth St., 573-441-1500
Drew Smith is a senior vice president, executive market manager, at First State Community Bank. He has held this position since 2017, and his responsibilities are in Columbia, Marshall, and Boonville.
Top Commercial Builder
209 E. Broadway, 573-874-1444
Coil Construction was founded in 1975 by Randy Coil. They started out as a small remodeling company, but today they're a full-service construction management firm. They built the Sam's Club in Columbia back in 1990. David Coil, Randy's son, keeps up the tradition of commitment to service and excellence.
3316 Lemone Industrial Blvd., 573-449-7200
Little Dixie Construction was created in 1964. Their expertise is in general contracting, design–build projects, and green or LEED projects. They work in commercial, residential, land development, healthcare, and industrial management projects. They will soon be moving into a new office space that they're building for themselves.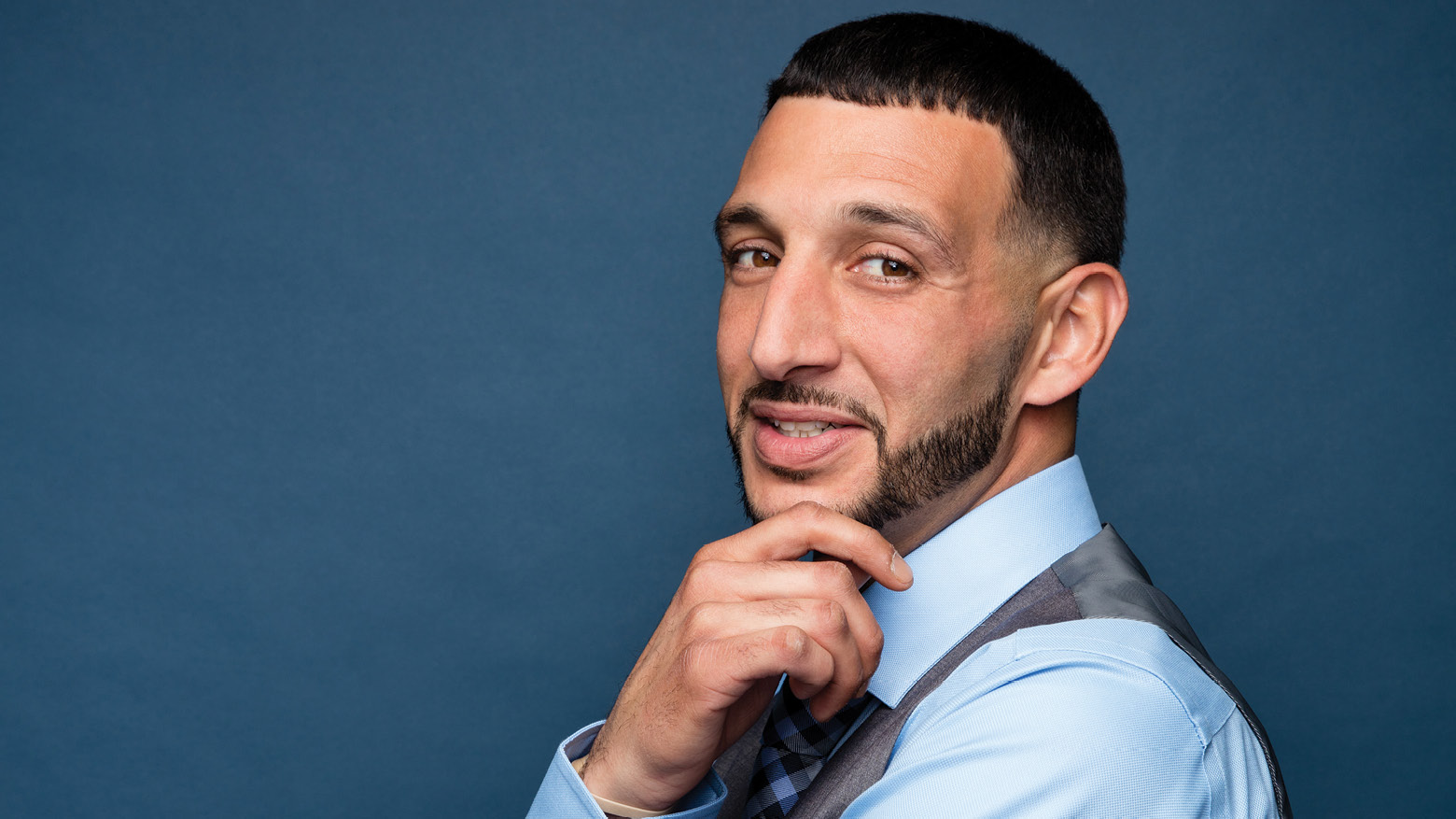 Pictured: Aucky El-Tayash, The Grind Coffee House
Top Emerging Professional
2601 Rangeline St., Ste. 101, 573-447-6666
Aucky El-Tayash owns The Grind Coffee House, which now has three locations. The first location opened in 2016, the second opened last year, and the third opened this year. He excels in leadership and team building and strives to make The Grind Coffee House shops feel like a home away from home. El-Tayash also supports local businesses and carries products from local bakeries and baked goods shops.
720 E. Broadway, 573-874-8100
Brad Roling is an assistant vice president at Central Bank of Boone County. He started with the bank in 2014 as a commercial loan officer. Roling gives back to the community by being a part of the Ronald McDonald House Charities of Mid-Missouri's Red Shoe Crew. The crew helps spread awareness about the Ronald McDonald House to the community, raise resources, and volunteer their time.
Top Business Insurance
2609 E. Broadway, Ste. 214, 573-445-5774
Stephanie Wilmsmeyer has been the owner and primary agent of Stephanie Wilmsmeyer State Farm Agency since 2007. She provides services like home, auto, renter's, and life insurance. She asks the tough questions so that in the case of the unexpected, you're covered.
200 Southampton Dr., 573-875-4800
TIG Advisors was founded in Columbia in 1898. They specialize in risk management, personal insurance, corporate wellness, self-funded plans, and more. TIG honors their word and treats their clients like family.
Top Accounting Service
2005 W. Broadway, 573-442-6171
Williams-Keepers LLC started in 1923, and they have become one of the largest independently owned accounting firms in Missouri. They built their practice on traditional audits, tax services, and accounting. They now also provide estate planning and litigation support.
1604 Business Loop 70 W., 573-445-3805
Accounting Plus, co-founded by Tina Marso and Denise Nelson, has been providing business solutions for more than 26 years. They work to offer you the top service for a fair price. Their services include taxes, payroll, and business advising.
Top Bank
720 E. Broadway, 573-874-8100
Central Bank of Boone County has been around for the past 175 years. They now have 10 locations in Columbia. Central Bank of Boone County provides commitment to customer service and financial expertise. The bank is also involved in coordinating events and fundraisers.
3855 Forum Blvd., 573-447-8707
Providence Bank was founded in 1888 as the Bank of Lincoln County. They later changed the name to Providence Bank in 2007 and opened a location in Columbia. Their values include being respectful, responsive, reliable, and resourceful. The bank is deeply committed to the communities that they assist.
Top Janitorial Service
1123 Wilkes Blvd., Ste. 450, 573-874-5100
Atkins Inc. is a family-owned company that started in 1925. They offer commercial cleaning as one of their services for businesses and organizations of all sizes. They're known throughout the Columbia area for providing businesses with superior professional cleaning services.
1206 Business Loop 70 W., 573-445-9999
Tiger Maids is a family-owned and -operated business. They offer free cleaning estimates with no appointment needed. Their service includes residential and commercial cleaning, and Tiger Maids also offers options for one-time cleaning or regular cleaning maintenance.
Top Receptionist/Administrative Assistant
2635 S. Providence Rd., 573-777-5001
Kayla Elder is the administrative assistant at Iron Gate Real Estate. She has been with the company since the beginning of the year, when the company started. She has volunteered at Caring for Columbia and has had the opportunity to work on the landscape at Grant Elementary School.
720 E. Broadway, 573-874-8100
Jody Munson, who joined Central Bank of Boone County in 2002, is the executive administrative manager and secretary of the board. She oversees and performs a range of diverse administrative activities for the CEO, president, senior officers, and the board of directors. She volunteers as a troop leader for her daughter's Girl Scouts troop and is a member of Chapter KJ PEO.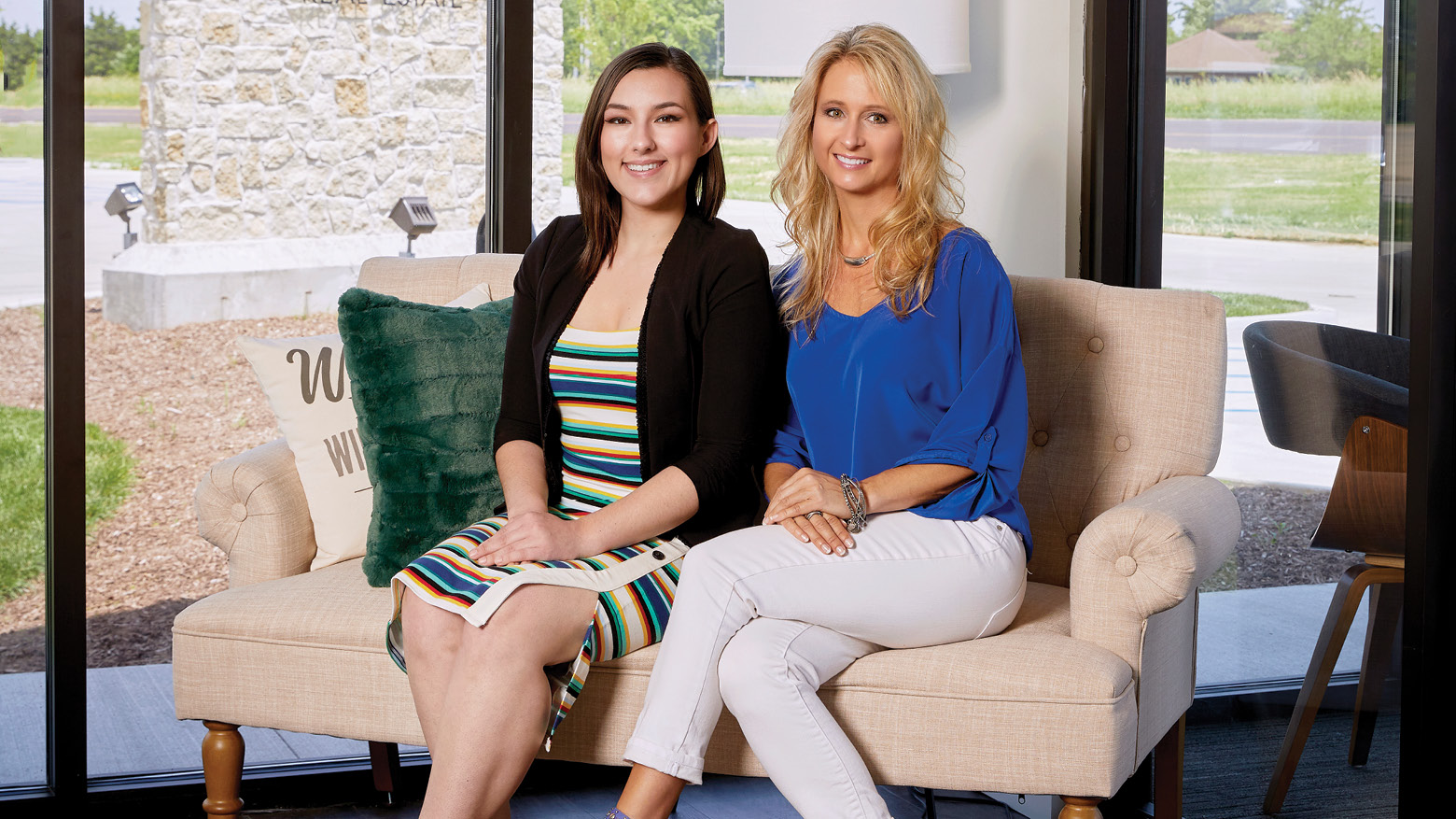 Pictured:Kayla Elder, Iron Gate Real Estate
Top IT Company
311 Bernadette Dr., 800-346-8934
Midwest Computech started in 1982. They are committed to providing the most reliable IT service in Missouri. Midwest Computech is a complete technology solution. There are many reasons as to why organizations use them for technological solutions; some include the fact that they respond within 30 minutes and they promise 100% satisfaction guaranteed.
810 E. Walnut St., 573-443-1555
Gravity is owned by Jonathan Sessions. Gravity is an Apple authorized service provider, and they can fix any Apple device made between 1980 and tomorrow. The technicians have decades of experience. Some of the services that they provide include house calls, iOS repair, data recovery, and Mac upgrades and repairs. Gravity will get your Apple device running again.
Top Chamber Volunteer
720 E. Broadway, 573-874-8100
Jill Cox is senior vice president, commercial lending, at Central Bank of Boone County. Cox helps clients who are looking to buy or sell real estate, construct a new home, or start or grow a business. She started with Central Bank of Boone County in 1988 as a teller. She is a member of Women's Network through the Columbia Chamber of Commerce.
4200 Merchant St., 573-777-5900
A Columbia Business Times 20 under 40 winner earlier this year, Krista Kippenberger is the director of operations and co-founder of Focus on Health Chiropractic. Kippenberger dedicates her time to volunteering for the Central Missouri Humane Society as a foster pet parent and organizes drives for Focus on Health. She is the energy behind their news, events, charity drives, and social media efforts.
Top Commercial Photographer
4802 Shale Oaks Ave., 573-881-1050
Casey Buckman Photography is owned by Casey Buckman. He started the business more than 15 years ago. Buckman enjoyed photography even before he studied it at the Missouri School of Journalism. He does weddings, portraits, and corporate, academic, and personal events.
1023 E. Walnut St., Ste. 101, 573-449-8880
SilverBox Photographers was founded in 2005 by Kim Wade and Amy Enderle. Annika Miller joined the team in 2010. In 2011, Wade and Miller opened a studio. Together they have more than 30 years of photography experience. Wade's pictures have been on "Oprah" and "Entertainment Tonight." Miller has done more than 150 senior photos sessions and over 100 weddings.
Top Engineering Firm
912 Old 63 S., 573-875-4365
Timberlake Engineering was founded in 1999 by Mark Timberlake. They provide high-quality designs, and some of their services include HVAC, lighting, and plumbing. They have a draftsman to help design, develop, and maintain the projects alongside a project engineer. Timberlake Engineering has an experienced staff and they strive to develop relationships with their clients.
1000 W. Nifong Blvd., 573-447-0292
Started in 1985, Crockett Engineering Consultants does what it takes to understand what the clients want, and they have the ability to deliver it. They have evolved from only doing civil engineering and land surveying in 2009 to adding structural engineering as well. In 2013, they opened Crockett Geotechnical Testing Lab to help provide geotechnical engineering to clients. Crockett Engineering removes uncertainty, communicates well, and makes it easy on every project that they do.
Top Architectural Firm
2801 Woodard Dr., Ste. 103, 573-443-1407
Simon Oswald Architecture was founded in 1987. They provide services for new construction, additions, renovations, and adaptive reuse. SOA creates places to enhance communities. They also encourage sustainable design.
2120 Forum Blvd., Ste. 101, 573-449-2683
In 1978, when PWArchitects was founded, they offered planning, architectural services, interior design, and sustainable design to government, education, corporate, health care, and private clients. Assisting their clients in achieving their project goals is the foundation of their services. They're committed to delivering innovative designs for each project.
Top Advertising Agency
1023 E. Walnut St., 573-229-0123
Kristen Brown started Hoot Design Co. 10 years ago. They are a women-led agency that approaches every task with joy to help create the best work. They can help express your essence with a new brand design, write your reality with advertising, or engage your audience with digital marketing and website design. They want to help make your brand irresistible.
500 Business Loop 70 W., 573-443-8783
Jack Miller started True Media back in 2005. They want to offer more than just a media buy, which is why they give you the most current knowledge on who interacts with your brand. True Media uses database analysis and external marketing research to better comprehend consumer performance. They are always looking for knowledge, answers, and perfection.
Top Coffee Meeting Location
2601 Rangeline St., Ste. 101, 573-447-6666
For more information, see Top Place to Work, 1-25 employees.
24 S. Ninth St., 573-874-2852
For the past 27 years, Lakota Coffee Company has been a Columbia tradition. Skip DuCharme started Lakota Coffee after learning about coffee roasting. They hand-roast small batches of their coffee beans, keeping in mind their mission to provide the finest fresh-roasted coffee and specialty coffee beverages, pastries, and sandwiches.
Top Place for Business Lunch
709 Cherry St., 573-256-1995
Addison's is an American grill that was opened by four friends in 1999. They are a full-service restaurant and bar. Addison's serves appetizers, pizza, pasta, salads, sandwiches, steak, and seafood. On tap, they have 20 craft beers, with a long wine list and other special liquors available. They just opened a second location on the south side of Columbia.
3107 Green Meadows Way, 573-442-4969
Murry's has been a Columbia establishment for more than 30 years. They offer good food and good jazz. Their concept is to keep it simple and make it good. They have an eclectic menu and an inviting atmosphere. Murry's uses locally sourced products for their bar and restaurant. They offer live music five nights a week.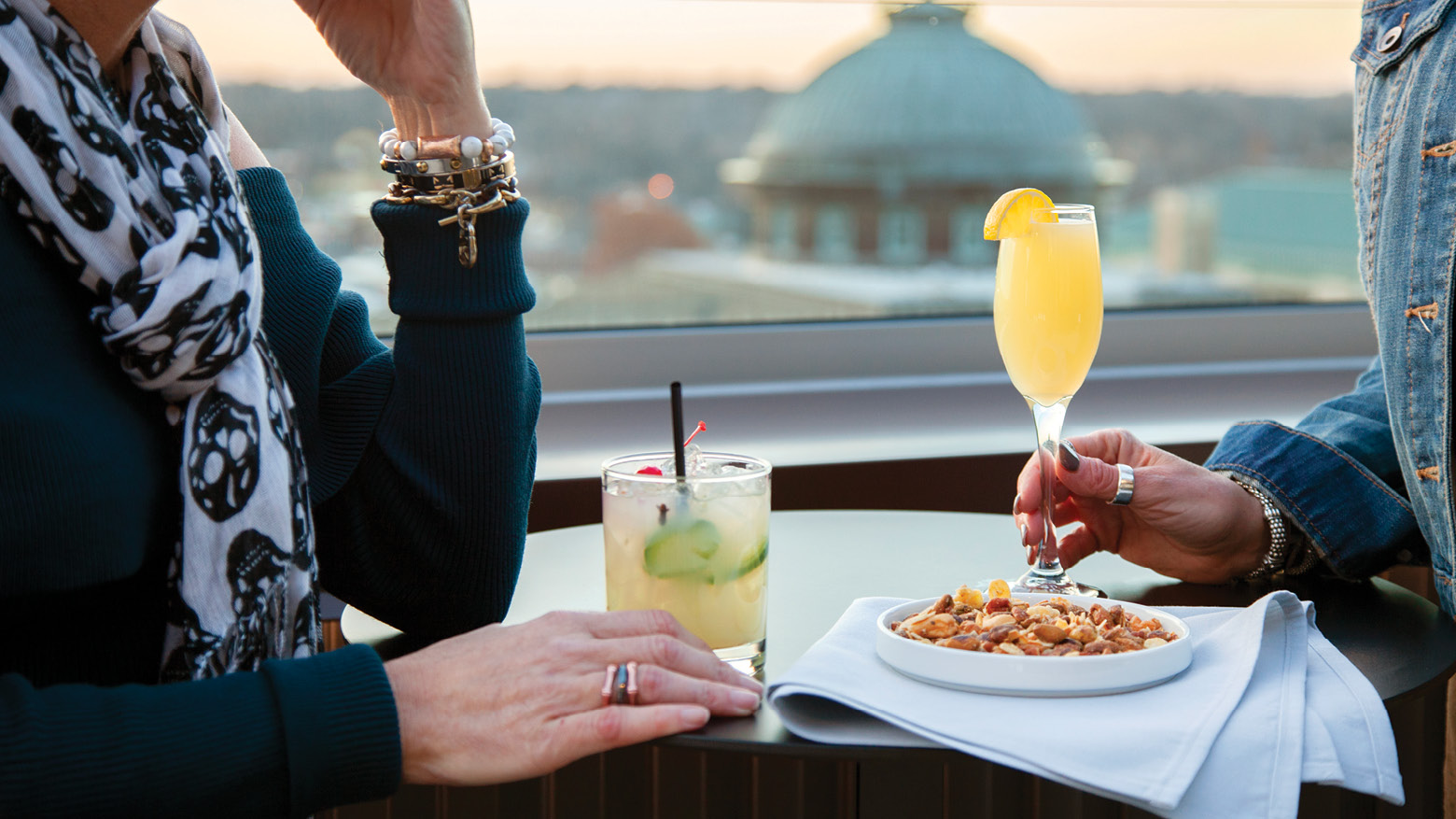 Pictured: Pressed.
Top Event Location
803 E. Walnut St., 573-424-6660
Pressed. is a newly opened lounge, bar, and event space. It's a place for drinks with friends, family, and co-workers. Pressed.'s passion is food and drink. They offer carefully selected wines, locally crafted beer, and food-inspired cocktails. You can enjoy a wonderful view of Columbia from their rooftop space.
1111 E. Broadway, Eighth Floor,573-875-7000
The Roof is a large bar and lounge space on top of The Broadway hotel. They have American cuisine with handcrafted cocktails, live local music, and panoramic views of the city. You can sit around a fire pit while the bartenders and chefs prepare your food and drink. On the weekends, they have a DJ to take the party to the next level.
Top Caterer
1010 Club Village Dr., 573-815-9711
Hoss's Market & Rotisserie is independently owned by Trish and Jim "Hoss" Koetting. They founded Hoss's Market to help people get good food as they go about their busy lives. You can dine-in or take home a home-cooked meal. Hoss's Market high-quality food is made with fresh ingredients. Their catering services include box lunches, weddings, tailgates, graduation parties, and more.
1780 Lindbergh Dr., 573-442-8220
Travis Tucker opened Bleu Restaurant & Catering in 2007. When that venue closed, he opened Bleu Events. They offer catering for all types of events, and Bleu Events can help you plan your event with delicious food, flawless service, and creative arrangement.
Top Happy Hour Location
504 Fay St., 573-397-6786
Logboat Brewing Co. is co-owned by three best friends: Tyson Hunt, Andrew Sharp, and Judson Ball. The three founded Logboat in 2014. They send beer across 37 counties in Missouri, but plan to eventually expand to selling throughout the whole state. Logboat brews their core beers as well as seasonal, special release, barrel aged, and special series beers.
10 Southampton Dr., 573-442-7500
For more information, see Top Places to Work, 26-50 employees.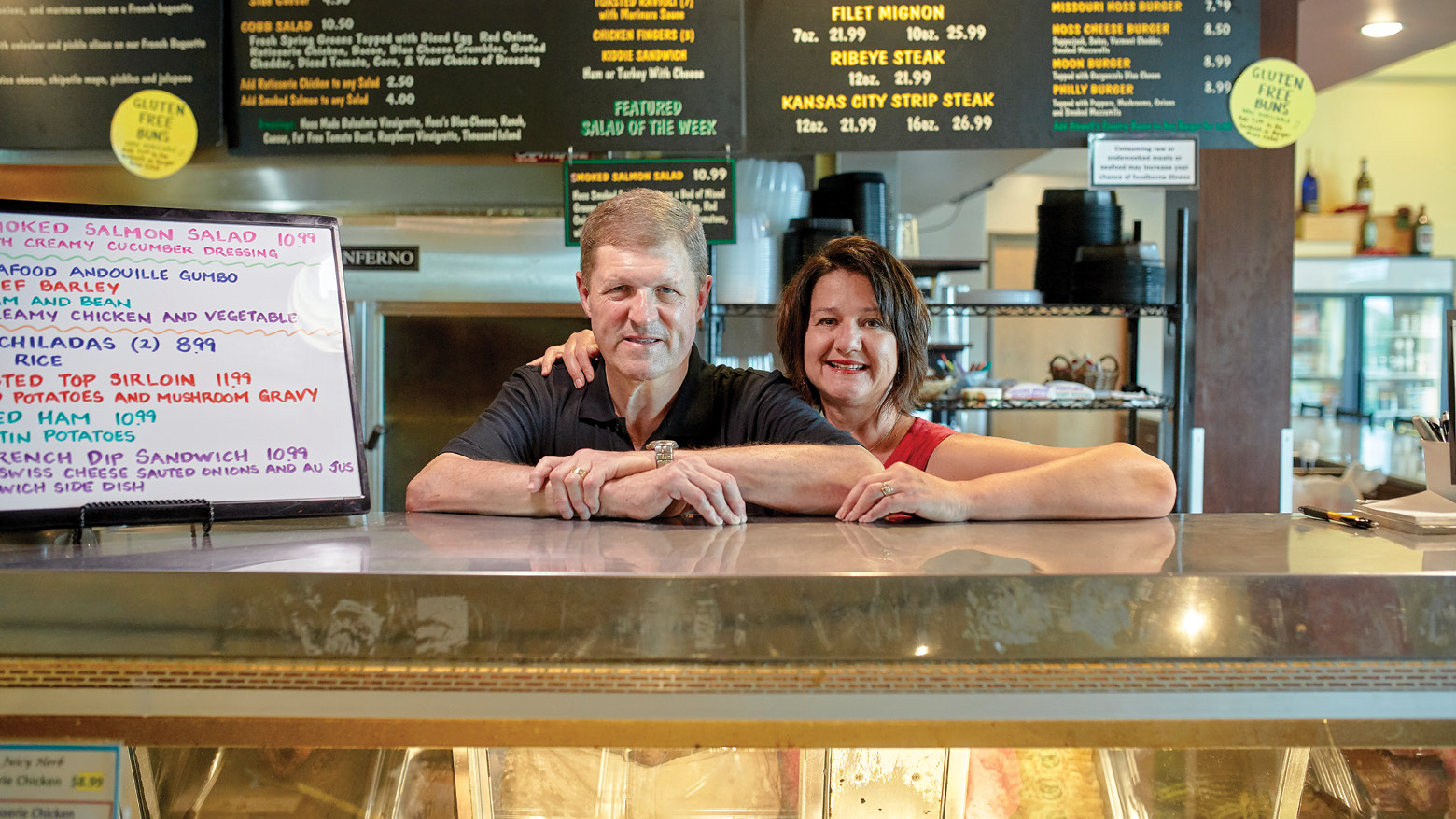 Pictured: Hoss Market
Top Place to Close a Deal
720 E. Broadway, 573-874-8100
For more information, see Top Bank.
Second Place: CC's City Broiler
1401 Forum Blvd., 573-445-7772
In 1995, owner of CC's City Broiler Scott Cleeton had his sights set on opening a CC's location in Columbia. He wanted to bring in both New York- and Chicago-style steakhouses to Mid-Missouri. CC's City Broiler is a premier restaurant and steakhouse. They offer only the best beef and flown-in fresh seafood.
Top Entrepreneur
First Place: Travis Tucker, Option LLC (Bleu Events, Pressed., Bleu Market & Bakery)
1780 Lindbergh Dr., 573-442-8220
Travis Tucker is the owner of Bleu Events, Pressed., and Bleu Market & Bakery. He opened Bleu Events in 2007 and has expanded the business since. He will help create an unforgettable experience for you and your family and for your company.
2601 Rangeline St., Ste. 101, 573-447-6666
For more information, see Top Emerging Professional
Top Team-Building Experience
218 N. Eighth St., 573-340-5625
Breakout CoMo gives you 60 minutes of exciting and puzzling clues to break out of a room you're locked in. Your team can consist of two to 10 people. Each room is different and themed around something unique. Some of the themes include Y2K, Mark Twain Museum, and The Gambler. Bring friends, family, corporate teams, or game aficionados to see if you have what it takes to break out.
Second Place: Lazer Lanes
3412 Grindstone Pkwy., 573-447-6021
Lazer Lanes has a 12-lane bowling alley along with a full-service bar. You can also run around and play laser tag in their 3,500-square-foot laser tag arena. Or, if you want to just play arcade games, they have more than 40 different games to play. They're equipped to host birthday parties, casual play, groups, teens, adults, and corporate events. Lazer Lanes will be open at its current location through September 8, and then they'll be opening back up in the Columbia Mall in November.
Top Business Coach
573-808-6315
Kim Becking is a national author, consultant, and speaker. She offers many speaking and coaching programs through her company Looking Forward, Living Life. Becking encourages people through humor, inspiration, and hope after battling breast cancer. Using personal experience, she helps other people with their lives.
Second Place: Tom Trabue, theNextStep
3530 S. Old Ridge Rd., 573-489-2091
Tom Trabue is a tailored business coach. His company, theNextStep, offers one-on-one personal coaching, business management practices, and personalized seminars. Trabue enjoys helping his clients break through barricades, whether it's on a personal level or a professional level.

Pictured: Kim Becking
Top Business Attorney
2412 Forum Blvd., Ste. 101, 573-874-1122
In 2016, Nathan Jones opened his own law firm, Nathan Jones Law. He specializes in business and estate law. Jones works all the time, whether that be for his firm or for the community. He is a board member for the Community Foundation of Central Missouri and vice president of the board for Playing 4 Hope in addition to his involvement with many other organizations.
Second Place: Daniel Beckett, Smith Lewis LLP, Attorneys at Law
111 S. Ninth St., 573-443-3141
Daniel Beckett, a U.S. Marine Corps veteran, practices many types of law: personal injury litigation, banking and finance law, commercial litigation, corporate law, real estate and land use law, employment law, and eminent domain law.
Top Commercial Landscapers
2450 Trails West Ave., 573-445-4465
Beginning in 1985, Tim and Toby Rost founded Rost Inc. This landscaping company is the premier landscape design–build firm in central Missouri. In addition to designing and building landscapes, they offer landscape maintenance, irrigation services, lighting, and fencing. Rost makes every effort to offer clients excellent design services and thorough landscape installation.
3403 Lake Front Ct., 573-795-5820
Lanier Landscaping, founded in 2015, offers designs and plans for everything from hardscaping to fireplaces, outdoor features, patios, and more. They then also build the projects. One new technological feature that they provide is a 3D-rendered video of projects for their clients to see. Lanier Landscapes produces unique designs for each of their clients.
Top Videographer
2301 Chapel Plaza Ct., Ste. 3, 573-289-5540
Chimaeric Motion Pictures is a commercial video and film production company. Their projects are for commercials, films, and video production for nonprofit organizations. Chimaeric incorporates creative collaboration to work gracefully with their clients, staff, and co-creators. Their team consists of owner David Anderson and team members Paul Mossine and Jen Huemmer.
505 Fay St., Ste. 204, 573-303-5476
The Evoke Group started in 2014 to fill a need for media production services like creating videos and websites. Since then, they've grown into a full-service agency. They still produce videos and design websites, but now they also work with clients to create marketing strategies, always adapting to an ever-changing market and world.
Top Commercial Interior Designer
3409 Buttonwood Dr., 573-443-8755
Melissa Murphy is co-owner and design center manager at Johnston Paint & Decorating. She worked at the company for years before taking it over. She helps bring in new ideas to the company and considers the employees to be like family.
108 Corporate Lake Dr., 573-639-1989
Anne Tuckley is the owner of Anne Tuckley Home. She has been in the interior design business for more than 20 years. Tuckley wants your home to be a reflection of you and your style. Her creativity and attention to detail is shown throughout her work. Her experience is in new construction, remodeling, and conceptualizing out-of-the-box ideas