Off to a Running Start: Brandi Huebner, Kelly Bietsch, Anne Tuckley, and their Entrepreneurial Spirits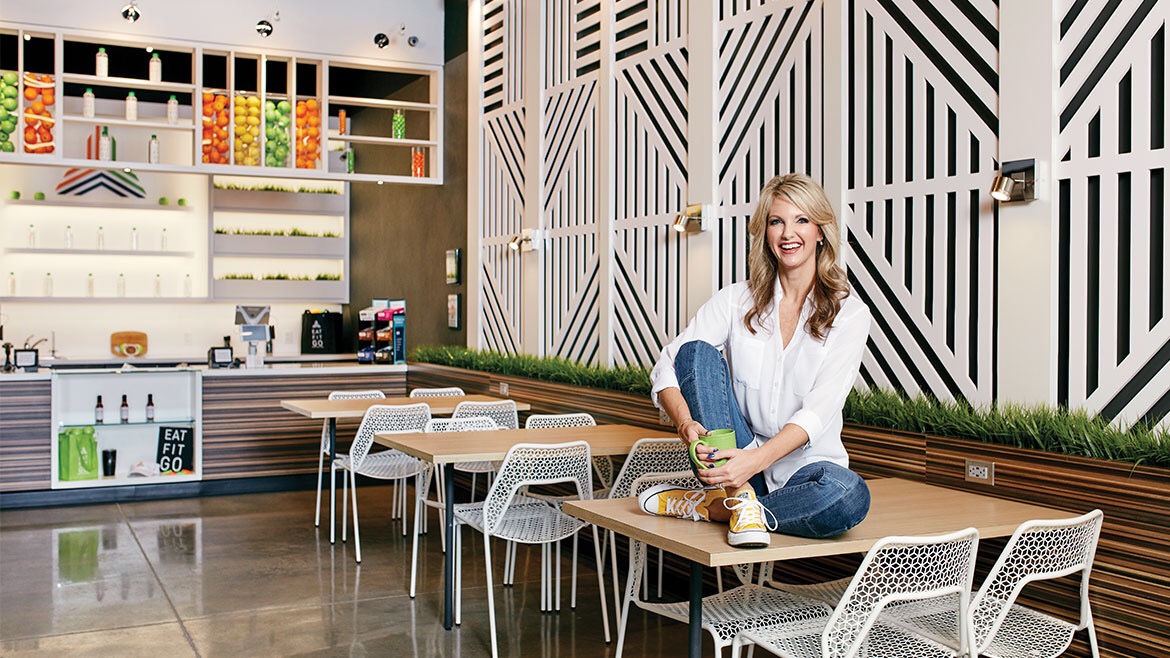 The Passionate Newcomer
Brandi Huebner – Owner, Eat Fit Go
Brandi Huebner brought the franchise Eat Fit Go to Columbia in April of 2017 after working part-time as an aesthetician at Pela Cura Laser & Medical Spa. Eat Fit Go came into Huebner's life just when she needed it most.
While suffering for 20 years with undiagnosed Hashimoto's disease, an auto-immune disorder that is triggered by eating gluten, Huebner's extreme fatigue became a daily obstacle. It was the late Dr. William Trumbower, a specialist in obstetrics and gynecology at Pela Cura, who was able to explain her illness after taking the time to do extensive bloodwork.
One year after her diagnosis, Huebner found herself struggling to keep up with maintaining her health. "I was a busy, on-the-go mom and at 2:00 in the afternoon would realize I hadn't eaten yet," Huebner says. "You can't just stop and get something quick that's healthy — you don't know what has gluten and what doesn't."
While visiting her hometown of Omaha, Nebraska, with her husband, Jeff, Huebner stopped by an Eat Fit Go on the suggestion of a friend. "Well, I don't even know what this is, but I have to have it," Huebner says, explaining her reaction upon walking in. After hearing more about Eat Fit Go's mission to provide healthy, delicious options for people, well, on the go, Huebner was determined to bring the franchise to Columbia.

One year later, the doors of Columbia's first Eat Fit Go opened, recording one of the most successful opening days on any Eat Fit Go franchise. Huebner attributes the store's success to the marketing and meal delivery she did before the doors officially opened.
"I drove to our distribution center in Kansas City once a week to pick up orders for interested customers and businesses," Huebner explains. "Each week my sales nearly doubled, and by the time our doors were open, we had a nice customer base and many more who couldn't wait to try it."
Building off of this success, Huebner and Tiffany Wild, her business partner and best friend, opened a second location in O'Fallon in early 2018.
As the business expanded, Huebner saw that the need for an easy place to get healthy food went beyond just those with dietary restrictions. "I knew there were a lot of other people struggling with the same issues I was. Beyond allergens and weight loss, it helps busy moms and elderly people who don't want to cook for themselves," she says.
Through Eat Fit Go, Huebner hopes to share her knowledge on healthy eating with the community of Columbia. "I have hopes to get into schools to do talks about healthy eating with kids, maybe making it an option to bring in meals," says Huebner.
In 2018, she wants to educate more customers about what Eat Fit Go offers: catering, delivering, in-store options. In time, Huebner hopes to open a second location in Columbia, but she's happy focusing on giving back and spreading awareness on what Eat Fit Go has to offer now. "The gratefulness of our customers that come in telling their success stories makes me feel like we did the right thing," Huebner says.
After suffering for two decades, Huebner was ready to take back her life. Now, she's ready to use Eat Fit Go as a platform to change the way Columbia thinks about eating.
The Enterprising Educator
Kelly (Kilgore) Bietsch – Owner, Kilgore Respiratory
Kelly (Kilgore) Bietsch, owner of Kilgore's Respiratory Services, has always been motivated by her passion for helping others. "All my life, I've always wanted to do more," she says.
Bietsch's business dreams became reality after she put her house on the market and moved to Columbia to start her practice in 2003.
Kilgore's Respiratory Services treats sleep apnea and other respiratory conditions and provides ventilators, oxygen tanks, and nebulizers to its patients. Bietsch and her husband, Fred, opened their business in the back closet of the building that they're now in. By 2007, they had around 100 patients. By 2018, that number had grown to 12,000 in three locations.
"I knew I was doing something that no one else was. I was going to be the education company," Bietsch says. "There are plenty of big, strong, national companies that are more organized that I knew I couldn't fight. But once I grabbed that education niche, it was like a fever, and I just wanted to help."
As the owner of the practice, Bietsch is able to spread herself out and oversee all of the business's many different moving parts. Bietsch works in her clinical capacity as a respiratory therapist multiple times a week. She also does educational lunches with doctors to teach them about different respiratory issues. "A day here is awesome," she says. "It's busy and it's never the same day. I get to educate and motivate, and I try my best to lead by example."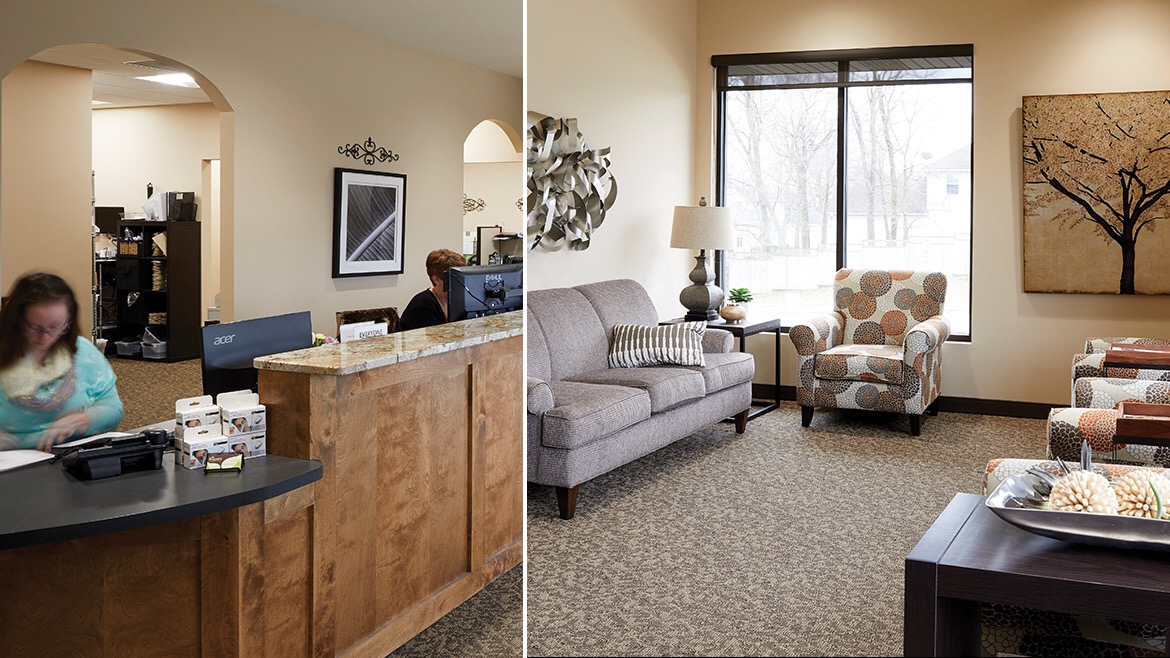 The company prides itself on their consistent follow-ups with patients after treatments. "We're one of the very few companies in the country that has a preemptive follow-up program," says Bietsch. Employees will call patients to check up on them regularly just to ensure satisfaction.
Bietsch's drive to help has led the company to donate different medical equipment to patients who need it but can't necessarily afford it. "I am so lucky to have a job that literally changes people's lives," she says.
Bietsch is now looking to find new towns that have the need for their practice — she still wants to expand the number of people they can help.
"When we go into those areas, we do really well because they're just shocked that somebody cares," Bietsch says. "People are really happy that someone is going to take care of them."
And that's her goal: to be the company that always has its patients' backs.
The Visionary Retailer
Anne Tuckley – Owner, Anne Tuckley Home
"When you think of interior design, I want you to think Anne Tuckley: globally-inspired, locally-designed," says Anne Tuckley, owner of Anne Tuckley Home.
However, one title doesn't suffice for Tuckley, interior designer, home stager, shop owner, event planner, and business owner. Before Tuckley became the go-to Columbia interior designer for proms, galas, or real estate, she was an 18-year-old from a small town who decided to break out of that environment and move to the most fast-paced place in America: New York City.
From being a flight attendant to selling Chanel bags to modeling, Tuckley experienced it all. When she moved to Columbia, she started as a faux painter, then became a store merchandiser for Inside Outlet, a home décor store. From there, people began asking her to decorate their homes. By 2004, Tuckley had formally become an interior designer and ventured into retail.
Anne Tuckley Home, located at Southport Marketplace, began in an old office building. At first, the store was only open one weekend a month. After the last of the other businesses moved out of the building, she was ready to expand the store with more retail options and more employees. "I am one person with my own set of skills, and there are only so many hours in a day that I can invest in each of my endeavors," Tuckley says. "I was holding back the business by not expanding. Bringing on a team of retailers improves both the quantity and quality of services and products provided."
The black-and-white-branded store is now home to four woman-owned lines that range from clothing to reusable bottles to home décor. Her newest addition to the store is Annie Sloan Chalk Paint, which was added in February of this year.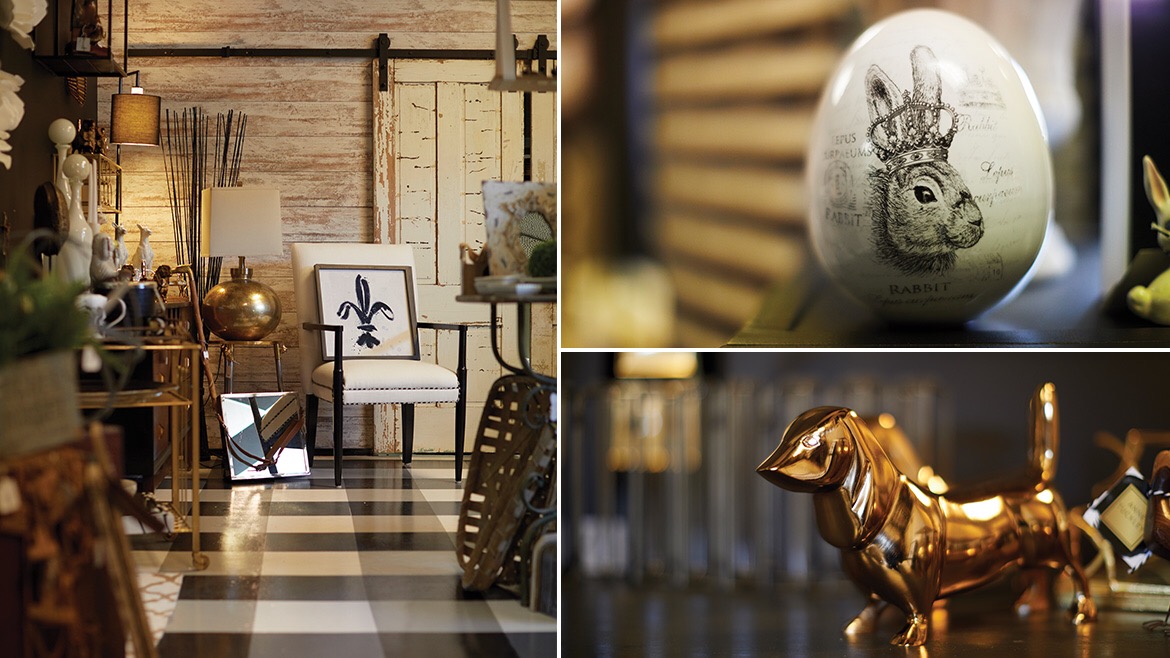 Being an interior designer is not quite as straightforward as it might seem. HGTV makes it look easy because you only see a fraction of what goes into the projects, Tuckley jokes. Lots of clients aren't sure what they need. "I have to be a mind reader so that I can create a space that is truly their own," she says.
The projects don't come easy either. "Each project is physically, emotionally, and intellectually draining," Tuckley says. "I put all of my energy into each project. I would love to have 10 clones."
A big drive in Tuckley's business is her repeat customers — her first client has had Tuckley redecorate her home three times. "What I do is very personal because one's home and business is personal," Tuckley says. "As a result, I end up becoming a friend, a confidant, a mentor, a marriage counselor, and a therapist."
Although Tuckley gets inspiration from Pinterest or other interior designers on Instagram, sometimes she finds herself ahead of the trends — part of being a designer means being able to predict the changes, Tuckley says. "It is incredibly rewarding when I flip through a magazine boasting the latest style and realize I've already implemented it in my work," she adds.
Everything in life has the potential to be an inspiration, Tuckley says. Her store, which is newly renovated, is one of the places where clients can start to envision their projects. "I want the store to be a source of inspiration," Tuckley says. "I want people to walk in and be excited about designing and decorating their spaces." CBT