photos by Keith Borgmeyer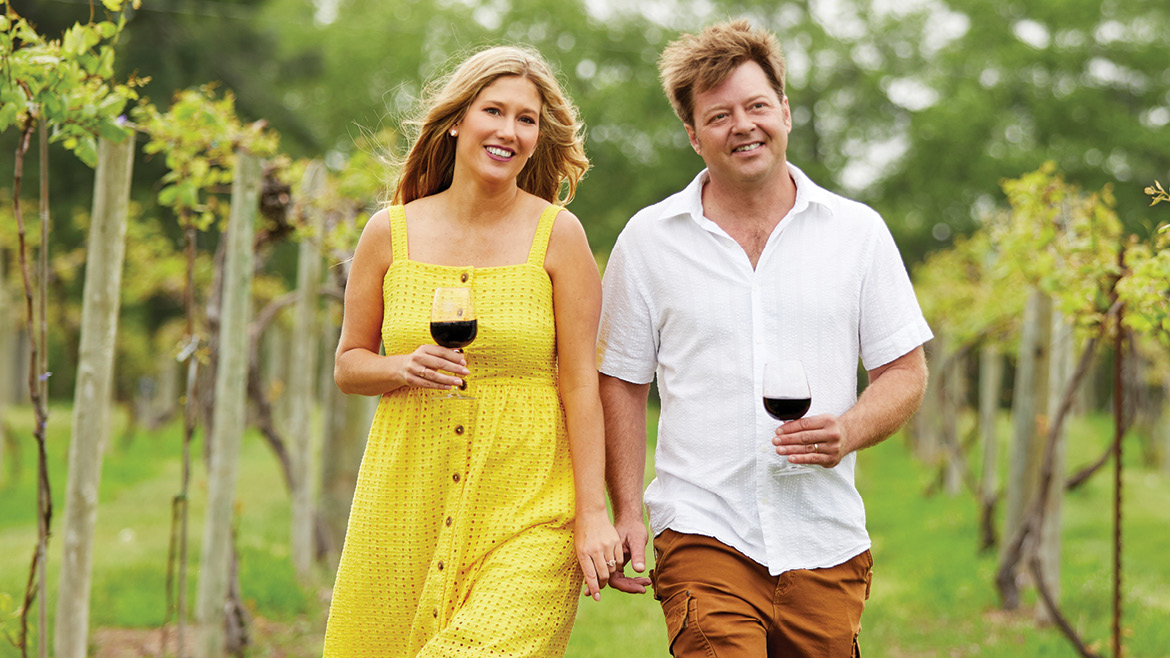 Wouldn't it be cool to be a wine taster for a living? It's one of those fanciful job duties we all fantasize about from time to time, but for Jacob and Rachel Holman, it's a reality.
Jacob and Rachel became the owners of Rocheport's Les Bourgeois Vineyards in April. Both have spent most of their careers at the winery in various positions, and they even met while working there. Their transition to ownership was a natural one, and now the couple is focused on continuing the legacy that has made "The Winery" a local institution.

From Grape to Wine
Les Bourgeois Vineyards started off as a hobby for Curtis and Martha Bourgeois, who purchased some land in Rocheport on the Missouri River in 1974 for a small vineyard. Over the years, it has grown into a full-production winery producing award-winning vintages, complete with a dining and event space nestled atop grand blufftops with spectacular views of the river.
The A-Frame provides a casual outdoor experience for sipping wine that's popular among locals, tourists, and Katy Trail trekkers alike. The tasting room and gift shop serves wine, beer, and cocktails and offers unique souvenirs. The Blufftop Bistro, both elegant and rustic, offers a more formal dining and event experience attractive for weddings, anniversaries, and other special events, an important source of revenue. The triad sits among the rolling hills of the vineyard located just off of the highway.
Perhaps unnoticed by visitors are the winery's facilities for making and storing wine. The primary facility, built in 2011 to replace a long-outgrown one, stores 99,000 gallons of wine. Two other buildings hold an additional 30,000 gallons between them. Ninety-five percent of LBV's grapes are sourced from Missouri vineyards, mostly in Springfield, with their own 30 acres of fruit adding to the lot.
LBV produces 15 to 25 wines each year, including limited series, that range from $9 to $25 a bottle, many of which are available for purchase in local grocery stores. Popular wines include the sweet Riverboat Red, the full-bodied Norton, the rosy Pink Fox, and the fruity Solay (which is Rachel's favorite, and Jacob's favorite to make). The winery distributes throughout Missouri, parts of Illinois and Kansas, and even to Louisiana, where the Bourgeois family's cajun French roots have spawned a cult following for the winery.
As the winery and its services have grown, so has its popularity among college students and young professionals as a place to work, especially during LBV's peak summer months, which is exactly what brought Jacob Holman to Rocheport 20 years ago.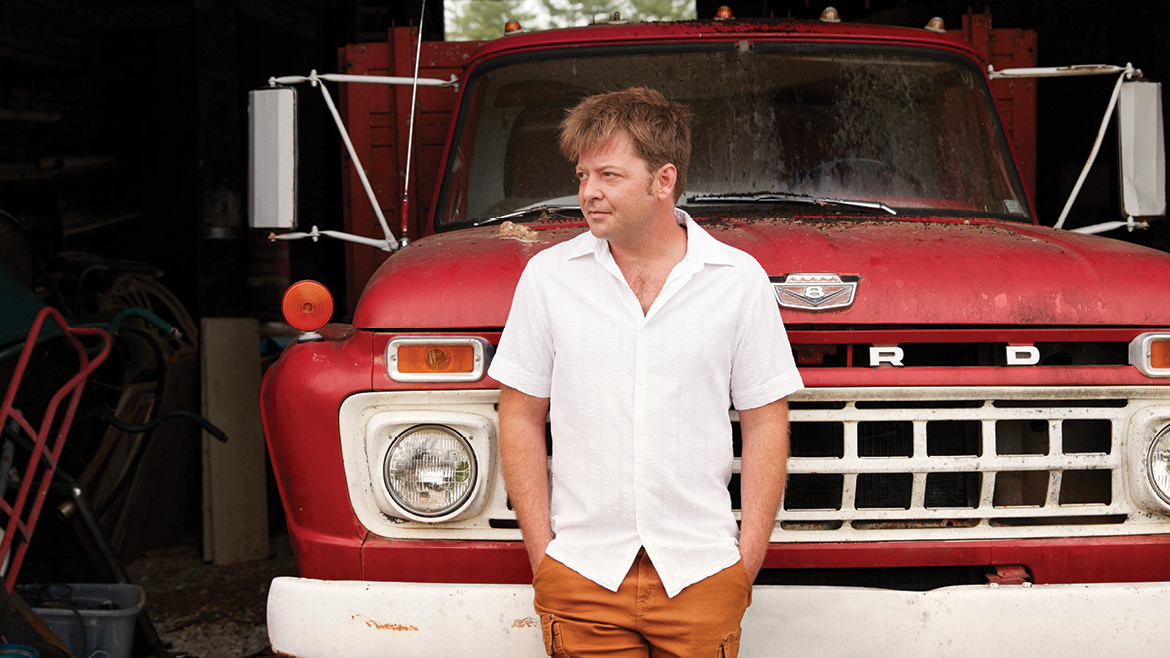 Just a Summer Job
In 1999, Jacob, a Moberly native, was a college student at MU studying biology and needing a summer gig to fund a trip with friends. He got a part-time customer service job in the tasting room. When approached to come on full-time as tasting room manager, Jacob took the job and withdrew from MU. (The university's viticulture program did not yet exist.)
"I wanted to be a wildlife biologist. I was really interested in waterfowl, so my dream was always to count ducks and geese up north somewhere, but that didn't work out," he laughs.
He held the manager position for a brief period before he found himself in the winery's cellar, picking up extra hours to clean the wine tanks and scrub the floors. Coming from a science background, he was curious about the winemaking process and soon became a cellar hand, then assistant winemaker, and finally, in 2006, head winemaker.
"It's a pretty big job. You're basically managing every aspect from when the grapes come in to when the wine is bottled," Jacob explains. "The reason I love it is that every year is a different year. You only get one chance a year to make the product, and then you have to wait until the next year to take another shot at it."
From August to October, Jacob and his team spend countless hours crushing and processing the grapes. From November to March, they evaluate the new fermentations and determine which batches will be used for making each type of wine. Come spring, they are busy bottling the wine and getting ready for the next growing season, when the process begins again. While Jacob samples the wine as it's being produced, he doesn't otherwise drink it to avoid dulling his objective taste buds (a hazard in the industry known as developing a "house palate").
In the 20 years since Jacob started at LBV, the winery has tripled its production from 46,000 gallons a year to 120,000 to 140,000 gallons a year.
"We've seen lots of growth. I'd like to say the wine quality's gone up a little bit since I got involved, and the team that we've worked with over the years has been just great, so it's not just me who's been making that happen."

A Hospitality Call
Making the wine is just a part of what LBV does; like any other business, it has everything that comes with managing day-to-day operations as well. Since coming to LBV in 2006, Rachel has held several positions on the business end of the winery. Like Jacob, the St. Charles native came to Columbia to attend MU, where she graduated with degrees in personal finance and marketing. Originally, she had her eye on becoming a broker, and St. Louis was the smallest city in which she could see herself working after graduation. But the economic downturn that followed 9/11, when Rachel was a freshman, gave her a change of heart.
"The fallout in the market after that made me reevaluate what I wanted to do, and the reality of me being able to look at someone and tell them that they've lost everything that they've worked for in their lives was not something that I thought I had the emotional capacity to do," Rachel recalls.
After graduating in 2005, she worked at Missouri Employers Mutual for nearly a year in customer service, but she found herself increasingly drawn to the hospitality field. She had worked as a server, hostess, and manager at Grand Cru restaurant in Columbia throughout college and continued working there while at MEM.
"It was something that I loved doing, something that I was comfortable with, and something that I was good at," Rachel says. "I realized that I wasn't quite ready to have a 9-to-5, chained-to-a-desk kind of job. I craved more human interaction and more of the hospitality side."
In the summer of 2006, Rachel came on as catering director at the winery, a position she held for two years before having the opportunity to move up to marketing director, where she handled everything from label design to advertising to large events. She also helped take the business online by building its social media presence.
While Jacob and Rachel were tackling their respective enterprises, the two were becoming friends.
They worked in different buildings most of the time but came together on certain projects. They started dating in 2011 and married in 2013, which is the same year Rachel, who was 30 at the time, was named CEO; Curtis Bourgeois wanted to step away from day-to-day operations, and Rachel was identified as the ideal candidate. The duties of president were added to Jacob's responsibilities in 2018, the same year conversations were being had about the Holmans purchasing the business.
As if their professional responsibilities didn't keep them busy enough, the couple started a family in 2014 and now have three daughters, including twins, under the age of 5. (As for the perk of professionally obligated wine tasting, Rachel jokes that it helps with the day-to-day stresses.)
"When our girls were born, we stamped each of their footprints on a barrel," Rachel says. "Jacob is going to knock the [tops] out of them, and we're going to give them to the girls when they're a little bit older."
Good Vintages Ahead
Jacob and Rachel have 32 years of combined experience at the winery. They are raising their family in Rocheport. Their observable passion for the winery shows their personal investment in LBV, making them ideal candidates for purchasing the family business.
The transition in ownership to the Holmans, along with a third party that has chosen to remain anonymous, began slowly last fall to ensure that customers continue to receive the same experience they've come to love at the winery. That continuity is a priority for Rachel and Jacob, who are staying on in their respective positions of CEO and president and head winemaker.
"We are a place where people come to make memories, and we absolutely want to continue that tradition," Rachel says about becoming owner. "I think for me it's realizing where we came from, listening to our customers about what we've done well and continuing to do what we do well — and that's celebrating people and milestones in their lives and creating memories."
Les Bourgeois Vineyards is now the official winery of Mizzou Athletics, a partnership that excites the Holmans. They're also looking forward to releasing some new products with their partner Broadway Brewery; the winery will have access to the brewery's canning line, located in a rented facility shared by both businesses.
In the coming years, the Holmans foresee investing in the winery's infrastructure, beautifying the property, and growing their connections with river relief organizations that help maintain the environmental quality of the area. While the ownership's name has changed, the Holmans are committed to making sure the winery remains a family business that offers the kinds of opportunities for others that it has offered them.
"We'll probably die here," Jacob laughs.
"This place is everything to us and we give a lot to it, and it gives a whole lot to us," Rachel says.