Hiking With Ginger: Down by the River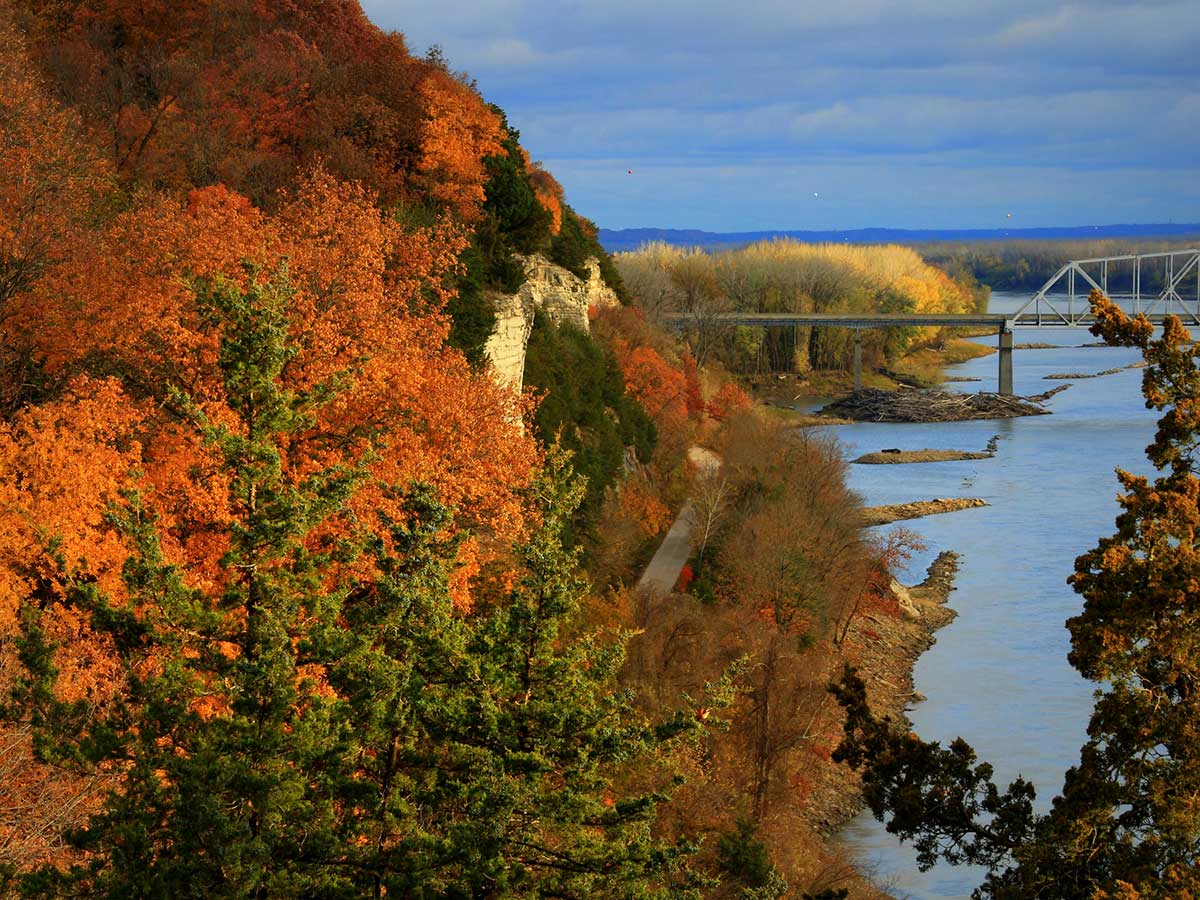 Are you ready to connect with nature and Big Muddy vibes? COMO's trails also criss-cross multiple creeks.
As summer winds down, I can't think of a better time to head down by the river. Central Missouri has many veins that bring water back to the main artery of the state — the mighty Missouri River. Along many of these tributaries are trails. Paths along waterways make a lot of sense for humans and animals alike. Following a nearby stream often means more shade cover. The low hollows can hold a chill longer in the day.
Waterways come hand in hand with beautiful bluffs, statuesque sycamores, and wandering wildlife. Whether you are hiking or biking, Columbia can offer a great trail "down by the river."
No need to travel far to find trails by trickling waters. On the north side of town, Bear Creek Trail traverses nearly five miles of Columbia from Albert-Oakland Park to Cosmo Park. This gravel path follows its namesake creek through forested hillsides, lush vegetation, neighborhoods, and wetlands. There is one big hill at Cosmo Park. Otherwise, this path is mostly flat, making it great for newer walkers, runners, or bikers.
Meet Ginger Schweikert, COMO hiker and author
Right inside Columbia, you can head east from Grindstone Nature Area on the paved Grindstone Creek Trail through Waters-Moss Memorial Wildlife Area along the creekside bluffs and lush vegetation for 1.75 miles.
You can also hop on Hinkson Creek Trail for 4.25 miles along gravel. Hinkson Creek Trail runs west from Grindstone Nature Area into Capen Park. It passes through Hinkson Valley Nature Preserve, where you can skip onto the dirt Woodpecker Hollow Trail before the MU Recreation Area. The trail passes MU's agricultural research fields and meets with the MKT near the MKT's 6.75-mile marker.
The MKT leaves downtown Columbia, quickly turning from pavement to gravel along the old Columbia railway connector. MKT starts running along Flat Branch. It crosses over Hinkson Creek several times and then goes along Perche Creek until meeting the Katy Trail at Hindman Junction 8.9 miles from downtown.
The Katy Trail State Park is built along the old Missouri-Kansas-Texas Railroad Line. It was and still is referred to as The Katy. Once on the Katy Trail, you can go upstream to Rocheport and Boonville with grand views across the Missouri River. You can also go downstream towards St. Charles over 100 miles along the Big Muddy.
The Katy Trail runs through Eagle Bluffs Conservation Area, which holds myriad wetland ponds and hosts resident and migratory birds along the floodplains. Eagle Bluffs Big Muddy River Trail runs 4.7 miles right along the river. This path is mostly on sandy soil and can be a bit of a jungle if our local trail stewards haven't been out lately.
COMOTA, the Columbia Missouri Trail Association, revived this path from an overgrown mess into a lovely little trail a few years back.
Given its proximity to the river, the area is subject to flooding and all the maintenance that goes along with river life. Even if the path is sometimes hard to follow, just listen to the train horn from across the river and the water crashing along the bank to find a peace that comes only from being near such a massive flow. Eagle Bluffs also has a mosaic of walkable levees through its pools and channels that offer superb bird watching for all levels of birding enthusiasts.
South Columbia has waterways too, of course. Three Creeks Conservation Area is one of my personal favorites. Turkey, Bass, and Bonne Femme creeks converge here. Turkey Creek Interpretive Nature Trail is a three-mile walking loop that crosses Turkey Creek six times. Each crossing can lead to wet feet if it has rained recently. Otherwise, the crossings are easy to keep your toes dry. Other multi-use trails at Three Creeks Conservation Area cross Bass and Bonne Femme creeks, meander through lowland forests, and across ridgeline meadows. Be mindful when exploring this area during fall and spring hunting seasons as this is popular for deer and turkey hunters.
Consult the Missouri Department of Conservation for the hunting calendar and proceed with caution and bright orange.
For adventurous hikers, Smith Creek Loop is one of the best trails around. Nestled in the Cedar Creek Section of the Mark Twain National Forest, the Smith Creek Loop is a part of the larger 36-mile Cedar Creek Trail. Smith Creek Loop is 6.8 miles with multiple creek crossings to really get your river vibes on. The trail begins at the end of the airport road by crossing Cedar Creek on Rutherford Bridge, a 100-year-old bridge closed to vehicles and horses. It winds around forests, mossy ravines, unique rock outcroppings, and multiple smaller creeks.
My favorite time of year to enjoy all parts of Cedar Creek Trail is late fall through early spring when the poison ivy has died, the ticks are gone, and the foliage has dropped. This is also prime hunting, so make sure you are aware of the MDC hunting season.
Whether you are heading down by the river for a mile or a long adventure, Columbia has the trail for you. For more information, including full trail descriptions, maps, directions, travel difficulty, and some history, check out my book Columbia Trails: Over 300 miles of Hiking, Biking, and Horsing Around in Mid-Missouri. You can find it locally at Alpine Shop, Walt's Bike Shop, Yellow Dog Bookshop, Tryathletics and Cyclex. Amazon will also deliver it to your door.
Come find me at the Mid-Missouri Pride Festival September 23-24 for a signed copy and a free sticker.
Have fun out there. See you down by the river.
---
MORE FROM "HIKING WITH GINGER"
COMO has ample hiking options for all skill levels
Overnightin': Where to find camping close to COMO
Ready to go? Bring on the bikes
Beware of ticks and other itchy trail encounters