Columbia Trails: Hiking With Ginger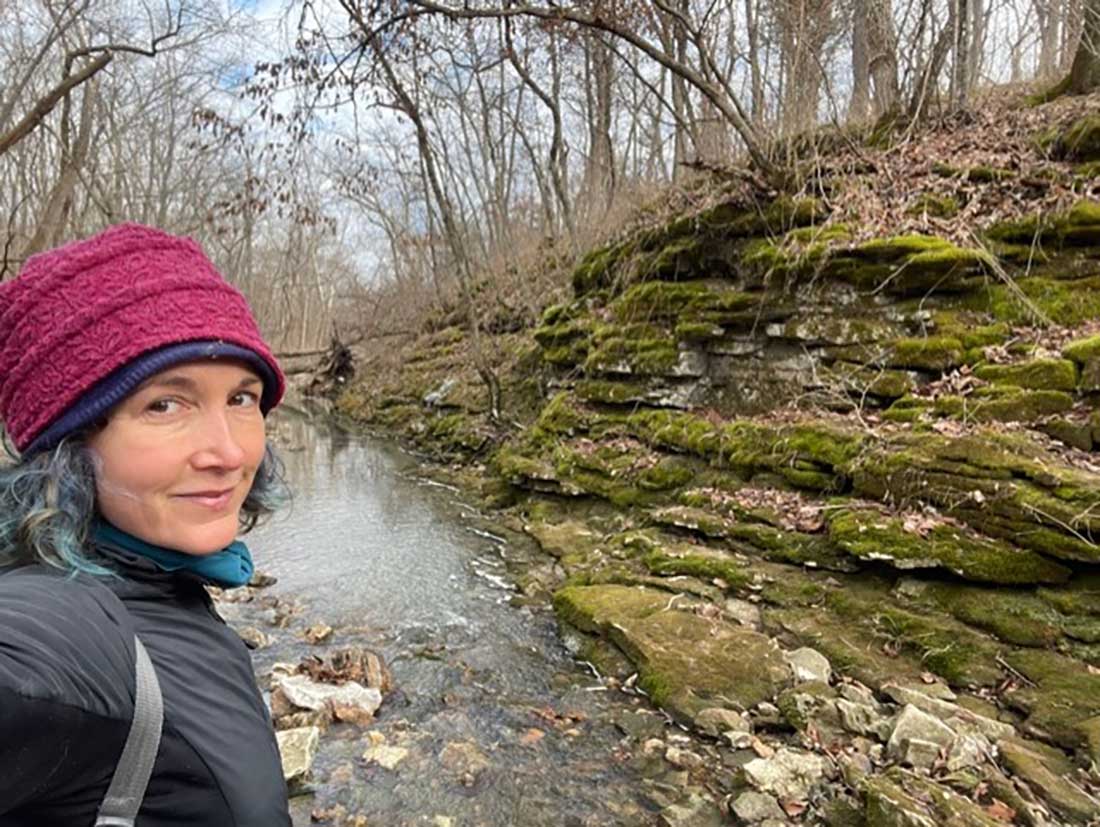 COMO adventurer adds 'author' to list of titles.
Ginger Schweikert is a self-described "weirdo." She's not big on handshakes, yet she's a hugger. She could be a homebody if not for wanting to never stop exploring the world around her. She's at once energetic and at ease in her own skin, whether donning a cap and hiking boots for another long hike or primping for hours to create the festive, just-right look for welcoming documentary film buffs during the True/False Film Fest.
Ginger boasts an impressive resume of work experience and hobbies, ranging from registered nurse and seamstress to circus performer and clothing designer. Now she can add "author" to what for most people might only be a bucket list of life goals.
Columbia Trails: Over 300 miles of hiking, biking, and horsing around in Mid-Missouri is a guidebook for hikers, trail runners, bicyclists, and equestrians. Ginger promotes the colorful, 158-page guidebook as ideal for someone who is new to Columbia or a longtime resident who just wants to spend more time outdoors.
"This book will help you choose a path that is right for you," the book promo states. "It is the perfect companion for all outdoor enthusiasts in mid-Missouri."
How many miles of trails?
More than 300 miles of trails are featured, most of which are within 30 minutes of Columbia. Ginger provides detailed information for each trail, including directions, trail type, difficulty, length, how busy the trail is, creek crossings, history, and a thorough trail description.
In many ways, Columbia Trails is a culmination of Ginger's experiences, seemingly as natural as the Rock Bridge and other geological wonders of mid-Missouri. She's more than an able communicator. Ginger has a passion and zest for life that seemed begging for the book project.
"People like to talk about diversifying your income," she says. "I talk about diversifying your life."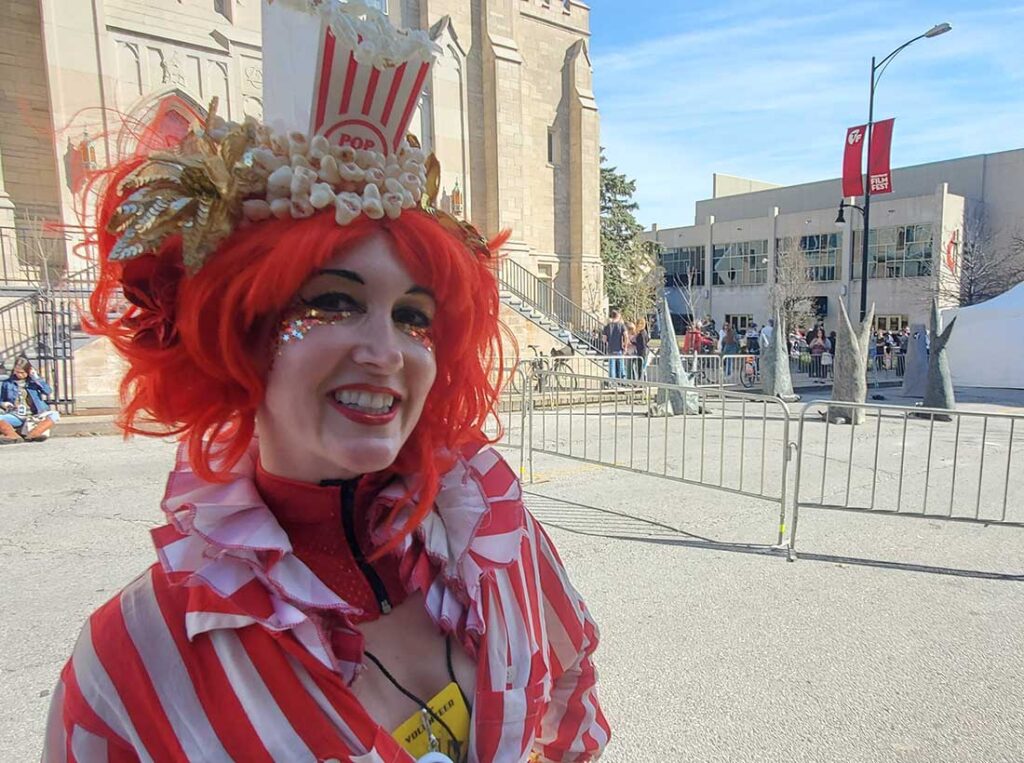 A registered nurse since 2005, Ginger works at CenterPointe of Columbia, an inpatient mental health and addiction treatment center. She has a side gig as a seamstress, and those skills were on display among some of the Q Queens at the True/False Film Fest.
"You saw some of the costumes that I make," she says, adding that she specializes in festive, active wear. Ginger is especially drawn to working with "stretchy fabrics that can be used for dance, swimwear … just having fun wear."
Side gigs and hobbies turned into income opportunities are a frequent theme for Ginger's life journey. In New Orleans, she was a circus artist and had her own circus variety show featuring acrobatics and a burlesque act.
"I had a lot of fun doing that," she explains, adding "stilt-walker" to the list of eccentric skills.
"When I've done one thing for long enough, I'm ready to move on," Ginger says. That meant selling her house in New Orleans and moving back to Missouri, where her family's roots date back to the 1800s in Boone and Callaway counties. She got started building a tiny house and will refocus on that project now that the book is finished.
"It's in progress – it's a long process," she explains.
Hickman Kewpie proud!
Born in Columbia, Ginger was a co-valedictorian of her Hickman High School graduation class of 1995. She graduated from Mizzou in 2000 and "decided to venture out," living in the Appalachian Mountains in Virginia (yeah, there's a legendarily long trail through there) before going back to school for a nursing degree at Humboldt State – now Humboldt Cal Poly – among the giant redwoods in northern California. Ginger's perpetual wanderlust then led her to a 13-year stay in New Orleans and honing her myriad crafts, including clothing and costume design.
"New Orleans was definitely a colorful and sparkly time of my life – which was so nice when it got to come out at True/False," she says, almost giggling.
Before returning to Columbia, though, Ginger sailed up and down the East Coast from July 2020 until late September that year. Back in Columbia, as the pandemic year began to wind down, Ginger was restless but didn't want to go far.
"I just needed to start hiking all these trails for my sanity," she says. "You know, there's not a good resource for trails around Columbia." Sure, there are good Android and iPhone apps for trail explorers, but those platforms don't have enough detail or representation of the trails, Ginger adds.
A couple of months in 2021, the thought hit her: "I think I'm gonna write a book" about the trails.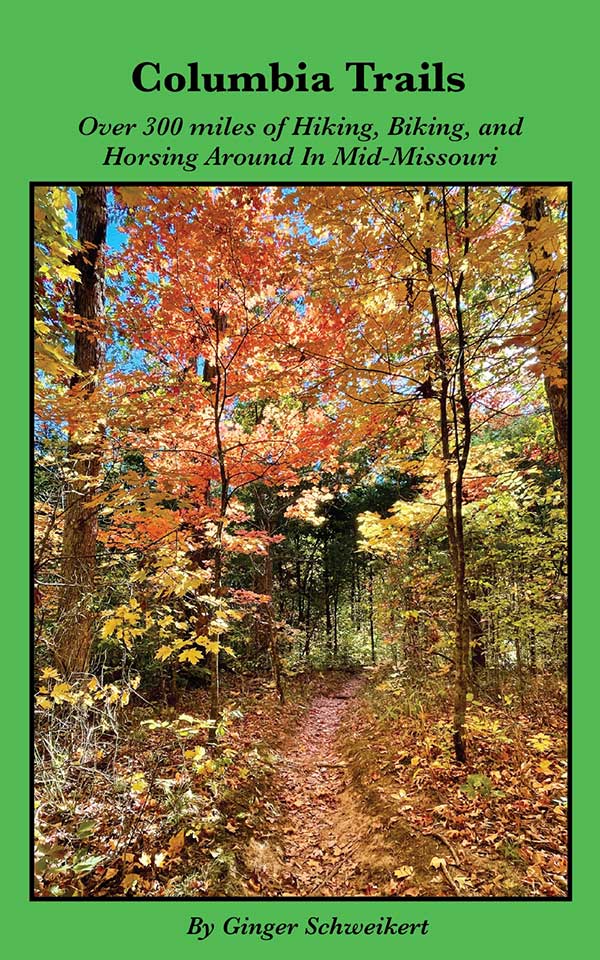 The "fun research" was hiking that spring and discovering or rediscovering the nooks and crannies of trails either an easy bike ride or an easy drive from Columbia.
As work progressed on the book, Ginger took some time away in the fall and, in typical Ginger fashion, rafted the Grand Canyon — "for the second time." She made a connection and ended up staying in Colorado for most of 2022, working on the trail guidebook.
But duty – and Columbia – was calling.
"I needed to move back to finish two projects – my tiny house and the book," she says. Ginger explains that she moved back "for real real" in September 2022.
How long is "real real?"
"My roots are down in Columbia, but I'm definitely a traveler," she answers. "I have never stayed anywhere 365 days of the year, and I don't plan on starting that. I like to see what the world has to explore."
A place to call home
Her still-under-construction tiny house will be her "home base," but travel won't wait long. She offers her nursing services to a house-based medical practice – NOLA Doc – in the New Orleans area, and she's got a position at the Red Rock Recovery Center – an addiction, detox, and recovery facility – in a "beautiful setting" in Colorado.
"Addiction is a really hard thing for people," she says. "It's been a really rewarding niche to get into."
Ginger will experience New Orleans for Mardis Gras, Jazzfest, and Halloween, and the Rocky Mountains in Colorado are "just a dream" for the hiking girl in her.
Now 45 and with a bevy of international travel among her past itineraries – Ginger studied in Australia when she was 20 and she's dipped into hot springs in Iceland, New Zealand, and Mexico — she has "a little bit more freedom to kind of go and explore."
Though brimming with curiosity and a keen sense of adventure, Ginger surprisingly didn't learn to ride a bicycle until she was 21 with her brother's tutelage. It was a learn-or-fall lesson.
"I learned to ride a bike mountain biking – on the trails at Rock Bridge" Memorial State Park, she explains. That know-how came in handy for city biking around San Francisco and, later, in New Orleans.
"I definitely identify as a hiker," Ginger admits. "I'm a mild mountain biker. That's one of the reasons I wrote this book." She's peddled the Katy Trail and she's been on Rhett's Run, the moderate- to intense-skill mountain bike at Cosmo Park. Less skilled cyclists "need something that's in-between," and that's what she hopes her hiking guidebook delivers.
The treasure of being in the moment
Ginger also hopes her new book will be a shared experience and a gateway to healing, as she discovered when 2020 finally gave way to 2021.
"I kind of find walking meditative. Being in nature is healing," she says, citing studies that show the calming effect of enjoying nature when it comes to anxiety and depression. "If anyone can say they didn't feel anything during the pandemic …" Ginger's voice trails off.
"I had a very social life in New Orleans, then I came back to Columbia – and the pandemic," she says, recalling asking herself, 'What am I doing to do?'
"Walking was like physical therapy. I needed to get out and be in nature and have that solitude," Ginger adds. "Hearing the ice dripping, the birds, the peepers. Keeping a positive outlook on life. I think that a lot of people would benefit from spending more time in nature. We're so attached to our screens that we get disjointed from the actual, present moment. When you're walking or hiking, you slow down, and you can see the world around you."
Ginger already had a collection of old hiking guides, some with good information but maps – some hand-drawn – that were often difficult to understand. And there wasn't a definitive trail guidebook for Central Missouri.
Columbia Trails features 68 trails within 30 minutes of Columbia. Trails are listed in sections for north, south, east, west, and southeast. Each area also has a bonus section of trails that are from 30- to 60-minutes away. Trails and parks a short drive from COMO include Arrow Rock, Graham Cave State Park, Binder Lake Park in Jefferson City, and more. Trail information includes the owner (COMO Parks and Rec, Missouri Department of Conservation, Division of State Parks, etc.), the trail type (single track, double track, surface material), what the trail allows (hiking, dogs, horses), length options, creek crossings, and more.
Area information that includes a brief history lesson, as well as directions, are also included.
Exploring close to COMO
Ginger personally prefers a natural surface – rocks, tree roots, and dirt – as opposed to gravel or paved trails.
"You have to pay attention to where you're walking," she says. "It's a different mindset. It puts you in the present moment."
But she doesn't eschew paved trails, adding, "It's different comfort levels and abilities. And you can be on a paved surface when the others are muddy. But I just wanted to advocate for natural surface trails."
The book's front cover photo, taken at Gans Creek Wildlife Area, pays homage to Ginger's favorite area. She's also drawn to the Grindstone Nature Area, which is more in town.
"There are so many trails and it's so close to town," Ginger says of Gans Creek. "You could spend hours out there. It's a hidden gem."
Even as she wrapped up work on Columbia Trails, Ginger was still exploring, venturing to northeast Missouri to discover Mark Twain State Park and Mark Twain Lake. Less than 90 minutes from Columbia, it was a plethora of revelations for her trail-loving spirit.
"Ultimately, if this goes well — if people enjoy Columbia's Trails —I would like to branch out" with another guidebook that is specific to mid-Missouri, she says. Ginger would also consider writing a hiking guide to cover the state.
What's next?
For the Columbia Trails project, Ginger said she is indebted to the Columbia Missouri Trails Association – COMOTA —for the work that organization does to keep trails maintained and free of downed trees. COMOTA volunteers are especially active in the summer cutting back invasive honeysuckle and poison ivy.
"Big kudos to them," she adds.
Ginger will be at the Columbia Earth Day Festival in Peace Park from noon to 7 p.m. Sunday, April 23. She promises a sticker and a hug for all in-person book purchases. The COMO Earth Day price will be discounted at $23. Ginger's LLC, Licious Unlimited, is the book publisher. The book is available in Kindle and paperback format. Local shops and outdoor recreation stores will carry the book and Ginger will do some pop-up events for sales and promotions.
What's next for the RN/hiker/seamstress/adventurer/author?
"It's time to hunker down and build a tiny house. Always learning, always exploring," she said in an email to followers eager to know when the book was available. "We only have one life, so I am going to live it up!"
In the days before the book became available, Ginger told COMO Magazine that she hopes readers enjoy it and learn something.
"I hope it inspires them to go on a trail that they haven't been on," she said, explaining her own inspiration for exploring. "Part of the fun, when you write a book, you get to go to all the trails. As long as there are new things for me to explore in Missouri, it's easy for me to let my roots continue to grow here."