From their titles to their numbers, Columbia Board of Realtors give a glimpse into the real estate profession.
Whether you're looking into buying or selling a building, land, or a home, you will most likely employ a real estate professional to help you at some point along the way. But do you know who you should contact? While real estate agents, Realtors, and brokers do similar tasks regarding the sale and purchase of property, their qualifications and their day-to-day work looks different. Before reaching out to someone, familiarize yourself with the differences between these titles and their training.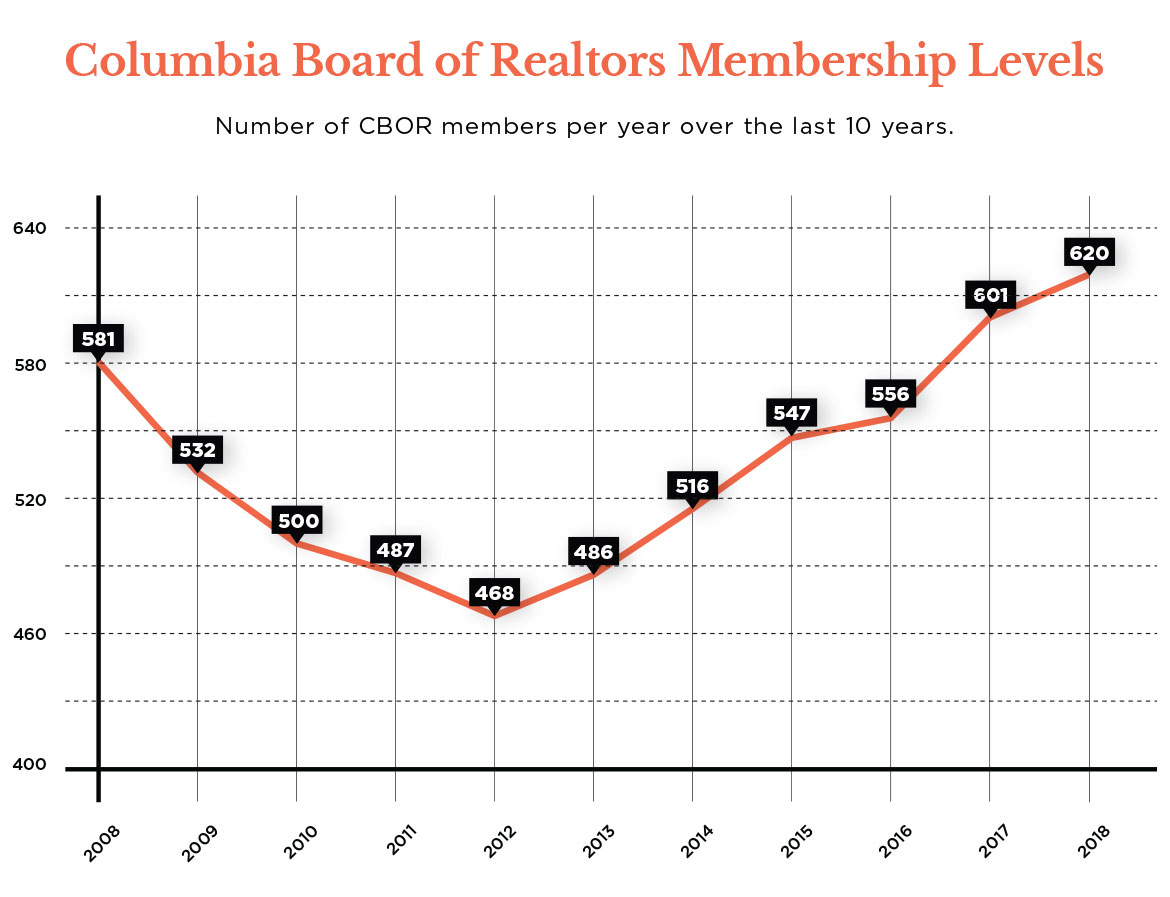 Real Estate Agent: Every real estate agent, or real estate salesperson, has taken required classes and passed their real estate license exam that allows them to help customers buy and sell property. Each state defines for themselves what requirements real estate agents must meet in order to receive their license. Brian Toohey, CEO of the Columbia Board of Realtors, explains that in Missouri, "a real estate licensee is an individual who is licensed by the Missouri Real Estate Commission, or MREC, to assist consumers in the buying, selling, leasing, and renting property." This is the most basic level of the real estate hierarchy.
Realtor: Just like real estate agents, Realtors are also licensed with the MREC, but they're also members of the National Association of Realtors. Members of this group are expected to uphold the Realtor Code of Ethics, which detail their duties to clients, customers, the public, and other Realtors, says Toohey. Realtors are also required to complete training in order to be granted member status and must do this every other year to keep their membership. The original Realtor Code of Ethics was adopted in 1913 and was based on a code already adopted by the Kansas City real estate board. It has since been updated to meet the changes in the real estate industry and the needs of consumers.

Broker: Although requirements vary by state, brokers are better versed in topics like taxes and ethics than the basic real estate agent and have passed a broker's license exam. Experience as a real estate agent is necessary before becoming a broker. Typically, three years as a practicing licensed real estate agent is preferred. There are several classifications of brokers: principal or designated, managing, and associate. The main difference lies in their responsibility level within a firm. If there are any problems with the transaction or with your real estate agent, the broker overseeing this agent is the person to contact to fix the issue.
Brian Toohey, CEO of the Columbia Board of Realtors, shares the numbers of Realtors from the last ten years to show how the housing bubble burst and other real estate industry changes impacted the profession. Learn more about the COBR and their evolution over their 75-year history here.