photo by Anthony Jinson
pictured below: Brian Toohey, Chris Martin, and Pam Socha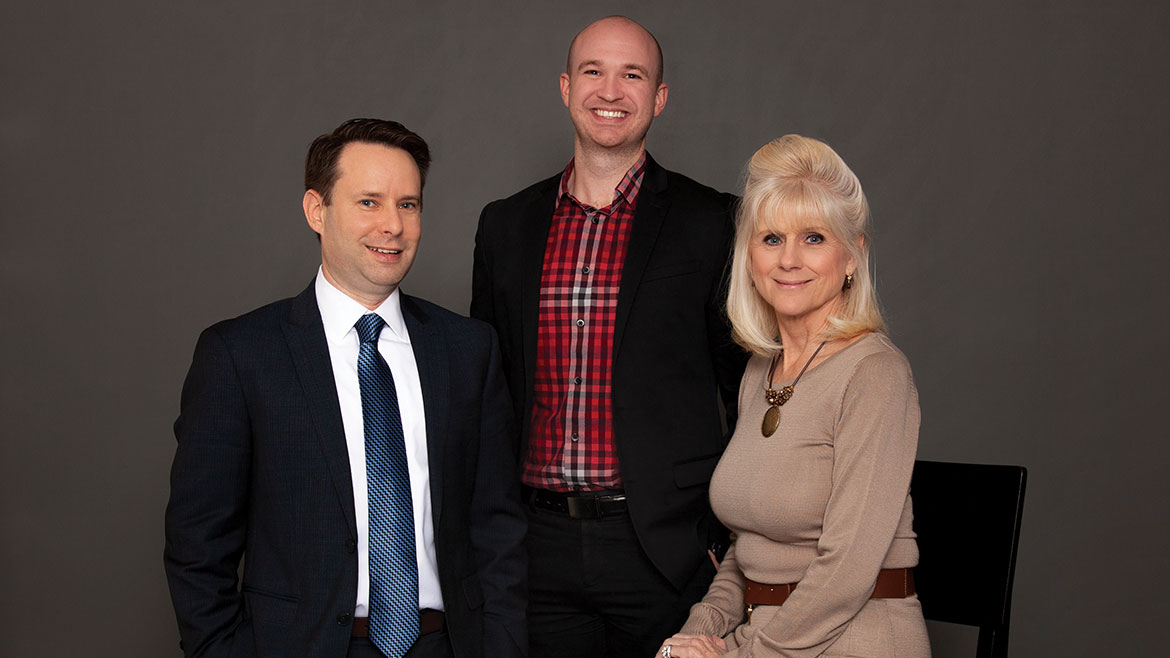 The Columbia Board of Realtors was founded in 1944 and strives to be the voice of real estate in Mid-Missouri. The board is one of 33 in the state, and its membership includes more than 600 local real estate agents.
The goal of the board is to provide valuable professional development opportunities for its members, uphold the highest ethical standards in the industry, strengthen the Realtor image through community involvement, promote real property ownership, and advocate for private property rights.
"We're really here to serve the public," says Pam Socha, 2019 CBOR President.
Tools of the Trade
Brian Toohey was named CEO of the board in 2014, and according to president-elect Chris Martin, he and his staff have led CBOR into the future, especially as it relates to enhancing their programs and services through technology.
In the last five to six years, CBOR has implemented an electronic transactions management system, electronic signature service, an electronic appointment management system, and electronic lockboxes. This technology has sped up the process of buying, leasing, selling, and renting property for everyone involved.
"Electronic transaction management allows listing and sale contracts to be signed electronically and agents to go paperless," Toohey says. "Scheduling showings electronically eliminates phone calls to confirm property showings and replaces those confirmations with automatic emails and a mobile app."
CBOR also offers its members an optional, secure electronic key and keybox system. Use of this technology ensures a secure process for showing property, one where a seller and listing agent can verify exactly who has accessed the property and when.
"Even the switch to cell phones is relatively new," Toohey adds. "The industry just continues to evolve."
Looking Back
While there might not be anyone alive who was part of the Columbia Board of Realtors in 1944, there are many veterans willing to share about life as a member of CBOR in earlier days.
Richard Mendenhall, a fifth-generation real estate agent and member since 1974, remembers doing business before there was one multiple listing service, a database of home listings that's vital to an agent's work. "At one time, this board had three MLSs," he shares. "Apparently, the large brokers started an MLS and then the small brokers got mad and they formed one. And then, for a compromise, the board had one. Ultimately, we all got together and did the board MLS."
Sissy Christian, a member since 1983, remembers searching for listings out of books. "We didn't have the internet, of course," she says.
"MLS database technology has advanced significantly over the years," Toohey explains. "Previously, members of the MLS would conduct business utilizing printed MLS books rather than a web-based MLS database. Timely and relevant listing information, such as a price change, would only become public knowledge as quickly as a new MLS book was printed. Today, CBOR members access the MLS system online, where listing updates are recorded every 15 minutes."
Toohey's goal this spring is to launch a public-facing website where customers can have even quicker access to the most accurate MLS data available.
Maintaining Focus
While Toohey and his team may wonder what changes future technology will bring, the organization's 2018-2020 strategic plan outlines four areas of emphasis, including advocacy and consumer outreach.
These initiatives involve hosting monthly education classes that focus on relevant topics like finance, title insurance, and flood plain information. Last year, CBOR teamed up with the City of Columbia to offer a seminar in honor of the 50th anniversary of the Fair Housing Act.
The Board also follows the activities of the local government. Members are often vocal at city council, planning and zoning, and county commission meetings, and the group supports ballot initiatives and candidates who they say understand property rights, fair housing, and equitable infrastructure funding.
CBOR created an ongoing public campaign in 2018 called "Realtor Love." They highlight the philanthropic and charitable activities of their members by sharing their stories on Facebook using the hashtag #REALTORLOVE.
Martin believes that his fellow Realtors are some of the most compassionate people he knows. "They care about public safety and giving back," he says. "Real estate is a 24/7 job. It's not about the commission — you have to love what you do."
Columbia Board of Realtors
2309 Interstate 70 Dr. NW
573-446-2400
1944: A board of directors charters the Columbia Real Estate Board.
1967: The board of directors approves a name change to Columbia Real Estate Board of Realtors.
2013: The board implements an electronic transaction management system.
2016: The Columbia Board of Realtors adds an electronic signature service.
2016: The board begins using an electronic appointment management system.
2019: The board will launch a new public-facing website for accessing MLS data.