Let's Pay It Off Together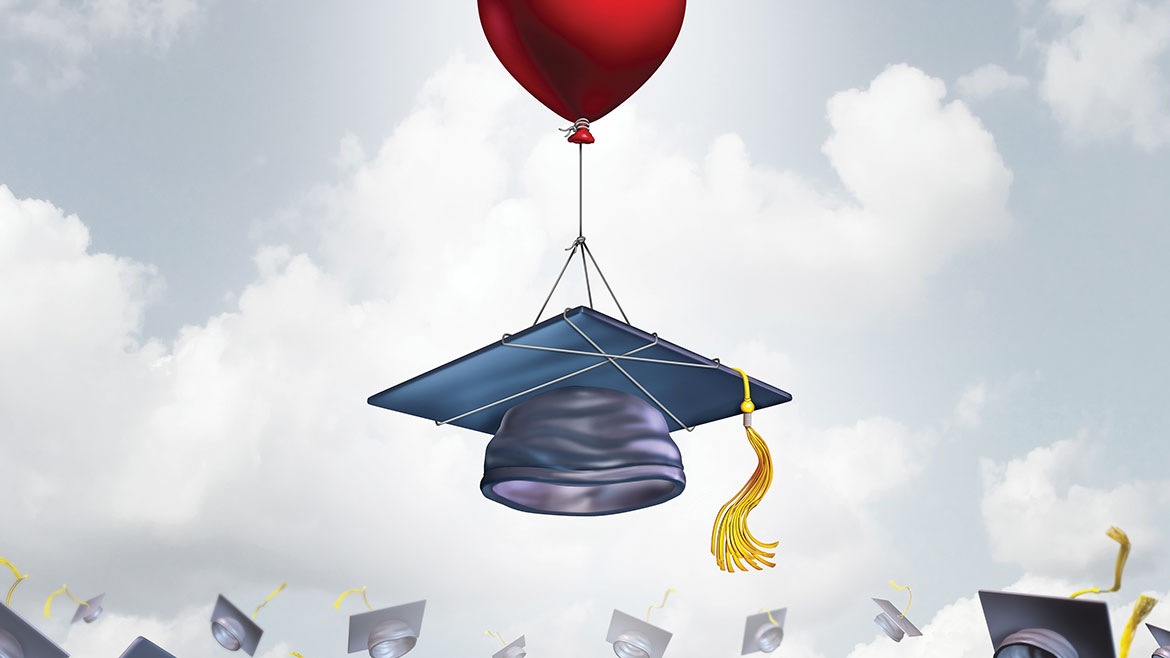 A couple years ago, in an effort to better recruit and retain talent at hard-to-fill positions, MU Health Care took a close look at enhanced incentives it could offer current or future employees.
Senior Director of Talent Peter Callan and his team surveyed the industry landscape and sought input from current staffers in high-need, high-turnover areas — mostly nursing, but also respiratory therapy and lab technician jobs — about what they most desired, and MU Health Care came away with three solutions.
One was heightened hourly pay for staffers who worked weekends. Another was an annual payment for people who stayed in particular units for five years. The third was a student loan repayment program through a third-party company, Tuition.io.
While the state vacancy rate for resident nurses is 14.3 percent, according to the Missouri Hospital Association, MU Health Care's is 4.5 percent. Callan says he gets calls on an almost weekly basis from other similar health systems wondering what MU Health Care is getting so right.
"The programs have been wildly successful, actually," Callan says. "The end result has been very positive for us, both with employee engagement and fewer vacancies. It does work."
In the fall of 2015, multinational services firm PricewaterhouseCoopers became the first major company to announce student loan repayment assistance as a perk for its full-time employees. The trend has only intensified since then: Tuition.io counts Staples and Hulu among its corporate clients, for example. A survey conducted last May by the CommonBond student loan refinancing company found that 78 percent of employees polled said they would be more inclined to accept a job offer if it included loan repayment assistance as a benefit, and 86 percent said they would be more willing to stay at their current job if it offered that perk.
Loan assistance is not a one-size-fits-all perk. But, with Americans shouldering nearly $1.5 trillion in combined student loan debt, it's an issue that affects a large portion of the workforce, and area employers are considering what they can do to help lighten the load.
"We benchmark all of our benefits locally and nationally," says Sarah Mazzocco, director of human resources at Missouri Employers Mutual. "We look at our offerings on a regular basis to ensure that they are on market and competitive to recruit and retain top talent. We are constantly scanning the market for what we can make available to our employees."
Continuous Growth Environments
The average debt owed by students graduating from four-year colleges in Missouri, according to the Institute for College Access and Success, was $27,108 in 2017. That figure was below the national average of $28,650 and ranked 32nd out of 50 states, but the fact remains that 58 percent of Missouri students graduated college with debt.
Those who moved on to achieve graduate degrees have it even worse: a median of $57,600 in loan debt, according to a 2014 report by New America.
For employees in its high-need areas, MU Health Care offers up to $166 a month for up to five years in student loan repayment assistance, topping out at $10,000 entirely off the principal. MEM is designated as a certified employer in the federal Public Service Loan Forgiveness Program.
Employees need to have federal loans in order to qualify and have already made 120 qualifying monthly payments. While only a handful of employees are currently enrolled in the program at MEM, senior compensation consultant Kelli Hathman says interest is growing.
Callan says 241 staffers have gotten loan assistance through MU Health Care, but it isn't even the most popular of the three recent program additions: 299 have gotten retention rewards and 365 have taken advantage of the weekend program.
This is emblematic of another consideration facing these companies: They need to be reactive to the specific needs of their employee bases.
While Boone Hospital Center does not offer loan repayment, it does use sign-on bonuses for hard-to-fill positions to entice employees who can then use the bonus to help pay down loans, according to Human Resources Manager William de Lima. Boone Hospital also offers tuition reimbursement for continuing education for its staffers, which is a popular benefit for area employers.
MU Health Care offers 75 percent off tuition at any UM System school. MEM offers up to $5,250 in tuition reimbursement per calendar year, and Boone Electric Cooperative offers a sliding scale of reimbursement based on the grades an employee receives — 75 percent for a B or better, 50 percent for a C — based on the cost per credit hour at the University of Missouri, even if employees don't choose to take classes through MU.
Boone Electric, like most companies, requires its employees to be taking courses related to their professions in order to benefit from tuition reimbursement. MEM and Boone Electric have both offered this service since the 1990s.
"When an employee shows they're trying to pursue an education, that shows a lot of initiative on their end, that they want to keep learning," says Laura Baker, manager of member services at Boone Electric. "That's definitely a benefit to the co-op and themselves. We definitely want people that want to keep learning."
Employers also meet staffers where they are through certification and targeted education programs that don't require going back to school to get a degree.
MU Health Care offers scholarships for RN programs at the MU Sinclair School of Nursing, Columbia College, and Moberly Area Community College, as well as an in-house "career institute" that provides specialized training for seven professions, including medical assistants and neurodiagnostic technicians.
In addition to offering certification courses for specialties within the insurance field, Mazzocco says MEM encourages its employees to engage in "prescriptive" learning programs that emphasize leadership and management training for career development.
"We want our employees to be curious and to constantly grow," Mazzocco says. "We want to encourage them to have that type of mindset, that they're interested in growing their skill set and the company because of their willingness to do that. It's important to us that we hold that value in high regard and keep the focus on that."
Facts + Figures
$1.46 trillion
Total student loan debt in the U.S. (2018)
44.8 million
Student loan borrowers (2017)
$30,944
Average student loan debt for borrowers (2017)
65%
Borrowers who are 39 or younger (2017)
47.5%
Borrowers whose balance had not decreased from the previous
quarter (2017)
Source: Federal Reserve Bank of New York
$28,650
Average student loan debt owed from four-year college graduates
$27,108
Average debt owed by students in Missouri
58%
Missouri students who graduate with debt
Source: Institute for College Access and Success report; data from 2017