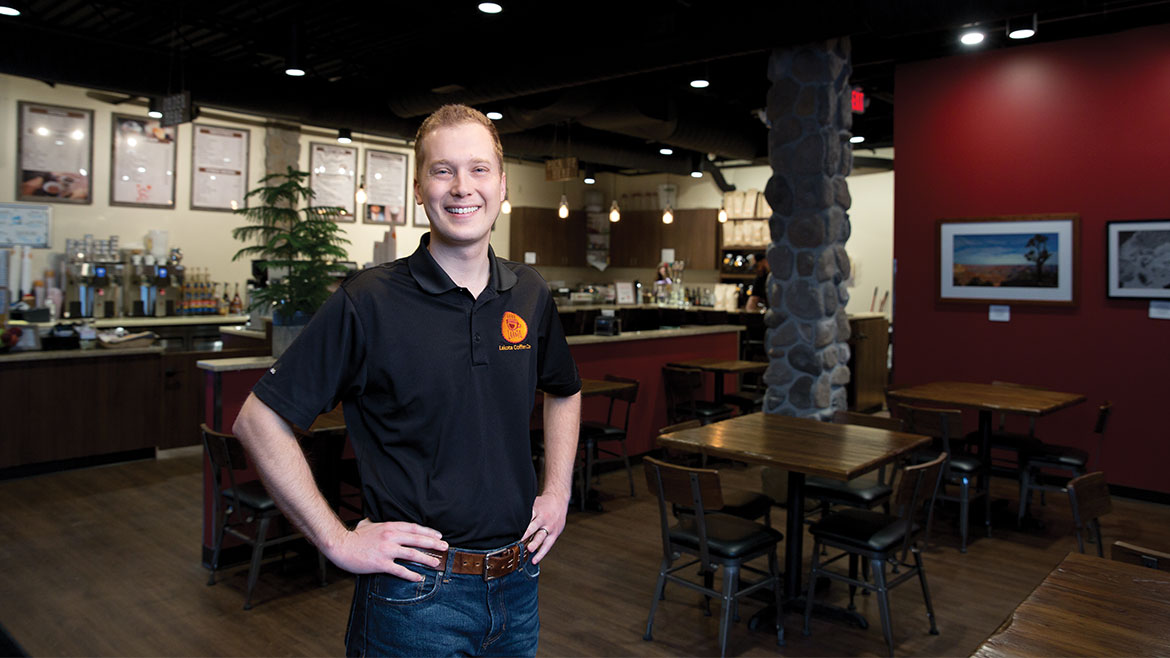 Lakota Coffee Company brings cups full of warmth and community to Columbia's south side.
Local coffee shops have become hubs of community. Wouldn't you agree that everyone has a favorite coffee shop? They are symbols of growth where social tribes connect and discuss, which makes Lakota Coffee Company's move to the south side of Columbia even more meaningful. It symbolizes the steady and continued growth of that side of town.
Husband and wife duo Skip and Deb DuCharme opened Lakota Coffee in 1992 on Ninth Street in the heart of The District. For 27 years, the coffee shop has fostered conversation, ideas, and delicious sugary bites. While the couple remains at the front lines of their original location, the next generation is now making an impact. Andrew, the couple's son, has made his mark on the family business by opening Lakota Coffee's first secondary location.

Heading Out of Downtown
Andrew started working at the downtown location in 2004 and continued to work there throughout his time as a student at MU, where he studied hotel and restaurant management. Upon graduating in 2009, he became the coffee shop's general manager. More recently, he became part owner of the business.
In early June 2018, Andrew got a call about a retail space opening up on Green Meadows Drive. After one visit to the aged laundromat next to Murry's and across from Flyover, he was hooked on the location. "We wanted to have a little bit of an upgrade," says Andrew. "We love our downtown location, but we just fell for this location and for this space. We love how it's designed."
Wanting a fresh start with the space, Andrew worked it into his lease that he would take over the space as a white box. Having the space already cleared for him cut down on the amount of time it took to renovate the space by allowing the construction crews to get right to work.
Little Dixie Construction was the exclusive contractor on the renovation project, and Andrew acted as the core designer. A self-proclaimed perfectionist, Andrew says his biggest construction hurdle was releasing control to others. Thankfully, throughout the renovation process, they had few hiccups, and Little Dixie completed the project on time in about six weeks.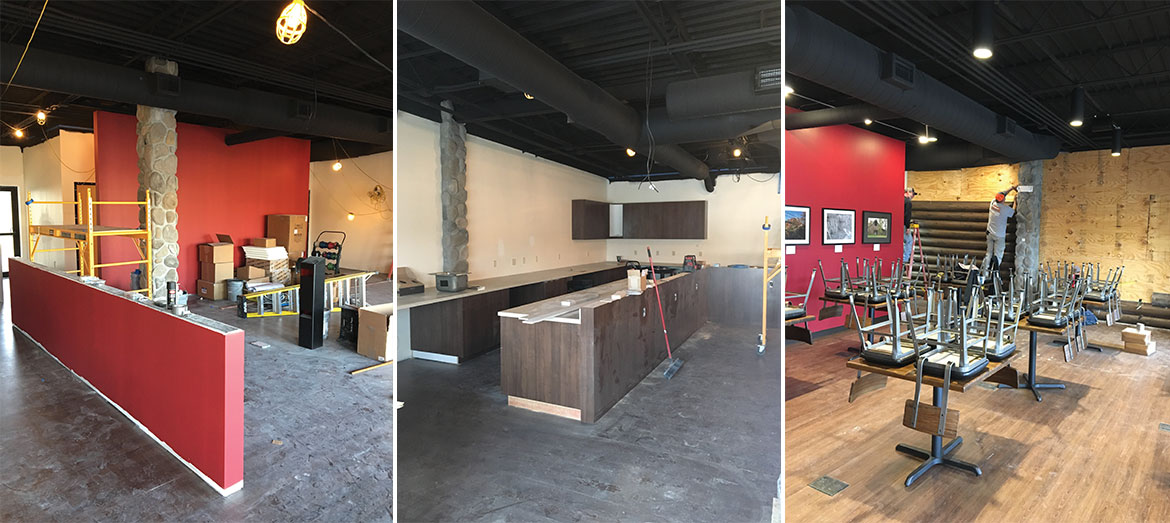 South Side Perks
The biggest selling point of the new location? A drive-thru. Lakota Coffee's new location is the only non-franchised coffee shop on the south side to have a drive-thru.
"Downtown, it's a little different. People are walking around on foot," says Andrew. "Here, we need to cater to that stop-and-go traffic."
And he's doing everything he can to help facilitate that. Andrew invested in the best drive-thru system available, HME, which is used by massive fast food chains. His goal is to have customers be in and out of the drive-thru within two minutes after ordering.
The 2,100-square-foot space's other contrast to the downtown location is its liquor license. Andrew explains that the bar space had been a request from customers for years: People don't always want to go to a bar, but they still want a drink. Lakota Coffee is looking to be that needed "in between" space.
"There's a lot of firsts here: the first drive-thru and the first time selling alcohol," Andrew says.

The Details Matter
Andrew's designs for the new location were driven by the wants of his current and potential south side customers. He envisioned a modern rustic look, contrasting slightly with Lakota's known bohemian rustic appearance.
Immediately upon entering the main dining area, visitors can see and feel the difference between the south side and downtown locations.
Exposed light bulbs hang above the neutral colored counter. Wrapped around the coffee counter, the bar is spacious, with plenty of cushioned seats. Gray columns accented with large, smooth stones can be seen on walls and on their own throughout the cafe.
The familiar bulky chairs of downtown have been updated with slim, desk-like chairs accented with matte metallic metal exposure. A red accented room divider gives definition to the bar and main sitting spaces. The natural elements mixed with sleek metals bridge the two locations.
Andrew collaborated with his parents on the new location's interior to ensure a somewhat familiar look and feel between the two locations. Deb pushed for a ten-top Old Hickory Furniture Co. community table. The table sits in front of a wood-paneled wall, which was chosen by Skip. The natural woods echo Lakota's earthy downtown aesthetic.
An additional 300 square feet of patio space located in the back of the café will be used for entertainment. Andrew is currently seeking a public performance license for musicians to play during warmer months. The patio space can hold up to 25 people and has five four-top tables. Additional outdoor space in the front of the café can fit up to 15 people.
After their successful grand opening, Andrew is now enjoying the fruits of his labor and is looking forward to seeing the new location reflect its community as much as Lakota Coffee on Ninth does.