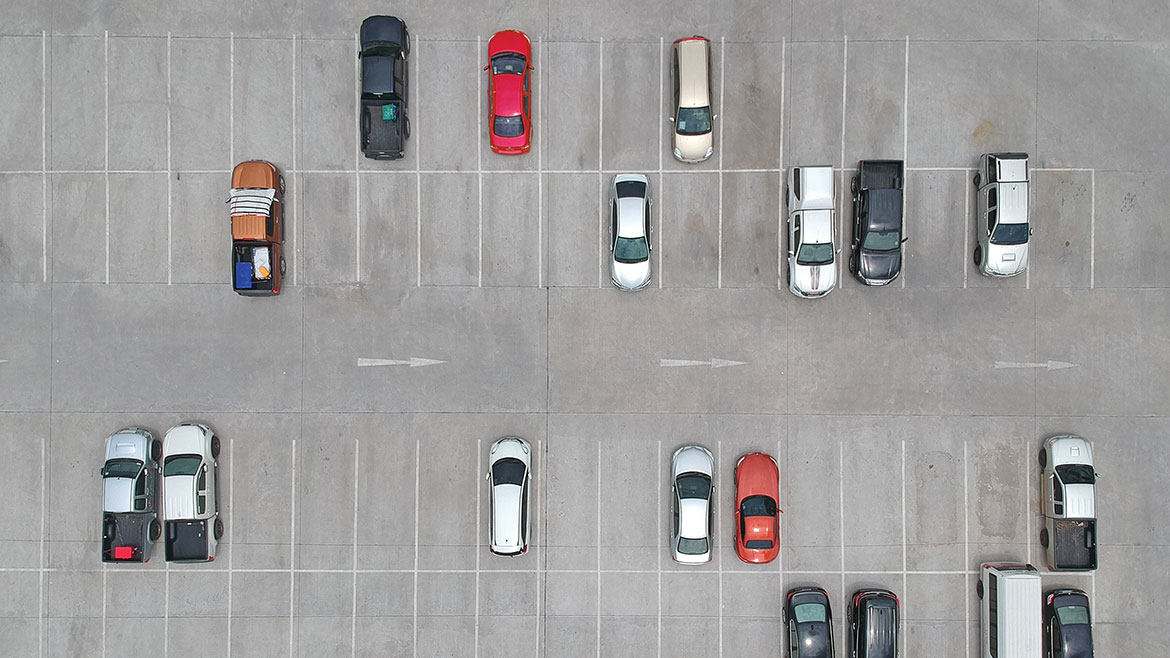 Employee parking downtown may not be ideal, but is it really the problem everyone thinks it is?
If you work in downtown Columbia and are lamenting the fact that there is no permit parking available, well, that's not entirely true. You've just got to be willing to walk a little bit.
Leah Christian, who serves as transit and parking manager for the City of Columbia, says there are currently 31 permits available in the garage at Fifth and Walnut, and that number is probably on its way up given the number of parkers who have turned their permits for the garage back in to the city recently or traded them in for open spots at Sixth and Cherry.
There are also 32 on-street permit spots available through the city's discounted $35 a month Parkmobile program, which started in 2015, though like the Fifth and Walnut garage, they're a little further away from the action than the city's other parking areas. Most of those spots are situated on either Walnut between First and Fifth or along Park in the North Village Arts District.
If you're holding out for permits in the prime lots — Tenth and Cherry, Eighth and Cherry, or Short Street garages, to name a few — then you may be in for a bit of a wait. Call the city and get your name on the list now. Or take a further-flung spot and hope that you can trade it in for a permit in a more centralized garage soon.
"People really value being able to have the least amount of walking involved and getting somewhere after they park," Christian says. "That's what I've found. Columbia is growing. From what I've been told, there was a time when you could just go anywhere and park right in front of wherever you were going. That's changing, and I think people feel frustrated."
According to figures compiled by the Downtown Community Improvement District in 2018, nearly 5,000 people live in the CID's 50 square blocks between Park on the north, Elm on the south, Fourth on the west, and the Arts District on the east. If you expand the radius of "downtown" to a mile around the CID, it encompasses more than 23,000 workers and 18,000 residents.
The city governs nearly 4,600 total spots downtown on the street, in garages, or in lots, but only about half of those are permit-required spots.
The demand for all-day parking for downtown workers is, understandably, high. The responsibility for that supply of permit parking falls on the city and private lots. But, while any new apartment building that goes up downtown is required to provide half a parking space per bedroom, there is no such provision on the books for new businesses. And the real estate availability to build on existing city parking is slim, especially in desirable areas.
"We could potentially build another parking garage if we think there's a need for that, but I don't know that we'd get something that's super central," Christian says. "It would be something like Fifth and Walnut, on the periphery of downtown. Definitely downtown, but not in the middle of it."
A permit in the Eighth and Cherry garage goes for $100 a month. There are 78 spots available and 99 sold. The wait list is 157. A Tenth and Cherry garage spot also goes for $100 a month, and 199 of its 164 spots are sold. The wait list is 156. The Short Street garage, behind The Broadway, goes for $80 a permit and has sold 338 of its 312 spots. The wait list there is 131, exacerbated recently by one business requesting 60 spaces.
Overall, the city has 2,315 spaces and 2,668 permits issued with a total wait list of 773. Permits are currently about 15 percent oversold.
"You've got permit-holders who aren't using it every day, so you have the capacity to sell more spaces than there are available and for everybody to have what they need," Christian says. "Right now, you can drive through any of our garages and you'll see, with the exception of Tenth and Cherry — which tends to be a pretty full garage — a lot of open permit spaces. That's one of the things we're trying to find out. How many people use these parking spaces, and are there enough? My base assessment, based on the fact that we have open spaces in our Fifth and Walnut garage and in our discount on-street permit program, is that we do have enough spaces, but we may not have enough of the preferred spaces."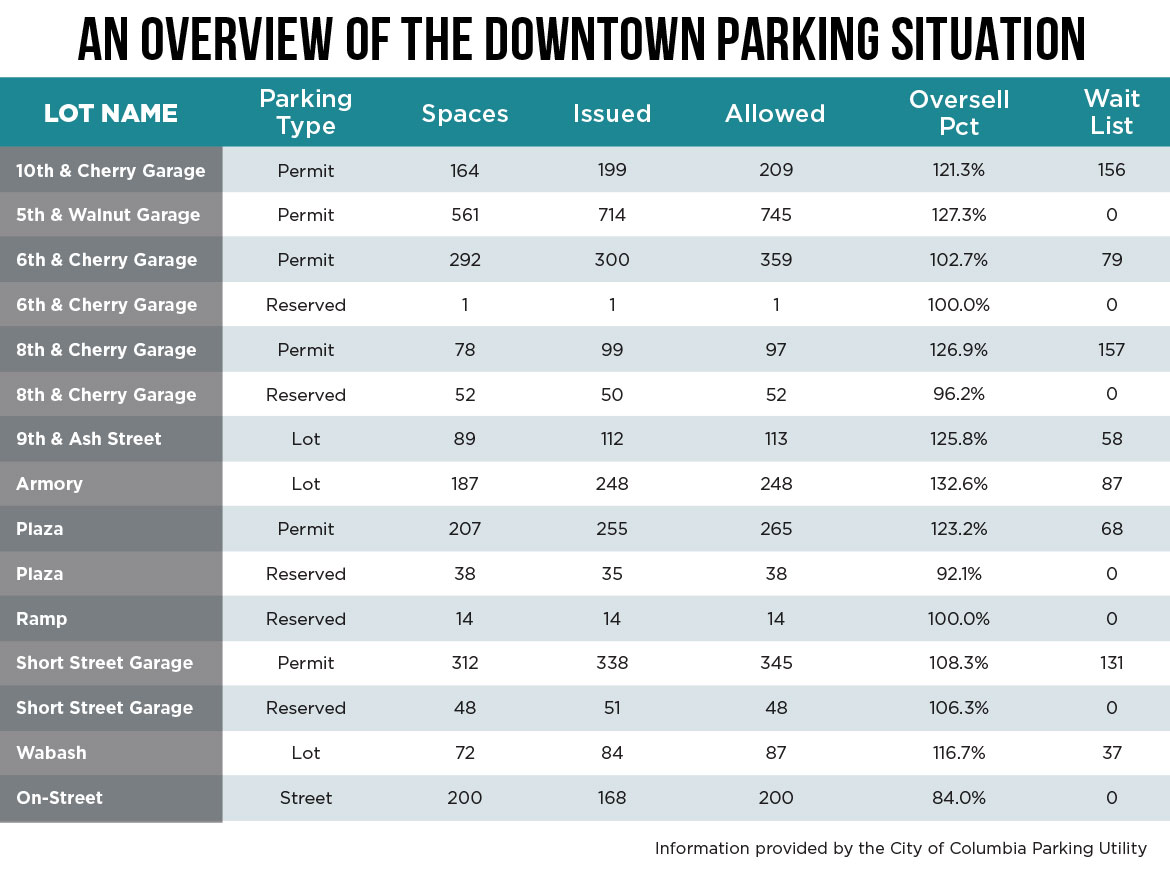 The city is just beginning a major inventory of the supply and demand for parking downtown. Columbia has retained Walker Consultants, a firm based in Tampa, Florida, that has 19 locations around the country, to aid in the process.
A team from Walker was on the ground in Columbia in late March to survey the situation after poring over data provided by the city. Christian says she hopes to be able to start implementing recommendations within a year. The city's Parking Advisory Commission, which held its first meeting in February 2018 and is made up of six members appointed by the city council and one each appointed by MU, the CID, and the Downtown Leadership Council, also has the option of acting on recommendations in the interim.
At the very least, Christian hopes the consultation will yield a way to better track how much expanded capacity each new commercial space downtown could yield, such as the building at Eighth and Walnut that Hawthorn Bank will soon occupy.
"I'd like to be able to track that in the future, to see that we've got a new space going up and see how many people we have that are going to need parking in it and add it to our list, so we can sense that supply and demand," Christian says. "Potentially, I think the consultants, when they identify that, can recommend that we need to start putting money aside to build a new parking garage or sell more parking permits. We don't have a sense of how much we could oversell. We're trying to understand everything we have available and how we can serve the community in the best way possible and create the most efficient system that we can."