A Downtown Dream Come True
photos by Sadie Thibodeaux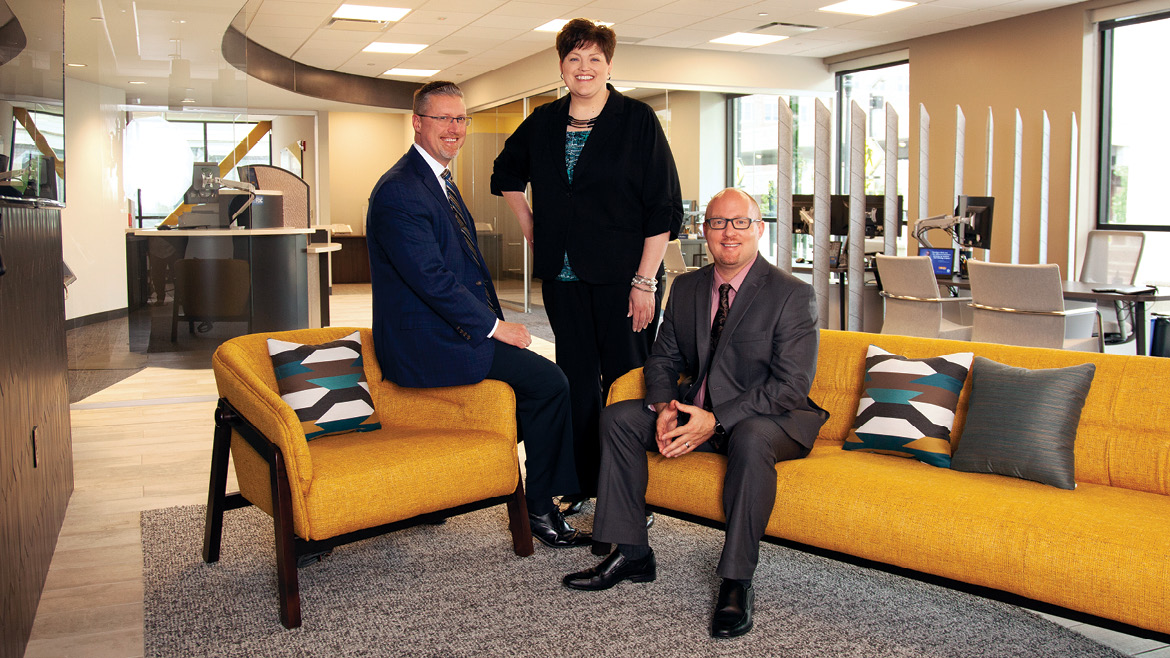 Next to the courthouse downtown stands a new building intended for commercial office space. The building will be named the Hawthorn Bank Building. A fitting name, since Hawthorn Bank has moved into the first two floors, making it their second Columbia branch. It's a move that's been in the works for awhile.
"We've been looking for a downtown location for a long time. We looked at lots of different possibilities, and when we started looking in earnest, nothing downtown was for sale," says Todd Hoien, president of Hawthorn Bank's Columbia market. "We originally thought we wanted to be on Broadway. We felt like that was important, but when this building opportunity came about, we decided it was kind of perfect because you were a block north of Broadway, so you get one block removed from some of the traffic congestion, and being right next to the courthouse, you have a stable next door property owner that's not really going anywhere."
And while the lack of a parking lot and no drive-thru originally concerned him, he's noticing that those don't seem to be drawbacks for the bank's tech-savvy customers. "With the advancements we've made in our technology with the mobile app and with the direction a lot of the banking activity is going, a lot of our customers are doing so much more of their banking with their phones now," he says.
But there are also tech-savvy banking options. Ann Westhues, retail branch manager for both the original Club Village location and the new downtown location, says they have a live teller machine that is available to customers before and after regular bank hours.
Technology improvements are one area of focus for the bank, but both Hoien and Westhues point out that the heart behind what they do and why they do it comes from a desire to be in relationship with their customers. "We really strive to get to know our customers by name, get to know their families, and grow with them as a financial partner. We hope to be a little more convenient for our customers by adding this second location," says Westhues.
A Space for Everyone
The downtown location will initially house the bank's lenders, about 10 employees. But within the next two years, Hoien would like to see that number increase. "The plan is to hire a couple of credit analysts within the next 12 to 18 months and probably one more loan officer," he says.
In addition to offices on the first floor, the bank has also built two meeting rooms for their customers and the public to utilize through a reservation system.
"On the north side of the ground floor, we have a community room that we're going to open up to our customers, certainly, but also friends and prospects and nonprofits and offer that as a place they can use for different events," says Hoien.
The community room will hold about 20 people, so it's ideal for larger groups.
They also have a second, smaller room ideal for business meetings between a couple of people or for a video conference call. As Hoien explains, this would also be for the small business owner who may not have a typical office space setting.
Hoien emphasizes that Hawthorn Bank wants to be a good citizen and partner with the businesses downtown. "I think there's this whole community of people that work downtown, that come downtown, they own businesses downtown, and just stay downtown for the day. We're really looking forward to connecting with some of those folks and building relationships," he says.
Ryan Clifton, senior vice president of commercial lending at Hawthorn Bank, agrees. "This new downtown Hawthorn Bank facility is a place we want the community to visit and feel a part of each and every day," he says.
A Grand Opening
The bank's grand opening will be this summer, after everything, especially the technology, has been given the green light by Westhues.
"You only get one chance to make a first impression, and I've been in this long enough to know that when you first turn technology on, you tend to have glitches. I want to make sure we get those ironed out," explains Hoien.
Once everything is good to go, the bank is ready to settle in and make their presence known downtown. "Our customers are everywhere, and really, to send the message to Columbia that we're going to be one of the Columbia banks and that we're committed to this market, we felt like coming downtown and having a real presence was the way to send that message. That's really why we wanted to be downtown."
Hawthorn Bank Downtown
803 E. Walnut St., first floor
www.hawthornbank.com
1865: Hawthorn Bank is founded.
1934: The bank becomes FDIC insured.
2001: The bank introduces online banking.
2006: Hawthorn Bank's first Columbia branch opens.
2017: Todd Hoien becomes Columbia market president.
2019: Opening of Hawthorn Bank's second Columbia branch.