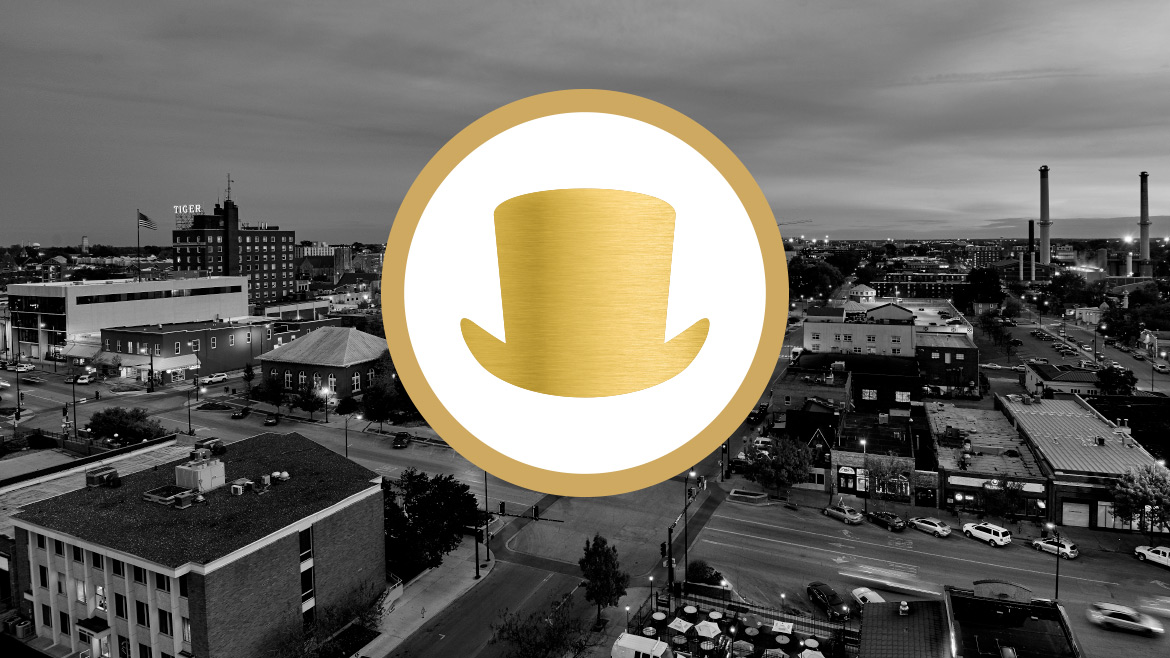 We're proud to recognize the businesses and people keeping Columbia looking good and running smoothly. Because of your continued and growing support of Columbia's businesses and leaders, we increased the number of categories from 35 to 39 in this year's fourth annual Top of the Town awards. Let's check out the first and second place winners in each category!
TOP PLACE TO WORK 1 – 25 EMPLOYEES
First Place: Visionworks Marketing Group
204 Peach Way, Ste. H, 573-449-8567
Visionworks Marketing Group is a full-service marketing agency offering a range of services from graphic design to public relations. With more than 20 years in business, the agency has the experience and creativity to build their clients' brands. They won four awards from the 2017 Communicator Awards, an international competitive awards program, on behalf of clients.
Second Place: The Station House at Katfish Katy's
8825 W. Sarr St., 573-777-5500
Zac and Laura Cutler opened The Station House at Katfish Katy's in September 2016. The Station House is an outdoor event location and restaurant located next to the Missouri River and Katy Trail State Park. Being a seasonal business, The Station House is open April through October. The Station House hosts numerous events throughout the season and is also available to rent for private events.
TOP PLACE TO WORK 26 – 50 EMPLOYEES
First Place: EquipmentShare
4205 Interstate 70 Dr. SE., 573-299-5222
EquipmentShare is an online platform that lets contractors lend their equipment or rent equipment from other contractors. Their company reduces the cost of renting equipment by 30 percent and allows contractors to make money on the equipment they own but aren't using. GPS trackers are installed on all rental equipment so that contractors can see where their equipment is and what it's being used for.
Second Place: Las Margaritas
10 Southampton Dr., Ste. B, 573-442-7500
Las Margaritas is a Mexican bar and grill with outdoor patio seating overlooking a man-made lake. Since opening in 2012, Las Margaritas has become a popular spot for happy hours. They offer a range of authentic Mexican and Tex-Mex foods as well as their signature drink, a lime margarita.
TOP PLACE TO WORK 51+ EMPLOYEES
First Place: Veterans United Home Loans
1400 Veterans United Dr., 800-884-5560
Veterans United Home Loans is a family-owned, full-service lender that specializes in helping veterans and military servicemembers become homeowners. Veterans United is the No. 1 VA purchase lender in the country. With a team of executive leaders who have a blend of experiences, they strive to create the ultimate VA loan experience.
Second Place: Central Bank of Boone County
720 E. Broadway, 573-874-8100
Central Bank of Boone County has a long history in Columbia. They've been in business for more than 175 years and have 10 locations in Columbia. They're committed to customer service, providing financial expertise, and offering exceptional products. Central Bank is a community bank, so they require their employees to volunteer within the community. The bank also has a community involvement committee that coordinates events and fundraisers that help employees become leaders within the community.
TOP OFFICE DIGS
First Place: True Media
500 Business Loop 70 W., 573-443-8783
True Media is a multi-national strategic communications and media company. They help companies develop communication plans that could include traditional, digital, social, and mobile media. They have developed plans for some of the most reputable companies in North America and have partnered with top-notch agencies to captivate audiences around the world.
Second Place: Missouri Employers Mutual
101 N. Keene St., 800-442-0593
Headquartered in Columbia with additional locations in Kansas City, Springfield, and St. Louis, Missouri Employers Mutual is the No. 1 provider of worker's compensation insurance in the state. With a program called WorkSAFE, MEM uses their expertise to benefit policy holders. MEM is committed to serving policyholders by saving lives and money through safe workplaces.
TOP EMERGING PROFESSIONAL
First Place: Jesse Walters, Camacho Coffee
500 Big Bear Blvd., 660-537-1983
Jesse Walters is co-founder of Camacho Coffee, a local coffee roastery that opened last year. Camacho Coffee supplies craft coffee to restaurants, cafes, and businesses. As a native to the Columbia area, Walters is active in supporting nonprofits in the community and enjoys helping small businesses grow. Ten percent of Camacho Coffee profits go back to local charities.
Second Place: Wendy Moore, Central Bank of Boone County
720 E. Broadway, 573-874-8100
Wendy Moore is a business relationship manager at Central Bank of Boone County. With more than five years of experience in financial services, Moore ensures that the bank's clients' financial needs are met. Moore embraces the daily opportunities to learn and help solve business owners' changing needs. She works as a customer advocate to make sure clients are aware of what the bank has to offer, while also improving services and products within the bank.
TOP COMMERCIAL LENDER
First Place: Chris Rosskopf, Central Bank of Boone County
720 E. Broadway, 573-874-8100
Chris Rosskopf is the senior vice president of commercial banking at Central Bank of Boone County. He has been with the bank for 17 years. His favorite part of working at the bank is listening to small business owners share their success stories and working with his colleagues. When he isn't working, he's involved in the community as the treasurer of the Voluntary Action Center and an ambassador for the Chamber of Commerce.
Second Place: Jason Ramsey, The Callaway Bank
1600 Chapel Hill Rd., 573-447-5410
In 2015, Jason Ramsey joined The Callaway Bank as a commercial lender. He works to develop and service commercial banking relationships in Boone County. He attended Truman State, where he received a Bachelor of Arts degree, and he received his master's in public administration from MU.
TOP COMMERCIAL REALTOR
First Place: Gina Rende, Maly Commercial Realty
213 N. Stadium Blvd., 573-999-3131
Gina Rende is a member of the Maly Commercial Realty sales and leasing team. With experience in title insurance and marketing for mortgage banking, she is an asset for clients. She provides expertise in lease and contract negotiation, site location, demographic analysis, and creative marketing. She is also a member of the Chamber of Commerce and Women's Network.
Second Place: Jack Maher, Maher Commercial Real Estate
3610 Buttonwood Dr., Ste. 200, 573-228-6321
Jack Maher is the vice president of Maher Commercial Real Estate. He graduated from MU with a degree in psychology and became a licensed broker–officer in 2016 after working with his grandfather at Maher Commercial as a licensed salesperson. He works with buyers and sellers of property in the central Missouri market. He enjoys helping small businesses grow and bringing new businesses to Columbia.
TOP HR FIRM
First Place: Columbia EDP
1816 Vandiver Dr., 573-474-8431
With more than 40 years of experience, Columbia EDP has earned a strong reputation in the community. Columbia EDP offers expert dependable payroll services to businesses with dedicated, certified payroll professionals. The number one priority at Columbia EDP is helping and educating people so they can focus on their businesses. Columbia EDP has earned an A+ rating from the Better Business Bureau.
Second Place: Moresource Inc.
401 Vandiver Dr., 573-443-1234
Kat Cunningham founded Moresource as a company that helps businesses with payroll, human resources, insurance, and bookkeeping services. Cunningham believes businesses should focus on delivering goods and services to their customers and let someone else do the rest. With more than 5,000 clients, Moresource has helped businesses big and small.
TOP STAFFING COMPANY
First Place: JobFinders Employment Services
1729 W. Broadway, Ste. 4, 573-446-4250
Founded in 1986 by Anne Williams, JobFinders Employment Services matches the right people to the right jobs. Since starting as a job placement service for Mid-Missouri, JobFinders has grown to reach across the United States. They offer cost-effective staffing solutions and can help throughout the hiring process with discovery, screening, recruiting, and placing.
Second Place: Kelly Services
1000 W. Nifong Blvd., Bldg. 8, 573-875-0605
Kelly Services offers outsourcing and consulting solutions, including recruitment, human resource management, vendor management, and outplacement services globally. Kelly Services' vision is to provide the world's best workforce solutions.
TOP JANITORIAL SERVICES
First Place: Atkins Inc.
1123 Wilkes Blvd., Ste. 450, 573-874-5100
Since 1925, Atkins, a family-owned company, has offered commercial cleaning, pest management, turf and tree maintenance, holiday lighting, invisible pet fencing, and irrigation installation. They place an emphasis on service and quality to exceed customer expectations. The owners and staff know clients by name and are "front-porch friendly."
Second Place: Tiger Maids
1206 Business Loop 70 W., Ste. G, 573-445-9999
Tiger Maids is family-owned and -operated. They offer residential and small commercial cleaning services. They also offer free estimates with no appointment needed and a 100 percent satisfaction guarantee. Whether customers are looking for a one-time cleaning or regular maintenance, Tiger Maids can create a cleaning plan to fit any need and budget.
TOP BANK
First Place: Central Bank of Boone County
720 E. Broadway, 573-874-8100
For more information, see Top Place to Work, 51+ employees, page 62.
Second Place: Landmark Bank
801 E. Broadway, 800-618-5503
As a family-owned bank with a long tradition of community banking, Landmark is committed to providing customers with remarkable service. They have locations in 28 communities across Oklahoma, Texas, and Missouri. As a community leader, Landmark feels it is their responsibility to give back to the people and communities they serve.
TOP COMMERCIAL BUILDER
First Place: Coil Construction
209 E. Broadway, 573-874-1444
Randy Coil started Coil Construction more than 35 years ago as a small remodeling and renovation business in the Columbia area. Coil Construction has since grown into a large commercial construction company that offers a full range of services in design and management. Their goal is to provide a construction process that is well-managed from beginning to end.
Second Place: Huebert Builders
3407 Berrywood Dr., 573-449-4996
Since 1986, Huebert Builders has offered commercial building and remodeling services to Mid-Missouri through their team of craftsmen, electricians, and plumbers. Huebert Builders is dedicated to providing excellent service to clients by establishing an ongoing relationship and continually communicating throughout the building process.
TOP REAL ESTATE DEVELOPER
First Place: Mike Tompkins, Tompkins Homes & Development
6000 S. Hwy KK, 573-881-6316
Tompkins Homes & Development specializes in subdivision development and new property around Columbia. Mike has been serving the (continued on pg. 67) Columbia area for over 30 years and has completed more than 400 custom home and remodeling projects. He is dedicated to his customers and believes every interaction should be a win–win.
Second Place: Rob Wolverton, R. Anthony Development Group
6150 S. Sinclair Rd., 573-447-0799
Rob Wolverton, president of R. Anthony Development Group, has worked for more than 19 years in land development and more than 20 years as a licensed realtor. He enjoys the research that goes into the development of projects and the process of creating a plan for a property and executing it.
TOP COMMERCIAL PHOTOGRAPHER
First Place: Casey Buckman
4802 Shale Oaks Ave., 573-881-1050
Casey Buckman offers photography on location or in studio for occasions such as weddings, senior photos, family portraits, and events. Buckman attended MU for photojournalism and has been serving Mid-Missouri for over 15 years.
Second Place: LG Patterson
47 E. Broadway, 573-445-6985
LG Patterson has been a Columbia photographer for over 35 years. He received his Bachelor of Arts in photography from MU. With a national reach, Patterson has photographed for The New York Times, USA Today, and Major League Baseball. He also photographs and collaborates with graphic artists for Mizzou athletic team posters.
TOP CHAMBER VOLUNTEER
First Place: Ann Merrifield, Columbia College
1001 Rogers St., 111 Missouri Hall, 573-875-7841
Ann Merrifield is director of alumni relations at Columbia College, where she promotes and establishes mutually beneficial relations between the college, its alumni, and friends of the college. She has more than 20 years of experience in education and workforce development. A graduate of MU, she remains active in the Columbia community, where she is currently an ambassador and committee member of the Chamber of Commerce.
Second Place: Allie Marrone, Roto-Rooter Plumbing & Drain
5904 N. Brown Station Rd., 573-808-4357
Allie Marrone is the office manager at Roto-Rooter Plumbing & Drain, a family-operated business owned by her parents. Her favorite part of the job is the community relations aspect of meeting new people and giving back to the community. She is an active community member as a volunteer with several organizations. Working with the Chamber of Commerce, her favorite role is the Community Involvement Committee chair. She is a role model for young professionals and strives to do everything to the best of her ability.
TOP BUSINESS INSURANCE
First Place: Stephanie Wilmsmeyer, State Farm
2609 E. Broadway, Ste. 214, (573) 445-5774
Stephanie Wilmsmeyer has been an agent for State Farm since 2000 and opened her own agency in 2007. She helps people manage the risks of everyday life, recover from the unexpected, and realize their dreams by providing auto, home, renter's, and life insurance. Being active in the community, the team at Stephanie Wilmsmeyer State Farm office takes pride in being a resource for the community. They care about clients and their goal is not to make a sale, but to make a customer for life.
Second Place: Columbia Insurance Group
2102 Whitegate Dr., 573-474-6193
Columbia Insurance Group has served Columbia for more than 140 years by providing commercial business insurance. Their mission is to build enduring relationships with their customers by providing exceptional service and value.
TOP IT COMPANY
First Place: Midwest Computech
311 Bernadette Dr., Ste. A, 573-499-6928
With a history that began in 1982 as a typewriter company, Midwest Computech is now an IT support specialist firm that provides expert IT assistance to every industry. They offer consulting, infrastructure, and wireless and remotely managed IT services. The company's consulting and IT teams work with businesses to develop solutions that improve productivity and success.
Second Place: Delta Systems Group
204 Corporate Lake Dr., 573-442-9855
Delta Systems Group is a consulting company that designs and builds databases, applications, websites, and networks. Since 1986, Delta Systems has provided services to thousands of individuals and more than 900 companies. They provide a wide range of services to clients and offer free consultations to show how they would build a plan to fit the client's needs.
TOP B2B PRODUCT OR SERVICE
First Place: The Connection Exchange
204 Peach Way, Ste. D, 573-312-0628
A free service to all new businesses in the community, The Connection Exchange is a professional networking and welcoming company. Co-owners Cara Owings and Jennifer Schenck connect established businesses with new businesses to benefit both. With services available across Missouri, businesses can utilize the services within their community.
Second Place: GFI Digital
4210 Phillips Farm Rd., Ste. 101, 573-874-5600
GFI Digital is a full-service provider of office technology. They offer every aspect of office technology, including office equipment, managed print services, managed network services, and advanced technology services. As a leader in the industry, founder and owner Bruce Gibbs believes the thing that sets GFI apart is their commitment to service.
TOP ENGINEER
First Place: Crockett Engineering
1000 W. Nifong Blvd., Bldg. 1, 573-447-0292
Crockett Engineering consults for civil, structural, and geotechnical engineering. Since opening in 1985, Crockett Engineering has grown from serving local Columbia clients to now having projects in nearly 20 states.
Second Place: Timberlake Engineering
912 Old 63 S., 573-875-4365
Mark Timberlake founded Timberlake Engineering in 1999. They are a full-service mechanical, HVAC, electrical, lighting, plumbing, and LEED consulting engineering firm. The company's philosophy is to provide practical designs to clients and high quality personal service. With experienced staff, Timberlake Engineering uses well-trained and educated project engineers and draftsmen to design, develop, and maintain each project.
TOP ARCHITECT
First Place: Simon Oswald Architects
2801 Woodard Dr., Ste. 103, 573-443-1407
Simon Oswald Architects enhances the community through creative architectural and interior designs. SOA believes architecture and interior design are intrinsically connected. They offer a wide range of services including evaluating potential property, remodeling existing buildings, and designing something new. They are environmentally friendly and promote sustainable designs and operations that protect the environment while simultaneously improving the client's bottom line.
Second Place: PWArchitects, Inc.
2120 Forum Blvd., Ste. 101, 573-449-2683
Founded in 1978, PWArchitects has offered planning, architectural, interior, and sustainable design services to a wide variety of education, corporate, health care, government, and private clients. They offer flexibility with projects and adapt easily to project demands.
TOP ADVERTISING AGENCY
First Place: Hoot Design Co.
1023 E. Walnut, 573-229-0123
A small business themselves, Hoot Design Co. believes in small businesses and helps companies across the world find success. Hoot Design Co. is a woman-founded, woman-owned, and woman-driven advertising agency. Their services include logo design and branding, web design, content marketing, social media marketing, and video production. The versatile team provides honest work for wholehearted people backed by Midwestern values.
Second Place: Visionworks Marketing Group
204 Peach Way, Ste. H, 573-449-8567
For more information, see Top Place to Work, 1-25 employees, on page 62.
TOP COFFEE MEETING LOCATION
First Place: The Grind Coffee House
4603 John Garry Dr. Ste. 1, 573-447-3333
With locations on the north and south sides of town, The Grind is a customer-centric business. While drinks can be personalized, they also have a signature drink, "The Aucky," named after owner Aucky El-Tayash. Since opening in 2016, The Grind has been committed to providing the highest quality drinks with the highest quality ingredients.
Second Place: Kaldi's Coffee
29 S. Ninth St., 573-874-2566
In 1994, Kaldi's Coffee opened their doors and has since grown to include 18 locations. Their mission is to create a memorable coffee experience for their customers and guests, to commit to sustainable business practices, to provide educational opportunities, and to support the communities that they serve.
TOP PLACE FOR A BUSINESS LUNCH
First Place: D. Rowe's
1005 Club Village Dr., 573-443-8004
Started in 2002 by former Mizzou football player David Rowe, D. Rowe's has a reputation for big portions. The American and barbecue restaurant's wings are a popular item on the menu. They also offer catering services and an in-house banquet area for up to 50 people.
Second Place: Sycamore
800 E. Broadway, 573-874-8090
Sycamore is an owner-operated, sophisticated restaurant offering American dining, fine wine, and craft beer. Since opening in 2005, Sycamore's goal has been to enrich the dining experience in Columbia by offering locally sourced, well-crafted dishes in a lively, comfortable atmosphere.
TOP NATIONAL PRESENCE
First Place: Veterans United Home Loans
1400 Veterans United Dr., 800-884-5560
For more information, see Top Place to Work, 51+ employees, on page 62.
Second Place: Carfax
38 N. Eighth St., 703-934-2664
Carfax is the most comprehensive vehicle database in North America, offering vehicle history information to buyers and sellers of used cars. Carfax uses a vehicle's VIN to generate a history report on any used car model after 1981. Carfax receives information from more than 100,000 data sources including motor vehicle agencies, collision repair facilities, and rental agencies. Reports generated by Carfax contain information on vehicles such as number of owners, flood damage history, total loss accident history, odometer readings, accident indicators, and state emissions inspection results.
TOP HAPPY HOUR LOCATION
First Place: Room 38
38 N. Eighth St., 573-449-3838
Room 38 is an upscale restaurant and bar located in the heart of downtown that makes everything from scratch. With offerings including flatbreads, small plates, sharing plates, sandwiches, and dessert, there are several cuisine options. They offer catering services with a catering menu that reflects the in-house menu, but chefs can also prepare a personalized menu.
Second Place: Las Margaritas
10 Southampton Dr., Ste. B, 573-442-7500
For more information, see Top Place to Work, 26-50 employees, on page 62.
TOP PLACE TO CLOSE A DEAL
First Place: Central Bank of Boone County
720 E. Broadway, 573-874-8100
For more information, see Top Place to Work, 51+ employees, page 62.
Second Place: 44 Canteen
21 N. Ninth St., 573-443-2726
Co-owners Dave Faron and Mark Sulltrop opened 44 Canteen as a casual dining restaurant and a sister restaurant to 44 Stone. 44 Canteen is located downtown and offers a takeout option while also being open for lunch and dinner. With food preparations and gatherings inspired by worldwide food styles, they offer tacos, burgers, sandwiches, and sharing plates.
TOP LOCAL TEAM-BUILDING EXPERIENCE
First Place: Paint the Town
2703 E. Broadway, Ste. 127, 573-777-7795
As an upscale "paint, drink, and party" destination, Paint the Town allows people to paint their own art work from a number of fun and easy templates or paint their own designs. Offering a full bar and soft drinks, Paint the Town is open to people of all ages. For team-building experiences, off-site events are available for up to 150 painters.
Second Place: Breakout CoMo
218 N. Eighth St., 573-340-5625
With 60 minutes on the clock, teams have to find clues and solve puzzles to break out from one of Breakout CoMo's escape rooms. It's perfect for families and friends, corporate teams, game aficionados, and parties. Teams can range in size from two to 10 people. Each room has its own theme and is designed for maximum fun.
TOP CATERER
First Place: CoMo Smoke & Fire
4600 Paris Rd., Ste. 102, 573-864-1021
CoMo Smoke & Fire is a family-owned and operated barbecue restaurant started by Patrick and Matthew Hawkins. Their sauces, made from scratch daily, and freshly smoked meats offer a unique flavor of barbecue. They also offer full-service catering for events anywhere from 20 to 500 people as well as a full bar service and menu tastings for large catered events.
Second Place: Room 38
38 N. Eighth St., 573-449-3838
For more information, see Top Happy Hour Location.
TOP EVENT LOCATION
First Place: Logboat Brewing Co.
504 Fay St., 573-397-6786
Logboat continuously tries to innovate new brews to keep their selection interesting and fresh. Their mission is to cultivate customer loyalty and trust through the production and distribution of craft beer. Six core beers are served year-round with other seasonal options available throughout the year.
Second Place: The Roof
1111 E. Broadway, 573-875-7000
The Roof was opened in 2014 with a mission to raise the bar, literally. The Roof is a restaurant, lounge, and nightclub that offers tasty small plates and creative cocktails with indoor and outdoor seating overlooking downtown Columbia. The Roof is the ideal place for happy hour or a night out.
TOP BUSINESS COACH
First Place: Carolyn Paris, Carolyn Paris Consulting
2605 Summit Rd., 573-819-6705
After more than 30 years in the financial, advertising, and technology industries, Carolyn Paris opened her own consulting firm. Carolyn Paris Consulting offers consulting and coaching to professionals across the country. Her mission is to guide clients towards their goals. Carolyn is inspired by her clients; she believes it takes courage and commitment to re-invent yourself.
Second Place: Tom Trabue, theNextStep
3530 S. Old Ridge Rd., 573-489-2091
Tom Trabue is CEO of theNextStep, a personally tailored business coaching company. TheNextStep offers one-on-one personal coaching, best business management practices, and tailored seminars. Trabue says the best part of his job is helping clients break through their barriers, whether they're personal or business-related.
TOP BUSINESS SPEAKER
First Place: Valerie Zumwalt, Show Me Leaders
204 Peach Way, Suite D, 314-485-4934
Valerie Zumwalt is the founder of Show Me Leaders, a leadership growth company. The company was founded in 2014 and offers development events, programs, and products to individuals and organizations. Zumwalt has grown the Leadercast event in Columbia to be the third largest in the world out of more than 700. She says the best part about her job is working with people who want to grow and develop. Zumwalt also serves as Junior Leadership Columbia co-chair, TRC coordinator, and an ambassador for Columbia Chamber of Commerce, and she's a the Leadership Development Roundtable co-chair for Women's Network and lead organizer for 1 Million Cups.
Second Place: Kim Becking, Looking Forward, Living Life
573-808-6315
Kim Becking is a nationally recognized author, speaker, and consultant at her training company, Looking Forward, Living Life. She is a breast cancer survivor who provides messages of hope, inspiration, and humor to encourage people. With several speaking and coaching programs, she applies her personal experiences to help other people with their lives.
TOP BUSINESS ATTORNEY
First Place: Nathan Jones, Nathan Jones Law
303 N. Stadium Blvd., Ste. 200, 573-874-1122
Nathan Jones opened his own firm, Nathan Jones Law, two years ago. He's been an attorney for seven years and specializes as a business and estate lawyer. Outside of working with clients, he also works to help the community. He is a board member for the Community Foundation of Central Missouri and City of Refuge, vice president of the board for Playing 4 Hope, and a member of Mid-Missouri Estate Planning Council.
Second Place: Daniel Beckett, Smith Lewis Attorneys at Law
111 S. Ninth St., Ste. 200, 573-443-3141
Daniel Beckett practices commercial litigation, corporate law, personal injury litigation, banking and finance law, real estate and land use law, employment law, and eminent domain law. Beckett is a graduate of MU and a U.S. Marine Corps veteran.
TOP CEO
First Place: Anne Williams, JobFinders Employment Services
1729 W. Broadway #4, 573-446-4250
Anne Williams is the owner of JobFinders Employment Services, a source for matching people to the right jobs. In 1986, she started job placement services throughout Mid-Missouri and has since grown the company to include recruiting services that reach across the country.
Second Place: Steve Erdel, Central Bank of Boone County
720 E. Broadway, 573-874-8100
Steve Erdel has served as CEO of Central Bank of Boone County since 2006. Being a leader in Columbia's largest bank, he has guided the bank and encouraged successful growth. He also oversaw the name change from Boone County National Bank to Central Bank of Boone County in 2015. He has been integral to the company's performance and strong company culture.
TOP SALESPERSON
First Place: Brooke Berkey, Central Bank of Boone County
720 E. Broadway, 573-874-8100
Brooke Berkey is assistant vice president and relationship manager at Central Bank of Boone County. She manages the large commercial relationships and assists individual customers at the bank. She is passionate about community events and the American Heart Association.
Second Place: Megan Meier-Walters, House of Brokers Realty
1515 Chapel Hill Rd., 573-808-6457
Megan Meier-Walters received her real estate license last year and began working for House of Brokers Realty. Growing up in Columbia, she feels her experiences within the community have allowed her to grow with her career. She is passionate about helping others and assisting them in important life choices. She believes her job is about more than just a sale; it's about developing lasting relationships.
TOP ENTREPRENEUR
First Place: Amanda Quick, The Hatchery
206 Corporate Lake Dr., 573-356-9567
Amanda Quick is the owner of The Hatchery, a business that offers co-working spaces and optional on-site childcare. The Hatchery was built to fit the needs of working parents and lets customers choose a co-working membership to fit their needs. Co-working memberships are monthly, and customers can pay monthly or receive a five percent discount for signing up for a full year.
Second Place: Cara Owings, The Connection Exchange
204 Peach Way, Ste. D, 660-537-0778
Owings is co-founder and co-owner of The Connection Exchange. The Connection Exchange is a welcoming service for new businesses in the community that connects new businesses to already established businesses. Owings has launched the networking business in six different communities and seeks to keep expanding and franchising across the state.
TOP ACCOUNTING SERVICE
First Place: Accounting Plus
1604 Business Loop 70 W., 573-445-3805
Accounting Plus is a full-service accounting, tax, and business advisory firm that has offered services to the Columbia area since 1992. The goal at Accounting Plus is to understand the needs of clients and even offer services on-site at the clients' places of business. Co-owners Denise Nelson and Tina Marso have more than 20 years of experience each and work to provide the best service at an affordable price.
Second Place: Gerding, Korte, and Chitwood
20 S. Fifth St., 573-449-1599
Gerding, Korte, and Chitwood works to meet each individual client's needs for planning for the future and achieving their goals. Being committed to personal attention for each client, GKC hosts free financial accounting, consulting, and tax service seminars, also known as FACTS seminars. As a local business, GKC strives to support other local businesses and causes through donations and volunteering.
TOP VIDEOGRAPHER
First Place: Cosmic Sauce
500 E. Walnut, 573-823-7474
Cosmic Sauce is a video marketing agency. Specializing in video production, content studio, and video marketing, Cosmic Sauce looks to create what does not exist. They believe in using a cohesive mix of strategy and creativity to produce content that drives results.
Second Place: Thom Baker, Baker Digital Marketing
5183, 5306 W. Tayside Cir., 573-874-5691
At Baker Digital Marketing, it's about more than capturing video; it's about telling stories. The company has had work featured throughout the country. With years of hands-on experience, teaching experience, and connections to advertising professionals, owner Thom Baker can create complete marketing packages.
TOP COMMERCIAL LANDSCAPERS
First Place: Lanier Landscaping
1517A Copper Rd., 573-795-5820
Founded in 2015, Lanier Landscaping designs, plans, and creates hardscaping. This includes but isn't limited to patios, outdoor kitchens, water features, and fireplaces. They offer 3D-rendered videos of client projects. With quality in mind, Lanier Landscaping seeks to create hardscapes that are unique to every property.
Second Place: Columbia Landcare
7105 W. Henderson Rd., 573-443-5681
For more than 20 years, Columbia Landcare has been serving the local community. Columbia Landcare offers a variety of year-round services that include landscape design, grounds maintenance, irrigation services, and snow and ice management. They promise clients reliable and professional service. Owner Jed Taylor's favorite thing about Columbia Landcare is leading a group of professionals who beautify Columbia and enhance the community.
TOP COMMERCIAL INTERIOR DESIGNER
First Place: Inside the Lines
100 E. Texas Ave., 573-234-0778
Inside the Lines is committed to collaborating with clients to deliver interior design services. They offer workspace consulting, planning and design, project management, and installation and support services. With a refreshing and innovative approach, Inside the Lines transforms workspaces.
Second Place: Scout & Nimble Interiors
500 E. Walnut, Ste. 105, 800-527-6263
Scout & Nimble Interiors offers expert advice for clients and an easy process for creating the ideal interior design. Their mission is to "bring exceptional designers and enthusiasts together with unique and stylish products so consumers can browse, discover, and shop fully curated rooms." CBT