Army Reserve Vet Russ Anderson Celebrates 10 Years of Building Homes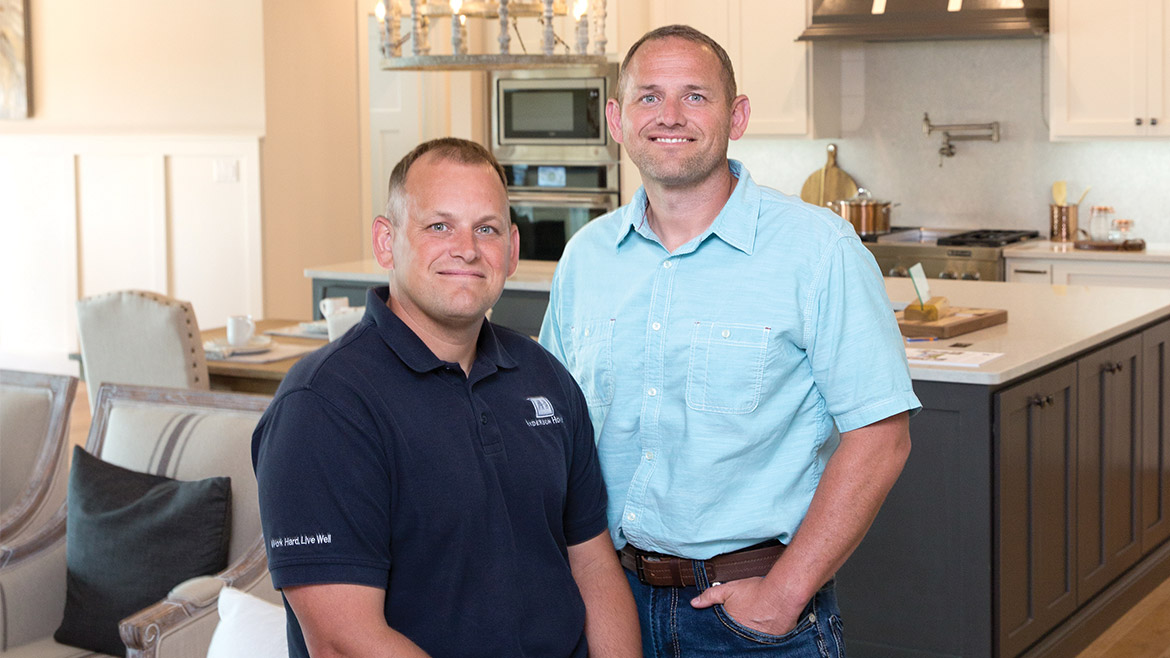 Motivation comes in all shapes and sizes. Sometimes it's an internal force driving us; other times it can be the people around us or the situations we're in. Regardless of the type, motivation is a powerful mentality.
Russ Anderson, an Army Reserve veteran, built his success off of his motivation. At the young age of 19, Anderson opened his first business, The Axle Shop, which built front-wheel-drive car axles. Catching the fever of entrepreneurship, he then opened seven more businesses of all different kinds. Anderson launched his current business, Anderson Homes, a residential construction company, just as the Great Recession hit in 2008. It became clear to him that he could no longer positively impact the success of all his companies with the recession in full effect. Anderson sold his eight businesses and dove into a monogamous lifestyle of sorts, owning just Anderson Homes.
"I had to do some soul searching, and I realized that what I really enjoyed doing was building and designing homes," says Anderson. "The artistic expression of picking out colors and putting things together is really rewarding to me and something that I enjoy."
Anderson Homes excelled through the recession, growing quickly. "There was a lot of bad inventory on the market at the time. Anyone with a cell phone and a truck was building houses," says Andersen. "As the banks foreclosed on homes and the market crashed, our houses set us apart from our competition."
Anderson achieved this success by going outside of Columbia to source unique and rare products to make the homes he built custom and one of a kind.
"I'm not a track home builder. We don't build the same house over and over again. We try and customize every house that we build," he said.
Anderson believes in and stands by the quality of work that his team provides. "I took a business class early in my career, and they told me I could be fast, good, and cheap, but I couldn't be all three," he says. "I value quality and price; I don't value speed."
Those values are part of the foundation of Anderson Homes and part of what has made it possible to log 10 years of business and more than 400 homes built.
Anderson uses the lessons he learned during his eight years in the Army Reserve every day as a business owner. Anderson likes to reference the race between the tortoise and the hare when talking about his business: Consistency will win every time. He says that's his biggest takeaway from his time in the reserves. "You don't need to light the world on fire, but you need to be constant and consistent every day," Anderson says.
Anderson believes that distractions are the silent killer of success. "The military strips you down and takes everything away from you so they can break you and build you back up," he says. "It's amazing how much you can accomplish when you put your mind to something and have a singular focus."
Without distractions, Anderson has been able to build an award-winning residential construction company. He attributes it all to keeping his head down and working his hardest.
"I'm not the best-looking guy out there; I'm not the smartest. But you won't find anyone who out-works me," he says.
Anderson proved that statement by not taking a day off from Anderson Homes until five years after it opened. "You have to have a toughness to bare that weight," he says. "We live in a world where we have so many comforts that make our lives easy that we've lost how tough we could be. The military taught me that."
Anderson believes in seeing things in black and white; he only talks in successes and failures. Either the customer is happy and the job is done or they're not and it isn't.
He hopes for controlled growth in the future and for his customers to continue being happy with their homes. Currently, the company builds around 30 to 40 homes a year. In 2016, Anderson Homes made $8.5 million in gross sales with 42 homes built. In 2017, gross sales increased to $13.2 million with only 35 completed projects. His goal is to build around 40 to 50 homes a year, continuing off the momentum of 2017.
"We're not trying to build a business here," Anderson says. "We're trying to build something that's going to last a lot longer than that." CBT
1996
Russ joins the Army Reserve during his senior year of high school.
1997
Russ marries his high school sweetheart, Andrea.
1998
Russ leaves Kemper Academy and opens The Axle Shop.
2003
Russ begins building homes.
2008
Russ sells out of his businesses and founds Anderson Homes.
2016
Russ's brothers, Ken and Jonathan, come to work for Anderson Homes.