Studio Home Celebrates 10 years and New Location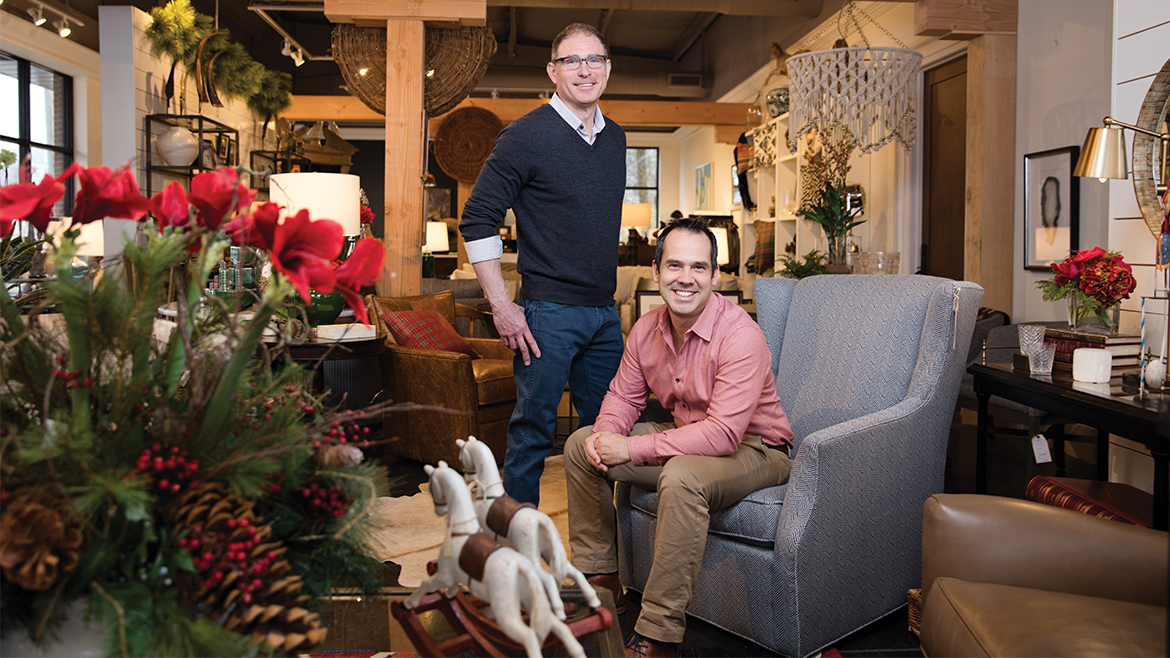 Aaron Dolan's original plan was to spend his career in hospitality and event planning. When he realized his relentless energy and intense desire to create was not conducive to a desk job, he refocused his studies on architecture and interior design and eventually opened Studio Home with partner, Jon Trigg, in 2008.
After 10 years, Dolan and Trigg are breathing new energy into their lives and their business and looking forward to the future. This includes a brand-new store with fresh merchandise offerings and a more approachable and accessible location.
A Fresh Space
The recently opened Studio Home space at 401 South Providence is more visible and more welcoming for clients. "It's a crisper, cleaner look for our vision," says Dolan. "And we're introducing some lower price points to make what we do more accessible."
The new price points include brands like Alder and Tweed, Nuevo, and Selamat. "I've found product that I'm proud to bring in at a lower price point," says Dolan. "It has style."
That new product is highlighted in a showroom featuring additional windows, taller ceilings, and a more spacious layout. Clients will still recognize the deep blue accent wall and wooden beams that frame the space. In addition, white shiplap walls add a fresh look. "In each location we've brought something with us from our former spaces," Dolan shares. This move is no exception.
"This environment will help us provide our clients with the more sophisticated, clean, edited look they want," Dolan says.
Studio Home not only offers a retail showroom, but full-scale custom art framing as well as interior design services for both small and large projects.
Dolan hopes the new location will help them have less overhead, more walk-in traffic, and additional diversification in income streams. "We want to build a sustainable, healthy business as we continue to grow," he says.
Proven Relationships
As Dolan reflects on the last 10 years, he remembers the company's clients and the ongoing relationships he's built with them. "That's always been the driver," he says.
Dolan believes a space should showcase the most interesting things about a client and highlight their personality and life. "That's what we're here for — to assure the space reflects who and what our clients are," he says. "Designing is very creative yet very organized and detailed. It's fun, but we have a lot of responsibility on our shoulders. We want to provide our customers with a sense of place."
He admits the process takes time, energy, and thought. Still, Dolan likes the adrenaline rush of it all. "It's high-energy and exciting," he says. "Always changing."
As co-owner, Dolan acts as the advisor, creative agent, and organizer for his clients. "Jon and I promised ourselves that we would always be client-centric," he says. "Our projects need to reflect our customers. They can't ever be formulaic."
An Exciting Future
Dolan is also incredibly proud of his talented team. "They are approachable and down to earth. Everyone has something they're good at, and we work to accentuate those strengths," he says. Dolan believes those qualities will inform their vision, implementation, follow-through, and general accountability to their clients and continue to set them apart.
Megan Carter is one of the company's staff members feeding that plan. She joined the team in 2015 and communicates with clients, keeps projects organized, and prepares for client presentations. "I'm excited to see what new relationships we will build now that we're more accessible," she says.
Trigg has always loved houses and rooms. He enjoys taking existing spaces and making them more functional. He also worked for years as a studio artist. "I still create art, though not quite in the same way. I frame the work of others and hunt for cast-off interior objects to resuscitate," he says. "I simply present things in a new way, out of their original place, problem solving for an angle to give a room, art, or object new life."
The team is excited about the future they can create together. "As the community grows, we want to grow along with it," Dolan says. "Jon has a lot of ideas, and now we have the space to do them."
They do admit that the challenges of growing a small, local business are increasing, especially with the availability of online shopping. Many other local artisans are retiring.
"I'm not willing to give in to our whole world becoming generic," Dolan says. "People need somewhere to go to get a unique find and be inspired."
Studio Home
401 S. Providence Rd., Ste. 101
573-445-4122