A Federal Grant Assists the Loop in Developing a "Maker Economy"
photos courtesy of Keith Borgmeyer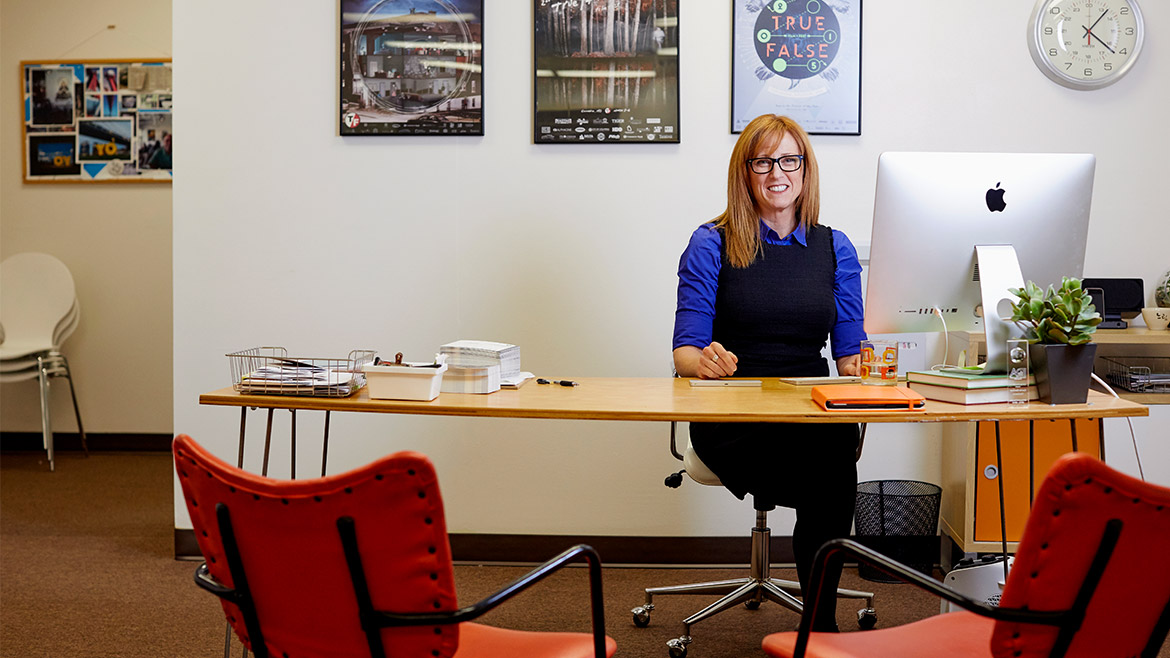 While Columbia boasts a healthy startup economy for local coffee roasters, breweries, and the like, it lacks a concentrated sector devoted to the small-scale artisan manufacturing that generates middle-skills jobs — those that require training but not a college degree. Carrie Gartner, executive director of The Loop, says that's a problem because, as with most college towns, there is a growing gap in the skilled labor force.
"Our city needs a refreshed perspective on what a typical artisan looks like, as well as programs designed to bring more entrepreneurs into the mix," says Gartner.
Earlier this year, The Loop, more formally known as the Business Loop Community Improvement District, and REDI received a federal grant to assist in developing a bustling artisan "maker economy" on the Loop corridor.
The nine-month grant is set to be implemented in March 2019 and will provide consulting services provided by Smart Growth America, a national organization that works with communities to build healthy local economies and neighborhoods. The consulting services will be funded by the U.S. Economic Development Administration. With ambitious revitalization plans already in the works, The Loop and REDI will use the grant to devise a plan for pumping in new business, consumers, and living-wage jobs to a long-neglected corridor.
Revitalizing the Loop
Business Loop 70 runs nearly three miles, from Stadium Boulevard to the west to East Boulevard, just shy of where I-70 intersects U.S. 63. (The Loop's CID spans the corridor from the West Boulevard interstate exit to College Avenue.) Restaurants, bars, fast-food joints, auto dealers, grocers, museums, college satellite campuses, home improvement stores, and a myriad of retailers are among the diverse mix of businesses that call The Loop home.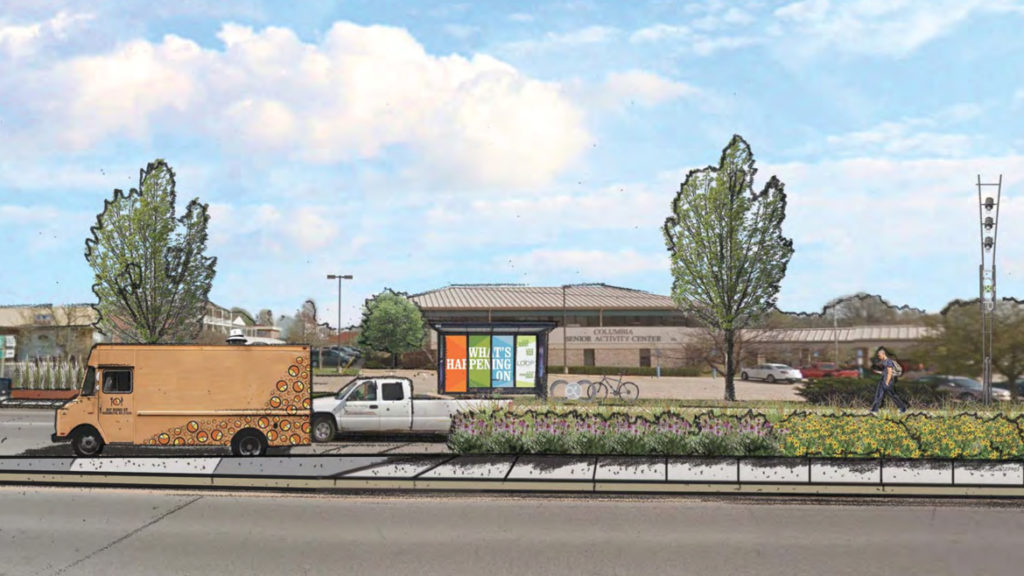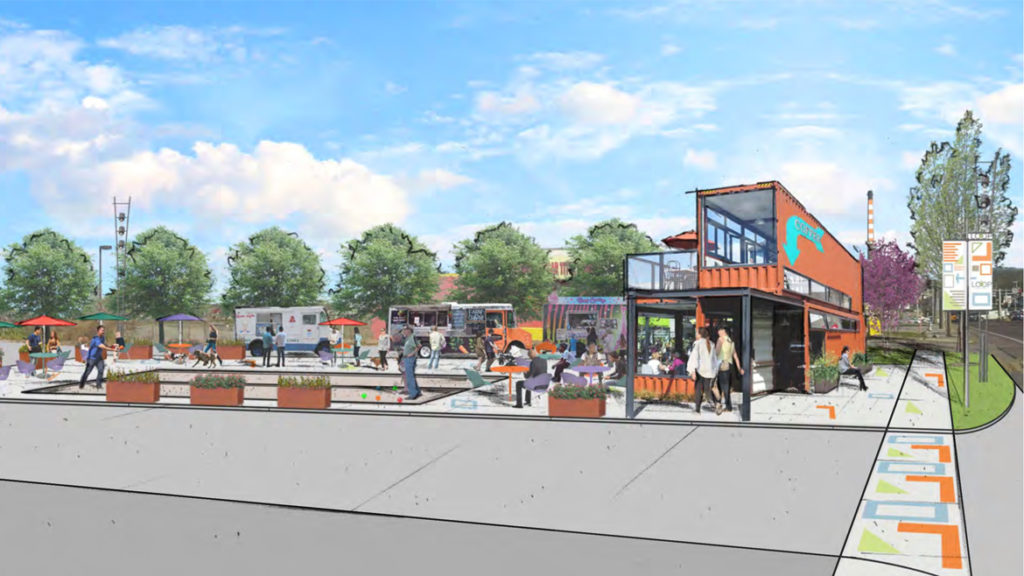 Despite the variety of businesses along this corridor, The Loop presents several challenges to shoppers, property owners, and business tenants. "Right now, we have successful businesses on The Loop, and our sales are higher than expected," says Gartner. "However, we have a number of underperforming properties, including vacant lots or overly large parking lots."
To combat these and other problems, the CID board approved a 10-year revitalization plan earlier this year. With an estimated cost of $15 million over the next decade, funded primarily by property, use, and sales taxes assessed in the district, the plan outlines capital improvements and beautification efforts. The Columbia City Council recently approved the revitalization plan, which calls for improving traffic flow, constructing sidewalks and bike paths, enhancing landscaping, and defining the street's identity with signage and public art. Also on the to-do list are short-term projects, like creating a handful of pop-up spaces for festivals and community events. The envisioned outcome of these improvements is attracting greater investment in The Loop by artisan startups, and in turn, consumers.
"Our goal is to improve the street, but in a way that matches the current character of the area. We don't want to be a street with high-end clothing stores and art galleries — we want to be distinct from other commercial areas of town," Gartner explains. "The Loop is a place where people show up in gloves and work boots. It's an area specializing in fixing, building, and learning. A local furniture maker, metal worker, or jewelry maker would feel right at home on the street."
City council recently rezoned The Loop to allow for just such artisan industries, which has opened the door for The Loop and other partners to focus on creating a small-scale manufacturing corridor.
"This can include welding, sculpting, arts and crafts, pottery, and carpentry, as well as local, small-batch bakeries, candy shops, cheese shops, craft breweries, and micro-distilleries," Gartner says.
It also provides an opportunity for developing a comprehensive, citywide policy dedicated to expanding this place-based economic sector, something Gartner says doesn't currently exist.
"Support for this plan is strong, and a small-scale manufacturing strategy would integrate into the shared economic revitalization goal outlined within," Gartner says. "The ultimate goal is to create a corridor that revives this historically working-class neighborhood with new, small scale industries owned and operated by local residents."
Investing in Community
The revitalization plan is also about investing in the community adjacent to The Loop. The First Ward neighborhood that lies just south of The Loop is one of three identified by the city's 2019 strategic plan as needing a boost in social equity, public safety, infrastructure, and economic development.
"This is a neighborhood with historically low household income, low employment, and high crime," Gartner says.
The neighborhood is inhabited predominantly by minority residents whose unemployment rate of eight percent is nearly twice that of white residents, in part because of a growing gap between the skills that employers need and the skills that residents in this area possess.
The city's strategic plan aims to combat these issues by increasing living-wage jobs in this neighborhood and by reducing the median wage gap between white and minority households by five percent and the skills gap by 10 percent over three years. One way to meet these goals is by creating middle-skills jobs that fuel a small-scale manufacturing sector on The Loop, which is within walking distance from the neighborhood.
The Loop's partnership with REDI is a logical one. Stacey Button, president of REDI, administers the Innovation Hub, a startup incubator that provides collaborative co-working space, business counseling, and mentorship to assist budding entrepreneurs. She is also responsible for the economic development portion of the city's strategic plan.
"Small-scale manufacturing helps grow local entrepreneurship, and small business and can be a catalyst in revitalizing specific areas such as the Business Loop," Button says. "It allows people to produce and sell their own goods, and if strategically located in an area such as the Business Loop, their presence will enhance not only the business corridor, but also the surrounding neighborhoods and the residents who reside there."

COMO Makes
Just as The Loop's revitalization plan will take several years to implement, so too will developing a burgeoning small-scale manufacturing corridor. The first step is to create a feasible working plan that can be completed in phases, which is where the grant-funded consulting services from Smart Growth America come in. Gartner and Button are busy preparing for the first site visit in March by gathering preliminary information about Columbia's specific needs, strengths, and challenges.
"Part of our prep for the site visit it to get a lay of the land: What types of makers and producers do we have [in Columbia] right now? Are they home-based or located in commercial spaces? What types of resources are available?" Gartner says.
The Loop created COMO Makes, a website dedicated to the planning process. Interested artisans, as well as those with resources for helping artisans with training, assistance with business plans, and funding, can add their names to the COMO Makes registry.
"That information will help Smart Growth America and their team develop a plan tailored to us," Gartner says. "We've got about 30 people who've signed up on the makers registry now, and we'll keep collecting names. These folks will be helpful in providing an overview of what types of manufacturing are happening now, and they can help during the site visit interviews as well. It'll also be a good way to keep them apprised of our planning and the outcomes."
In addition to having a community that already supports an active startup culture, Gartner says one of Columbia's strengths lies in its educational institutions. The MU School of Engineering, Stephens College School of Design, the Columbia Area Career Center, and Moberly Area Community College have programs focused on training workers for well-paying, middle-skills jobs.
Gartner suspects the challenges to a small-scale manufacturing sector will be identifying creative funding options, assistance programs, and working space for artisans.
"We need a compelling argument for traditionally conservative real estate developers, banks, and property owners to recognize the value of small-scale manufacturing and invest in developing these types of projects," Gartner says, adding that some local banks already recognize the value of investing in this type of jobs-based program.
Gartner expects the plan to include efforts to help women and minority entrepreneurs who historically lack access to the funding needed to gain a foothold in the startup world.
"We don't yet know what [Smart Growth America] will recommend, but past grant awardees have created makerspaces, commercial kitchens, or fabricating labs for garment construction and other textile work," Gartner says. "Think of these as the manufacturing equivalent of [REDI's] Innovation Hub. Having a physical incubator would allow us to create a pipeline of local manufacturers that would help convince property owners to develop needed space for them."
As The Loop, REDI, and its many partners look to what the future could hold for the I-70 business corridor, Gartner is confident in the planning process that will start next spring.
"A smart plan that excites the community and helps us support local manufacturers on the Business Loop will pay dividends far into the future," she says. "If done right, we'll revitalize the street with new manufacturers, new jobs, and new retail spaces, all while remaining true to the character of the area."