PWArchitects Celebrates 40 Years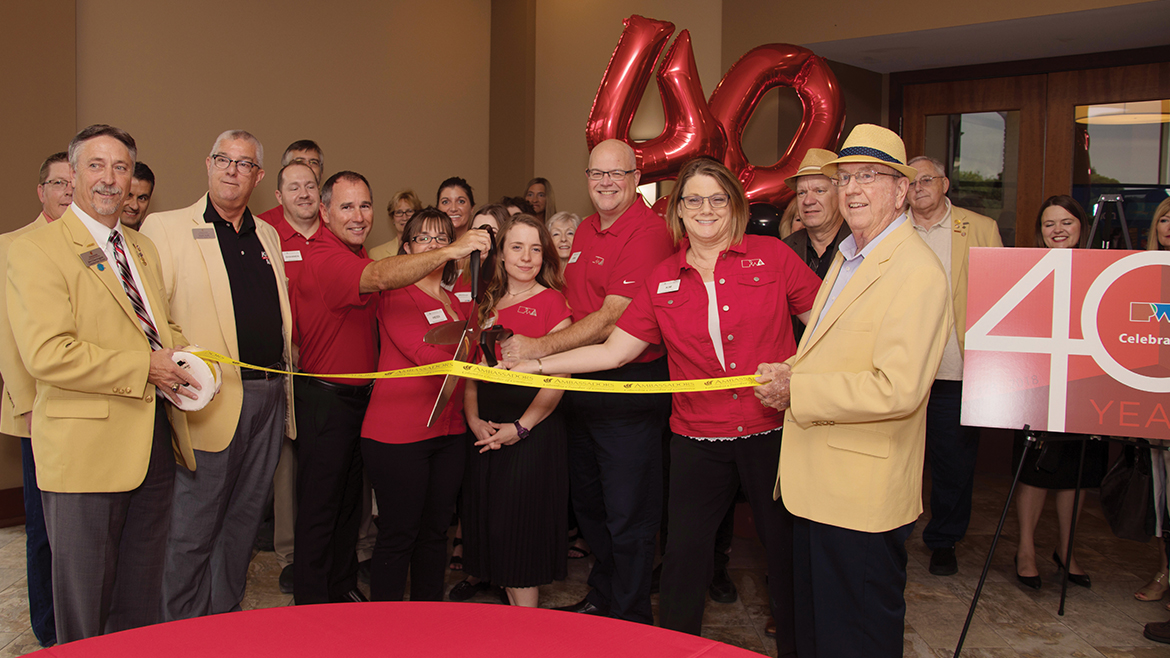 Bigger isn't always better. In the world of architecture, this may seem like a contradictory notion, but for PWArchitects, it makes sense. In fact, the firm itself mirrors this belief.
PWArchitects is as a full-service firm with 12 employees that work with clients from the beginning to the end of a project. They specialize in sustainable design and architectural planning,
yet the firm's repertoire includes a variety of services including interior design, LEED design (an eco-friendly certifi cation given for building design), management, and landscape design.
Nick Peckham and Brad Wright founded PWArchitects in 1978. The pair had met for the first time the previous summer. They created the firm because Peckham was in a bind: He had contracted multiple jobs, but he didn't have anyone to work them. Wright, who had a background in architecture, was unemployed when he met Peckham.
Hearing that Wright had just quit his job, Peckham approached him about working together, and they formed PWArchitects — the P and W standing for their last names.
Their partnership lasted more than 35 years until they decided it was time to retire. The company began a transition of ownership in 2005 to current president Chris Davis and current vice president Erik Miller. Davis and Miller were already minority owners in the company.
With expertise in both public and private building, the architects at PWArchitects specialize in everything from educational building to multifamily housing, often pivoting between multiple projects at a time. "As architects, we're natural born multitaskers, so we lend ourselves to being able to jump from one project to the next," says Davis.
BUILDING BLOCKS
Process is important at PWArchitects. Though each project is different, the longevity of the firm has allowed them to create a collaborative system between clients and project managers.
This ensures that projects are delivered on budget, on time, and ready to achieve the goals laid out by the client.
PWArchitects places a heavy emphasis on external communication with clients and partners. "We are client-centered; listening is the most important thing. We try to make sure to instill in ourselves and our employees that this is the client's project, it's not our project. We're a part of it," says Miller.
This focus on client communication drives PWArchitects' design. "We need to know a lot about what their goals are, their mission, what they need, and then we help fill in the blanks," says Davis. "Our client-centered approach provides solutions that are user-driven, as if the client were the designer."
When beginning a project, the team meets with everyone involved in the project, from contractors to clients, in order to establish deliverables and direction. Once a clear vision has been realized from the client, the design process begins.
Designing the project goes beyond just drawing up schematics: The firm estimates building costs, verifies zoning requirements, and prepares any necessary documents for construction. Incorporating sustainable design is an important factor in this process, as it increases efficiency and cuts costs for clients in the long run. PWArchitects also handles the bid process, which includes acquiring contractors and facilitating contracts. During construction, the firm remains available to clients for any other service needs that may be required.
CONSTRUCTING COMMUNITY
Company relations extend past the physical buildings the firm constructs. "One of the things we have done pretty consistently, no matter who was in ownership, was to find ways to give back to the community," says Miller. "Being a part of the community, being a leader, is important to us."
It was fitting, then, that PWArchitects celebrated its 40-year anniversary in August with an event benefiting three youth-based organizations in the Columbia area: Cradle to Career Alliance, Great Circle, and the Columbia Public Schools Foundation. "Instead of just celebrating us and patting ourselves on the back, we thought, let's celebrate 40 years of giving, and let's give to these organizations," says Miller.
In 40 years, PWArchitects has completed a total of 1,500 projects and has an 80 percent rate of repeat or referred clients. But the company's success extends beyond these numerical values. "There are a lot of different ways to measure success," says Miller. Davis adds, "The fact that we have a majority of our business every year from repeat or referrals confirms to us that our business model is successful."
Today, the ultimate goal for PWArchitects is not growth, but continuity. Both Davis and Miller agree that the firm should only be expanded to encourage the quality of projects. "We'll go where opportunities lead us," Davis says. "Right now, we're focusing on our mission and our clients' mission."
PWArchitects, Inc.
2120 Forum Blvd., Ste. 101
573-499-2683
[email protected]
pwarchitects.com