Columbia Chamber of Commerce's 2018 Small Business of the Year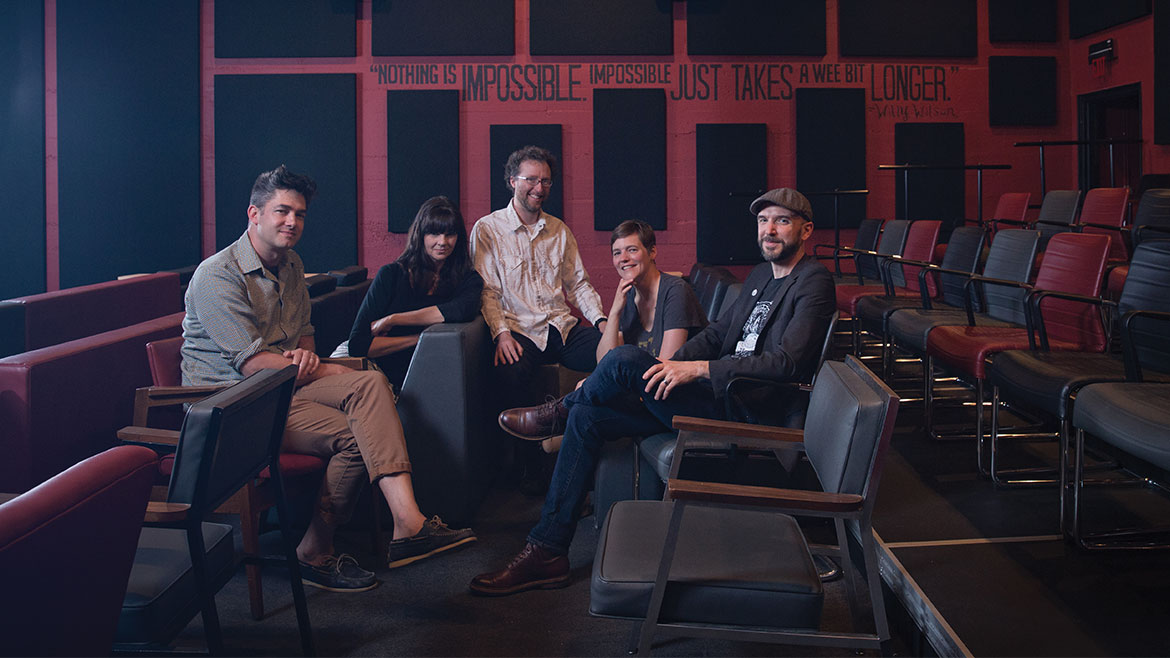 Ragtag Film Society
A little more than 20 years ago, a "ragtag crew" of community members, including David Wilson and Paul Sturtz, began screening independent films at The Blue Note in downtown Columbia. Throughout the years, thanks to the incredible support of the Columbia community, the group became the Ragtag Film Society, which then built Ragtag Cinema as soon as the group was able to build a brick-and-mortar location. The theater moved to an improved location in 2008 and spun off into the wildly successful, internationally recognized True/False Film Fest in 2004.
As the Columbia Chamber of Commerce's 2018 Small Business of the Year, Ragtag Film Society truly embodies their mission: to champion independent film to enhance both our local community and the global film community.
Through Ragtag Cinema, True/False, and Executive Director Tracy Lane's more than 20 years of leadership in Columbia's arts community, Ragtag Film Society has left a deep impression on Columbia and plans to keep it that way.
"Being named small business of the year is a validation of the work we've been doing over the past 20 years of bringing transformative cinema, music, and art to Columbia," says Jeremy Brown, True/False Film Fest's executive director. "And it's a confirmation that the Columbia community truly values art and culture not just as a nice enhancement to our city, but also as an economic engine. Nonprofit arts organizations in Columbia have an economic impact of $14.7 million on the local economy, and this award recognizes that the arts mean business for Columbia."
Ragtag Film Society has a bit of advice for new and growing businesses: "Surround yourself from the start with a group of like-minded, smart, passionate people who share your vision for your endeavor," says Brown. "Then create a culture that welcomes all ideas and encourages open, honest debate to figure out which ones you'll pursue. Ragtag has always been a team-oriented, community project, and I think that's a big part of why we've been honored with this award.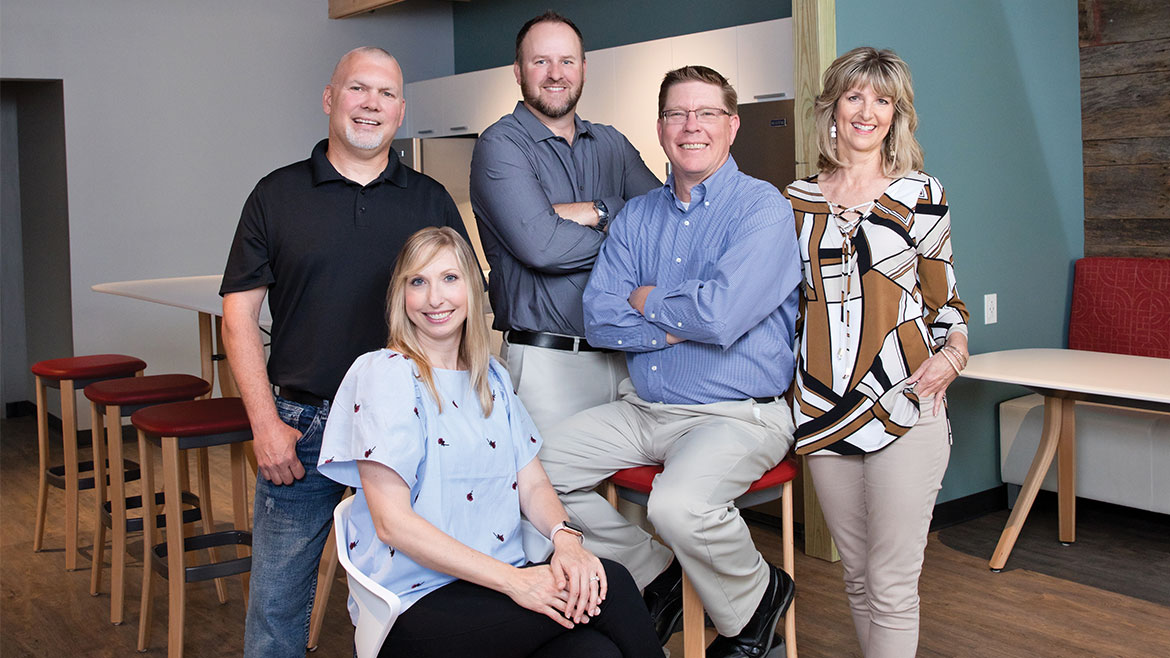 Inside the Lines
Never rest on your laurels," Brad Eiken says. "Constantly try to improve. Change is good. Hire the right people with the right attitude and support them. Make work fun!"
This advice from Eiken, owner of Inside the Lines, perfectly encapsulates why the company was chosen as a Columbia Chamber of Commerce 2018 Small Business of the Year finalist. The business, which provides interior design and furnishings for professional businesses, higher education and health care facilities, and local government buildings, is externally and internally people-oriented. Of his leadership style, Eiken jokingly says he is "coathoraffilcratic" (a mix of coaching, authoritative, affiliative, and democratic). "I strive to enrich the lives of co-workers and the clientele we work with," he says. "If work isn't fun, then why do it?"
ITL's main objective is to create a work environment for their clients that is healthy, attractive, and branded, all three of which contribute directly to the company's success. "I love the art of business strategy and communicating with the individuals that affect their business's success," Eiken says. "There is a congruent line for all businesses and their owners to have both a healthy work environment and a bottom line. I partner with clients to accomplish that."
Internally, Eiken treats his employees with the same respect and care as his clients. "Assuring that all employees enjoy their work experience is important to me," he says. "I treat my co-workers as I like being treated, supporting physical and emotional well-being as well as a flexible work schedule."
On what being a Small Business of the Year finalist means to him, Eiken says: "We are very proud to be recognized in the community. Our efforts and business model are justified. Being in the same league as recent winners and this year's finalists is very humbling."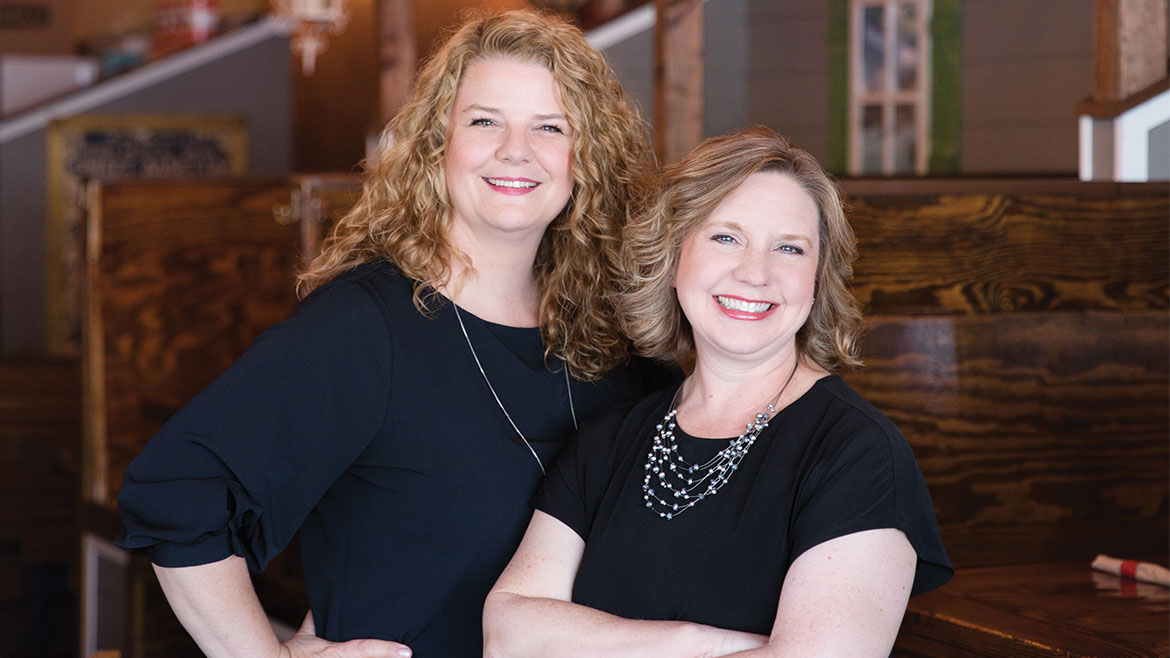 Connection Exchange
Better communities through better connections. This is the mission of Cara Owings and Jennifer Schenck's marketing and advertising agency, The Connection Exchange. Three years ago, the two entrepreneurs recognized an opportunity to use their passions and talents of entrepreneurship, mentoring, and personalizing the sales process to help their community and communities across the country market their small businesses.
The Connection Exchange's mission is to "create mutually beneficial connections between consumers and the local providers of the products and services they need to impact the growth of our communities." To fulfill this mission, The Connection Exchange works tirelessly to improve and strengthen their business through franchising and proprietary software, among other things. Today, the company operates in four Missouri locations (Columbia, St. Charles County, Sedalia/Warrensburg, and Springfield) and are working toward a national franchise model over the course of the next three to four years.
In 2016, The Connection Exchange developed a proprietary web-based software application allowing it to distribute marketing and sales leads to their membership in almost real time. This significantly streamlined their internal processes and added more value to their client services. This continued growth and technological advancement bodes well for the relatively new business and its clients.
Being included in the Columbia Chamber of Commerce's 2018 Small Business of the Year finalists was "humbling and exciting" for Owings and Schenck. "[It is] such a huge recognition of our hard work," says Owings. "We started from scratch three years ago and have poured a lot of energy and work into a business that focuses on bringing the business community together to be successful. Even though we have a long way to go, it is gratifying knowing we've been acknowledged for what we've done so far."
The Connection Exchange ladies have a few words of advice for entrepreneurs: "Dream big. Don't let you hold you back. Don't let others steal your joy. Each journey is unique with its own set of obstacles and accomplishments. Find your tribe of supporters and celebrate together."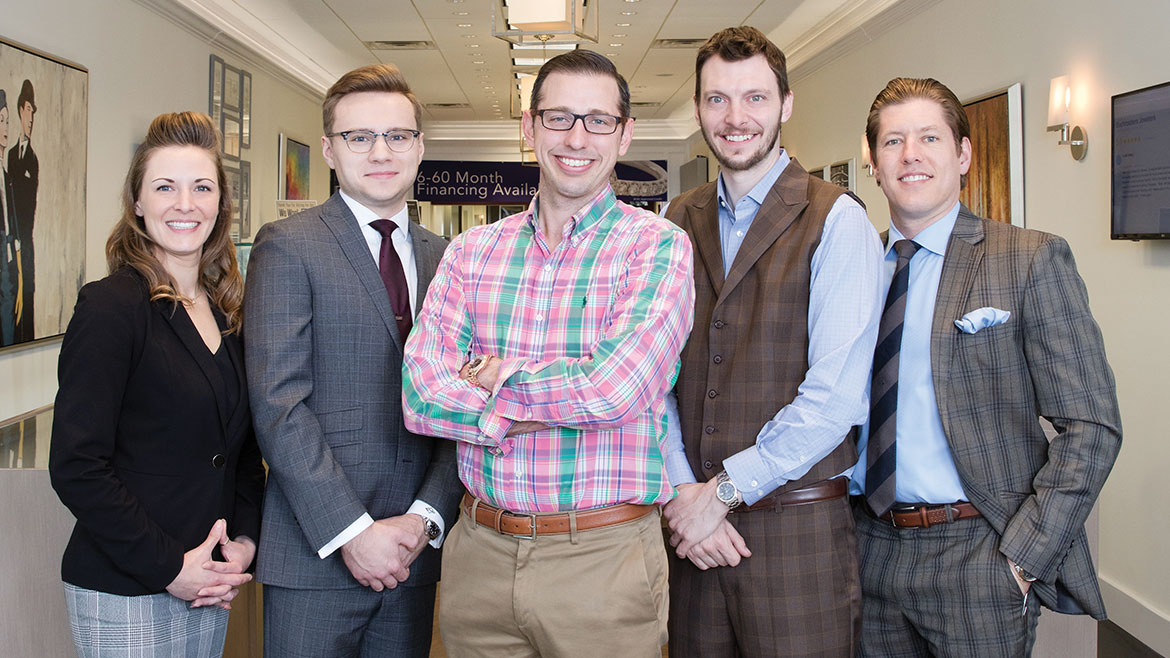 Buchroeders Jewelers
Persistence has the most significant impact on the ultimate success you will achieve," says Mills Menser, president and owner of Buchroeders Jewelers. As the owner of a business that's been in Columbia for 122 years, Menser knows what he's talking about.
Providing one of the Midwest's largest collections) of bridal and fashion jewelry (and a six times bigger selection of engagement rings than any local retailer) at wholesale prices, Buchroeders was one of the Columbia Chamber of Commerce's 2018 Small Business of the Year finalists. Their company believes that "a true customer-focused jeweler helps clients not only when they wish to buy jewelry, but also when they wish to sell it."
Their mission fully supports this philosophy: "We exist to innovate the jewelry industry with the best combination of value, price, and customer experience. We are committed to a flexible, customer-centric culture that empowers our team to do whatever is necessary to exceed our customer's expectations. We treasure our reputation and our team. We embrace transparency and constant improvement, celebrate innovation, and err on the side of generosity."
Speaking on growth and improvement, Buchroeders works diligently to be one of the largest diamond suppliers in the Midwest. Specifically, their goal is to sell 1,000 engagement rings annually. While they admit this is an ambitious number, it creates an atmosphere of dedication and quality service. Buchroeders significantly surpassed the industry average of 150 engagement rings sold per physical location with 412 rings sold in 2017. Through this mindset and work ethic, Buchroeders' annual sales have doubled from more than $2 million in 2006 to more than $4 million last year.
"Buchroeders Jewelers' success is greatly attributed to the support of the Columbia community," says Menser. "In today's digital world, we are fully aware that our customers could choose to patronize countless other companies. Receiving this [small business of the year] nomination has further validated our continual commitment to improving our operation to best serve our customers."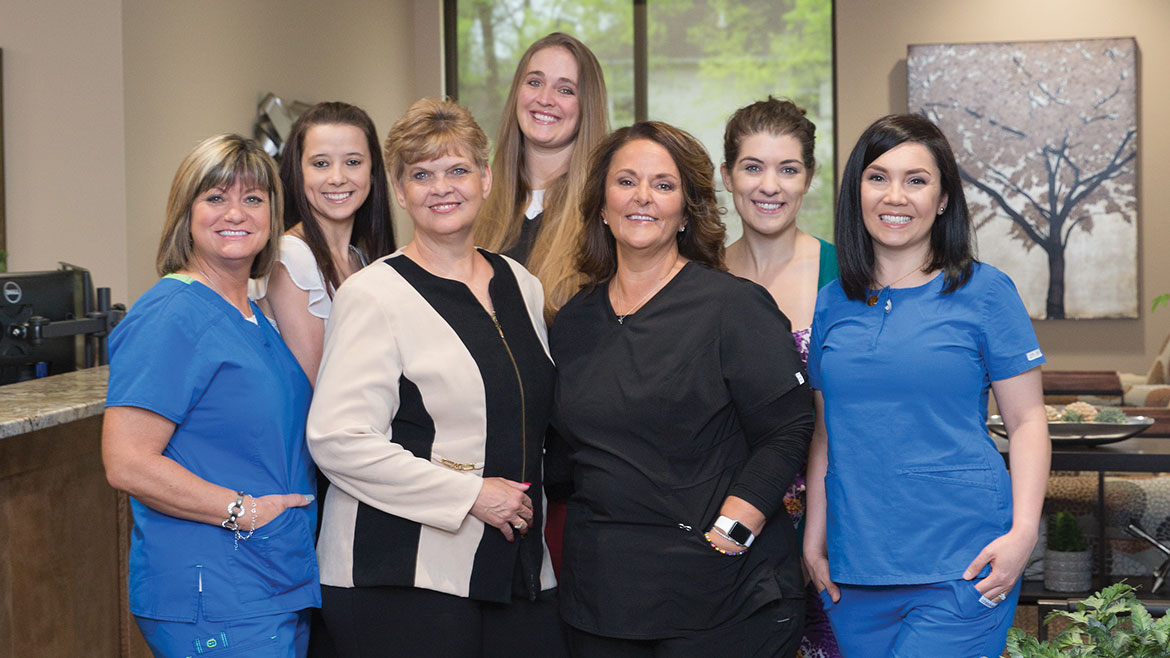 Kilgore's Respiratory Services
Customer service is not a department; it is an attitude.
This piece of Kilgore's Respiratory Services' mission statement is a prime example of why the business has been so successful since its inception 15 years ago. Owner Kelly Kilgore-Bietsch always knew she could do more as a respiratory therapist than simply treat her patients. She wanted to educate and inform, leaving her patients feeling confident in their treatments and care. "I guess the bottom line is, I knew I could do it better than the companies I worked for, and I really think at Kilgore's Respiratory, we do," she says.
Kilgore's Respiratory is a durable medical equipment company for patients with respiratory illnesses and sleep apnea. The business provides products such as nebulizers, oxygen, CPAP/BiPAP machines, ventilators, and hospital beds. "This is a highly competitive industry, and we are the only locally owned durable medical equipment company still in business in Columbia," says Kilgore-Bietsch. "We take great pride in that."
Kilgore's also takes great pride in their customer service. With two new locations in Jefferson City and Mexico, Missouri, and plans to open two more facilities in the near future, that service is constantly expanding. "My vision for my company is to continue the high level of service we have offered over the last 15 years," says Kilgore-Bietsch.
Their quality products and service is why Kilgore's was once again chosen as a Columbia Chamber of Commerce Small Business of the Year finalist (their first nomination came in 2015). "Being one of the Small Business of the Year finalists has been one of the high points in my life to this point," says Kilgore-Bietsch. "It has been an amazing week for my employees to revel in all the hard work they have done. It is so humbling to be honored with this group of finalists, and I am so proud of my entire team for helping me create an amazing environment for our customers — a place they where they feel at home and cared for, a place where we go above and beyond to ensure the highest level of care."