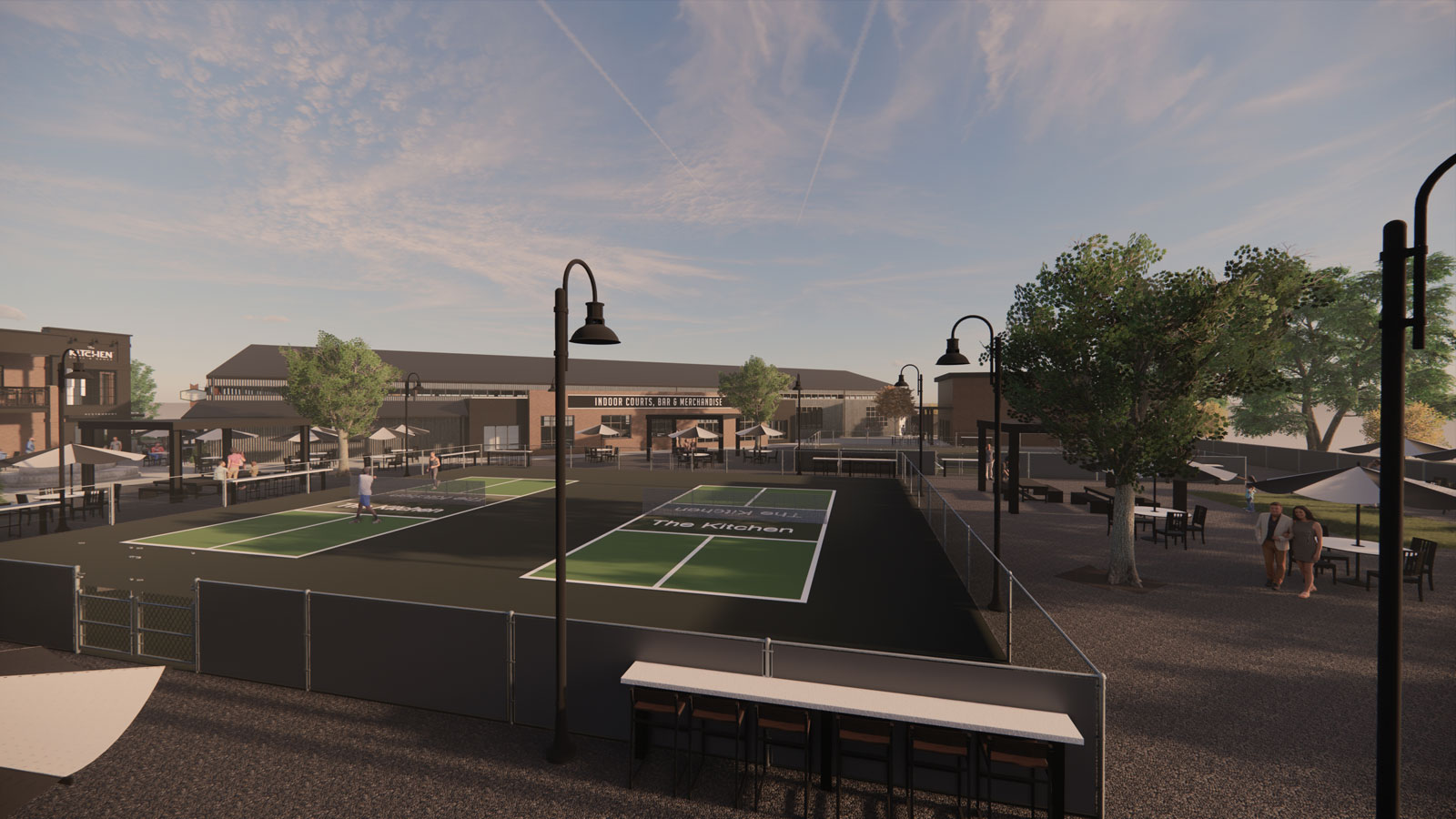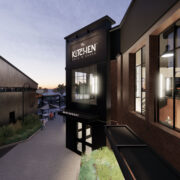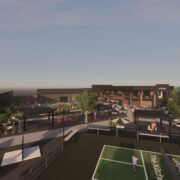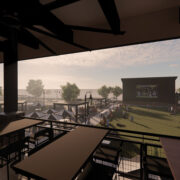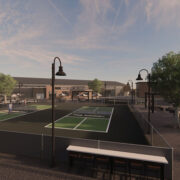 View Gallery
The Kitchen Grill & Games at Discovery Park will allow family and friends to enjoy food, drink, and recreation – all in one location.
Real Equity Management, the developers of Columbia's Discovery Park, initially announced its latest project in May 2021. The new site, The Kitchen Grill & Games, was conceived as a dining and entertainment complex.
"The original project was intended to capitalize on the rapidly spreading pickleball craze, offering both indoor and outdoor pickleball courts, an ice-skating rink, and a restaurant/bar — but a much smaller footprint. The almost immediate and overwhelmingly positive response we received from Columbians was so encouraging we decided to expand," says Jack Cardetti, spokesman for The Kitchen Grill & Games.
The updated 10.64-acre venue will be located at the southwest corner of Discovery Parkway and Endeavor Avenue, the first entertainment complex in Mid-Missouri of its kind. The Kitchen Grill & Games will include six indoor pickleball courts, plus four outdoor courts, a large common area for yard games and events, a restaurant and three bars. The concept builds upon other successful eat, drink, and play business models, such as Top Golf, that allows family and friends to enjoy food, drink, and games all in one location.
Central States Construction, the same company that built neighboring Aria Apartments, Marriott TownePlace Suites, and Park Restaurant will start moving dirt in the next few weeks for a late spring to early summer 2023 completion.
"We've found that since the pandemic, just going to a bar and sitting has become less appealing. People like to get out, enjoy the outdoors and be active. Plus, with the explosion of the popularity of pickleball this is a concept that really made sense," says Jack.
The Pickleball Courts
Pickleball was born from the boredom and imaginations of Congressman Joel Pritchard, Barney McCallum, and Bill Bell. Today, the obscure paddle game played with a perforated ball — a quirky cross between tennis, table tennis, and badminton — is one of America's fastest-growing sports. The pickleball net is 3 feet tall, with the lowest central point at 34 inches. The game is played with large paddles, similar to those used in table tennis.
There is a bit of controversy surrounding the name "Pickleball" as some say the game was named after inventor Joel Pritchard's family dog, while other sources say it is actually coined by Joel's wife, Joan, because it reminded her of the thrown-together leftover non-starters in the "pickle boat" of crew races.
Regardless, with 4.8 million people in the United States now playing — almost double the number from just five years ago, according to the Sports and Fitness Industry Association — the developers of The Kitchen Grill & Games are capitalizing on the game's spike in popularity.
"There is a huge demand for pickleball — the interest made us expand the project," says Jack. "There are leisure teams, club teams, and an ever-growing circuit of pickleball competitions that we'd love to attract to Columbia." The Show-Me Pickleball Club, based in COMO, has gained more than 250 new members as of November 2021.
Pickleball courts come in three sizes: recreational, competition, and stadium. Recreational pickleball is played on a 30-by-60 foot court. The Kitchen's six indoor and four outdoor courts are all competitive play size: 34-by-64 feet, which includes a larger area around each court.
Jack says The Kitchen Grill & Games is inspired by a pickleball term. "The Kitchen is dual use. It is obviously a restaurant, but also a part of the pickleball court — the 7-foot "no volley zone" on either side of the net. So, the name has a double meaning."
"Tennis requires a lot of skill and can be hard for beginners to compete with seasoned players. Pickleball is popular because it is easier to learn because of the smaller court and simpler rules, so it is a more attractive option to a wide variety of players.
"Almost anyone can play!" says Jack.
For those new to the sport, The Kitchen Grill & Games will employ a pickleball pro, who will be available for lessons, as well as a pickleball pro shop for shopping.
The Common Area
Located between the restaurant and pickleball courts and surrounded by cabanas and outdoor seating, the 55-by-110 foot common area is a large yard ideal for hanging out or playing yard games like cornhole. The common area features a 30-foot screen with a performance stage below intended to host live events and performances.
"We're offering all the fun activities people love to do when they tailgate, but in a bigger, better space," says Jack. On the opposite side of the pickleball courts are bocce ball and shuffleboard courts. During the winter months the common area will be converted to an ice skating rink.
The Restaurant and Bar
The restaurant will be slated to serve casual American dining, including shareable small plates and local beers on tap.
"The Kitchen will be more casual than Park Restaurant," says Jack. "It will offer a good mix of flavors and food that complement the experience when you are there — finger foods, things that can be shared. The bar will be an extension of the restaurant but faster."
A large gaming room in the restaurant will offer foosball and table tennis, and it can be converted into an indoor event space available for rent, accommodating approximately 350 with catering provided by The Kitchen.
The Area
"Columbia has always been a great place to go to school and a great place to raise a family, but had trouble attracting the 20-to-30-year-old age bracket. With ever-growing companies like Veterans United Home Loans, Columbia Safety, and Equipment Share in town, we wanted to provide those amenities that make COMO an attractive place to move and live," says Jack.
Over the past few years, the Discovery Parkway area has experienced tremendous growth as 1,500 residents now live in Aria Apartments, including young professionals, healthcare workers, and empty nesters who want to live somewhere maintenance free. Discovery Park also contains Marriott TownePlace Suites, a pet-friendly, extended-stay hotel, Park Restaurant & Bar, dozens of local businesses in the office park, as well as Horton Animal Hospital, a full-service, 24-hour emergency facility for pets.
The nearby Phillips Lake Park features a 40-acre lake for fishing with a boat ramp, 1.4 miles of gravel walking trails, picnic shelters, and a rain garden. The City of Columbia also has plans to add amenities to the area including tennis courts, athletics fields, a sports fieldhouse, and an event center.
The new home of the MU men's and women's cross-country teams, the Gans Creek Cross Country Course is located just south of Discovery Park. The 320-acre park is a state-of-the-art facility that attracts state, regional, and national meets to the Mid-Missouri area. The course hosted the 2020 MSHSSA Cross Country Championships and the 2021 SEC Championships.
Getting There
Construction of the extension of Discovery Parkway began in early spring, which will create a new major thoroughfare in southeast Columbia, connecting Gans Road to the intersection of New Haven and Rolling Hills roads. The extension will go north of the highway and past MU's South Farm Research Center. Other Discovery Park amenities are expected to be announced in the coming months.
"The Discovery Park area has always been about work, life, and play," says Jack. "As the area continues to grow and more residents move here and more companies open here, we wanted to provide more entertainment options. So that is what The Kitchen Grill & Games is all about.
"At The Kitchen, we look forward to being a destination for families and friends that want great food, drink, and service, but in a relaxed, fun environment that promotes an active lifestyle."