Columbia Safety & Supply's Fast Growth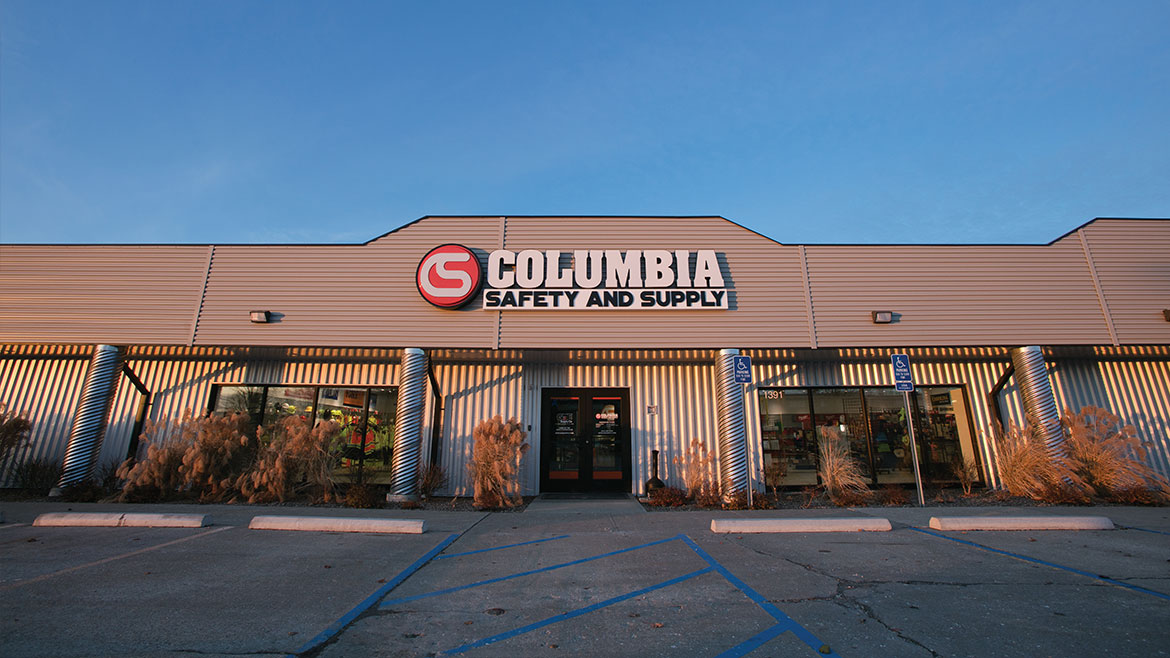 Not every workplace has a construction-orange tube slide that shoots employees and customers at surprising speed from the second floor to the first. Then again, not every company is Columbia Safety & Supply.
Now in its 14th year of operation, Columbia Safety & Supply has grown from a side business founded by Beau Aero in 2005 to one of the fastest growing companies in the U.S. Calling themselves the home of the "gear experts," their specialty is fall-protection safety equipment, lifting and rigging equipment, power tools, and workwear. They cater to the construction, oil and gas, wind generation, and manufacturing sectors. (GME Supply Co., a division of the company, focuses on equipment and supplies for cell tower construction and maintenance.) The company is headquartered in Columbia with distribution centers in Dallas and Atlanta.
Aero says the company is growing at a rate that's 75 percent higher than other comparable companies in the industry, with sales having increased by 40 percent each year for the past five years. And while these numbers are impressive, what makes the company unique is its tireless investment in its employees and the community.

Getting a Foothold
Named to the 2014 class of 20 Under 40 for his success with Columbia Safety & Supply, Aero has innovation and achievement in his genes. In 1918, his great-grandfather, W.C. Martin, founded what is today GlenMartin Inc., a steel fabricator originally based in Cooper County whose specialty has changed with the times.
After college, Aero held a leadership position in the company, which is now a Texas-based producer of telecommunications towers. While with the company, Aero gained the industry expertise and business savvy needed to launch his own gear and equipment company, thus planting the seed for his Columbia Safety & Supply startup.
But launching his own distribution enterprise wasn't Aero's first dream. After graduating from MU's School of Journalism in 2001, where he focused on marketing, the Boonville native wanted to work in New York City for advertising giant Ogilvy. Founding Columbia Safety & Supply in 2005 as an online business was Aero's plan to get him there.
"I was in my mid-20s and I didn't exactly know what my life was going to be about," Aero, now 38, recalls. "All I knew was I needed to find a way to pay for it. My business was a lifestyle business at that point that allowed me to pursue my dreams."
By 2009, the business was doing well enough for Aero to strike out on his own and move to the Big Apple, where he opened a small office under the Manhattan Bridge. But before long the high cost of rent and labor became too much of a challenge to keep the business thriving — a business he realized was more than a means to an end.
"One day I realized that I have something that's very valuable [with Columbia Safety & Supply]," Aero says. "I woke up to the fact that, in life, you're only dealt so many cards. And you have a choice whether to play those cards or not. If you choose not to, you're giving up a huge opportunity."
Aero moved to Columbia in 2010 and headquartered his office above Lakota Coffee downtown, where rent was a fraction of what it was in New York. Within a few years, the company, which was a firmly established brick-and-mortar outfit with a handful of employees, had moved quickly from one larger facility to the next before settling in its current, 100,000-square-foot location on North Rangeline Street in 2017.
As business has boomed, Aero opened additional distribution centers in Atlanta, in 2016, and in Dallas, in 2018. While the company has flown largely under the radar as a large employer in town, that's likely to change. With a total of 65 employees, 50 of which are in Columbia, Aero expects the company to grow to 150 employees within the next few years.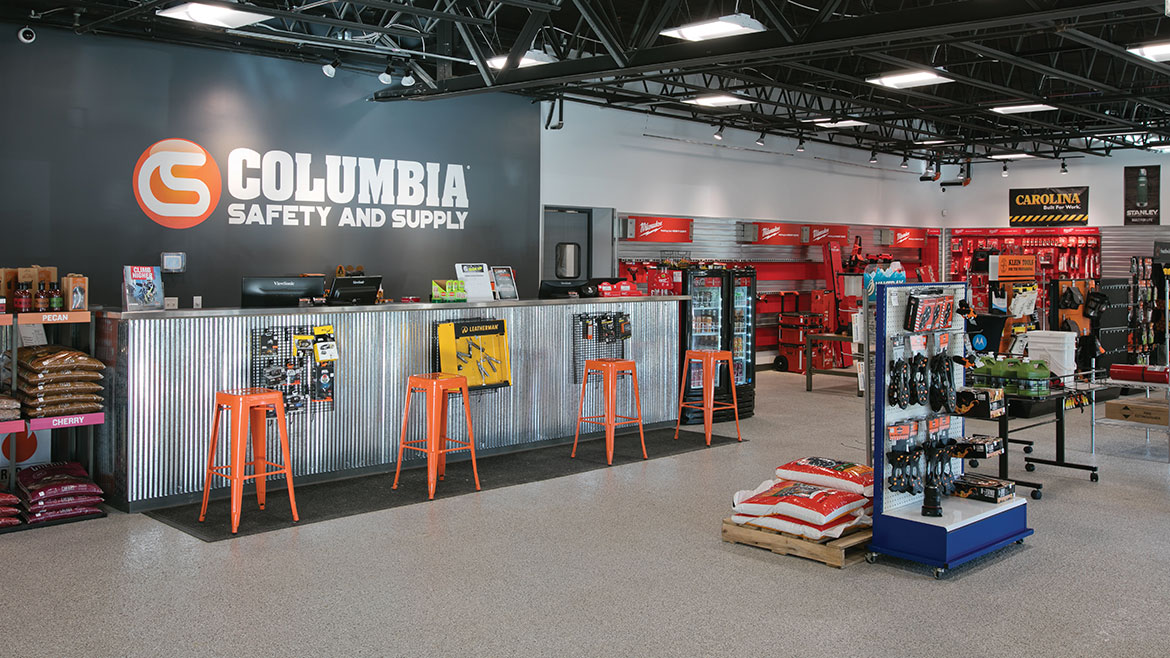 Moving On Up
Before the company moved into its current home, Aero remodeled the massive facility with a vision to create a workspace that is inviting to customers and conducive to employee happiness and productivity. The majority of the 100,000 square feet is dedicated warehouse space that stores up to $5 million in inventory. The rest of the space is a marvel of design that Aero says is uncommon in the industrial sector.
An expansive retail space on the main floor houses displays of everything from power tools and height-safety equipment to industrial eyewash stations and designer hard-hats. The floors throughout are coated with a slip-resistant surface. An enormous classroom where industry professionals can train workers is off to one side, and the safety training center — where the orange slide resides for a bit of fun — is complete with a mock cell tower that takes advantage of the building's 26-foot-tall ceilings.
The lower floor also boasts a custom studio for shooting photos and video of products, along with a gym for employees and their families. The second floor includes two suites of offices, a kitchen stocked with healthy snacks, and a break room with a leather sofa and TV for playing video games. Skylights adorn the ceilings, and white noise is piped in to make conversation and collaboration less noisy for colleagues in the cavernous space.
Business development and sales employees occupy one suite, where they can view real-time sales statistics on large flat-screen TVs. Administrative and executive employees reside in the other suite, where the floor's perimeter features a series of large, LED-lit glass inlays etched with the company's logo that give a view into the warehouse below. A well-appointed private break room with a large TV, artwork, and a bar awaits travel-weary executive clients.
"I think it's really important to remember that all of this is an investment," Aero says. "If you look at it as an investment in your people, it will pay dividends like you'd never dream. The people are your greatest asset, and so making sure that we're taking care of them and considering their work environment — you see returns on that, and it helps the business continue to grow."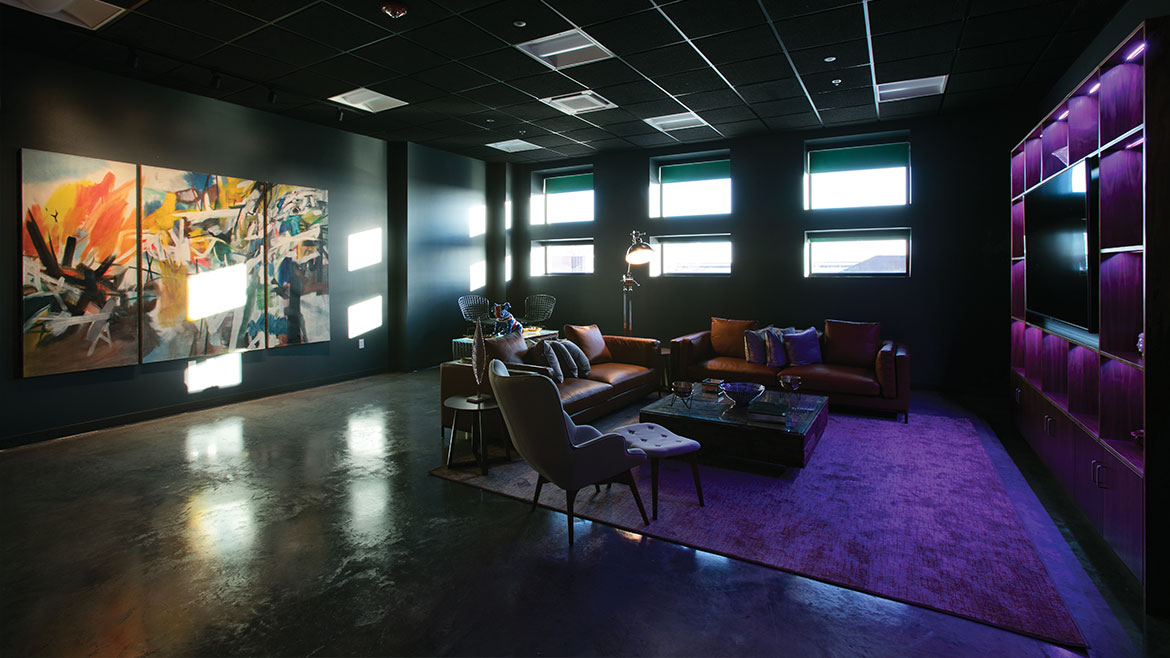 Reaching New Heights
For all of its forward-thinking design, the cool factor of the workspace doesn't define the company's ethos; rather, it's a physical reflection of an intentional company culture that recognizes excellent customer service begins with employees who feel valued by the company.
"The customers fuel the business. What makes the business happen is the employees," Aero says.
The company's mission and vision statements, which are stenciled on walls throughout the facility, were drafted based on what employees thought they should be. Word clouds displayed as wall art in common areas affirm words like honesty, integrity, tenacity, and creativity that staff identified as describing the spirit of the company.
As part of the hiring process, job candidates complete a behavioral assessment called the Predictive Index, which estimates the candidate's current and future skills and motivators. Andrea Seeley, human resources manager, says there are no right or wrong answers to the survey, and the results are used to understand where a person is most likely to succeed within the company.
"We want to understand what makes people happy and then focus on what we can do once we have that information," Seeley says about the assessment. "We can direct them into areas of the business where they will see the most fulfillment. We're constantly asking people to stretch themselves, but as an employer, we want to remind them that they wouldn't be here if they weren't the perfect fit for their job."
The commitment to making sure employees are the right fit has paid off; Seeley says the company's retention rate has been 85 percent since it started hiring staff in 2011.
Aero says that making time during the workday to give back to the community adds to the fulfillment of the work they do, and so corporate giving is a part of the business model. In 2014, the company founded the Columbia Foundation, which matches dollar for dollar the contributions that employees make to local charities. Great Circle, Love INC, the Central Missouri Humane Society, and the Boys and Girls Club are some of the charities the foundation has donated to.
"Culture in a company is everything, and it doesn't matter what type of business you are. That's something that you can sponsor in your company, no matter your company type," Aero says. "We're doing it in the industrial channel, which is usually very stodgy and strict and serious. We've taken a different approach, and we're very successful at it."

The Sky's the Limit
Last year's company goals included increased profitability, above-market revenue growth, and strategic expansion, all of which Columbia Safety & Supply achieved. Looking forward, Aero is determined to see the company hire more staff and currently has 20 open positions for the right people.
"The limiting factor that we have in taking on additional business is the amount of time in a day," Aero says. "That's what our challenge as a company is — bringing in those additional resources to help capture as much business as we can. The business is out there. We need more people who want to be part of a growing and exciting team. And that's what we're excited about, that's what we're doing, that's what we're growing."
As the company grows, so too will its commitment to nurturing a strong, supportive work culture.
"It starts from the top down," Aero says. "It starts with the management of the company. And if you truly want it, it'll happen. It's a natural side effect."