December: Movers & Shakers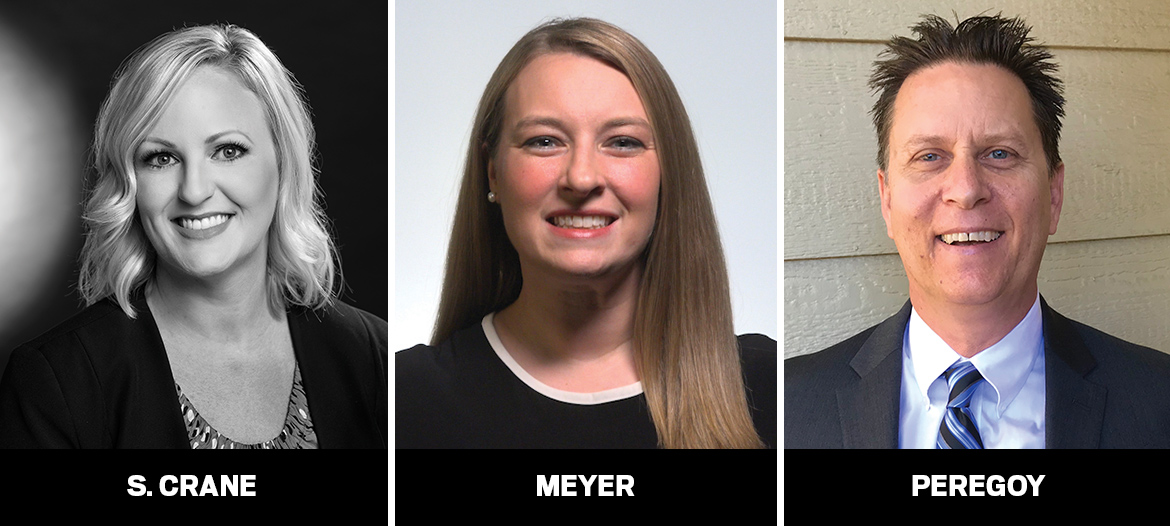 Samantha Crane
Central Bank of Boone County has promoted Samantha Crane to vice president, controller. Crane manages the accounting functions of Central Bank of Boone County and Central Trust Company. She has worked in financial services for 18 years and joined Central Bank of Boone County in 2012. In 2015, Crane added the duties of controller for Central Trust Company.
Aurora Meyer
Aurora Meyer, marketing and public affairs coordinator with the Missouri State Teachers Association, has successfully completed the examination for accreditation in public relations, entitling her to use the APR professional designation. The accreditation program aims to improve the practice of public relations by assessing competence in 60 areas of knowledge, skill, and abilities associated with the profession.
Jim Peregoy
The International Board of Heart Rhythm Examiners has announced that Jim Peregoy, principal sales representative with Medtronic, has earned the certified cardiac device specialist certification. Earning the certification requires passing a comprehensive examination that is based upon an internationally accepted body of knowledge for cardiac arrhythmia health care professionals. Candidates must meet established eligibility criteria and have an excellent foundation in the field of device therapy and electrophysiology to earn the certification.
Sean Sweeney
Coegi is pleased to announce and welcome Sean Sweeney as vice president of client development. With 18 years of sales and leadership experience in the digital media space, Sweeney will be in charge of leading Coegi's direct business strategy. Sweeney has a strong history of success in the digital media industry. He joins Coegi after having worked as regional vice president of sales for mobile video startup LoopMe.
Stephen Keithahn
MU Health and MU's School of Medicine named Dr. Stephen Keithahn as chief wellness officer. Keithahn will be responsible for creating and leading the Office of Physician Well-being to optimize physician wellness and engagement. Keithahn is an associate professor of clinical medicine and pediatrics and serves as the medical director for the Woodrail General Internal Medicine and Pediatrics Clinic.
Terra Crane
The Convention and Visitors Bureau's convention sales manager, Terra Crane, was named a Top Young Professional Under 37 by the national branch of the Society of Government Meeting Professionals. To receive the recognition, young professionals were nominated by their peers and selected by a national panel. Crane hopes to be a resource for government meeting planners and helpthe SGMP organization.
Melissa Montgomery
Melissa Montgomery, Columbia College senior director of philanthropy, has been named the 2018 Outstanding Fundraising Professional by the Central Missouri chapter of the Association of Fundraising Professionals. Montgomery has been a member of the Columbia College advancement team since 2004 and has served in her current role since February. This award recognizes a professional with more than 10 years of experience in the field of fundraising who has demonstrated an outstanding commitment, dedication, and talent toward promoting philanthropy in the community.
KOPN Community Radio
KOPN hired Tim Pilcher as administrative manager and Cory Crosby as community relations manager. Pilcher will be assisting KOPN's general manager and assisting with every area of the station's organizational development. Crosby will focus on building KOPN's presence in the Mid-Missouri community.