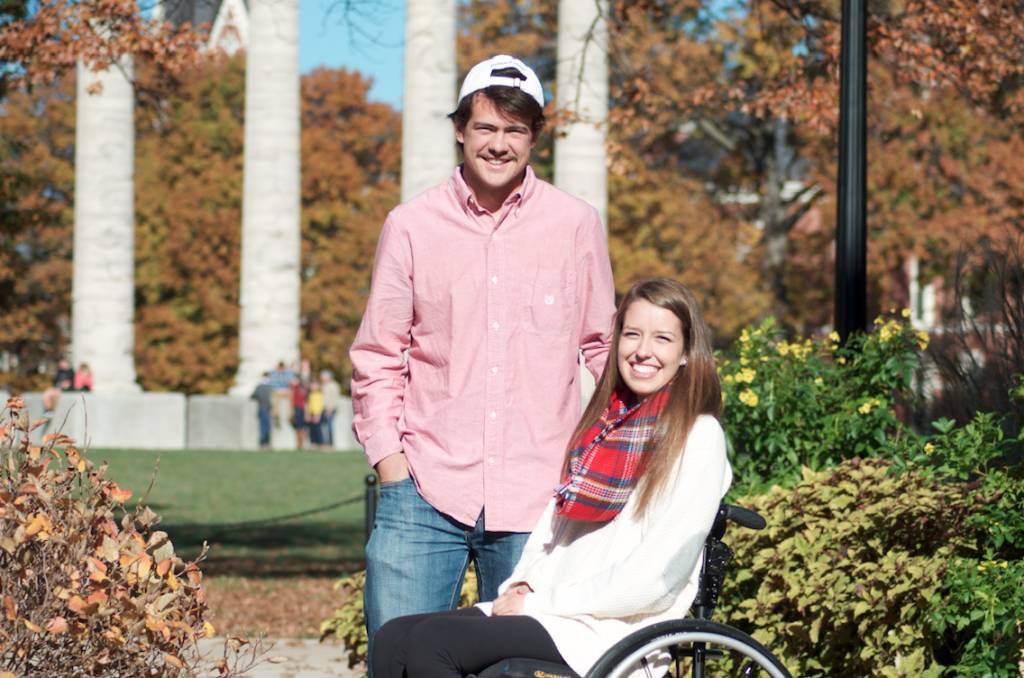 MU senior embraces life following a sledding accident.
For the most part, her life looks like any other University of Missouri college student. She invests her days in class, doing homework and hanging out with friends. She volunteers at KLIFE, an interdenominational Christian ministry, and spends weekends engaged in campus activities with her Alpha Phi sorority sisters.
Since August 1, home is "Little Burnam," a quaint two-story brick house in a quiet neighborhood near the sorority, which she shares with the same three girls she has roomed with for almost three years.
She talks about her upcoming graduation with excitement and can't believe she will be attending the ceremony with her classmates in May. After finishing up two summer classes, she plans to receive her diploma in health science and be one step closer to a career as a Registered Nurse.
Yet just nine months ago, Kathleen Oglesby's future was much less certain.
Distress
Sitting comfortably in her wheelchair, sporting leggings, an oversized shirt and bare feet, Kathleen recounts the day last February that changed her life.
"My sister Olivia and I were surprised to get a new sled for Christmas," she shares, her voice animated and her eyes twinkling with anticipation. "MU had a snow day, and I really wanted to go sledding."
In an effort to take advantage of the remaining daylight, the girls stopped the movie they were watching, rushed to get dressed and dashed out the door. They chose a spot in a residential neighborhood just off Crestwood Lane. "It was a fun, steep hill, and we decided to try it out," Kathleen explains.
While waiting for Kathleen's boyfriend, Kory McDonald, and another friend to arrive, the sisters decided to give it a shot. "There were a lot of people and trees around," Kathleen remembers, as she replays the events back in her mind. "We tried to avoid them, but the sled flipped around and all I remember is flying backwards."
When the sled came to a halt, it had slammed into a tree, and Kathleen couldn't feel her legs. She was cold and shaking and remembers talking to her sister about calling 911. "After that, it all gets fuzzy," she recalls.
Kathleen now knows that firemen showed up at the scene, strapped her in the sled and pulled her up the hill to the ambulance. While most of her memories of that period are blank, she does remember a few random things.
"I remember being disappointed that my new leggings were ruined," she commented with a laugh, and she recalls repeatedly asking the emergency personnel, "Am I going to be paralyzed forever?"
That question has yet to be answered, although her prognosis is hopeful.
After a three-hour surgery, the doctors shared that Kathleen's condition revealed cracks in several vertebrae and damage to her spinal cord. Thankfully, the accident had not severed the nerve, so they believed Kathleen had a chance to walk again.
Adjustment
Armed with that information, Kathleen began the grueling battle of physical therapy and getting healthy. She spent several weeks in the hospital, followed by a month at Rusk Rehabilitation Center, a month in her Columbia home and another three weeks at Rusk.
"When I first got to Rusk, I was in shock and confused," Kathleen explains. Having been surrounded by supportive people while she was hospitalized, Kathleen hadn't experienced much alone time. Without time to think, she admits being unaware of just how her injuries would impact her life the following weeks and months.
When she got to Rusk, she realized that there were things she may never get to do. She admits those were some of her darkest days.
"The days and weeks after the accident were painful," Kory describes. "I knew the best thing I could do for her was to be present, to help her stay positive and smiling."
Her sister was one of her biggest cheerleaders. "I have the strongest sister in the world," Olivia wrote on Facebook a few weeks after the accident. "I'm so proud of how strong she is and I love her so much!"
Eventually, through the support of her family and friends, Kathleen realized "it might be possible to do everything I want. It will just look different."
Through continued physical therapy, practice and her optimistic attitude, Kathleen has mastered many of the skills needed to be self-sufficient. Transferring in and out of bed and vehicles has become easier, and she is proud to have recently put on her first pair of jeans since the accident.
"Moving has forced me to be a lot more self-reliant," Kathleen admits. Her friends happily rearranged their sleeping quarters to grant Kathleen the basement bedroom, which has easy outside access. A chair lift gets her up to the kitchen and living room on the main level. The disability office at the University even worked with her to assure all of her classes were close together.
Despite enormous progress, Kathleen does admit that some things, such as cooking, are still difficult. "It's hard to move all those pots and pans around," she describes, simulating the process with hand gestures and a big grin, but she says she's learning to make due.
Kory has noticed a few changes, too. "Things take a little longer now," he explains, "and I have become a professional piggy back giver." He says the accident has given them a reason to spend more time together and helped them find joy in the small things in life.
Hope
Kathleen's body continues to move forward as well. "I'm getting more feeling back," she shares as she massages her thighs, "especially in my upper legs. That means some signals are getting through."
What does the future look like for Kathleen? "I'm ready to drive!" she exclaims. "I'm excited to have that little freedom back and not feel like a bum getting rides everywhere." Kathleen has passed her driver's test and received her license. "Now I just need a car," she says with hope. Her dream will soon be a reality thanks to support from the community and the Veteran's United Foundation.
To get a car modified, Kathleen explains, it needs to have less than 100,000 miles. Hers did not. Friends rallied this spring to raise money in support, and Kathleen believes those funds will be used toward purchasing an adaptive vehicle equipped with hand controls for her.
In mid-October, the foundation agreed to donate the remaining funds needed for the project. "Kathleen's positive attitude during her recovery is inspiring to Veterans United employees," shared Lindsey Sells, foundation communications coordinator.
"I'm not scared about driving again, just excited," Kathleen shares with enthusiasm, her eyes sparkling. "It's a push-pull system. You push for the gas and pull for the brake. It seems easy."
Gratitude
In reflecting on gratitude this holiday season, Kathleen is thankful for her friends, her family and her faith.
"Everyone has been so supportive, and my faith has kept me rooted in what I believe and helped me stay positive," she shares.
Specifically, Kathleen is grateful for everyone who texts just to ask if she needs a ride and for friends who go out of their way to make disappointing circumstances fun. During football season she was feeling sad that she could no longer sit in the student section. "But Kory made a point to sit with me in the ADA seating area and make it a positive experience," she says
And then there are the kids at KLIFE. "The elevator is broken right now," she explains with a giggle, "so they make a game out of getting me up and down the stairs."
And the gratitude goes both ways. Audrey High, women's director for the Christian organization, respects Kathleen's constant joy and genuine love for others. "I am consistently blown away by Kathleen's maturity in understanding how her faith relates to her injury," Audrey says. "She's a great example of a faithful, dedicated leader who takes the influence she has on students' lives seriously."
Kory describes Kathleen as an incredibly positive person. "I truly do look up to her," he says, "and how she doesn't let anything get her down."
Kathleen also sees herself as happy and cheerful, and says she loves to smile and laugh. She hopes telling her story will inspire other people facing adversity. For those who know her, it seems it already has.