Universal and intensely local, these meals are evocative of days gone by.
Comfort food is both universal and intensely local. The chile-studded rice porridge that brings a nostalgic tear to a middle-aged man's eye in Thailand would seem impossibly exotic in mid-Missouri. Serve that same man your grandma's meatloaf, and he might think he's been transported to another planet. But ultimately what they have in common is greater than what separates them. It's a sense of place that makes some foods more comforting than others — and more often than not, that place is home. It's the sights and smells and textures of meals long ago that have the power to comfort. It's those dishes — some familiar and some merely evocative of days gone by — that we salute here.
Broadway Brewery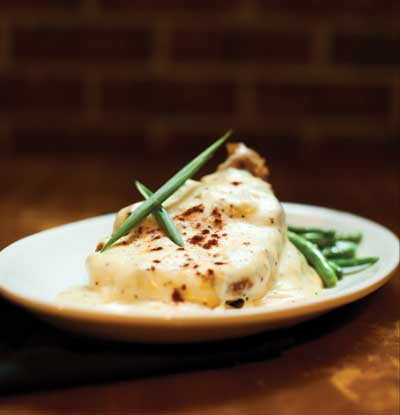 Broadway Brewery sous chef Chris Tierney is a busy man the day we stop in for a visit. The popular band Foster the People is playing an outdoor concert downtown that night and the 5-year-old brewery is catering breakfast, lunch and dinner for the musicians and crew.
Normally, sous chef Chris Tierney at Broadway Brewery just has to worry about lunch, dinner and a lively late-night food crowd. And though the kitchen turns out plenty of interesting and fashionable grub, it might be comfort food that it does best, including roasted chicken, grits and the most reliably excellent rotation of soups in town.
Friday means chicken-fried steak, green beans and peppery gravy on mashed potatoes. It is pure Americana on a plate and perfectly-executed. The chicken breading is perfectly salty and crunchy, and the tender chicken inside is soft and juicy. Green beans still have some snap to them, and the gravy and mashed potatoes are better than you've had in a while.
You can also feel good about where this food is coming from. Much of the brewery's fare is locally sourced from farmers who care about delivering the highest quality. The chicken is from Neuner Farms in Westphalia. The owners raise much of the produce themselves. That means Broadway Brewery can't underprice a chain restaurant serving warmed over food just off of a refrigerated semi truck, but almost all entrees remain less than $20.
"Our food's from local people who deserve what they charge," Chris says. "It's the best you can get, and it's from here."
Broadway Brewery's Blue Plate Specials:
Tuesday: BLT quiche with marinated summer tomatoes. Served with a brewhouse salad.
Wednesday: French dip with garlic mashed potatoes. Served with a brewhouse salad.
Thursday: Geisert nose-to-tail barbecue plate with campfire beans and house slaw. Served with a brewhouse salad.
Friday: Neuner Farms chicken-fried steak with peppered cream gravy mashers and green beans. Served with a brewhouse salad.
Hoss's Market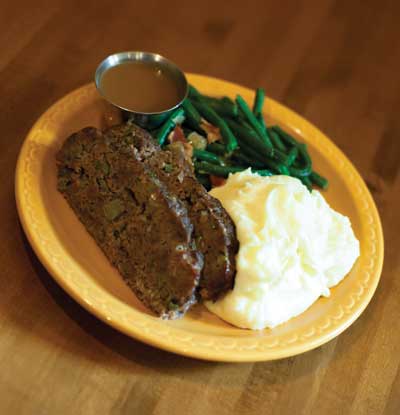 What if you could eat outstanding comfort food in the comfort of home and not have to cook or do dishes? That's the M.O. of the weekly dinner schedule at Hoss's Market. Every night, except for Sunday, they offer four dinner-to-go options. It might be smoked brisket with cheesy pasta on Monday night or the customer favorite, chicken enchiladas, on Tuesday night.
The special when we stop in is the market meatloaf with mashed potatoes, gravy and green beans. The meatloaf is the highlight here, studded with diced green bell pepper, onions and topped with a meaty gravy. On another visit, my family picks up the Yankee-style pot roast, which comes with roasted root veggies and gravy. It's an immediate hit with kids and adults alike.
"Comfort food isn't something busy families can make frequently," says Trish Koetting, who co-owns the market with her husband, Jim (Hoss) Koetting. "One lady comes in every Thursday and gets four pot roasts. We have one guy that gets three rotisserie chickens a week. There's a reason; they're great and only cost $8.99."
Although almost all of the weekly specials would qualify as comfort food, there's nothing more comforting in the world than soup, and Hoss's has you covered there as well. "We sell…enormous amounts of soup," Trish says. "We make them all from scratch."
Bleu Restaurant and Wine Bar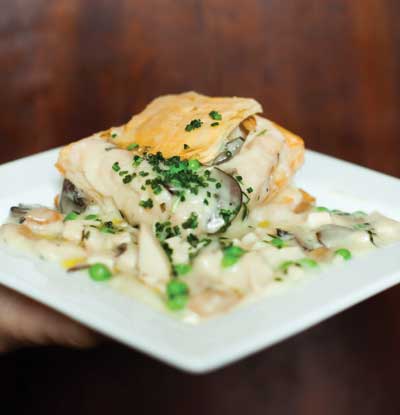 "We pair our soups with the weather that day," Bleu's chef Kyle DeMaris tells me. "When it's hot, we might have a gazpacho. I think warm on a cold day." It's a smart, nimble approach and a bit of a surprise for a restaurant of Bleu's size. From the expertly crafted cocktails and well-curated beer list to the food itself, Bleu aims to please.
When the weather has a bit of a mid-Missouri nip to it, look no further than the turkey pot pie. It's a puff pastry-topped pot pie, spilling over the plate with roasted turkey, cream, slow-cooked mushrooms, peas and truffle oil topped with minced chives. Its subtle punch of tarragon and a dash of white wine bring the acidity, deftly cutting the richness of the dish. It's a good one, worthy of the deepest recesses of winter and the heartiest of appetites.
"The turkey pot pie has been on the menu since I started," Kyle says. "I eat it and take a nap afterward."
Glenn's Café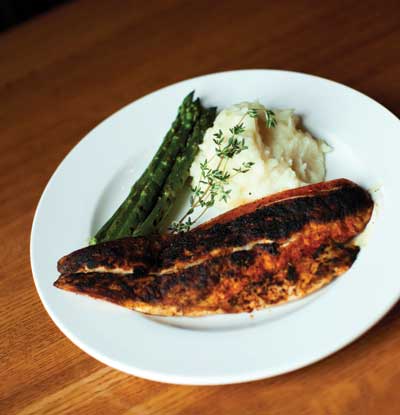 An institution as venerated as Glenn's Café might be forgiven for resting on its laurels and playing things safe. But now that it's returned to Columbia's downtown district, the staff seems more interested than ever in shaking things up. There's a "Hunter's Meatloaf" entrée, featuring antelope, wild boar and bison from Broken Arrow Ranch in Texas. They work with more local producers as well, sourcing much of their pork from Patchwork Family Farms and trout from Troutdale Farms.
The weekly calendar boasts Scotch happy hours, Tuesday and Thursday deliveries of raw oysters and regular wine gatherings featuring four-course meals with expertly paired wines. Standing pat isn't in the cards.
That being said, plenty of familiar, comforting favorites remain. Blackened redfish — a fiery, fresh filet served alongside mashed potatoes and asparagus — is one. So, too, is the chicken Tchoupitoulas, a long-time customer favorite. Glenn's grills a chicken leg and thigh quarter and serves it atop roasted potatoes and tasso ham before topping everything with a delicious oyster/tasso hollandaise. It's soft and lemony and deeply comforting, a great balance of spice and char from the grill.
And finally, in deference to the New Orleans leanings of the menu at Glenn's, is the pastalaya, a dish of sausage, shrimp, smoked duck, more tasso ham, green peppers, onions and cream tossed with penne noodles. You might add a dash of Tabasco if you're adventurous, but nobody will blame you if you don't.
Sycamore Restaurant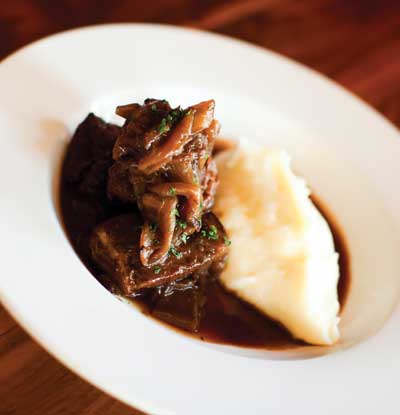 If there is a restaurant better equipped to deliver comfort food in the dead of winter than Sycamore, I can't think of it. The place exudes warmth and charm. Reliably excellent, locally sourced meats don't hurt, and the well-drilled staff — some of the most professional in town — are eager to walk new guests through the menu.
About that menu. It doesn't change much. Cold-weather favorites fly out of the kitchen just as fast in July as in January and none faster than the braised short ribs, which have garnered a following as fanatical as any sports team.
Impossibly tender and swimming in a herby, wine-infused reduction with tangy, caramelized onions, the short ribs are served with airy mashed potatoes. It's like the best pot roast you've ever had and what your mom would've made had she gone to culinary school.