photos by Keith Borgmeyer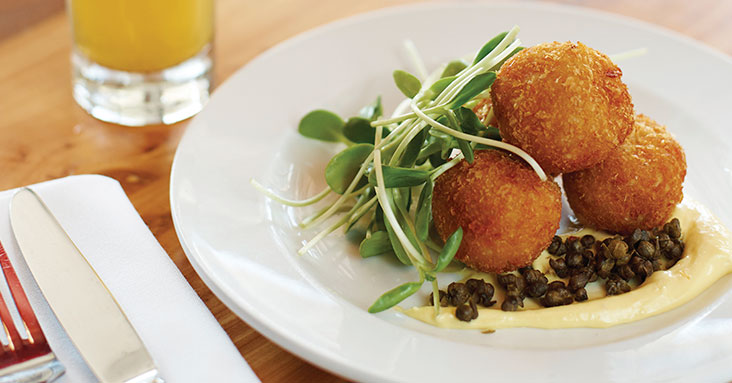 Make sure you know beforehand whether you're going to have drinks or dranks. Then, pick your destination accordingly. You really can't go wrong with any of the restaurants we visited during our happy hour tour in downtown COMO. It took us a full day, so why limit your happy to an hour? Be sure to check out these local eateries next time you need a pick-me-up after a day at work.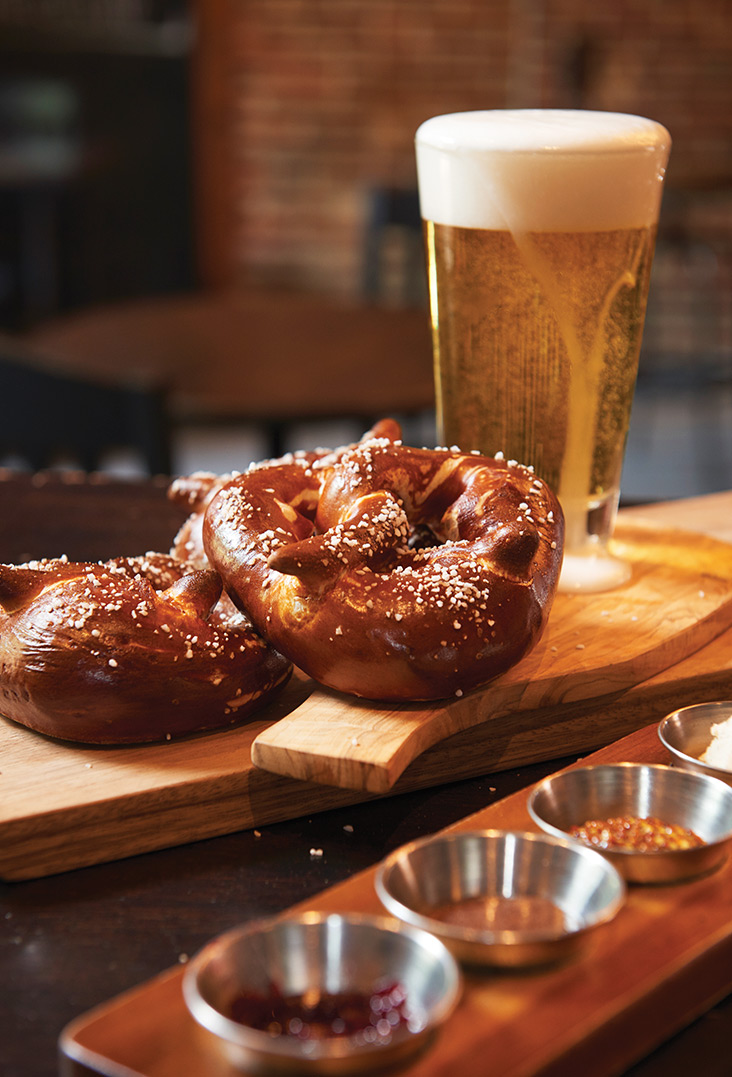 Gunter Hans
SMILE, THERE'S BEER. AND BRETZELS.
Hofbrauhaus
Traditional bretzels
These hot, delicious bretzels are served with mustard, cinnamon butter, and cheese.
Happy Hour Specials
Daily: free bretzel with every liter
Monday: Game Night
Tuesday: Pint Night. $3 Hofbrauhaus all night long. Yes, all night.
Wednesday: Wino Wednesday. $2 off every glass of wine from premier wine on tap system.
Thursday: $4 Sangria Night
Saturday: Mimosas & Cinni-love. From 11 a.m. to 2p.m. enjoy house made "Cinnabretzles" and bottomless mimosas for just $12.99.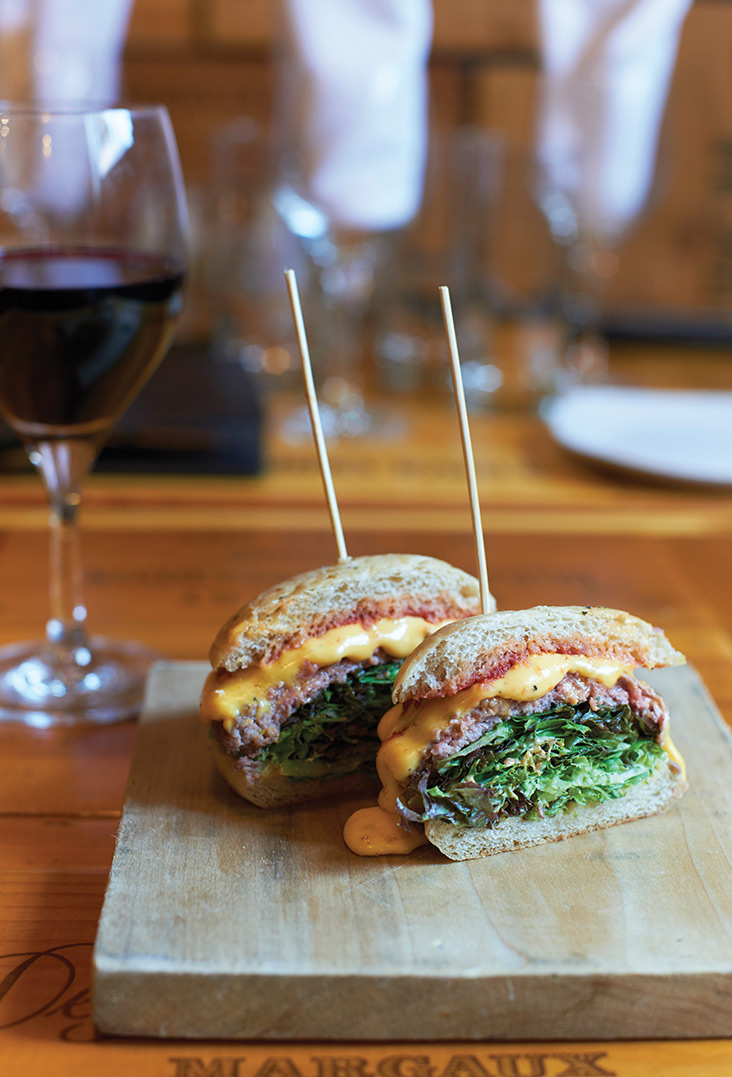 Wine Cellar & Bistro
SAVE WATER, DRINK WINE.
Dumheller Cabernet Sauvignon
WC's Bechamel Burger
Grass-finished Missouri beef and pork, Dijon mustard, redwine tomato ketchup, smoked cheddar bechamel, house made wheat herbed focaccia
Happy Hour
Every day of the week from 5 to 6 p.m.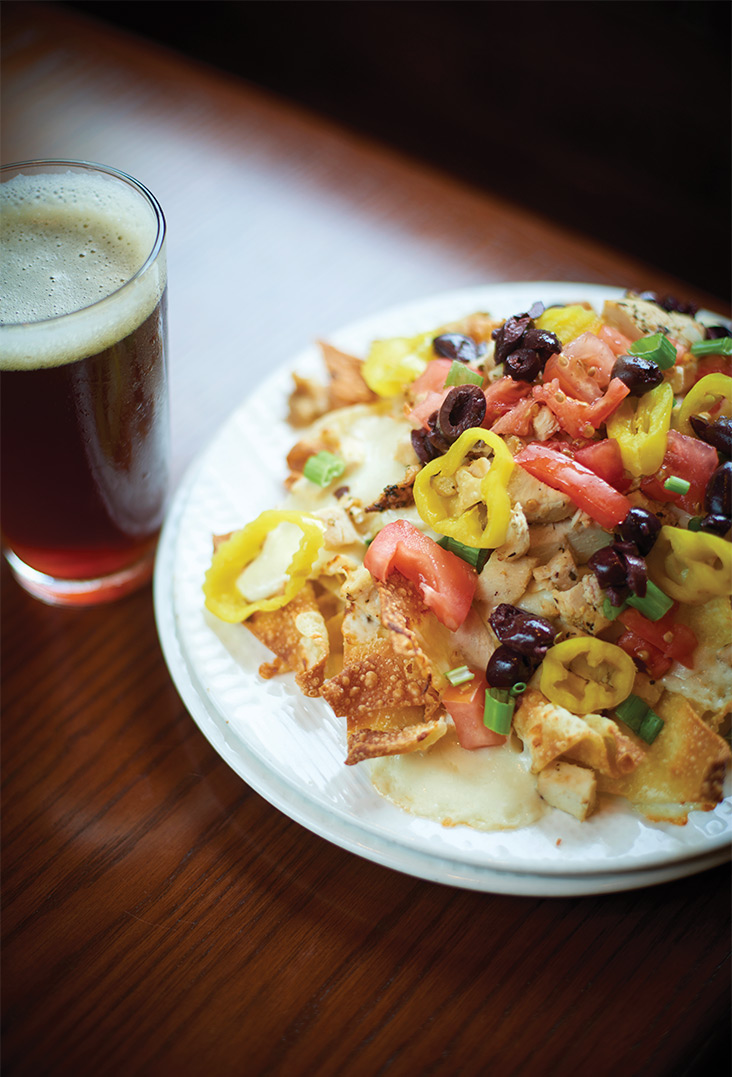 Addison's | an American Grill
KNOW WHEN TO GIVE UP. SOME THINGS ARE JUST NACHO PROBLEM.
Logboat Mamoot Mild Ale
This beer has subtle notes of jam, coffee, and chocolate. It pairs perfectly with these delicious nachos.
Addison's Nachos Bianco
Italian pasta chips topped with Asiago cheese sauce; tomatoes; scallions; kalamata olives; banana peppers; mozzarella cheese; and chicken, black beans, or chorizo sausage.
Happy Hour Specials
Monday through Thursday, 9 p.m. to midnight
Logboat Latenights
Friday and Saturday nights, 10 p.m. to midnight
$2 pints of all Logboat beers
$4 glass of any wine (excluding reserve)
Small order of Nachos Bianco for $5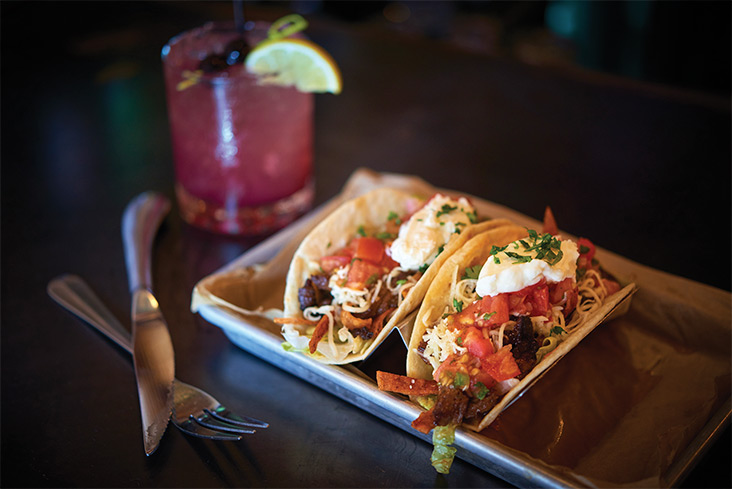 44 Canteen
GREAT STORIES NEVER START WITH EATING A SALAD. HAVE A COCKTAIL. AND SOME TACOS.
Bramble On
New Haven gin, crème de mire (blackberry liquor), house sour
Walking Steak Taco Tacos
Named after the owner's Friday night favorite, a bag of chips with the makings of a steak taco thrown in. Easy to eat so you could walk around at a high school football game. Now, they made it into a delicious taco you can get at the bar while you enjoy a cocktail.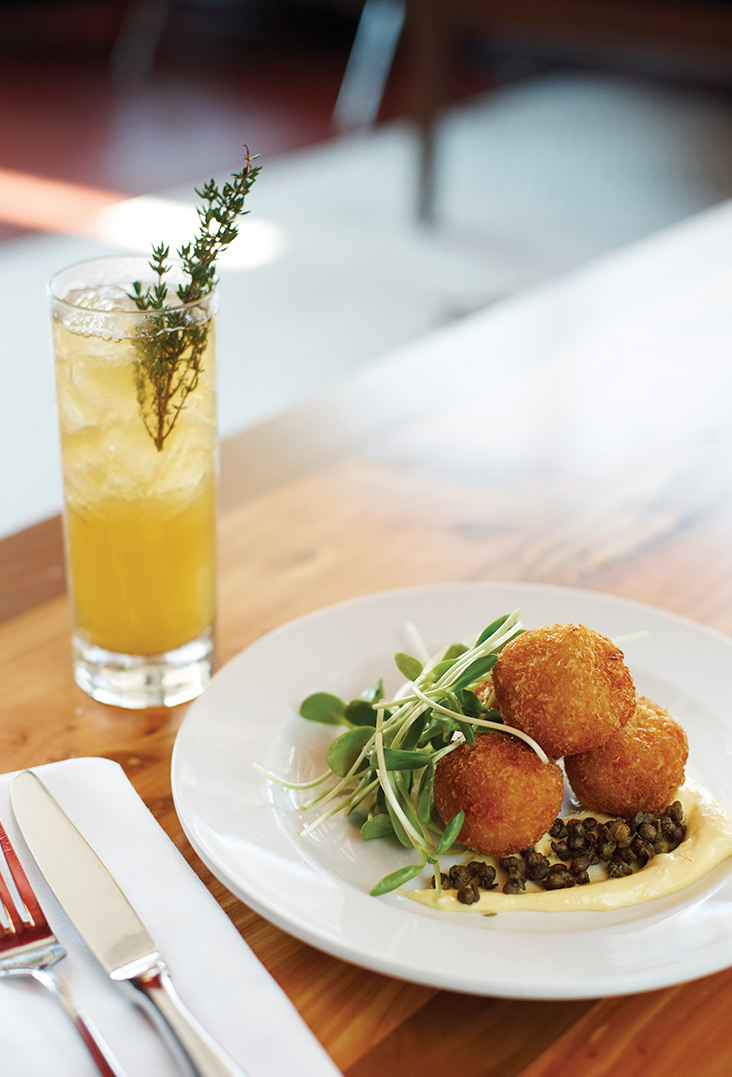 Sycamore
WHY WAIT UNTIL 5 O'CLOCK?
Alabama Worley Cocktail
Earl Grey infused vodka, honey, lemon juice, peach bitters, club soda
Brandade (cod fritters)
Salt cod poached in milk, mixed with baked potato, roasted garlic, smoked paprika and extra virgin olive oil and then coated with mashed potato flakes and fried to perfection.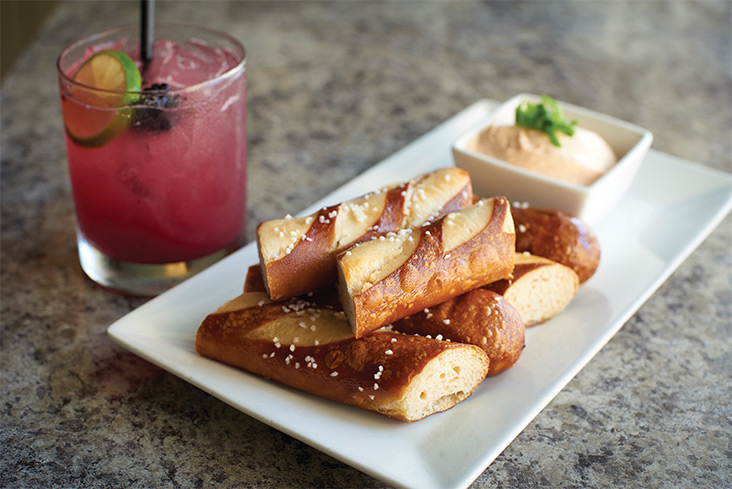 Coley's American Bistro
THAT AWKWARD MOMENT WHEN YOU CAN'T DECIDE WHAT APPETIZER TO GET.
SO YOU JUST ORDER ALL OF THEM.
Kokomo
Vodka, ginger beer, blackberry syrup, lime
Beer Cheese Dip
This dip is a perfect blend of delicious cheeses, seasonings, scallions and beer. Served with large pretzel breadsticks.
Happy Hour
Monday through Friday, 4 to 6 p.m.
Special pricing on appetizers and drinks.