New firm using flat-fee, full-service model
With the real estate market in a continued slump, a new real estate company in Columbia is using a nontraditional business model. Rather than charge clients a commission based on a percentage of the sale, the brokerage firm works on a flat listing fee of $3,000.
Don Seitz, a former trial lawyer and frequent property investor, and Realtor Julia Ames have partnered to found Modern Property Groups with the hope that this new way of doing business might lure potential sellers out into the market. Traditionally, there is a 6 percent commission sellers have to pay: half to their listing agent and half to the buyer's agent.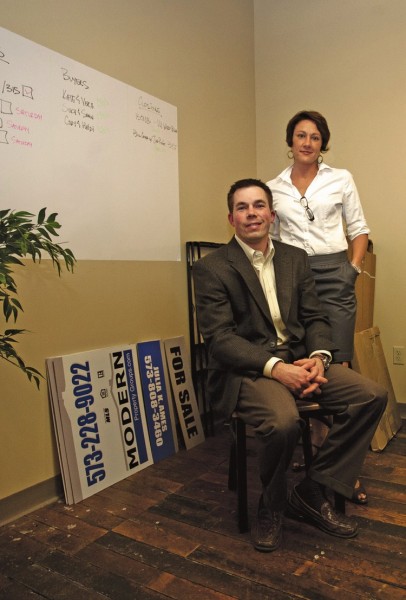 Modern Property Groups will still offer the 3 percent commission to the buyer's agent, Ames said.
All commissions are negotiable, particularly during a housing slump when agents sometimes cut their own compensation to make deals. Some agents also offer limited service agreements. Full service traditionally includes marketing the property, negotiating with potential buyers and closing the transaction. The marketing includes listing the property in the Multiple Listing Service and, usually, placing advertisements and conducting open houses.
Ames said their agency is the only one in Columbia she is aware of that offers a flat rate for full service, regardless of the sales price.
As a real estate agent for more than five years, Ames has had to ride the market through its highs and lows.
"When I got into real estate, it was what you call a seller's market," she said. "People were earning a lot of equity, but that quickly changed. Now it's a buyer's market, and everyone wants a deal."
Ames said with the economic downturn, many people's financial situations have changed, and they might not have any wiggle room to go down on price to make a deal happen — and that's where Modern Property comes in.
By changing the listing fee from a variable to a fixed amount, Ames and Seitz said sellers will see big savings.
"As an investor, I was getting frustrated because traditional commissions were standing in the way of some deals I was wanting to do," Seitz said. "The sellers couldn't afford to lower the price any more and still pay the Realtors. This model allows sellers to price more competitively to attract buyers without affecting their bottom line."
For instance, if a seller has a house listed at $500,000, he or she normally would be paying 6 percent, or $30,000, in commissions, which lowers his or her takeaway to $470,000, Seitz said. With this model, the seller would only have to pay 3 percent to the buyer's agent plus $3,000, which means there's an extra $12,000 for the seller to keep or have some price flexibility to be more competitive.
For properties listed less than $100,000, the brokerage firm will work off traditional commission to ensure the seller isn't overcharged.
"It gives people room to play with," Ames said. "I creates a scenario where the seller gets creative. When the only thing left to improve is their price…they have the money to do that."