Stephens College Fashion Students Shine
This series of articles about The Collection Fashion Show at Stephens College were produced by the Stephens College Fashion Program.
Edited by Lillian Fisher.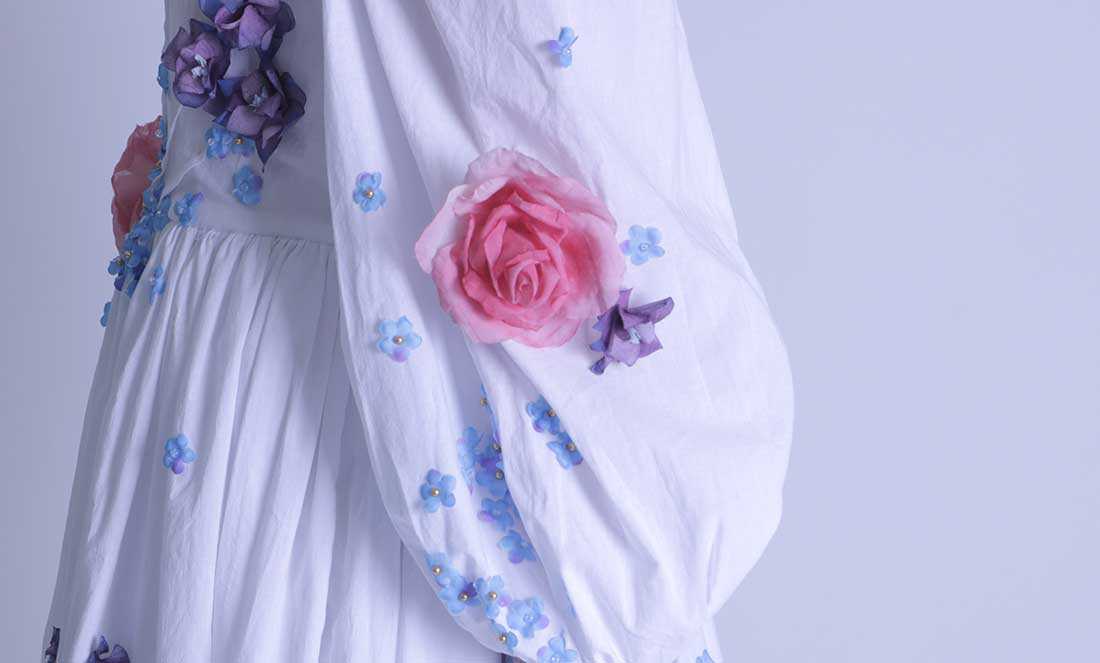 Sophomore designers show at Kansas City Fashion Week, Omaha Fashion Week, and The Collections Fashion Show at Stephens
Two Stephens College sophomores have already begun to make their mark on the fashion industry. In the fall of 2022, Katie Ciolino and Hannah Kleman debuted their fashion brand, Reduce, at Kansas City Fashion Week (KCFW). Since then, they've shown at three more fashion shows: KCFW Spring 2023, Omaha Fashion Week, and The Collections Fashion Show at Stephens College.
Ciolino and Kleman met in their sewing class at Stephens College. During their second semester together, they had an idea—what if they made their own brand and showed it at KCFW? They applied and were accepted to show at KCFW.
"[KCFW] was like the best experience ever. Even before we finished and before [our models] walked the runway, we wanted to do it again," Ciolino said in an interview.
"Then Omaha reached out to us," Kleman added. They applied to show there and were accepted at Omaha Fashion Week and showed their collection in February 2023.
Many in the local community wanted to see Kleman and Ciolino's collection at KCFW but didn't have the opportunity to go and see it. In response, they chose to present their collection at The Collections Fashion Show on Saturday, April 15, at Stephens College.
Reduce has taught the designers valuable lessons about how to design sustainably. From the challenges of sourcing upcycled fabrics to keeping their collections cohesive, Kleman and Ciolino have learned a lot.
"Our brand is about creating high-quality garments using mostly thrifted materials," Kleman said. "Networking has [also] been very helpful for us," Ciolino added.
The designer duo even started their own website and Instagram page for Reduce (@reduce_fashion) as part of their branding experience.
"It's crazy that we've shown at three big fashion shows in not even a year yet. If we didn't do it the first time, we never would have had [this] experience," Ciolino said.
Kleman and Ciolino used their experiences at fashion weeks to help produce The Collections Fashion Show at Stephens College. Under the leadership of Monica McMurry, the fashion show production class collaborated with a variety of students to bring the fashion show to life.
"It really brings the whole campus together … It's just a wonderful event that unites the college and provides a creative endeavor with a really tangible product," McMurry said in an interview.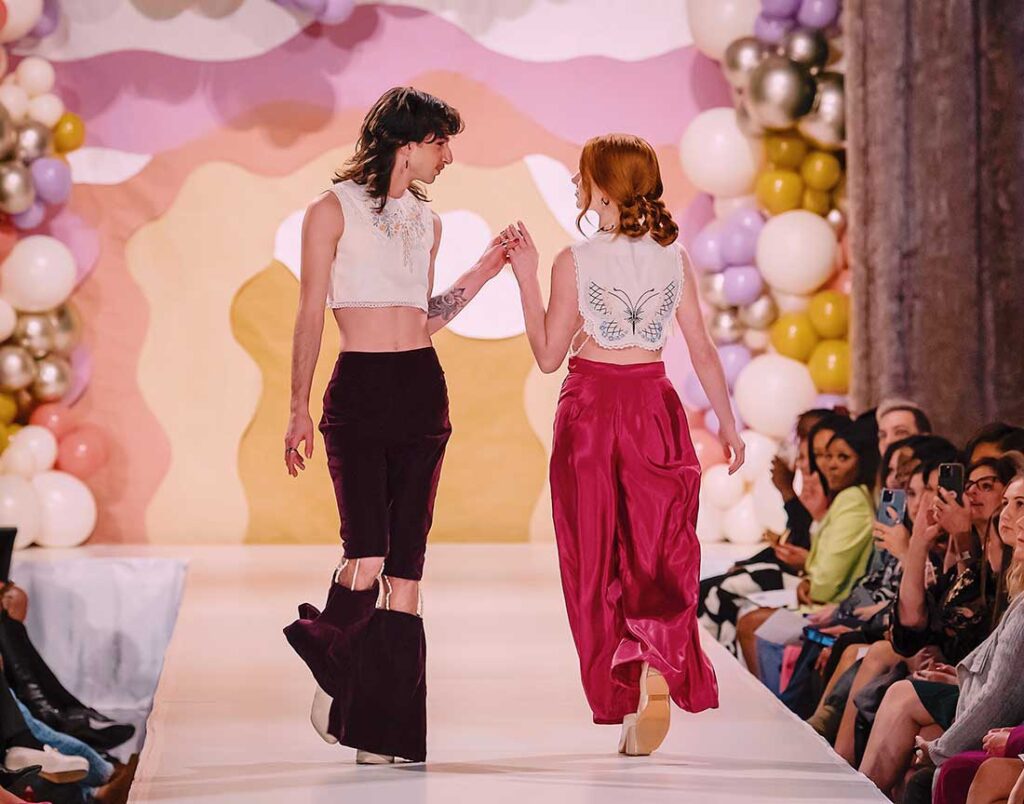 Fashion shows are not the only places where Stephens College fashion students shine. This past semester, the sophomore patternmaking class has been collaborating with The Collective Thread to design and pattern garments that will be shown at The Collective Thread Fundraiser this May. Through a lot of back and forth, time, and communication, the class successfully produced patterns in standard sizes for The Collective Thread.
"The students are getting a very real-world experience with a company. Because it's all about communication and satisfying what the customer wants. In this case, the customer was The Collective Thread," McMurry said about the collaboration.
Fashion students at Stephens College have the unique opportunity to gain real-world experiences throughout their time in school, leading to a multitude of successes, including Kleman and Ciolino showcasing their work at KCFW and Omaha Fashion Week; Julia League and Riley Pierson, who won American Sewing Guild Scholarships; and many more.
Talented Stephens College fashion students win awards
After the 7 p.m. show of The Stephens College Collections Fashion Show, everyone gathered for an awards ceremony. The crowd listened intently as fashion faculty Monica McMurry, Kirsteen Buchanan, and Christina Marks announced the award winners. As the recipients were announced, the audience erupted in applause, celebrating the hard work of each student.
The most coveted awards are given based on the highest scores in the Jury of Selection, which is a panel of industry professionals who rate student designs and decide which garments will be shown in the fashion show each year. Of the awards, two are the most sought-after – the award for Best Senior Collection and Best Look in Jury. This year, the award for Best Senior Collection was a tie between Abbie Sims and Margeaux Larson, a rare event shared by two students. The award for Best Look in Jury was earned by Juliet Forehand.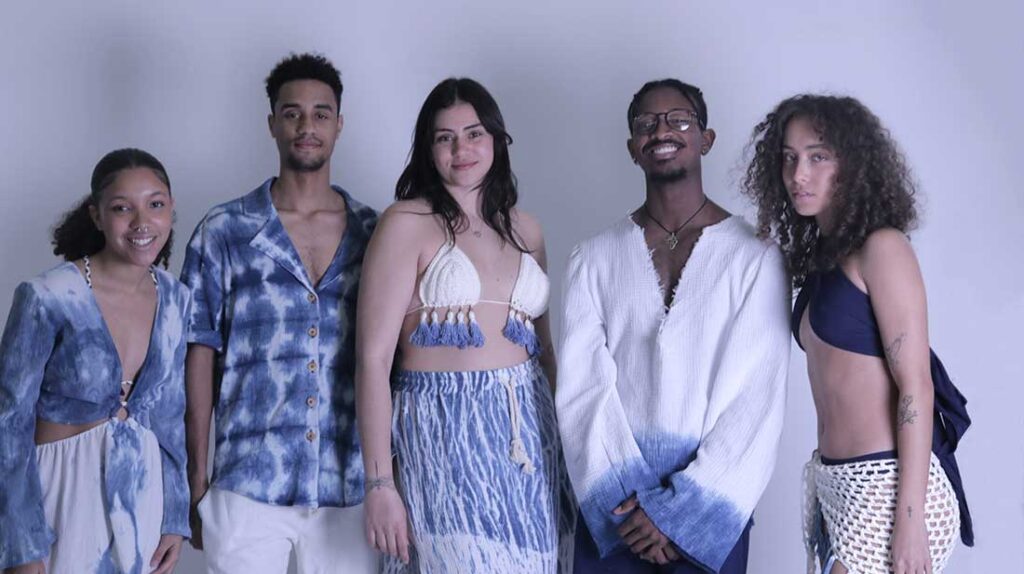 Abbie Sims is a Fashion Design and Product Development senior at Stephens College who will be graduating in May. Her senior collection, called Shades of Blue, is a swimwear collection inspired by the beach. Featuring elevated indigo dye techniques and crochet, Shades of Blue centers around sustainably handmade pieces.
"I wanted to be as sustainable as possible because I find that to be something really important to me," Sims said in an interview.
Making her collection was far from easy—Sims had to problem-solve and figure out how to make each piece within a limited amount of time.
"I really appreciate how everything came together… they all took so much work, and I was so proud of how they turned out," Sims explained.
All of Sims's problem-solving paid off—the Jury of Selection loved her collection. After Sims won Best Senior Collection and tied scores with Margeaux Larson, Sims explained, "It was even more emotional winning the award with [Margeaux]. She is someone I admire so much, so being able to stand up next to her and win with her was really sweet."
Furthermore, Sims says she could not have accomplished this without the support of her peers.
"There are times when you're just down on yourself, and they are always there to help pick you up no matter what. And if you need help with anything, they're always there to support you," she said.
Margeaux Larson is also a Fashion Design and Product Development senior at Stephens College. Larson's senior collection, Over The Garden Wall, is about a girl who escapes the world by exploring a beautiful garden. This collection features beautiful surface design work—hand painting, hand dyeing, and handmade flowers. Larson made over 100 flowers in total.
"I really liked the flowers. I spent so much time making them. So, to see them look like they're growing on the dresses, that [brought] my vision to life," Larson said in an interview.
A talented patternmaker and surface designer, Larson expertly crafted each of her looks. Such attention to detail allowed her to win the Surface Design Association Innovative Student Award in addition to the Best Senior Collection award.
"I'm really into surface pattern design—that's something I'm looking into as a career. So, to get an award for that, which is something I want to do, was really great," Larson said. "Also, I was really excited to tie with Abbie—that was really awesome… I was really happy to win with her. I think that was more exciting for me than just the award. Seeing your friend win it with you— that made me really happy."
Larson will be graduating in May, along with her peers Abbie Sims, Alexandra Henry Allen, Jess Kittle, and Celine Enninful Adu.
"I'm glad to graduate with these five seniors… I'm really proud of everyone. I'm glad that we got to do [this] together and we finished together," she said.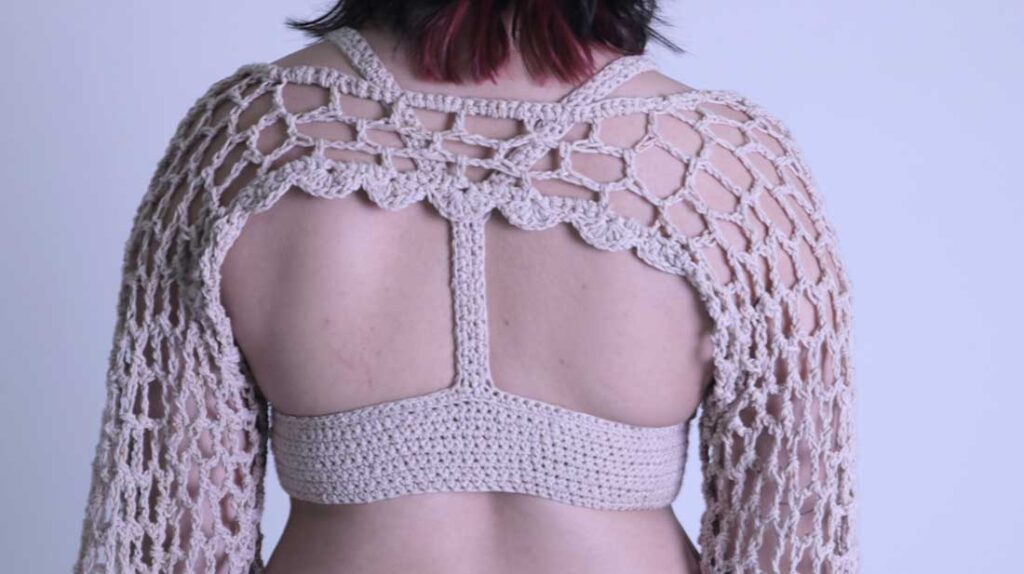 Juliet Forehand is a Fashion Design and Product Development junior at Stephens College. Her denim look not only won Best in Denim, but it also won Best Look in Jury. Forehand's design features a handmade crochet bralette, a coordinating shrug, and low-rise denim jeans.
Forehand used 100 percent cotton denim to create the low-rise jeans. To get the right colors for the bralette and shrug, she tea-dyed cotton yarn prior to crocheting for the perfect shade of brown.
"I love the entire [look]," Forehand said in an interview. "But I spent a lot of time crocheting… So, finishing the crochet part— after 4 hours of just making a single bralette—was incredibly satisfying," she continued.
Best known for her crochet and knitting, Forehand is an expert needle artist. She made her own pattern to crochet the bralette and shrug—a feat that requires a thorough understanding of crochet, patternmaking, and garment construction. Next year, Forehand is planning on incorporating knitting and denim into her senior collection.
The Best Look in Jury tends to be awarded to seniors, so Forehand was surprised when she was announced as the winner.
"I feel incredibly honored to receive such an award … I hope to be able to live up to that again next year," she said.