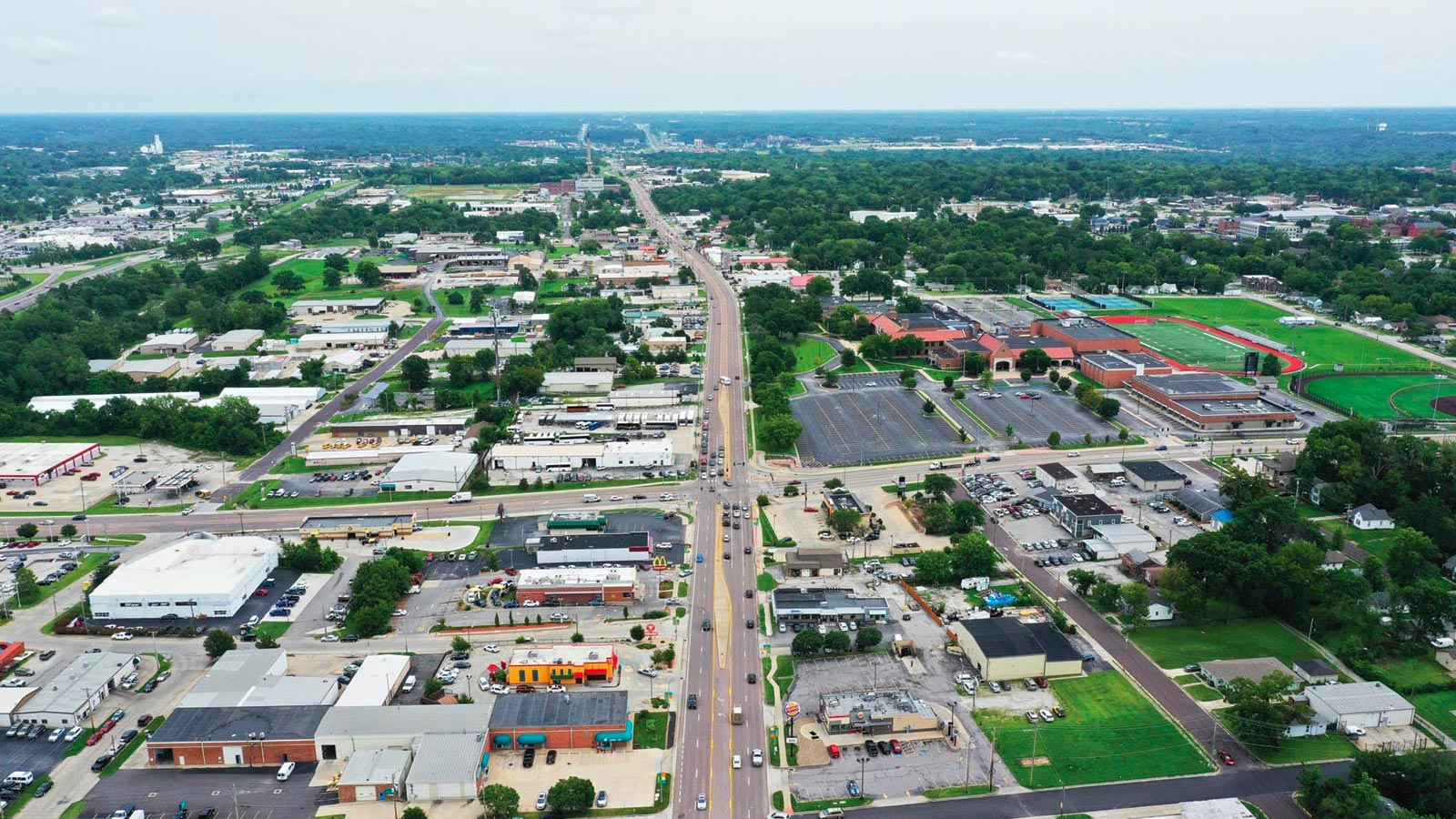 This month, we finish our development series with a look at The Loop. From new community banners to new restaurants, there are lots of new and exciting developments on The Loop.
Driving down Business Loop 70, you might have seen the pop of color of the new community banners. "That was our big project this year, and our goal was to add some color, brand the street, and show everyone that we are a community — all along the length of the street," says Carrie Gartner, executive director of The Loop CID. "For so long, I think folks looked at us as individual businesses, but we are truly a community of businesses that build off of each other, providing goods and services you can't find anywhere else."
The Loop is the home to several lunch joints, many of which are locally owned and serve a variety of foods. "We get so many folks coming by for lunch, taking advantage of the drive-thrus or sitting outside," says Carrie.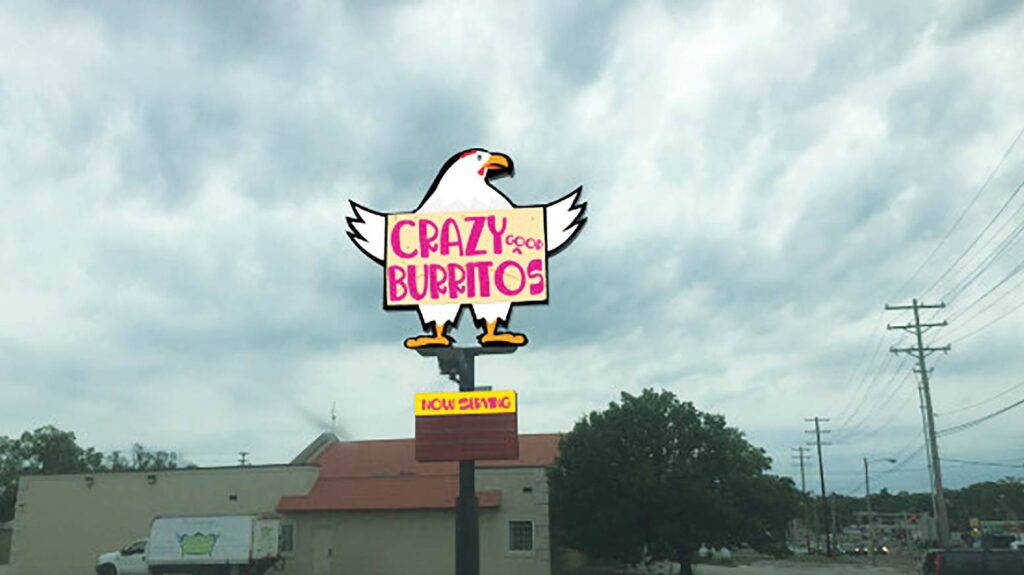 Crazy Good Burritos
Down Business Loop 70 East, you may notice the former payday loan building has undergone a big change. Maribel Torres, owner and operator, has been hard at work remodeling the location to open Crazy Good Burritos in early September.
Crazy Good Burritos, with its California-style burritos, is opening at a perfect time — its to-go options and drive-thru make it easy to pick up food without having to venture inside. The location is also right next to the community pop-up park, so there's plenty of parking and customers can choose to eat at the park and maintain social distancing.
"I had been looking at the location for about two years. It looked like it could have been a restaurant, and I always thought it could be a great burrito place," says Maribel. As luck would have it, she noticed a paper on the door stating the business had moved and inquired if the building was available. "The people looking at it ahead of me passed, and I was next in line. I was very grateful, and patience paid off," she says.
Maribel grew up cooking with her mother, and the restaurant business is prevalent on both sides of her family. "It's just a family tradition, and I love cooking and serving people," she says. "I feel like it's a way for me to give back to the community. Food is a way for me to earn the income I want to earn and be able to give back."
Many of the menu items are family recipes from her grandma and mother. Some of the main dishes are California-style burritos, shrimp cocktail, fish tacos, and corn on the cob. "The Mexican rotisserie chicken is unique, and no other place has it here [in Columbia]," she says. "It's with charro beans, rice, pico de gallo, and red or green sauce on tortilla. They could feed the whole family. Usually, people get it and go to the park with their family. It's a fun meal to eat together."
In the morning, they serve breakfast burritos starting at 5 a.m. "There are a lot of [people] who go to work early, and this will give them an option," Maribel says. One of the breakfast options is fuegra, which is a tortilla with egg and cheese topped with avocado and queso fresco, with sauce on the side. They also will serve champurrado, which is a hot drink, along with café de olla and regular coffee.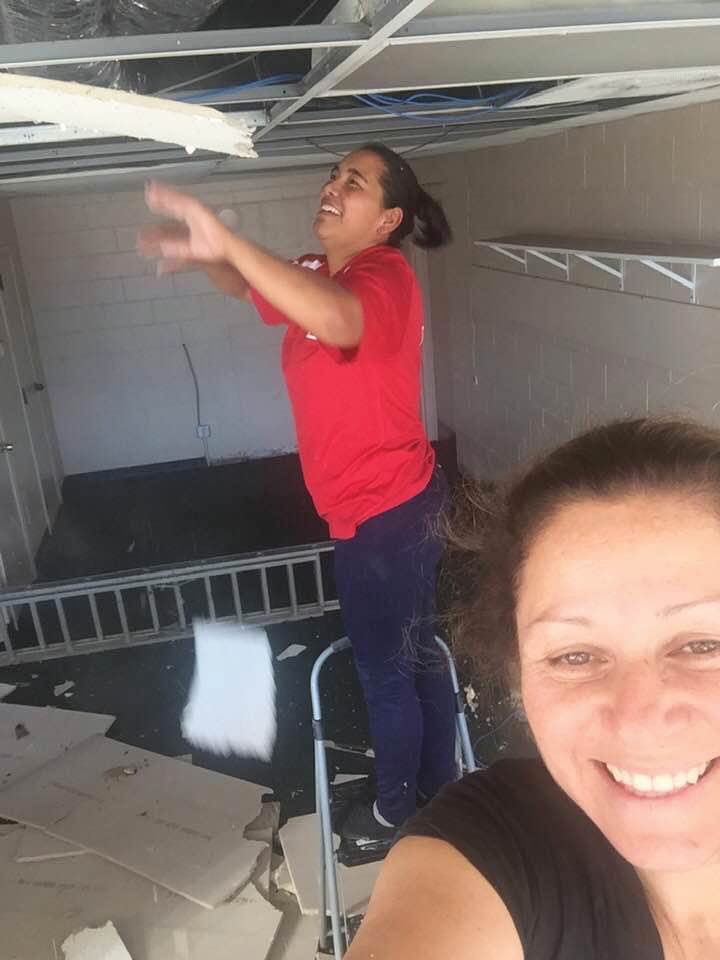 "It's been almost a year working really hard getting ready and, finally, it seems like it's there," she adds. Maribel received her business license in early August. To get the restaurant ready, Maribel has put in new plumbing, a new electrical system, a new stove hood, and a completely remodeled ceiling and interior. Her brothers also gifted her some equipment to help her get started. A mother of four, Maribel has done as much of the work as she can on her own, but has also had great family and community support.
One particular point of pride is the plants and landscaping on the outside of the building, which Maribel arranged herself. She also was able to paint some of the inside, so it has her personal touch while also looking professional. She adds that the engineer and architect did a beautiful job, and the plans they drew up made it very easy for the whole project to be completed more accurately.
"Some of the people I traded labor with, like the gentleman who did my flooring," she says. "My HVAC and plumbing worked with me for payment options, thanks to my contractor. Everyone really worked together and has been great working with me to help me get the restaurant opened."
Maribel hopes her new restaurant will serve the community and The Loop. "I think that it will encourage other people to be determined to have their dreams realized, just keep at it and not let go. If I could do it pretty much coming from nothing, I think others can do it, too. If you come and try the burritos, we invite you to come back and try something different the next time."
Munchi's Fish & Chicc'n and Woods Auto Spa
At the corner of Business Loop 70 and Rangeline, you'll find Woods Auto Spa and Munchi's Fish & Chicc'n. Owner Dimetrious Woods says he has invested in that corner because he believes in it. He opened Woods Auto Spa in early 2019 and followed with Munchi's Fish & Chicc'n food trailer in November 2019.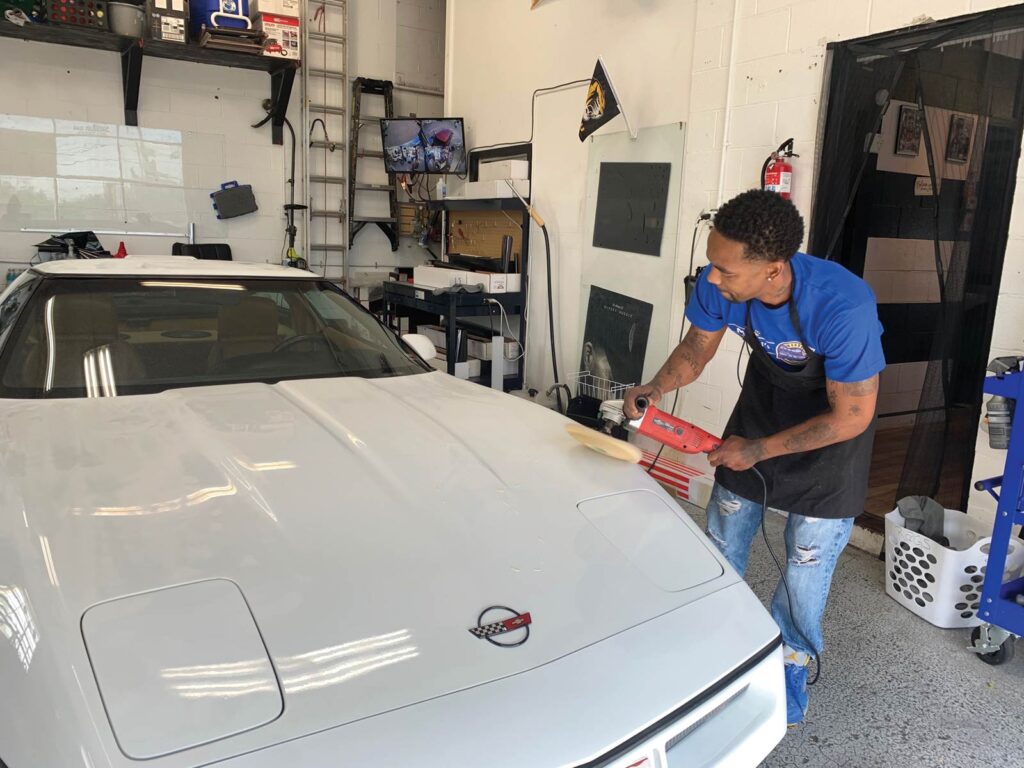 "It was crazy for me to open the auto spa at the time," says Dimetrious. "But you only get one life to live. I had changed my life for the better, and here I was facing going back to prison. I overcame that fear and went for it. That corner was ugly, and I knew it was a good advertising pitch to clean up that corner. It's a busy intersection, and it's worked well."
Woods Auto Spa is unique in that they do hand car washes, detailing, and window tints. "The lobby is killer, and has a candy store and smoke shop up front, and all the St. Louis air fresheners. It's decked out with black glass luxury decor. That's what separates us — urban hipness and the cleanliness of the store," Dimetrious says.
Adding the Munchi's Fish & Chicc'n food trailer to the location was a no-brainer for Dimetrious with how busy the intersection is and the need for restaurants in the area. The choice of opening his restaurant as a food trailer all came down to economics: He already had a great location, and the food trailer had low overhead. "When I was in prison, I was paying attention, and food trucks have become so popular. I thought the food trailer thing might be the best option," he says.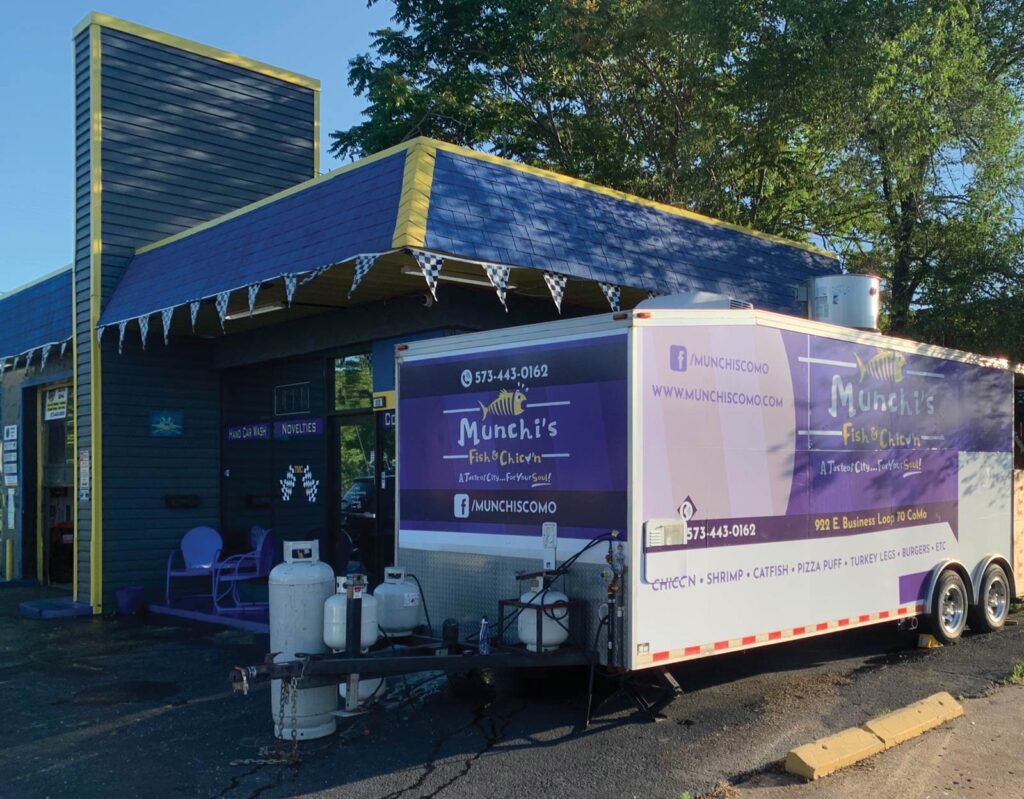 In terms of inspiration, he says the food at Munchi's came from knowing the type of food he likes. "Growing up in St. Louis, you have your fried catfish, fried chicken that's lightly seasoned, and it wasn't food that was available in Columbia on a consistent basis," Dimetrious says.
All of the cooking and recipes are Dimetrious' own creations. As his businesses grow, he's not always the one cooking, though he loves it when he's able to do so. He focuses on consistency in the process and seasonings so you get the same great taste every time.
The thing that keeps customers coming back for more is the original Munchi's sauce. "It's like a honey hot sauce —it's for chicken, but people love it on their fries and shrimp and everything," he says.
"The exciting thing is I have three trailers now. We leave one here [at Woods Auto Spa] and take one mobile," he says. They even served food at Cooper's Landing in early August. The third is a large, two-room trailer, and Dimetrious is working on plans to utilize it.
Dimetrious says there are so many facets in how these businesses add to the community and The Loop. "I provide a service to the community in jobs. And if you dig down, I have a very strong presence and respect in the community because of where I came from," he says. "There's hope — not only did I get out, but I opened a business and take care of my kids. I didn't realize this until my landlord wrote a letter to the governor about me changing my life.
"I used to be a notorious cocaine dealer and got popped and went away. I own that and was held accountable. I recently did 11 years inside. I've been out for two years," Dimetrious says. He was released on parole in 2018. After being out for a year, his parole was appealed, and he was facing going back to prison to serve the rest of his sentence due to a change in legislation. During this time, he followed parole, owned the business, and was mentoring troubled youth in Columbia. "All of that coming together is what led up to be being able to appeal to the governor — look at this non-violent drug offender who has come away from this and changed his life. All of that accountability and evidence changed my life." Governor Mike Parson commuted his prison sentence, and Dimetrious only served two months of house arrest.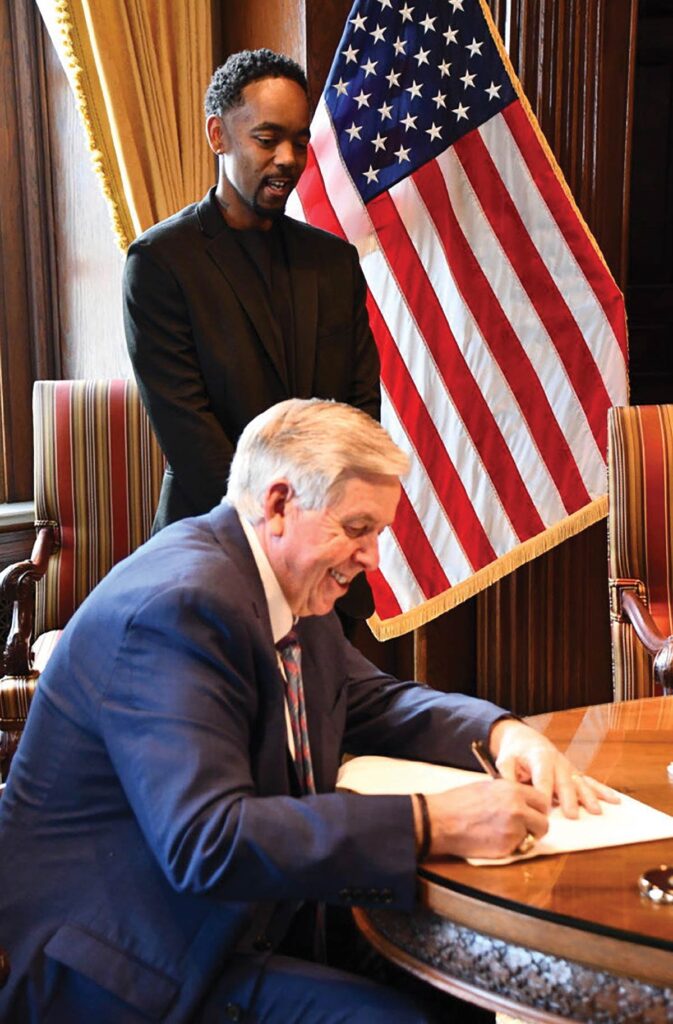 "I'm a workhorse now, but you can't see me complaining much. Man, life is beautiful now!" he says. He adds that he's glad to be able to share his story and help mentor others. "You're worth something all of the time," he says. "You have to deal with the past. Me being able to go in and be vulnerable, go back and be honest with my past, helps me make a good connection with others."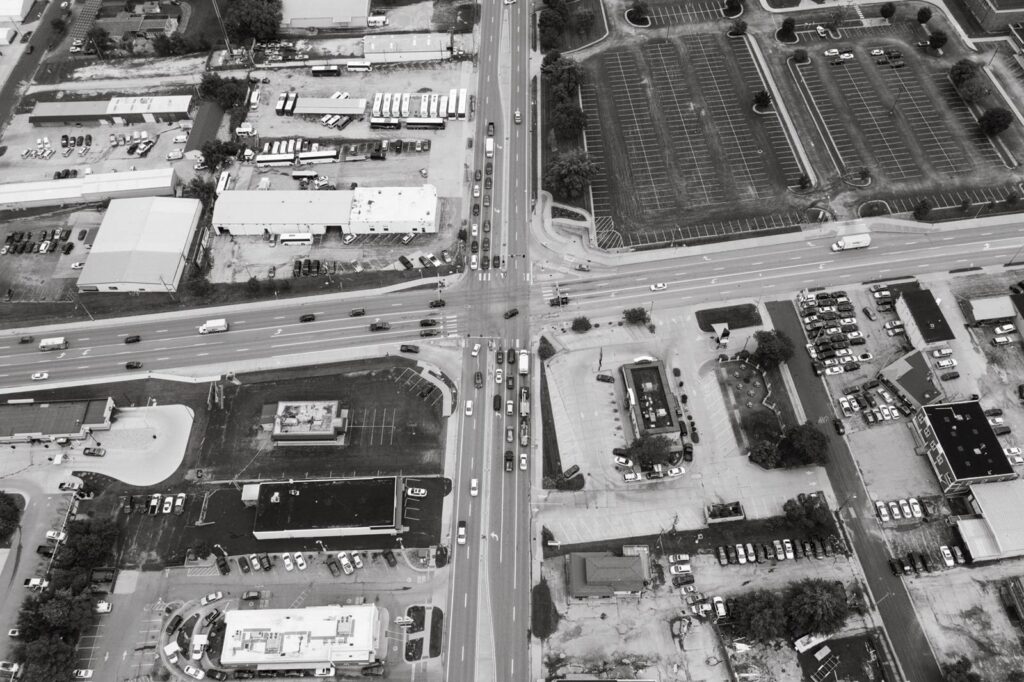 ---
We Love Local
Check out these interesting shopping combos Carrie Gartner provided for The Loop.
Transform Your Backyard
With our help, you can repaint patio furniture in a hot new color, find gardening tools and outdoor lighting, and even get gardening supplies and advice. 
Sherwin Williams
Harbor Freight
CoMo Grow Supply
---
Update Your Home Office
Isn't it about time to make your workspace a place that works for you? We have flooring, furniture, lighting, and accessories to make sure you score a perfect 10 on
Room Rater.
Dave Griggs Flooring America
Hockman Interiors
Carpet One Floor + Home
Ennis Appliance Center
---
Dine out at home
We've got everything from groceries to centerpieces for your table — even all the ingredients to mix your own cocktail.
For a full list of businesses in The Loop, visit theloopcomo.com.