What's New on the South Side?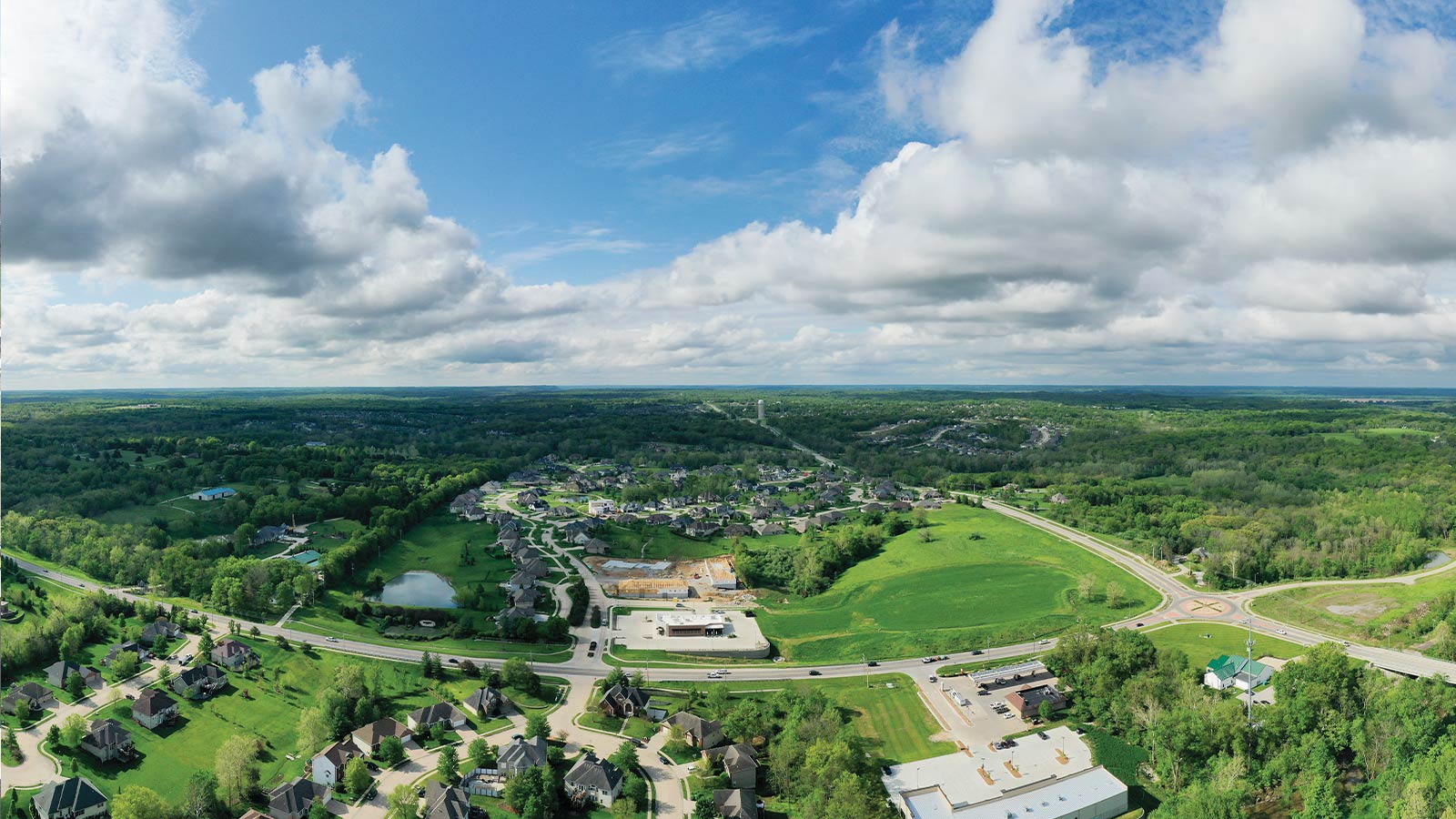 This month, our business development series explores what's new on the south side of Columbia. From new business developments to exciting shops and places to eat, this side of town has a ton to offer to the community.
John Warner Middle School
"Columbia is a community that values education," says Michelle Baumstark, community relations director for Columbia Public Schools. "Construction of the school is possible because of the continued support of our community. We are grateful for that support and the investment our community makes in its schools."

John Warner Middle School, the new 126,431-square-foot building located off Sinclair Road, is under roof and work is being done inside the building. It is on track to open in August for a capacity of 700 to 750 students. "The school is being built to help alleviate overcrowding and address continued growth in south Columbia. Specifically, this will help address the overcrowding at Gentry Middle School," Michelle says.

Jimmy Hale will serve as principal of John Warner Middle School with Taylor Drennan serving as assistant principal.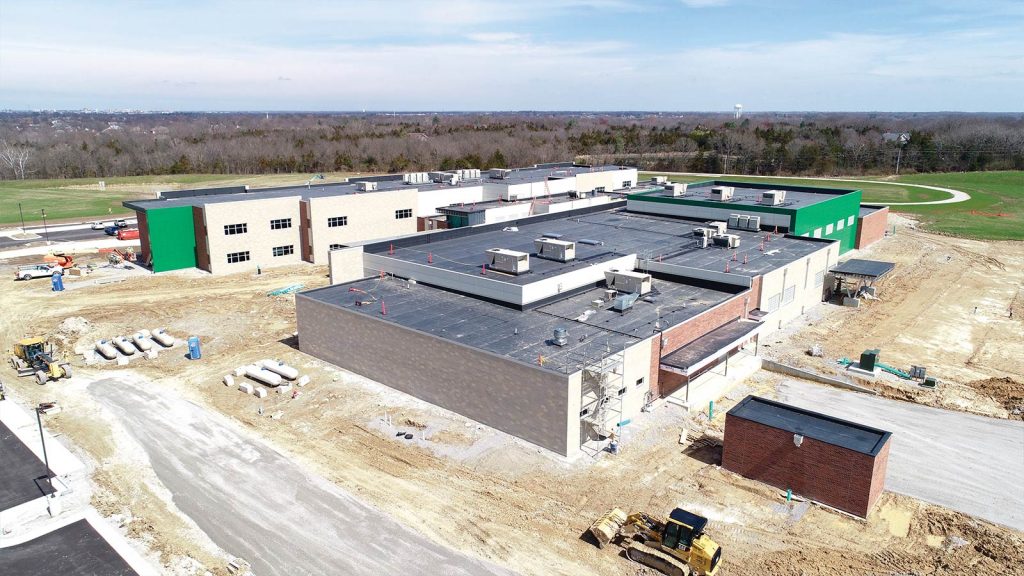 Nifong Shopping Center
Lindner Properties has turned the anchor of the Nifong Shopping Center from a Gerbes grocery store into a Planet Fitness and Woof's Play & Stay. "When we weren't able to come to terms with Gerbes, we quickly decided that it would be more advantageous to split the building and lease to multiple smaller businesses," says Jay Lindner, president of Lindner Properties.

They went to work gutting the entire building and adding new storefront entrances, windows, and architectural features. They also added new mechanical equipment for the different spaces.

"We were able to get creative with Woof's Play & Stay to remove a walk-in cooler outside the back of the building in order to create room for their outdoor play areas," Jay says. "Planet Fitness and Woof's have been great, unique additions to the property. We do still have some space remaining in that building, and we look forward to bringing additional businesses to this corner."

In addition to Planet Fitness and Woof's, Lindner Properties is also constructing the Panera building in the parking lot of the property. "Panera has been looking for ways to get a drive-thru location in south Columbia for years now, and this location will give them great exposure and convenience. Working with them, we were able to take their prototype building and upgrade some of the finishes on the exterior to make sure the style fits in with the rest of our development," says Jay, who is hopeful Panera can be operational by fall.

"The remodel has not only increased the curb appeal of this corner, but it's also allowed us to get business activity and tax revenue coming in for the City of Columbia again," he adds. "Had we not split the building, it likely would have sat empty for multiple years given the large size. Once the Panera building is finished, we feel like this will be one of the top properties in Columbia."
Copperstone Park
"My wife and I love Columbia and always planned to be here to raise our children," says John Hall, developer of Copperstone Park Development and co-founder of Calendar.com. "When Copperstone was a new neighborhood, we were one of the first families to build in the subdivision."

John and his business partner were in the process of launching their new company, Calendar.com, and found themselves with the opportunity to construct their own office space. "This allowed us to construct an amazing building to attract top recruits while being able to support businesses within the campus that we believe in and that are great for the community," he says. "The development will be called Copperstone Park and will have a park-like atmosphere, with trees, walkways, and outdoor areas for an enhanced work environment.

The new office building is at the corner of Scott Boulevard and Nifong next to the Copperstone neighborhood and the new Addison's restaurant. The community support for this project is very positive. "There was 100% neighborhood support for this development at the planning and zoning meeting, in addition to both the planning and zoning commission and city council voting 100% in favor of this," says John. "I believe this was because I spent a lot of time getting feedback from the neighbors and working with them to build a development that was great for the community."

The building is currently in the finishing framing stage and is scheduled to open in September. Russ Anderson is the builder for the project, and he's worked closely with John on multiple other properties. "Russ has built many of the homes within Copperstone, and I trust him to capture the amazing essence and beauty of the neighborhood and include it in this development," John says. "In addition, Nick Peckham, who owns Peckham Architecture, has been amazing at designing a campus that is not only beautiful, but also carries strong aspects of green sustainability that are better for the environment."

The 18,000-square-foot building is mostly rented, but there is still 6,000 square feet of office and commercial space available. "We'd love to get some more amazing companies in those last spots," John says.

The campus includes two different commercial buildings and one residential structure of villas. "In the west building, the majority of the space will be taken up by companies owned by me and my business partner, John Rampton. These include Calendar.com, which is an evolution of the modern-day calendar online; Adogy, which is a media placement firm that gets authority media placements for companies to build their brand credibility, as well as SEO placements; and about 10 others in our portfolio," says John.

"We will have a company café and an outdoor area available in this building with firepits, bars, beach loungers, washers pits, and other fun things to create a more enjoyable and modern-day workspace."

Next to that, they will have a co-working space that includes companies like StoryUp, run by CEO and chief storyteller Sarah Hill, and 391 Financial. The Company, Wendy Swetz's real estate brokerage, is also in this campus. "It was an amazing fit because her company is growing, and she cares about Copperstone just as much as I do since she lives in the neighborhood as well," says John.

"In the north building, Camacho Coffee, an exciting and fast-growing retail coffee shop, will be our first tenant in that building," he adds. "Jesse [Walters] and his wife, Megan, were a perfect fit to be a part of the development, and we immediately hit it off since they cared about the community just as much as I do."

In addition to the commercial space, they also have four high-end villas at the south end of the property, which will give this area the unique option of having high-end villas within a park-like environment. John says two are taken — one of which will be rented by his parents — and two are still available.
Camacho Coffee
"The building we are moving into is directly south of Addison's as you enter Copperstone. We have acquired around 1,250 square feet of the building," says Jesse Walters, co-owner of Camacho Coffee. "We have been looking for space to rent since the existence of our business in 2017."

Jesse and Megan began roasting out of a corner of a warehouse and later moved to a shared commercial kitchen, but they've never had a space of their own, until now. "The location, accessibility, a cool landlord — shout-out to John Hall! — and his flexibility in letting us build it out as we need, is everything we have envisioned for our business. I think John is truly building something special that the community will enjoy and benefit from, and we're grateful to be part of it," says Jesse.

Their space won't be like any traditional coffee shop you've experienced. "The best comparison I can come up with is a brewery," says Jesse. "Most of the space is used for manufacturing, production, and distribution, while the rest will be a 'tasting room' where people can come in and grab their coffee. It will be an open concept where the community can see and experience what we're doing, all the way from hauling in the burlap bags to roasting and bagging to getting a brewed cup of joe."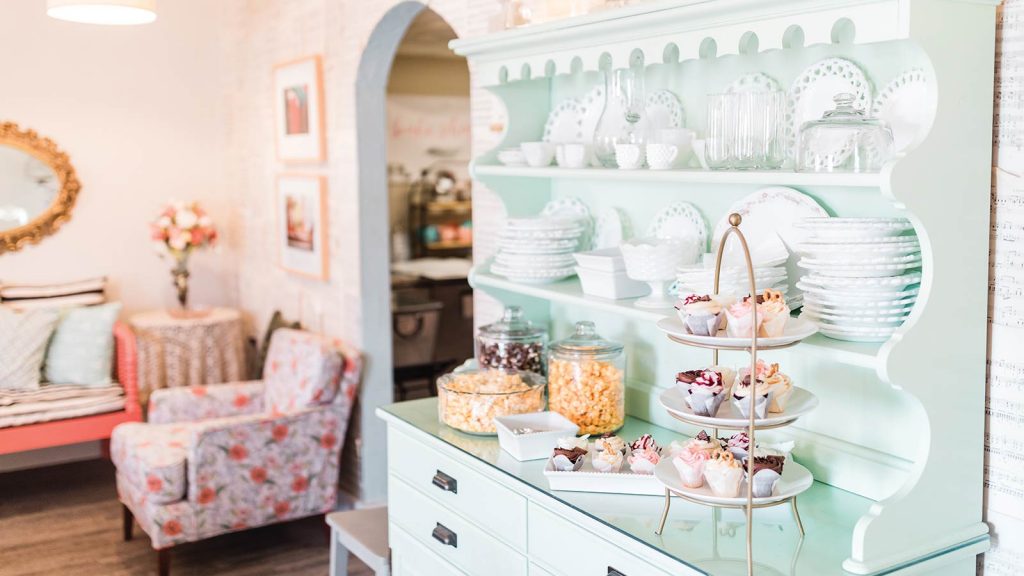 Where to Shop
Tin Roof Monogram & Gift
The Tin Roof Monogram & Gift is a small gift boutique that provides customers with unique merchandise. From home goods to baby items, simple apparel to unique trinkets, the shop is a labor of love that keeps on giving. In addition to lifting up their customers, they also strive to empower and support the community through fundraisers, charity events, and donations to various groups and causes.
Plume
Plume, a quaint destination shopping spot, is home to over 80 local artisans and vintage connoisseurs. Complete with an in-house Bake Shoppe featuring made-from-scratch daily cupcakes and GOPO Gourmet Popcorn, every visit is a total experience.  Whether shopping for a gifts for babies, brides or birthdays or want locally made home decor and pillows to freshen up your home, you'll find yourself in the right place!
CMSE Giving Gardens
CMSE Giving Gardens has provided meaningful work for people with disabilities for more than 50 years. The Giving Gardens is a retail nursery that has many plant varieties including perennials, annuals, herbs, vegetables, and hanging baskets.
Where to Eat
Park Restaurant & Bar
Park is located at Discovery Parkway. From enticing small plates and local seasonal items to a bar with a unique bourbon display and outdoor patio, Park is a must-try restaurant on the south side.
Taqueria Don Pancho
Located on Peachtree Drive, Taqueria Don Pancho is a family-owned traditional Mexican restaurant. They focus on fresh, delicious food and marinate their dishes for 24 hours before cooking to give them a rich flavor. Whether you're looking for traditional tacos, burritos, posole menudo, or tilapia tacos, you'll find authentic flavors here.
PaPPo's
PaPPo's Pizzeria & Pub on Nifong offers handcrafted pizzas featuring artisan dough and fresh ingredients baked on a hearthstone. Pair your craft pizza with one of their 30 craft beers on tap and enjoy their cool environment.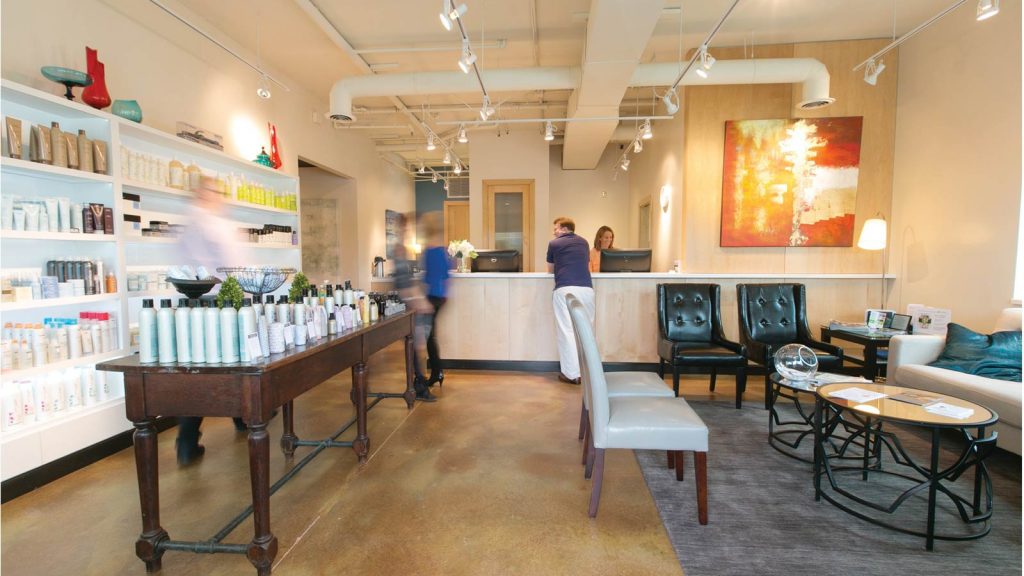 What to Do
Tiger Bounce
Tiger Bounce provides entertainment for children 13 years and younger with inflatable bounce houses, a skating and multipurpose floor, soft-play climbing structures, and full concessions. There is also a dedicated toddler area that's perfect for infants and preschool-aged kids. It's available for open admission, private birthday parties, a parent's night out, and
youth nights.
The Strand Salon & Spa
Mitchell Farris and Christy Huggans started The Strand more than 22 years ago. What started with a downtown location and two stylists has turned into a talented team of 20 at a premier salon and spa on Club Village Drive. They offer clients color, cut, and style services in addition to a full spa and nail salon.
Rock Bridge Memorial State Park
If you're looking for an outdoor adventure, look no further than Rock Bridge State Park. Located on South Highway 163, it's an oasis just minutes from Columbia. It boasts some of the most popular hiking trails in the state and has biking trails, a large cave system, a rock bridge, sinkholes, a spring and underground stream at Devil's Icebox, and
Connor's Cave.