Healing Through Healium Wellness and StoryUp XR
photos by Keith Borgmeyer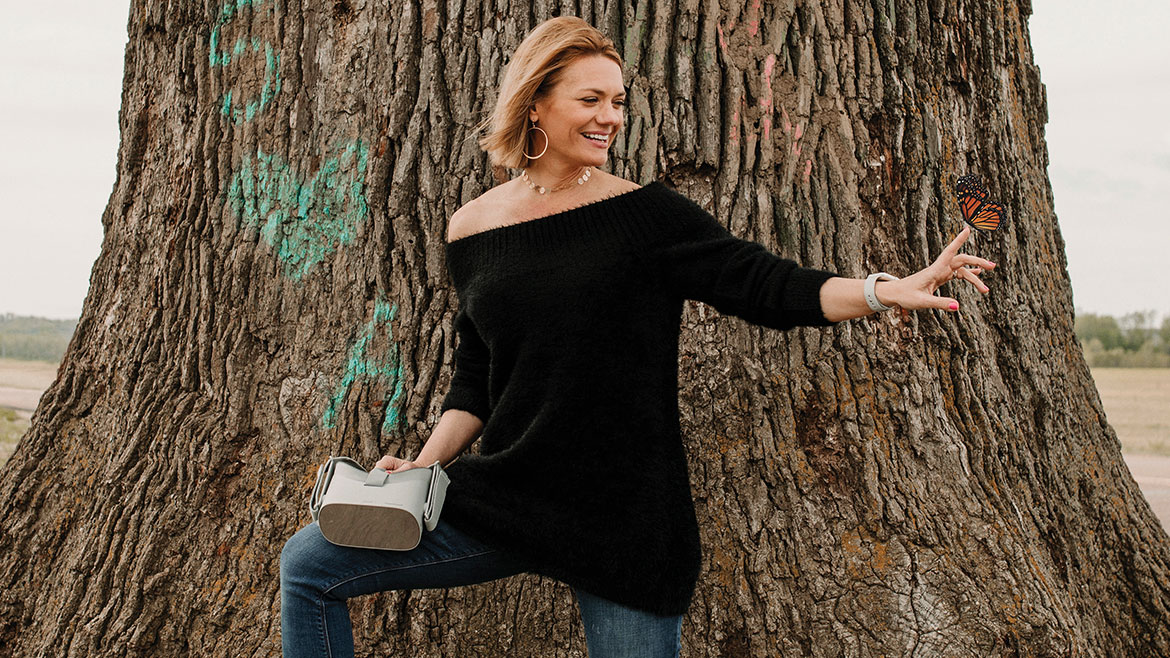 When storytelling meets technology, a whole new world opens up. In 2015, StoryUp XR launched as a journalism and brand studio creating virtual reality films with a mission to use media in positive ways. "Media has healing properties," says Sarah Hill, CEO of StoryUp XR. "The balloon on our logo evokes a sense of floating away from stressful situations."
Hill knows the effects of VR and positive media first hand. "For 25 years, I worked in the high-anxiety news business," she says. We saw a lot of trauma on a daily basis, but I never really considered how it affected me until I ended up in the ER. About 15 years into covering natural disasters, murders, and tragedies, I started having panic attacks and trouble sleeping."
She tried medication, but it left her feeling dull. Her husband, a psychologist, suggested Hill try his colleague Dr. Jeff Tarrant's new "digital prescription" to help her sleep. This digital prescription was a neurofeedback video game on a laptop, and it worked to help her sleep with no medication. Now, 15 years later, Tarrant is Hill's business partner.
Today, StoryUp is creating augmented or mixed reality experiences and has launched their first product, Healium Wellness, a VR experience designed to calm people down in stressful situations. In addition, StoryUp creates virtual and augmented reality experiences for brands and customers around the world, including Google and Facebook.
Why VR?
"StoryUp's roots are with virtual travel for veterans in a program called Honor Everywhere," says Hill. "We've now produced a handful of VR films for aging veterans who aren't able to physically travel on Honor Flights to see their memorials. We also mail them free VR kits to watch the films. There's no replacement for a real Honor Flight, but for some of these 80- and 90-year-old individuals, a virtual tour is their only hope to see the memorials."
The psychology of VR can be quite powerful: A well-crafted VR experience can trick the brain into thinking something is real. "It's an escape hatch or a virtual window to open when the reality is too stressful or painful," says Hill. For example, in the past, you might have closed your eyes and imagined you were on a beach while having your blood drawn. With Healium, StoryUp can put the user on a virtual beach and reduce stress during the blood draw.
"Media isn't just for entertainment and information — there's actually research to show VR, in particular, is therapeutic and can reduce stress. VR has been shown to be just as effective as a dose of Dilaudid, a powerful painkiller. It's been shown to increase well-being scores in pregnant women during labor from a one out of five to a five," says Hill. VR is also proving to be 25 percent more memorable than "flat" media, according to a recent study from Yume.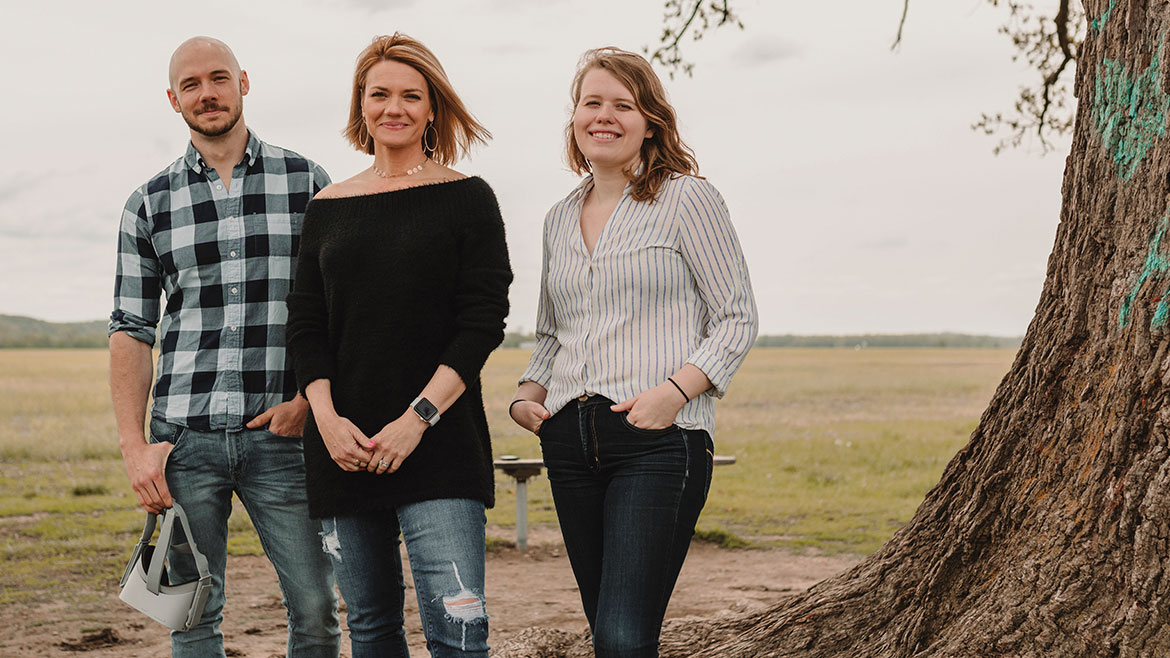 Healium Wellness
The Healium Wellness product officially launched May 1. "Healium is the world's first VR and AR product to work with a brain-computer interface," says Hill. "These portable escape kits for areas of situational stress are powered by the user's emotions."
The kits are sold to corporate wellness programs, hospitals, schools, nursing homes, rehabilitation centers, chemotherapy clinics, and fitness centers.
Healium is powered by VR goggles, a brain-sensing headband, and StoryUp's patent-pending technology. The headband has an EEG strip that measures the electrical output of your brain. (Nothing goes into your brain, don't worry.) "Inside the goggles, you're able to see your own brainwaves displayed in near-real time," Hill says. "You can see how they go up or down and react to your thoughts. Using your brain power, you're able to control things in the virtual reality environment. In your brain, gamma asymmetry is associated with feelings of positivity. The more you sustain that gamma activity, the higher you'll float up the side of a beautiful waterfall. It's kind of like Peter Pan: When you think happy thoughts, you fly!"
Their corporate subscribers receive a new experience every 60 days along with a video curriculum about neuromeditation and the potential of virtual and augmented reality to help people become more aware of their emotions.
"Healium is not meant to be a treatment for any kind of medical condition, but rather an escape from harsh realities," Hill says. "In addition, we're installing a 'VR bar' at a DC area hospital for nurses to fight compassion fatigue. After difficult cases, Healium provides them four minutes of virtual peace."
Healium differs from other products in that it is neuromeditation, which also differs from the traditional meditation that has historically been a closed-eye experience. Healium's VR content is data-driven and powered by the user's brain activity. "Our platform is tested through brain maps and co-written by a psychologist in a specific way to influence well-being," says Hill. "No other VR or AR product allows you to see your own brain activity displayed on the screen and control the surroundings with your own physiology. In addition, some of our experiences are story-driven narratives, which is a different approach than listening to a narrator talk in hushed tones."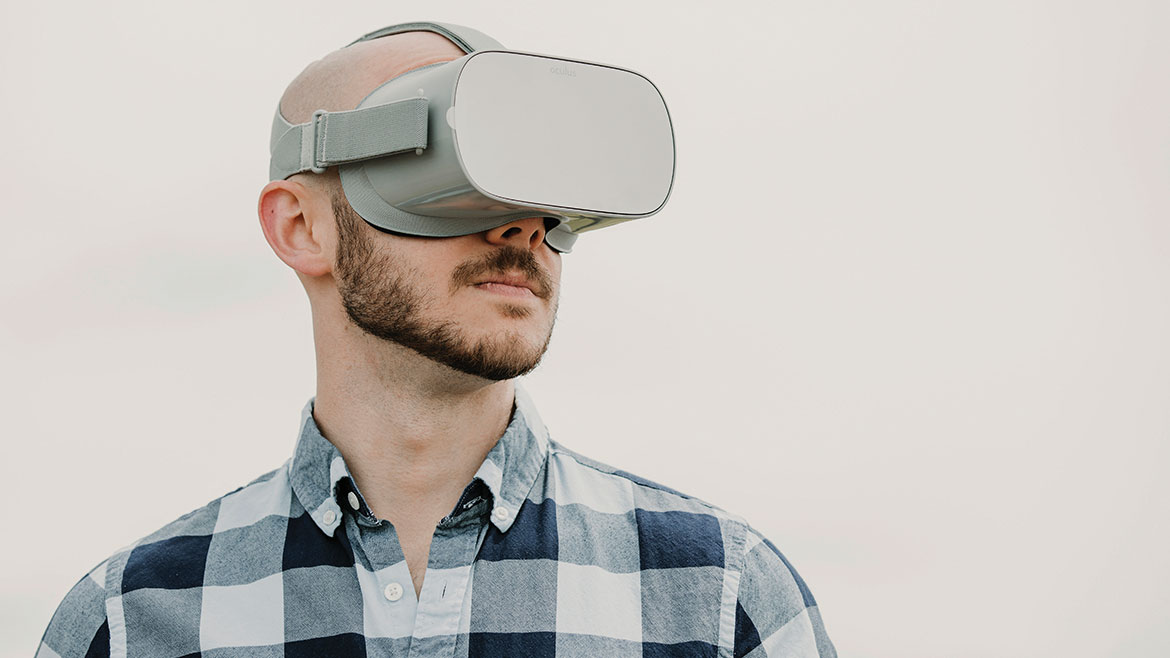 More on the Horizon
StoryUp has three VR films that were selected for the Marche Du Film, the business counterpart to the Cannes Film Festival, for 2018. They also plan to release an augmented reality experience that requires only a user's mobile device. "With a brain-sensing headband, you can control a butterfly hologram with your feelings of positivity. As that feeling intensifies, the animal hatches from a chrysalis to a beautiful butterfly," says Hill.
In addition, the StoryUp team is working on adding heart rate variability and a breathing tool that connects the user's breath with various assets in the virtual environment, says Hill. "For instance, as your belly expands and contracts, so too does a lotus flower."
StoryUp XR's latest venture with Healium Wellness is just the tipping point of potential for this incredible technology. There's no telling where they'll be able to go next.
StoryUp XR
tryhealium.com
1601 S. Providence Rd., Ste. 127H