Moving into Coastal Style
photos by Keith Borgmeyer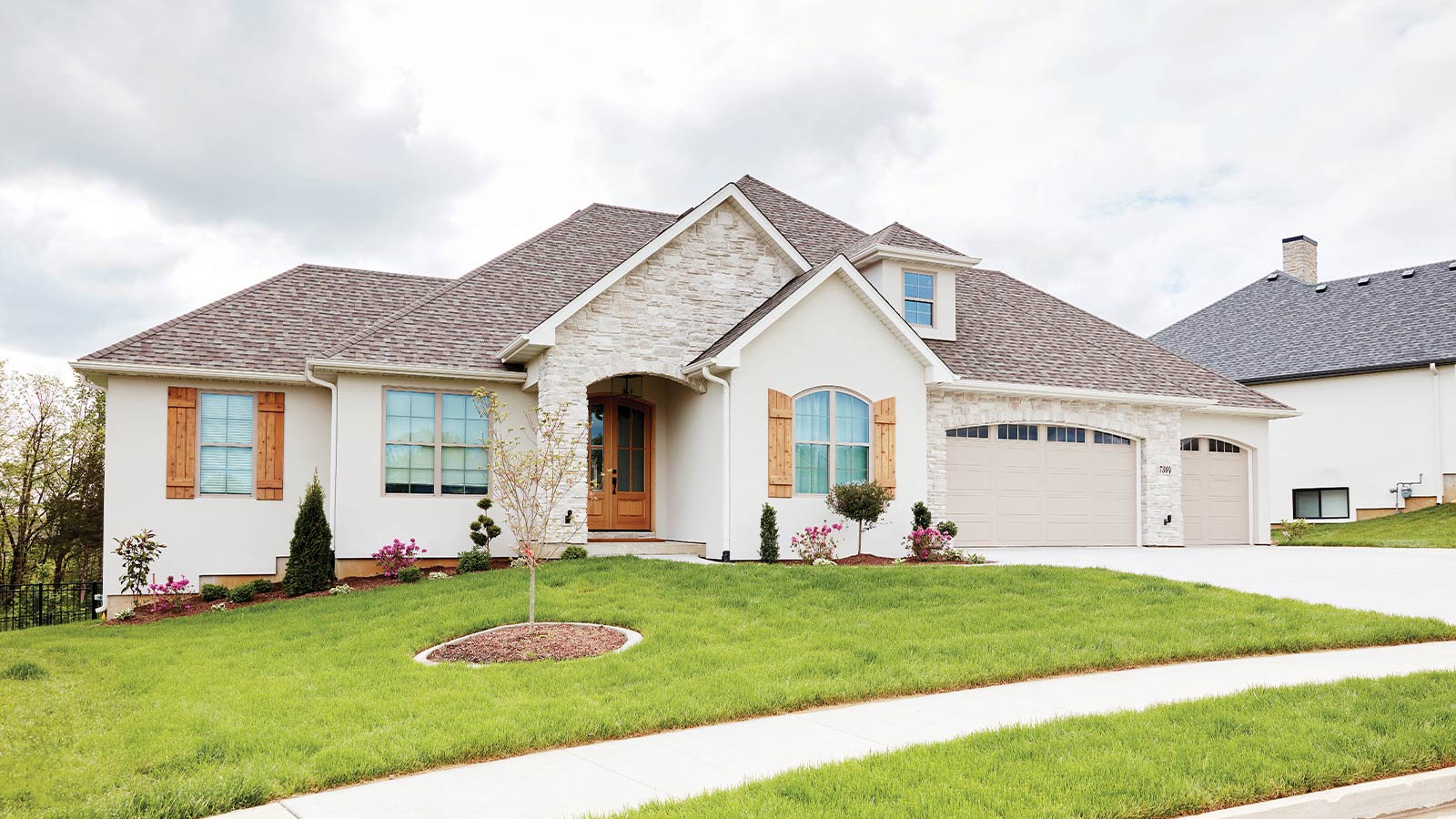 Bennett and Alexis Arey enjoy living in their new custom-built home.
Walking into Alexis and Bennett Arey's new home in The Gates subdivision in southwest Columbia, you can see that their vision for their custom-built home has been brought to life. After detailing their homebuilding process in COMO's "To Build or Not to Build" series, the Areys have now moved into the home that Alexis describes as open concept, light and bright, and homey.

"A lot of people move into their house and say, 'Next time I would change this,'" says Alexis. "I do not feel that way. We really feel at home and happy with our floor plan. It's so cozy to us."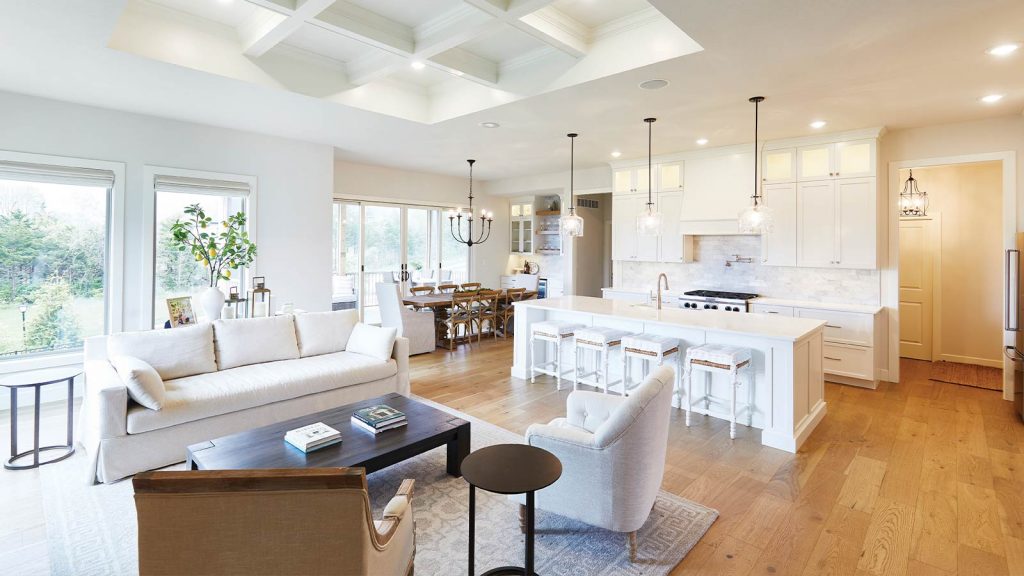 Neutrals, Neutrals, Neutrals
As soon as you enter the home through the front double doors, there's a semi-formal entryway, one of Alexis's must-haves for their new home. "I wanted a proper entrance where you're not just walking into the living room right away," she says.

The entry also leads to Bennett's office, which has glass doors so it doesn't feel closed off, and a half-bath with shiplap walls. The half-bath has the "whole vibe of Rosemary Beach," Alexis says, one of the family's favorite beach destinations in northwest Florida.

That coastal aesthetic was an important style element as the Areys picked out finishes. Alexis describes her design style as coastal in the sense that it builds around "neutrals, neutrals, neutrals." That's shown through the home's white cabinetry, wall color in classic gray by Benjamin Moore, and wide-plank light oak floors. The engineered hardwood "hides dog scratches and doesn't show dust or dirt," Bennett adds.

Accented by touches like linen slipcovers on the living room furniture, the overall look is light and bright. "I didn't want anything to scream farmhouse and be so trendy," she says. "I wanted to bring in whites in a more classic way."

Large windows and 10-foot high ceilings give the living, dining, and kitchen areas the open vibe and natural light that were key elements the Areys wanted in their new home. The open concept area has already provided the ideal space to host gatherings both large and small. "It's perfect for hosting Super Bowl parties and family nights and still have everyone comfortable," Bennett says.

The living room has a coffered ceiling with traditional crown molding and a stone fireplace with an oak mantel that matches floating shelves in the dining room bar. The dining room bar also has custom-built cabinets with a small refrigerator and a serving area, and a large sliding door in the room leads directly out to the screened porch.

In the kitchen, which features custom, ceiling-height white cabinetry and quartz countertops, Alexis chose a Carrara marble subway tile for the backsplash to connect with the other marble throughout the house. A large pantry off the kitchen contains multiple outlets for the coffee machine and small appliances. "No appliances on the counter was one of our big things," Alexis explains.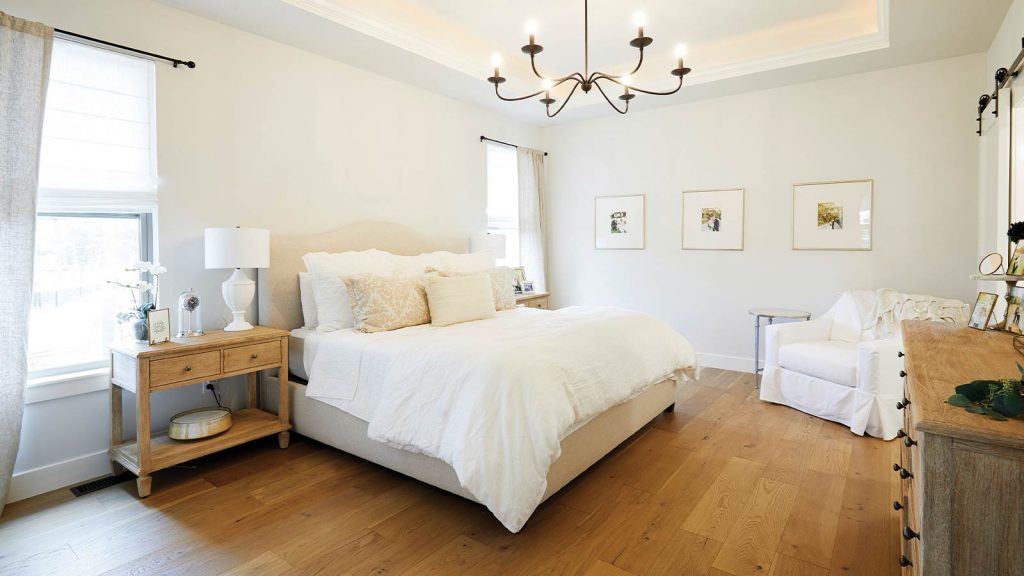 Being Flexible and Decisive
Changes often happen along the way when building a custom home, and the Areys mentioned in an earlier article that the master closet was initially a roadblock. "After getting everything configured for our plan, we taped out the space on the ground and it was much smaller than we were wanting," Bennett says. "Unfortunately, we found out you can't always just make a room bigger. A few feet of difference can throw off the whole roof design or many other aspects of your plan."

They solved the problem by bumping the closet a foot into the garage. The end result is a large walk-in closet with custom cabinetry, including built-in dresser drawers, shoe racks, and a mirror. The closet's pocket doors connect directly to the laundry room on one end and the master bath on the other.

"It wasn't super important to us to have a huge, luxurious bathroom," Alexis says. "We did higher-end finishes in the bathroom to compensate for the fact that it's not as massive." The look is achieved with a custom furniture piece for the double vanity, polished nickel faucets and fixtures, marble floors with a herringbone pattern, and a slab of marble for the bench in the shower.

The herringbone marble floor carries through to the laundry room, which has a fun, custom slide-out dog bowl cabinet for the couple's dog. Pocket doors lead to the mud room, which features a shiplap back to the "drop zone" built-ins.

The home's layout is a split bedroom design, with the master bedroom on one end and a bedroom for the Areys' 2-year-old daughter, Eleanor, on the other end, along with a second bedroom being used as a playroom and a bath featuring marble floors in a hexagon pattern. "We definitely wanted our daughter to be on the same floor as us," Alexis says. "Aesthetically, I loved the look of a story-and-a-half house, but with a child her age, I didn't want her upstairs."

The Areys initially searched for a larger lot — something in the two- to five-acre range — but selected their lot in The Gates once they realized they didn't want to sacrifice what they wanted in a house for more land. Now that they're settled in, they love it. "We chose the lot with the flattest backyard, which for us, with a little kid, is worth it," Alexis says. Bennett adds that they've met a lot of neighbors and that the neighborhood is continuing to grow.

The only remaining items to finish in their new home are the landscaping and finishing out the walk-out basement level, with plans for another bedroom, a living area with a bar, a hobby room, and a flex movie theater or playroom space.

For others who are considering building a custom home, Bennett advises recognizing the critical importance of timelines, both in determining how long it's going to take as a whole and determining deadlines to meet along the way. "I don't think people realize how many hours go into this," he says. "If you want to do a custom home, it's going to be a lot of time."

Alexis recommends that anyone who wants to build a custom home be comfortable making a lot of decisions. "You're pretty much on your own, down to picking out the hinges on your doors," she says. "A lot of people aren't ready to do that."

Would they build another custom home? While they love their new house and would be comfortable living here forever, their goal is to see the home as an investment. "I enjoy the process so much," Alexis says.

Bennett adds with a laugh, "Too much."

"At the end of the day, I was decisive and went in with a vision beforehand," Alexis says. "It made the builders' lives easier and made it more enjoyable for everyone."