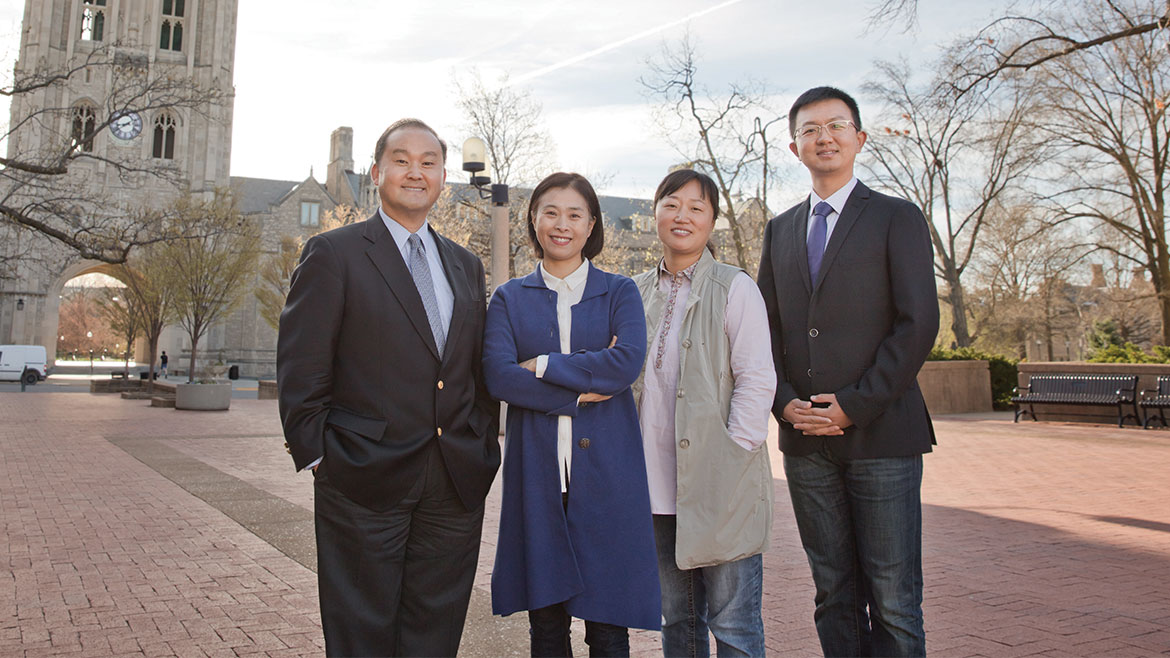 What started as a tuition-free education program at the University of Missouri for South Korean students wanting to earn a collegiate degree after the Korean War has evolved into a global leadership program for degree and non-degree seeking individuals across Asia.
Although the University of Missouri may not immediately come to mind when considering schools with strong, influential international relationships, both degree and non-degree seeking scholars actively pursue MU's Visiting Scholars Program to obtain a better global perspective and to receive world-class leadership training. What causes Columbia to stand out in the Midwest as a leading influencer in global leadership?
The Visiting Scholars Program began in the 1960's, when President Harry S. Truman saw South Korea attempting to rebuild itself after the devastation of the Korean War. President Truman worked with MU to be a flagship school for South Korean students and scholars to receive a tuition-free education in the U.S.
With the burden of debt looming over their heads, South Korean officials carefully selected a few bright students to attend MU and strengthen their international leadership skills. Over 20 years later, there are now more than 2,000 alumni of the program in South Korea, including a handful of incumbent congressmen in the Korean National Assembly.
The program has also grown to include the Global Leadership Program, which is designed for mid-career government officials to strengthen their personal, professional, and global development. Each semester, approximately 80 participants join the Global Leadership Program. The majority of the scholars come from South Korea, but scholars also come from China, Thailand, India, and numerous other countries.
Impact
Managed and organized by the Asian Affairs Center at MU, the Visiting Scholars Program has arranged agreements with the various provincial governments of South Korea as well as the national assembly secretariat to receive officials at MU for training.
Although there are some in the program that are of common college age, a majority of the participants are government officials with more than a decade of professional experience.
Those currently pursuing an undergraduate or graduate degree come primarily as students who want to enhance their cross-cultural communication and leadership skills. However, those who would be considered mid-career officials are often selected to enhance their professional development and to strengthen international relationships.
With the bulk of the program funded by respective governments, these professionals move to Columbia, often bringing their families with them. Along with the international and educational influences that these scholars bring, there is an economic impact that is crucial to the community.
After celebrating their 20th anniversary in 2018, the Asian Affairs Center totaled a rough estimate of the economic boost that families of the Visiting Scholars Program contribute. There are around 80 families participating in the program at a time and they spend roughly $80,000 each while living in Columbia. That amounts to an estimated increase of $6.4 million in economic circulation per year.
Not only does the family impact apply in monetary forms, but it also applies to the diversity of the community as a whole. For example, the local public schools experience an increase in diversity when the visiting scholars have children of school age.

Adjustment
Columbia's community is easily capable of helping families adjust to the sudden change in culture. Many of the public schools offer specialized classes for learning English, and MU pairs each visiting scholar with an undergraduate student who serves as a buddy and conversational partner.
Sang Kim, director of the Asian Affairs Center, commented on the program's buddy system, saying, "Many undergrad students think it's pretty cool to be able to say that they have a conversational partner who is also a government official from South Korea."
Xining Wang, who is currently in the Visiting Scholars Program, came to Columbia from China. He heard about the program from a friend who is studying international education. Wang joined the program because of the renowned style of instruction. "The instructors are full of experience and teach English with the lessons. The lessons are full of variety and change every session," he explains.
He says the goal of the program is "to improve international communication and to improve connections with America so that we [China] can collaborate."
Part of what Wang has taken away from the program so far is a deeper sense of connection between Western and Asian culture, a more structured and focused way to reason logically, and a stronger sense of leadership.
Sun Hee Han has been a part of the Global Leadership Program through the Visiting Scholars Program since July 2018. Working for the Gangwon provincial office in South Korea, she now lives in Columbia with her husband and two children, who attend a local elementary school.
"I plan to stay here for one year, from July 2018 to July 2019," Han says. "I feel it is such a short time for experiencing a foreign country. On the other hand, it is a very precious time in a life that one can have."
Han found out about the program from a colleague who worked with her in Gangwon and who had taken a GLP course from MU. Sparking her interest, Han contacted the Asian Affairs Center to seek help in joining the program herself.
She had researched programs in other countries but decided to join the GLP at MU. "The GLP seemed to be the most appropriate thing for me as a final choice, taking my family and studying English," she says. "The GLP program offers courses ranging from English conversation beginners to academic courses. Among those, I studied a course related to American culture and the workplace and was able to improve my English skills through note-taking and exploring books."
When asked about some of the most notable benefits the program provided her, Han says: "The United States that I knew when I was in South Korea and the United States that I experienced in person were different. Watching American movies and dramas and listening to pop songs, I thought I knew America. But unlike movies and dramas, America was very frugal and diligent. And the land in the United States was huge and there were plenty of opportunities to enjoy nature outside of the big cities. In South Korea, driving for five to six hours was a very long time. But in the United States, more than 10 hours was not that long. The roads are well built and toilets and buildings are all equipped with amenities. I participated in several clean-up volunteer activities organized by the City of Columbia. It was a good experience."
Though the initial intentions of the Visiting Scholars Program were to simply strengthen professional and global development, the program has provided many additional benefits. Not only do individuals benefit from their training and experiences, but government institutions build bonds that are established through MU, which then go on to benefit interpersonal relationships — through alumni loyalty — on a global level.
Number of scholars who have gone through the program: 800 mid-career government officials, professionals, and university professors
70 scholars currently in the program
The top 6 countries of involvement, ranked by the number of participants and starting with the country with the highest percentage, are:
South Korea
China
Thailand
Taiwan
Japan
Vietnam
Estimated average annual spending per visiting scholar's family: $80,000