Women of Excellence Finalists – Health Care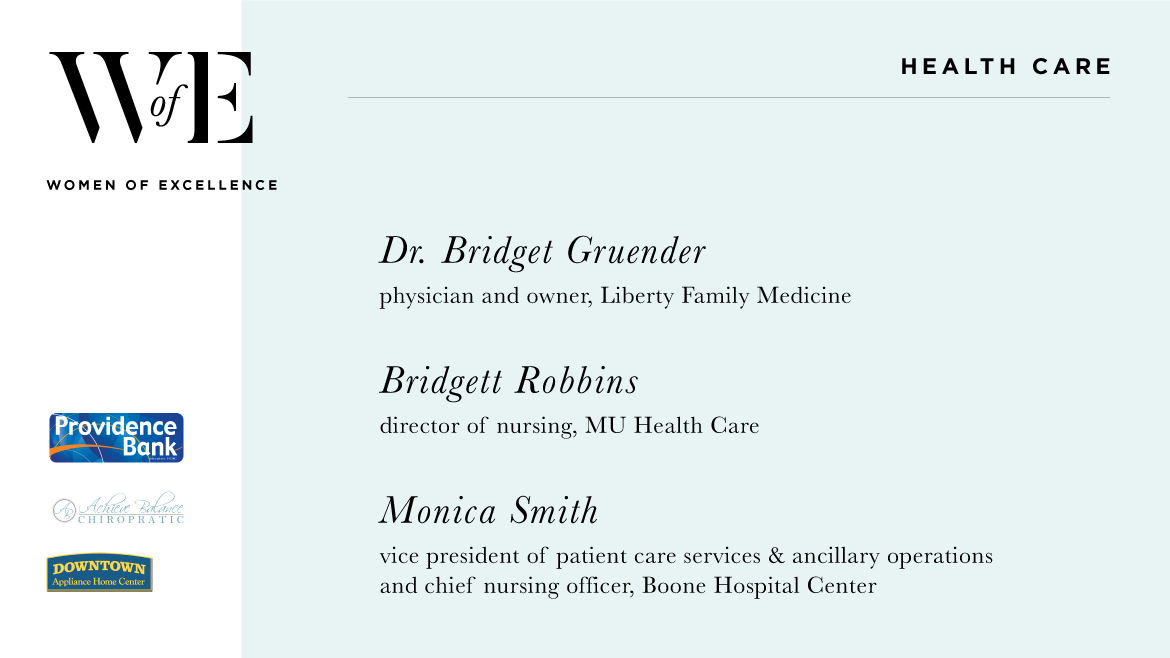 The Women of Excellence awards celebrate exceptional Columbia businesswomen in eight categories — education, finance, health care, hospitality real estate, retail, public service, and professional excellence — who strive to grow in their field, mentor other women, and serve in the community.
The finalists for excellence in health care are:
Dr. Bridget Gruender
Owner, Liberty Family Medicine
Dr. Bridget Gruender started Liberty Family Medicine in July 2016 to offer affordable primary care to Columbia and surrounding communities. She is the first person in town to successfully open and run a direct primary care clinic, which operates on a monthly membership basis and includes access to an in-house pharmacy.
Bridgett Robbins
Director of Nursing, MU Health Care's University Hospital
Bridgett Robbins is proud that nursing is considered a respected profession, and she considers it a rewarding career. For the first ten years, she worked directly with patients and families. In her current role, she helps other health care staff work with patients and families in order to save and improve lives.
Monica Smith
Vice President, Patient Care Services and Ancillary Operations and Chief Nursing Officer, Boone Hospital Center
Monica Smith leads health care professionals in providing outstanding health care to patients and the community through  Boone Hospital Center. She oversees inpatient and outpatient nursing services and ancillary operations, including the emergency room, operating rooms, and intensive care units.
Click here to see the finalists in other categories.