Shelf Life: "Haywood Micaye"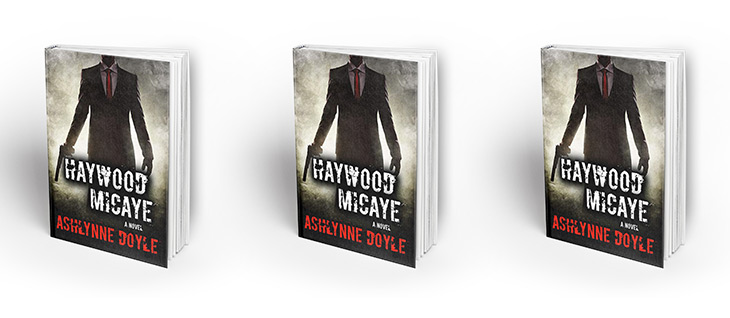 Local student published first novel in January.
Most authors you hear about nowadays have their first published novels in their late prime. One student here in Columbia, however, published her first original story at the age of 19.
Ashlynne Doyle, Missouri resident and Stephens College student, has been featured in anthologies before (mostly focused on Dungeons and Dragons), but "Haywood Micaye" is her first completely original novel. It was released this past January.
Haywood Micaye is the villain protagonist of the eponymous book. Ashlynne describes the plot this way. "In the final days of an assignment overseas, Agent Micaye's job is put into jeopardy after an error on his part leads to the death of another agent. When a terrorist attack threatens the livelihood of the American people, he takes on the assignment knowing that his one chance of redemption is to stop the threats from becoming realities. However, as the stakes mount and tensions grow, he realizes that he's taken on more than he can handle. He has to make a decision: save the world, or save himself."
I sat down with Ashlynne for an interview about a month after her book was released, and got some insight on her writing experience.
From first draft to published novel, the entire process took about four years. Because she couldn't find editors who would sign a contract with a minor, she relied on her parents during those first years. She also had issues with the publishing process; she tried to find an agent at first, but nobody would respond, so she eventually transitioned to self-publishing. She called her experiences with self-publishing, "Interesting." She has not looked at any reviews so far, but that is because no one has reviewed the book yet. Ashlynne is attempting to find literary journals who would be willing.
Editing, Ashlynne says, will always be a similar process, regardless of what type of piece she is working on. The only difference is that to edit something this large, she has to break it down into manageable sections. Some of the editing quirks she had to work on were the poetic, flowery descriptions she has a tendency to write. She also explained that there is plenty of sighing, smirking, and passive voice to edit out.
Many of the places she has visited in the past have found their way into this novel, including some rather special architecture from a hotel in New York.
Her favorite character from the book is Barlow. Ashlynne told me that he was saner that her main character, teaching Haywood how to be domestic. She describes him as the "ray of light character." Having those lighter moments are important to her, in a novel that has mostly darker themes.
While keeping readers questing after the morals and whys of the story, she also tries to find the middle ground between dark mystery and light-hearted banter. In a follow-up question later, Ashlynne says, "[Having morals in longer works] is fairly important. Something with a moral has more impact when I read things, so I try to include some sort of overarching moral to ponder in my works so readers can engage more."
"Haywood Micaye" is available on Amazon.