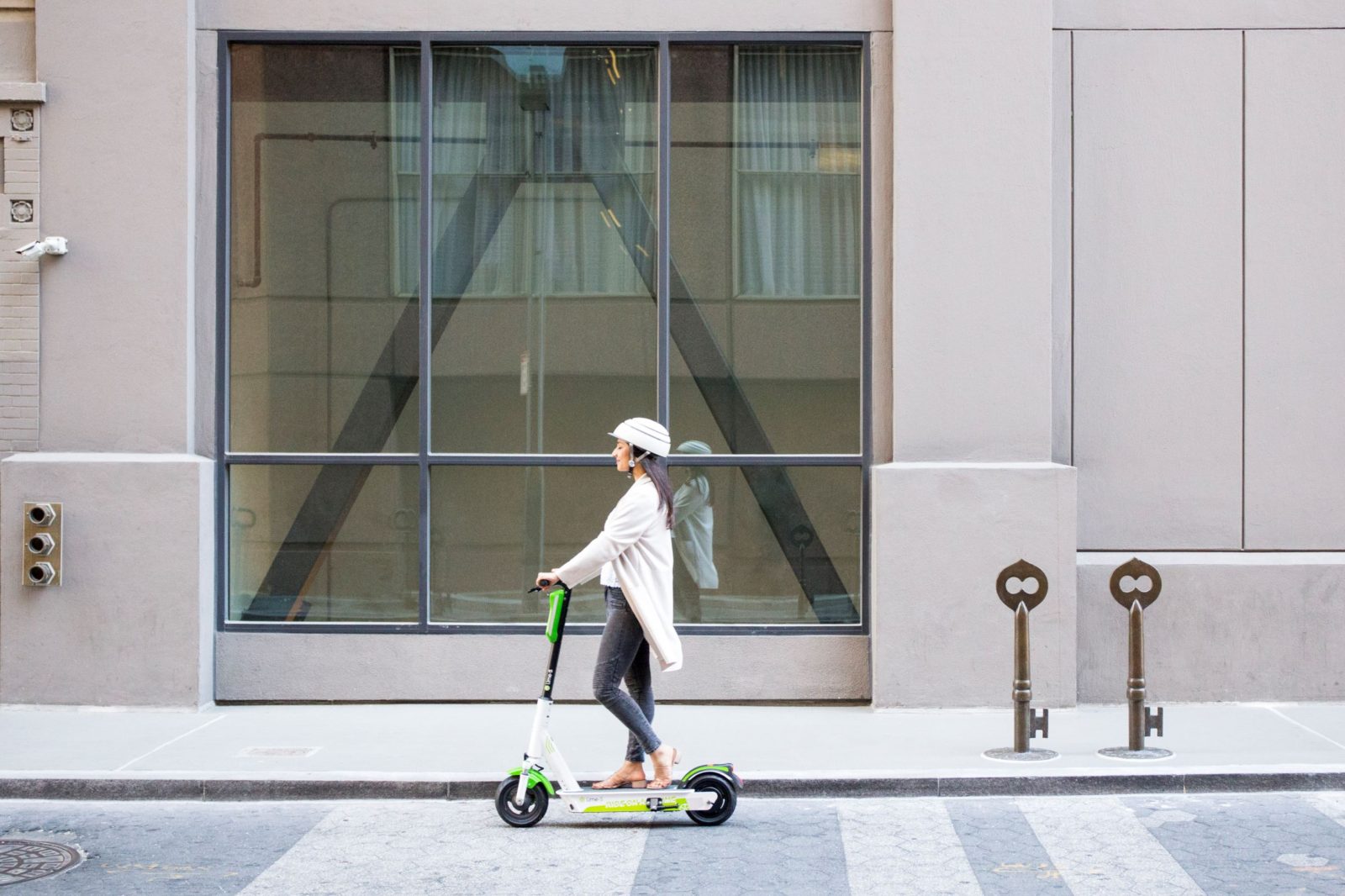 The City of Columbia is in the middle of a three-way scooter war.
Many, if not most, birds migrate in flocks. Throughout different times of the year, birds will decide to upgrade and temporarily move to areas with increased resources. When birds do decide to pack their bags and seek new homes, they're mainly looking for one thing: A place to nest. In Columbia, a new type of bird has certainly found its nest. Bird scooters, that is.
In mid-August 2018, Bird, a motor-propelled scooter company based out of California, dropped off the first of several fleets of scooters in Columbia — much to the surprise of both city officials and citizens.
"They just showed up," Interim City Manager John Glascock says. "They were here way before we had any kind of agreement."
Less than two months after Bird arrived, the battle of the scooters began as another motorized scooter company, Lime, dropped off a fleet of their own downtown in October. Early next year, a third company will join the mix, as PONY Scooter signed an agreement with the city to bring 250 scooters to the streets of Columbia.
The surprise arrival of motor-propelled scooters has been a polarizing issue in the city, with supporters touting their convenience while some city officials and residents have raised concerns about public safety and overcrowded sidewalks. Nationwide, cities like Columbia are learning and adjusting to this new and disruptive business model.
"We've had the benefit of seeing how other cities are regulating these [scooters], but there's a national group right now trying to figure out what's the best way to perfect the usage of these things in our cities," says José Caldera, assistant city counselor.
Within a day or two of Bird's arrival in Columbia, Caldera says the city began negotiating a business agreement with the company that would also provide certain regulations. The city informed the scooter company that, to operate on the public right of way, Bird would have to have a business license.
For close to two months, Bird was allowed to remain and continue operating within the city in "good faith" until a one-year agreement was reached on October 25. At any point during those two months, the city could have ordered Bird to cease operations and impounded the scooters.
"When Bird came in, they essentially abandoned property in our rights of way, so at any moment we could've impounded them and taken them all away," Caldera says. "We were deferring that action while we were negotiating in good faith to hammer out a contract."
The Agreements
On October 25, both Bird and PONY signed business agreements with the city. The agreements were approved in a 5-1 vote by the city council in November. Under the agreements, both companies must pay the city a one-time $10,000 regulatory fee as well as $1 per day per scooter quarterly.
Bird is currently permitted to operate with 500 scooters in the city. Caldera says that if the company wants to increase its number of scooters, Bird has to first notify the city. The city can't unreasonably deny the request up to 750 scooters. Bird can also reduce their fleet down to 300 scooters before they have to notify the city. When PONY comes to Columbia in late January or early February, they have agreed to deploy 250 scooters.
Right now, however, Lime is still technically operating illegally with 250 scooters in the city without a license. Caldera says the city is working on an agreement with the company that's similar to the agreements with Bird and PONY.
With the Bird and PONY agreements, the city estimates the scooters will bring in $308,000 over the next two years and $144,000 each year after that.
Community Response and Concerns
Over the past several months, Caldera says he's heard several different reactions to the influx of motorized scooters in the city. He says he's spoken with residents who enjoy the scooters and don't want to see them banned from the city. However, some citizens have expressed concerns about the new technology. Caldera says most of the complaints he's heard from people have to do with public safety. He says public safety issues can arise when riders leave scooters in the middle of the sidewalk or ride them on sidewalks. There's also the potential of scooter accidents on streets. To curtail these issues, the city included legal liability protections in the agreements with Bird and PONY.
Jessica Park, a communications consultant with Boone Hospital, says they do not collect specific data on injuries treated in the emergency department that could confirm a rise in injuries associated with the arrival of electric scooters in Columbia this year.
The Columbia Police Department was not available for comment regarding motorized scooter accident data, but Caldera says if someone called the city and reported an incident with a scooter, that person would be referred to the police department.
As part of the agreement with the scooter companies, the city also worked with the city council to amend city code and create an ordinance that regulates the use of "motor-propelled scooters" and prohibits their usage on sidewalks, public parking lots, and garages downtown. A violation of this ordinance could result in a fine of up to $100.
Adam Kruse, assistant city counselor and the Americans with Disabilities Act coordinator for Columbia, says the city has a responsibility to make sure the new scooter companies aren't in violation of ADA requirements.
"It's a brand new technology and we're trying to adapt with it, but it is causing problems for the accessibility of our sidewalks, which is really important to the city and to all members of the public, but particularly people with disabilities that rely on our sidewalks for transportation," he says. "We're doing everything we can to try to keep our sidewalks clear, but we're also trying to be flexible and figure out how to work with this new technology and this new business model that is run on our city sidewalks. It's something all communities are trying to deal with, and we'll see where it goes."
The Scooters
Despite many of the public safety and aesthetics concerns raised about the scooters over the past several months, the new mode of transportation has been popular among riders. At the time of this writing, Bird had amounted a total of 207,000 rides in the city.
As part of the agreement, Caldera says, the companies are required to share anonymized data regarding scooter usage with the city. He says the daily usage of each Bird scooter in Columbia was double the industry standard.
Aryan Davani, the co-founder and CEO of PONY Scooter, says his company also wants to be a long-term partner with the city and they want to provide the city with as much valuable information as possible.
"Most of these companies gauge how many scooters to deploy based on how many average rides a single scooter gets, and there seems to be an industry standard of how many rides a scooter needs before they deploy more," Caldera says.
In terms of the relationship between the city and the scooter companies, Caldera says it's mainly been a positive one. Under their agreements, Bird and PONY are required to have publicly listed phone numbers and emails to address citizen concerns as well as another contact for city concerns. If the city contacts Bird or PONY with a concern, the companies are required to take action within two hours of being notified.
"I've had phone calls with all three companies, and I've negotiated with PONY and Bird. The conversations have been good," he says. "I would say the communication is great, but we're obviously always trying to improve it."
Representatives from Bird and Lime were not available for comment on this story, but Davani says PONY is different from other scooter companies in the fact that they negotiate with cities before dropping off their scooters.
"Definitely one of our main concerns is making sure that the cities that we're working with are not alarmed by anything, they're not surprised and we're just kind of managing those obstacles that are surely to come with any disruptor that enters a new city," he says.
Notable Numbers
PONY Scooter signed an agreement with the city to bring 250 scooters to the streets of Columbia.
Bird and PONY must pay the city a one-time $10,000 regulatory fee as well as $1 per day per scooter quarterly.
The city estimates the scooters will bring in $308,000 over the next two years and $144,000 each year after that.
Bird has amounted over 207,000 rides in the city.
The city council approved the agreements written up with Bird and PONY in a 5-1 vote.