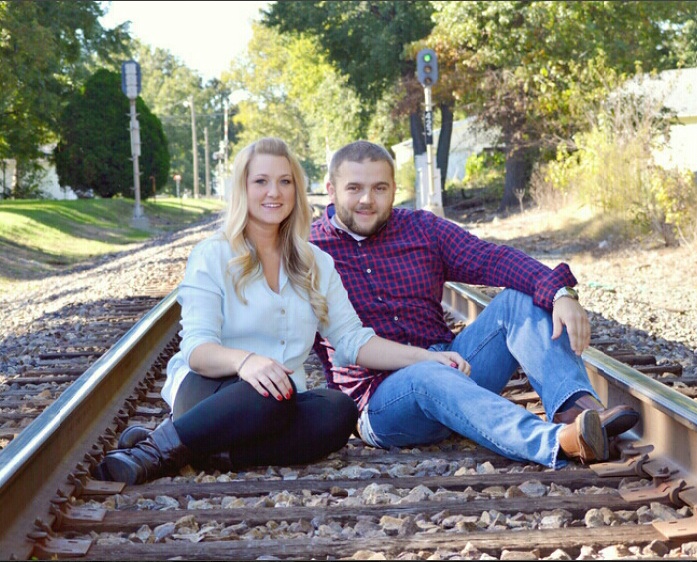 Sara Joellenbeck and Wayne Tomaszewski
To Wayne Tomaszewski, Sara Joellenbeck was the girl next door. The two were neighbors while growing up, but he and his family moved away when he was in junior high. As fate would have it, Sara and Wayne crossed paths years later, and they have been together ever since.
Over the seven years that the couple has been reconnected, Wayne continues to surprise Sara with sweet gestures to show his caring personality. "I honestly cannot pick just one sweet thing he has done for me," Sara says. "He does sweet things all the time, even after all the years we have been together."
Together, they enjoy adventurous outdoor activities, but they also value down time. A simple night at home curled up on the couch will do just fine for them. "We get along so well, and we are always joking around with each other," Sara says. "There's never a dull moment."
To seal the deal, Wayne wooed Sara during a romantic dinner at The Melting Pot and proposed to her at the end of the meal. The couple is set to wed on Oct. 12, 2014 at The Hidden Lake Winery in Aviston, Ill.
Nicole Rafferty and Derek Jorgenson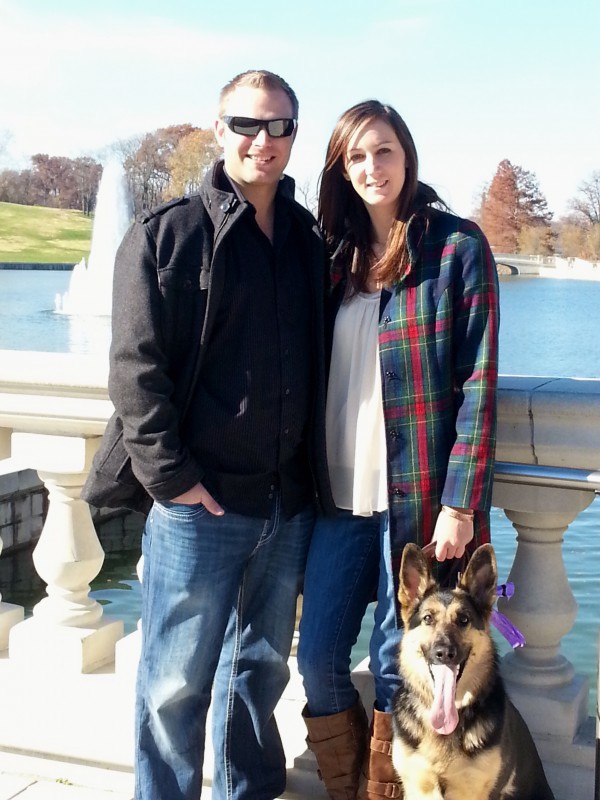 Nicole Rafferty and Derek Jorgenson's lifelong commitment to each other started out as puppy love — literally. Nicole, a New Jersey native, found herself a new home in Columbia when she started classes at the University of Missouri's College of Veterinarian Medicine. During a girls' weekend in St. Louis, Nicole stepped outside the Hilton in Ballpark Village to take her dog for a quick walk. To her surprise, the quick jaunt around the block to satisfy her pup turned into much more than just an evening stroll.
On her way back, Nicole bumped into a man outside the hotel who wanted to pet her puppy. After a few minutes of chatting, the two decided to meet up later with friends at a rooftop bar. Two weeks later, they went on their first official date.
Although the couple has been long distance throughout their entire courtship, Derek always finds ways to make Nicole feel special from afar. One time when Nicole told Derek over the phone that she was having a rough day, he later texted her a picture of flowers at her front door. "My initial reaction was that he was so sweet for sending flowers," she says. "But then my brain kicked in, and I realized that since he took and sent the picture, he was at my house." An afternoon off of work and a trip to Columbia was the perfect way for Nicole to know her long-distance beau was still thinking about her.
The couple's adventures have taken them from Columbia to St. Louis and all the way to New Jersey, where they spent Nicole's favorite afternoon on the Seaside Boardwalk. They will finally put an end to the distance next November when they get married at the Hilton in Ballpark Village where they originally met.
Adrienne Benne and Doug Otto
For Adrienne Benne, it is the little things that attract her to Doug Otto. "He is a great cook and will occasionally have dinner ready for me before I have to go to work," she says. "Other times, he will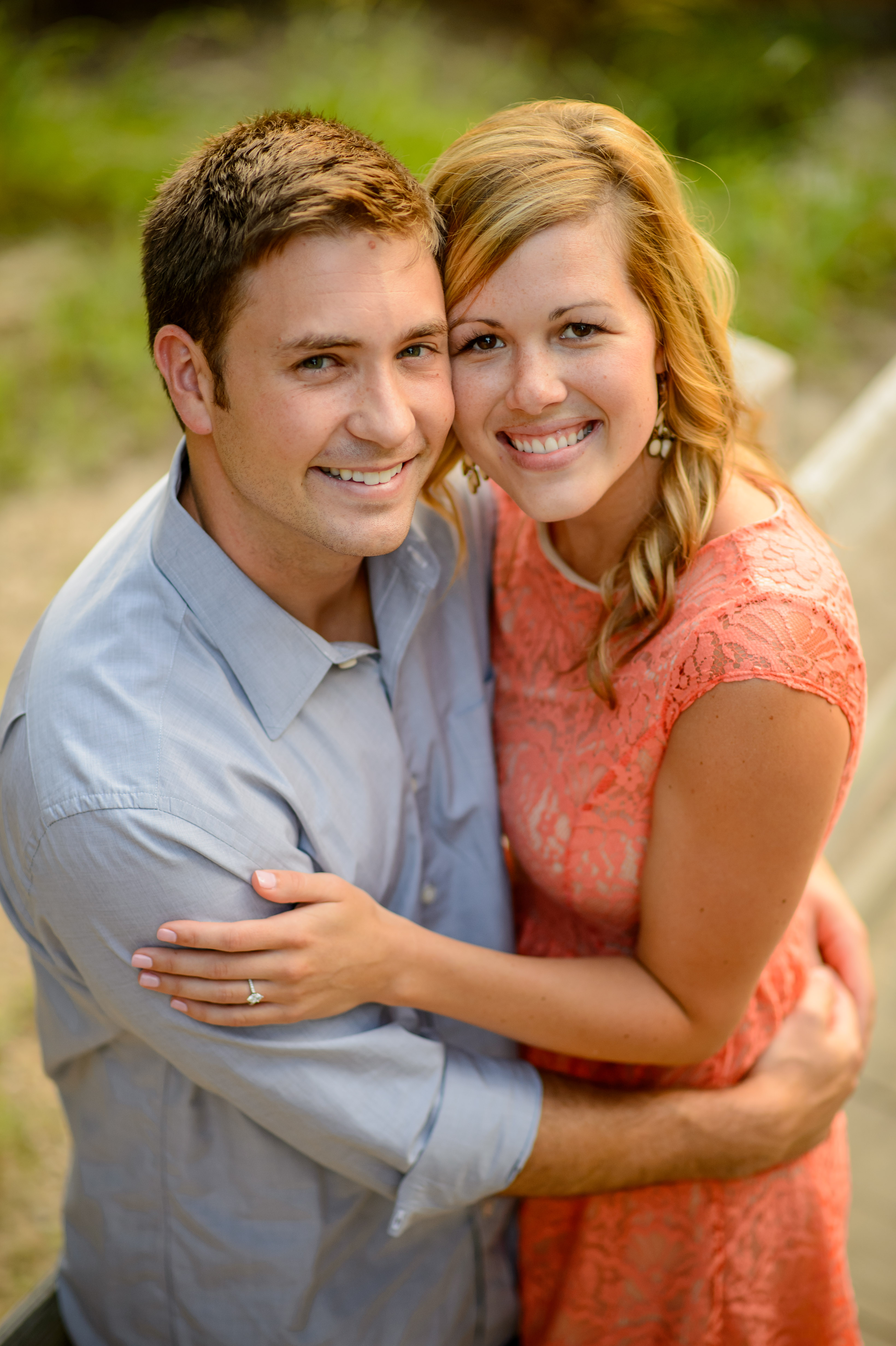 go in to work a little later so he can stay home to have breakfast with me. Doug has also driven me to work when the roads have been covered in snow."
Both Doug and Adrienne attended Helias High School in Jefferson City, but they were only friends at the time. Doug, a college baseball player, moved away to Kansas and Virginia to play ball. He and Adrienne reconnected through a mutual friend after they both had graduated.
Their first official date was a Randy Hauser concert at The Blue Note. The magical night filled with first-date anticipations, entertaining music and a beautiful snowfall was the perfect day to replicate for a proposal.
During an unexpected snowfall, Doug urged Adrienne to come with him to The Blue Note to see if there were any fun upcoming concerts. Due to the brisk, cold temperatures, Adrienne insisted on staying in their truck while Doug purchased tickets. After a few minutes, Doug came back pretending he had left his wallet at home. "I gladly handed him my debit card and shut the truck door," says Adrienne, reminiscing on the evening. After some major convincing on Doug's part, Adrienne reluctantly got out of the car. She noticed he wasn't following her, and when she turned around, Doug was down on one knee. The shock of the moment made her completely speechless, but she eagerly agreed through tears as witnesses clapped in celebration.
In contrast to the winter proposal, the couple will wed this June at Our Lady of Lourdes Catholic Church, with the reception in the Kimball Ballroom on the Stephens College campus.