Cookin' With Hoss: Spicy Texas Chili
This story originally appeared in the August 2023 Agriculture issue of COMO Magazine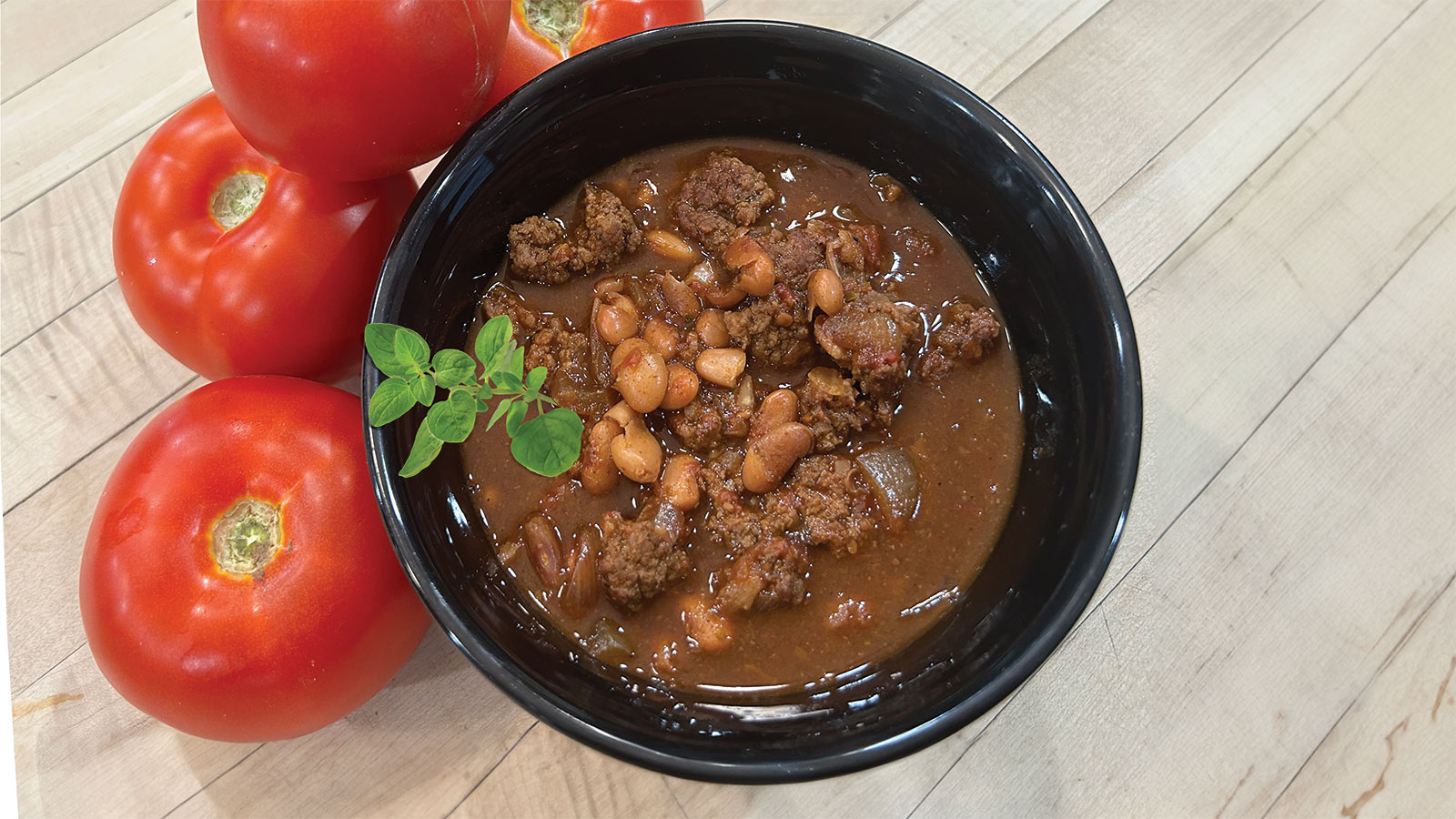 You say "tomayto," I say "tomahto," but in reality, what difference does it make? The important point is that these wonderful, locally grown red globes are available at the Columbia Farmers Market.
Whom do we have to thank for this juicy fruit? (Yes, botanically it is a fruit, as are eggplants, squash, and several other edible, grand plant species. "Vegetable" is merely a culinary term, so one would be correct to refer to a tomato as either.) Apparently, the indigenous people of Central and South America were the first to cultivate the tomato, and it is native to those areas, as is its cousin the potato.
One of the few positive results of the Spanish conquest of the New World was the exportation of these plants to Europe and the rest of the world. At first viewed with a little skepticism as to being edible, since they are a member of the Nightshade family, tomatoes were eventually embraced worldwide, and are now internationally popular.
In 2022, a staggering 125 million tons of tomatoes were produced worldwide, with China producing the most — three times the output of second-place India, with the United States coming in third. Turkey and Egypt rounded out the list of the top five tomato producers.
But why do locally grown tomatoes taste so much better than those "store-bought" fruits? First and foremost, they are picked when ripe, generally the same day as you buy them. Commercial tomatoes are generally picked green, then ripened using natural ethylene gas to start the process. Of course, you could use them as a substitute for a baseball, if necessary.
The second reason locals are better is that the varieties grown are picked out more for taste than shipping ability, and the growers know that their reputation rides on the product. Like in most other endeavors, the farmers take pride in what they offer and strive to offer maximum quality.
So it's at this time of year that I strive to use the fruits of the season as much as possible. I'll make everything from fresh salsa cruda to marinara sauce and fresh tomato chili, which is well worth the effort. But there is only so much that can be consumed in the relatively short window of time that we have to enjoy the local crop.
There is, however, a way to maximize your enjoyment. Every time you want to make a batch of a recipe, make four times (or two times) as much, and freeze the extra in meal-size containers. That way, you can enjoy the flavor of summer year-round. Or, make a large batch of stewed tomatoes, and freeze them by the quart, then retrieve what you need from the freezer through the winter. Either way, your palate will thank you for the effort!
---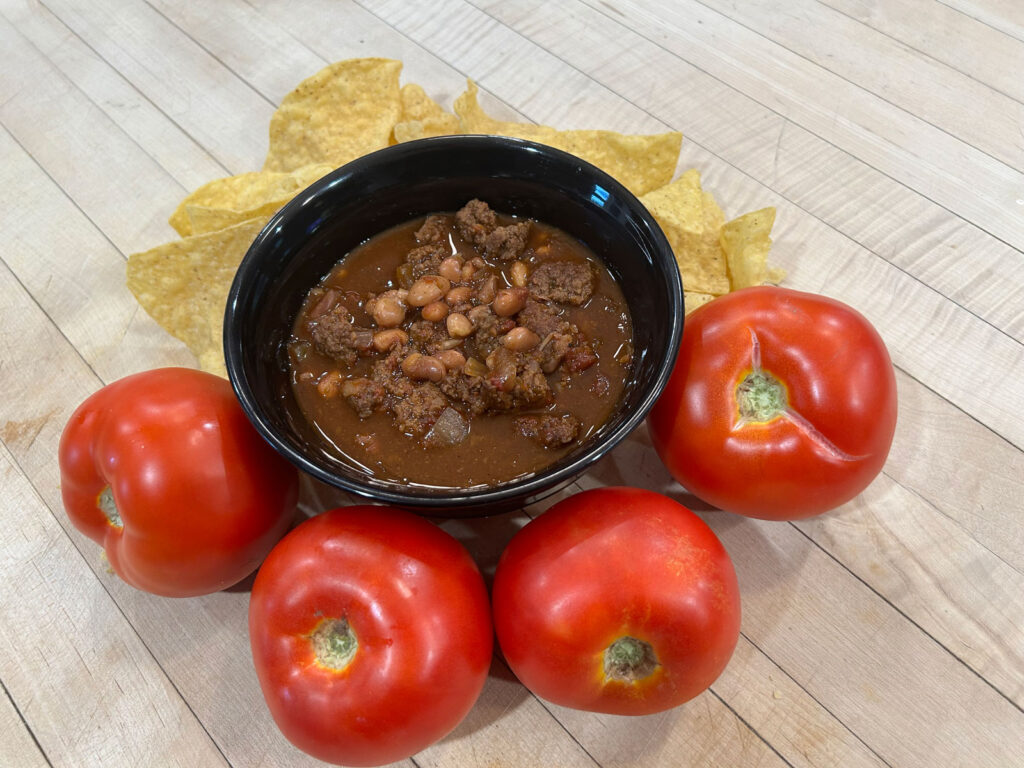 SPICY TEXAS CHILI
Ingredients:
1 ½ lbs. coarsely ground or finely diced beef chuck
3 c. chopped yellow onion
½ c. chopped green chile
2 tbsp. minced garlic
¾ c. chili powder
1/2 tsp. salt
1 tsp. fresh ground black pepper
1 tbsp. whole cumin
1 tbsp. dried Mexican oregano
A pinch of crushed red pepper
2 ½ lbs. diced peeled fresh local tomatoes
1 tsp. sugar (optional)
2 qts. rich beef stock
1 c. dried pinto beans
CHEF'S TIP: To peel tomatoes, drop them in boiling water for a few minutes until the skin starts to split, then remove, let cool, and the skin comes right off.
Directions:
Rinse the pinto beans, add to boiling stock.Cook for 45 minutes.
Add tomatoes, onions, garlic, and spices, and simmer for an additional 30 minutes.
Meanwhile, brown beef in heavy bottom pot.
When browned, add stock mixture to beef, add green chiles, and simmer until beans are done, about 30 more minutes, adding water if needed.
Adjust seasoning and add sugar, if desired.
---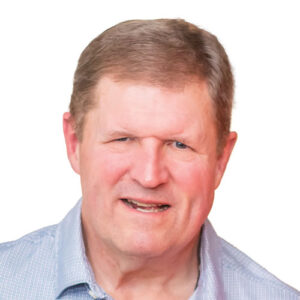 Jim "Hoss" Koetting is a retired restaurateur/chef who enjoys gardening, good food, good bourbon, and good friends.