Silversmithing Guru: Meg Fritz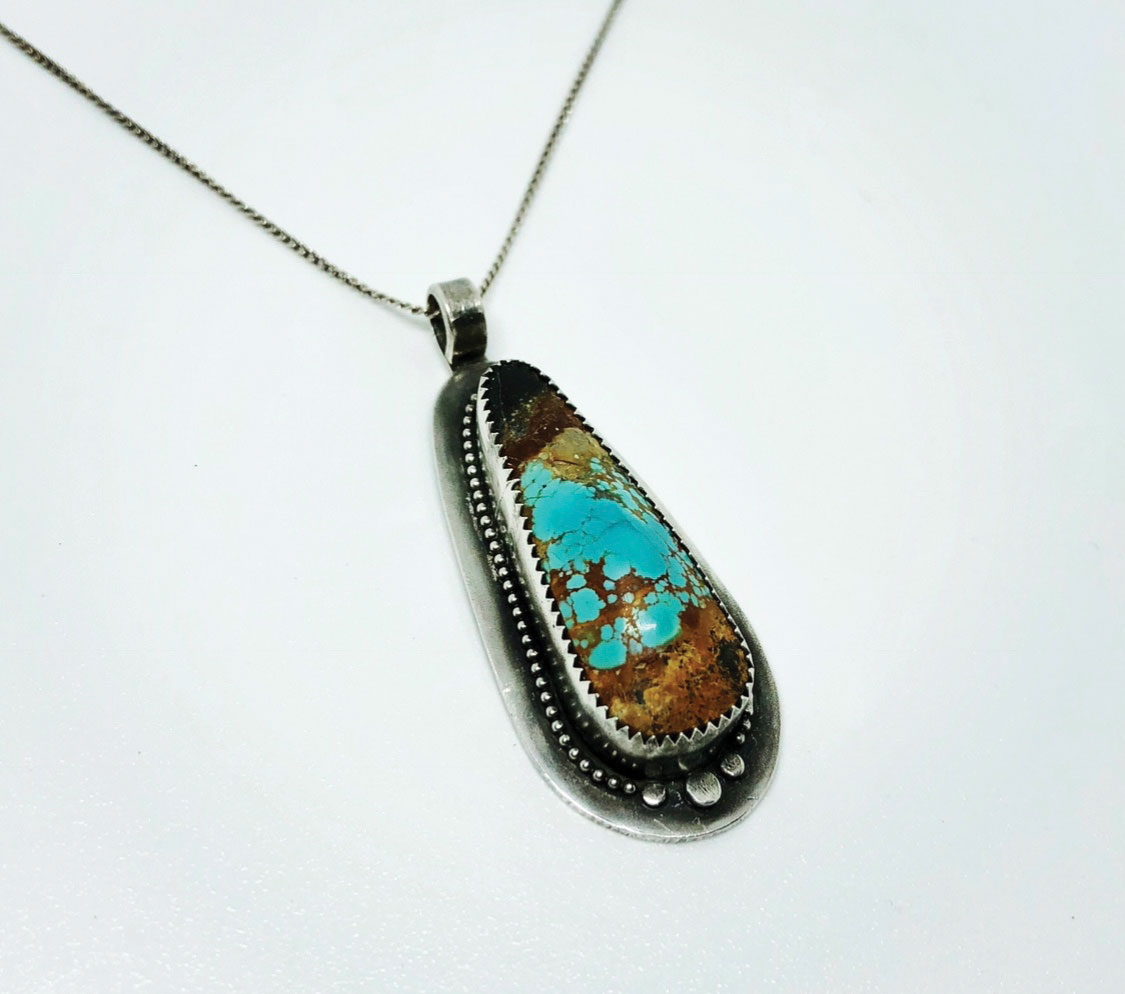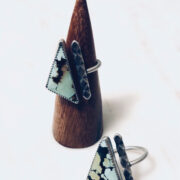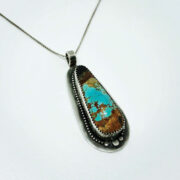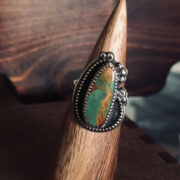 View Gallery
Her fire, your sparkle.
On any given evening, you may find Meg Fritz and her four-legged companion, Mayble, treading through Three Creeks Conservation Area in search of something special. While Mayble swims, Meg scans the area — but not for arrowheads or mushrooms. Instead, she is on the hunt for rocks that she can turn into so much more. 
Meg is a silversmith and the owner of Shoot Dang Silver, and she uses turquoise, gemstones, and even locally sourced stones (which she cuts herself!) to create handmade silver jewelry. Three Creeks Conservation Area is one of her favorite places to find rocks and inspiration for her creations because it's also where her silversmithing journey began.
As an avid hiker, Meg has always been inspired by nature. While hiking, she would often find fossils and rocks with interesting designs that she always wanted to use in jewelry. She began researching silversmithing but struggled to find a class that suited her. This was the case until 2017, when she finally found someone based in Oregon who offered a week-long course with everything she needed, including lodging and a complete tool kit to get started. There, she learned a process she calls "tiny welding."
The process varies from design to design, but generally, it starts when she has an idea. Immediately, she tries to work it out so it doesn't leave her mind. First, Meg lays everything out the way she'd like it to look. She then begins the silversmithing process by using very basic pieces of silver. She cuts the metal down and then files the rough edges. From there, she works to shape the metal and clean it while it's still cold. Once cleaned, Meg heats the silver to just the right temperature then adds a solder (a fusible metal alloy used to create a permanent bond between metal workpieces) to join the metal together. After the metal has cooled, the piece is cleaned, polished, and finished. This process can take anywhere from a few hours to a few days, depending on intricacy. Shortly after her first silversmithing class, she used this process to create a pendant that features a piece of turquoise she bought from a classmate. "It's a piece I'll probably wear forever," Meg says, "not because it's particularly great, but because the stone is amazing and it's one of the first I created on my own."
Her friends and family helped develop Shoot Dang Silver from the start. Meg went through a couple of different names herself, but nothing felt right. It wasn't until a brainstorming session with her friends Matt and Sarah that they came up with "Shoot Dang Silver," inspired by the fact that Meg used the phrase all the time. They also helped her come up with the logo, which her cousin, Frankie, then designed.
She felt "a little lost" at the beginning, but when she came back to Missouri because of COVID-19 she rediscovered her roots and why she started silversmithing in the first place. "Ever since I was little, I always liked creating things," she says. "I really don't consider myself an artist. I consider myself more of a maker, even if what I'm making turns into art."
She adds: "It feels good being back in Columbia. The community has been super supportive — artists and non-artists alike."
The future of Shoot Dang Silver isn't set in stone. When asked about it, Meg says: "I am really happy with it now. It would be great to make it something I can maintain forever. What I love the most about it is that it's never the exact same thing. I know if I get bored with what I'm doing, I can learn a different skill and come up with something new. I don't know where the future will take me, but I hope to learn more techniques and continue to evolve."
The typical price range for silverwork with a stone is $80 to $150. Silverwork without a stone is in the $50 to $60 range, as buying stones is one of the most expensive parts of the trade. Studs and basic rings are typically around $30. To purchase jewelry from Shoot Dang Silver, you can visit her website at www.shootdangsilver.com or check her out on Instagram, @shootdangsilver.