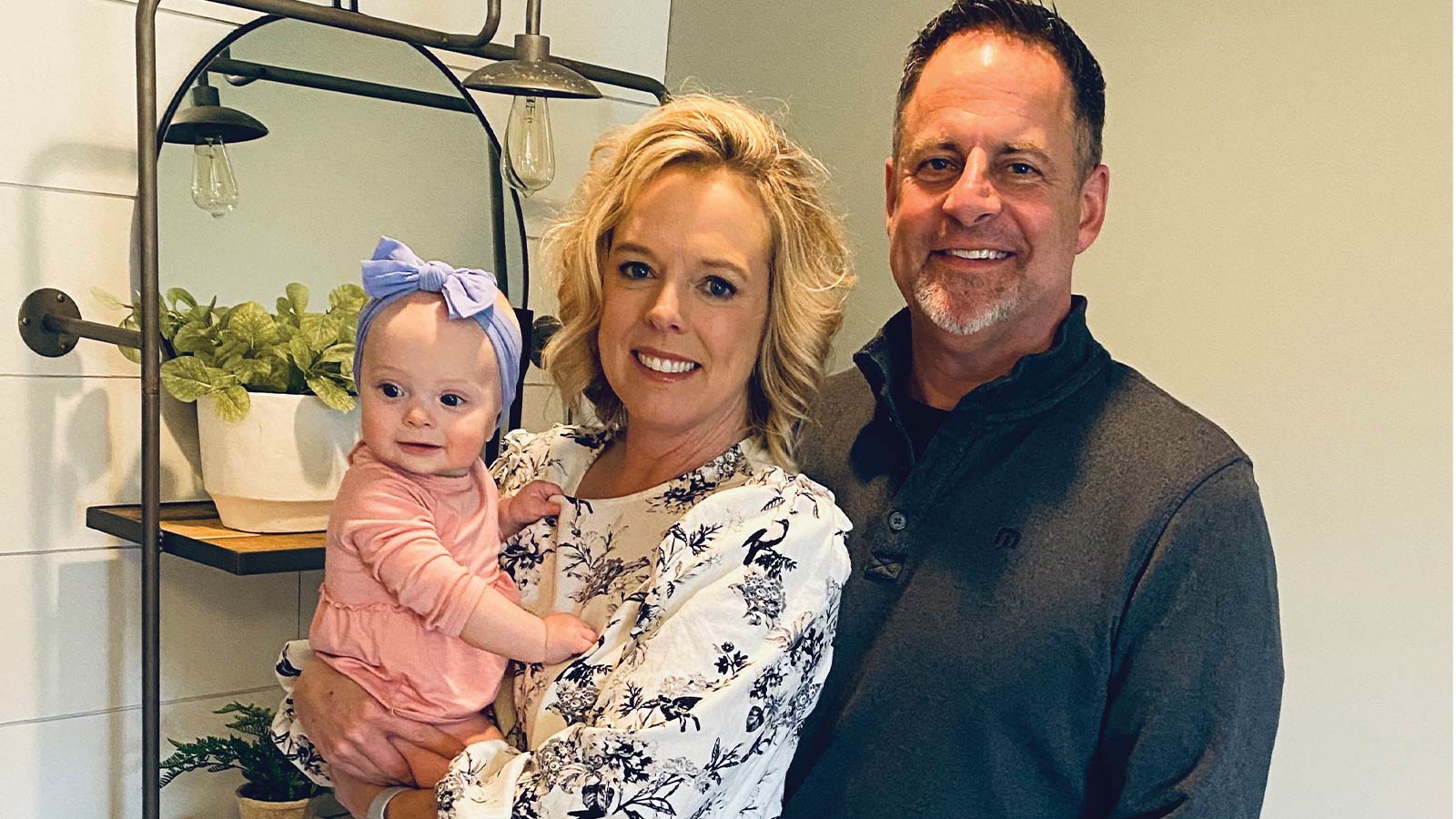 Angie and Eric Olsen share about their first date, their family, and their favorite activities.
How did you meet?
Angie: Eric and I met in high school in Minden, Nebraska. We had history class together our junior year, and as they say, "The rest is history!"
What was your first date?
Eric: We went to my best friend's house and watched a movie with him and his girlfriend on St. Patrick's Day in 1984.
What do you like to do in your free time?
A: In my free time, I love to boat at Lake of the Ozarks, travel, bake, take walks, watch sporting events, and spend time with family, friends, and our sweet grandbaby, Harlow Rae.

E: Boating, spending time with family, and bow hunting.

How would you describe your relationship in one word?
A: Blessed.

E: Compatible.
What's your favorite date night spot in Columbia?
A: Our favorite date night spot is CC's City Broiler with a bottle of Silver Oak cabernet sauvignon. We haven't been in Columbia for quite a year, so we look forward to learning about more great date night spots. Food places are our favorite date spots!
What are some of your favorite outdoor activities?
A: My favorite outdoor activities are walking, boating, laying on a beach, and pool time.

E: Boating, walking, hunting, and the beach.

What has been your favorite project to work on together?
A: I don't know if you would call it a project, but we trained for the Lincoln Half-Marathon together in 2015. I had a bucket-list desire to run a half-marathon before turning 50! Eric is not a runner. He hates it. I have been a runner since I was in second grade. We made a promise to cross the finish line together and we did just that!

E: Raising three great kids.
What brought you both to Columbia?
A: Eric had the opportunity to join the McLarty Automotive Group and become general manager of Joe Machens Nissan. I'm a real estate agent at Iron Gate Real Estate.

E: I had an opportunity to take over Joe Machens Nissan as the general manager.
What is the key to a lasting and healthy relationship?
A: The key to a lasting and healthy relationship is good communication.

E: Putting Christ first in your relationship and having a sense of humor.
What does the future hold for the two of you?
A: The future holds a second granddaughter for us, and we are ecstatic! We also look forward to a continued partnership with McLarty Automotive Group and the growth of Joe Machens Nissan.

E: Someday, we would both love to "retire" on the water somewhere.
What is unique about your relationship?
A: We are best friends and have been for 36 years. We do most things together and have a lot of fun!

E: We truly are best friends and we love hanging out together.