A Hand Up, Not A Hand Out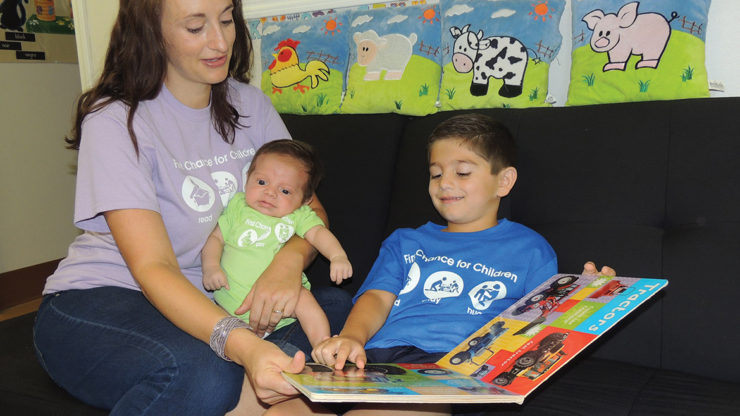 First Chance for Children focuses on kindergarten readiness and educating parents.
First Chance for Children is a hidden gem in Columbia for some parents. Offering a plethora of services for parents expecting a baby and parents of young children up to age 5, First Chance is passionate about providing family education to Boone County and surrounding counties.
Nearly two decades ago, before First Chance was formed, an organization called Boone Early Childhood Partners coordinated services and built resources to improve school readiness in Boone County. In 2004, BECP partnered with Project Construct National Center to conduct a countywide school readiness assessment that found that 16 percent of children in Boone County entered school without the necessary skills to succeed.
The following year, BECP revamped its mission to inclusively support the entire system that affects kindergarten readiness, says Kasey Schaumburg, executive director of First Chance. In 2006, BECP changed its name to First Chance, expanded their coverage area to include surrounding counties, and focused specifically on kindergarten readiness.
"At the time, no one really knew what [kindergarten readiness] looked like or why it was so important," Schaumburg says. "But we were seeing numbers come out of Boone County that kiddos, when they got to kindergarten, weren't ready to learn."
Most rapid brain development happens within the first five years of life. "The research shows us that if we can help kiddos be ready for kindergarten, then we really can set them up for lifelong success," Schaumburg says.
Community Impact
First Chance serves about 750 families annually. The organization aids parents prenatally and families with small children through the first semester of kindergarten.
The nonprofit offers programs tailored to different age brackets to improve and enrich the lives of children and their parents. The Safe CRIBS Program provides a crib to families who don't have one in order to ensure their baby has a safe place to sleep. These families also receive a baby bag with essential items needed for infants, and they're put in contact with a First Chance staff member who will make at-home visitations to help answer questions the parents may have and provide other educational resources.
"The services we're able to provide give families holistic support when they just need a hand up," Schaumburg says.
Perhaps one of the most universal services First Chance provides is their Lend and Learn centers, which are located in Columbia and Centralia and are free and welcome to all. Each center is staffed with a parent educator and provides a safe, educational space for parents to come and play with their children.
The center is divided into rooms by domain. The art room allows children to paint and put crafts together. The preschool-inspired room is an imagination haven where children can play with puppets and dress up. The gross motor skills room lets children climb stairs, go down slides, ride scooters, and play with trucks. The infant space is a quiet room for parents to feed their babies or work on tummy time, a pre-crawling exercise.
These rooms fuel children's creativity and support their development while providing them with toys they may not have access to at home. The parent educators are available to offer insight and answer questions.
"Parents can come to the Lend and Learn and relax knowing that their child is in a safe environment with lots of toys to play with," Schaumburg says. "Or they might need some more structured help, and we do parent education and give parents the tools to be their kiddos' best first educator."
Schaumburg's favorite part of the center is the toy closet where families can check-out toys temporarily through a library-type system. The toys go home with the family until it's time to return them. This lets children have new toys to play with without the families purchasing them, which for some families eases a financial burden.
"The public library is wonderful because they've got books and toys you can check out, but they're lacking that human element," she says. "They don't have someone who can provide resources, information, and support like at First Chance."
How to Give Back
For parents who have benefitted from First Chance, some choose to volunteer through cleaning the toys, serving on the board, or by helping to raise funds or collect books.
Schaumburg often shares with people unfamiliar with First Chance that in low-income United States' neighborhoods, there is only one age appropriate book for every 300 children, while in middle-income areas, there are 13 such books for every one child.
Every dollar invested in early childhood education yields more than $8 in a lifetime return, according to the National Conference of State Legislatures. If society invested in early childhood education like they did K-12 education, the economic impact would be astronomical, Schaumburg says.
As more people spread First Chance's mission with more families, First Chance could reach more families that would benefit.
"You might not know it, but the person standing next to you in the elevator or someone you hold as a really dear friend might be struggling with a diaper need or are feeling really overwhelmed with their parenting," Schaumburg says. "You can let them know there are services available for them to make parenting just a little bit easier and that there are agencies out there that are wanting to support them through that process."
First Chance for Children
1010 Fay St.
573-777-1815
First Chance for Children
Mission: First Chance for Children provides early childhood programs and family resources to foster healthy outcomes for children and families in Mid-Missouri.
Vision: All children will arrive at school ready to learn and succeed in school and in life.
Founded: 2003
In fiscal year 2018:
Cribs given: 189
Families who visited Lend and Learn centers: 202
Delivered packages of diapers and wipes: 2,275
Books distributed: 4,205
Board of Directors
Abby Owen
Paul Prevo
Leanne Peace
Victoria Brees
Jeremy Milarksy
Kevin Carlson
Dr. Andy Quint
Tom Rose, DVM
Aly Beaudoin
Kate Stull
Jennifer Barth
Suzanne Cary
Austin Guaghan