The United Way Maximizes Their Impact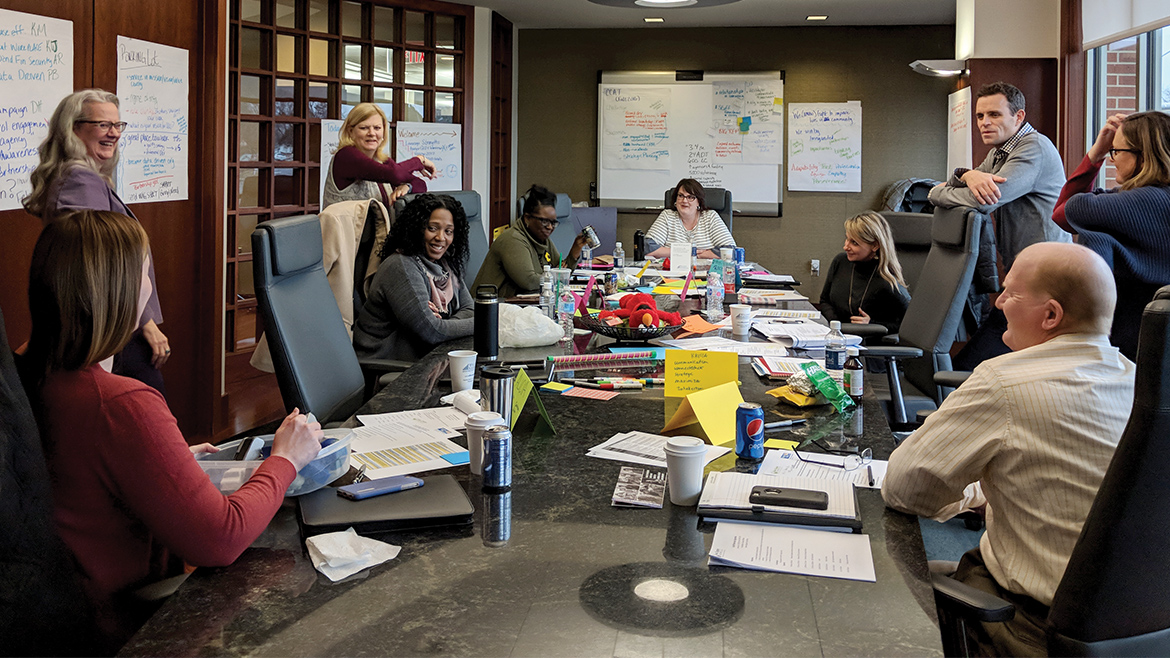 The United Way's allocation process aligns resources with the community's greatest needs.
One of the myths Executive Director Andrew Grabau hopes to debunk about the Heart of Missouri United Way's allocation process is that grant recipients are chosen by five or six people who gather in a smoke-filled room, behind closed doors, to make the decision.
Instead, the United Way makes sure that the community dollars that they are fortunate to receive are put to the best use in helping those who need it. "It's a high form of stewardship," Grabau shares, "and it's very deliberate."
This month, while the United Way is wrapping up their fundraising campaign, they will also be ramping up the allocations process. They award community impact grants in four areas on a rotating basis. Health, education, and financial stability grants are awarded every three years, while basic needs grants are awarded every two years.
Right now, the organization is preparing to award grants for financial stability to programs that boost work readiness, employment, and financial independence.
VOLUNTEER-DRIVEN
While the United Way staff coordinates the effort and provides the necessary training and information, the allocations process is driven by four volunteer groups consisting of more than 35 total members. The advisory council is one of those groups. They are selected each year to research the new grant applications and make a set of recommendations to the board.
"Last year, the advisory council spent more than 400 hours reading the applications, listening to the agencies make their pitch, going on site visits, and sitting in meetings to discuss the decisions," says Rachel Delcau, director of community impact. "They gave a lot of time."
Troy Norton, a CPA with Williams-Keepers, has been volunteering with the United Way for nearly 20 years. He started as a volunteer in the allocations process. "As a volunteer, we visit the partner agencies to learn about their impact in person, and we see a lot of their operational and financial information to evaluate the effectiveness of the programs and correlate them to the community needs," he says.
"This process provides our volunteers with the resources to make highly-educated recommendations," Grabau adds.
Some members of the advisory council are chosen for their expertise, whether academic or in the field, on a particular subject matter. Others are members of the community who utilize the services the United Way agencies provide.
"This way everyone from the donors through to those individuals using the services have their voices heard at the decision-making table," Delcau says. "That makes for a very well informed process."
Members of the 2019 advisory council will begin their training and research in February, visit agency sites in March, and discuss their recommendations in early April. The board will make the final decision on funding in late April and grant recipients are announced in May. Funding begins July 1.
IMPACT-FOCUSED
The United Way's efforts must be intentional because the amount requested from the partner agencies each year is almost double the amount the United Way has available for funding. Last year, they received 40 applications for education and basic needs, totaling $2 million in requests. They had $1 million in grants to award.
"The process of making the allocation decisions is a difficult one," Norton shares. "For all the great attributes of Columbia and the surrounding area, there are still many people in our community who need help to meet their basic needs and to prepare them to escape poverty."
The board's decision is made easier thanks to the work of the Boone Impact Group. BIG is a collaboration between Boone County, the City of Columbia, and the United Way to prevent duplicating work as funders and to make sure area agencies receive the funding and support they need. BIG meets weekly to share information, identify resource gaps, coordinate efforts, and tackle social issues together.
The group also developed a shared taxonomy of services. The taxonomy provides categories that identify services provided to individuals living in Boone County. Funding proposals require that the partner agencies use the taxonomy of services to identify what services they will provide.
"In order for us to measure shared outcomes as a community, we have to start with a shared language," Delcau explains.
One example Grabau likes to reference is their collaboration with Columbia Public Schools. Since 2012, the graduation rate has increased from 84.8 percent to 90.1 percent. To supplement the school's efforts under the community impact area of education, the United Way was able to fund over 73,000 hours of tutoring and mentoring.
Another example is their relationship with Phoenix Health Programs, a partner agency providing treatment for drug and alcohol addicts seeking recovery.
"We gave them funding for an innovative program and they leveraged it for larger state funds," Delcau shares. "So then we pivoted and reemployed their dollars elsewhere (within their organization) where they could be helpful. So the strategic part of our investment really paid off there."
STRATEGIC PARTNERSHIPS
Another myth Grabau likes to dispel is that the United Way knows what's best for the community. "We really value the partnerships we have with our agencies. We may be a nonprofit leader in our community," he says, "but our partnerships are absolutely essential in making sure we all succeed."
The United Way is proud to be investing in 45 programs and services with 33 local agencies in the targeted areas of health, education, financial stability, and basic needs for the 2018-2019 funding year.
Currently, the United Way is requesting letters of intent from partner agencies, who must be certified for 12 months before applying for funding. They will have a conversation with each partner to help them align their services to the taxonomy. "This way we can help guide them and give them feedback to make their application compelling,"
Delcau shares. Certified agencies will spend December and January filling out their grant applications.In preparation for this year's focus on financial stability and economic mobility, the United Way hosted a community summit on November 8 at Shelter Insurance. Attendees were asked  to develop a plan of action to move the community forward. This year's grant targets were informed by the outcomes of this summit.
"Currently, we're looking at data that shows that Boone County ranks in the 17th percentile of all counties in the country for economic mobility," Delcau says. "So we want our financial stability targets to move people on the path of economic mobility. We are hoping the summit will encourage our partners to develop and maintain programs that will effectively address these issues."
Grabau feels honored to represent the community and he takes his job seriously. "We're doing the work they've asked us to do," he says. "We have created this process to not be overly complex so that we can be good stewards of that responsibility."
Heart of Missouri United Way
MISSION
The Heart of Missouri United Way fights to improve lives in our community.
VISION
"Living United": By responding to changing community needs. By forging strategic partnerships and fostering effective solutions to tackle local issues. By harnessing the best resources and inspiring others to join the fight in defeating barriers to basic needs, health, education, and financial stability.
BOARD OFFICERS
• David Putnam, First State Community Bank (President)
• Aimee Davenport, Stinson Leonard Street (Vice President)
• Lee Hendrickson, Providence Bank (Treasurer)
• Erica Pefferman, The Business Times Company (Secretary)
• Teresa Magruder, Shelter Insurance Companies (Past President)
• Jim and Lisa Meyer, MeyerWorks LLC (2018 Campaign Chairs)
Heart of Missouri United Way
105 E. Ash St., Ste. 300
573-443-4523
uwheartmo.org