From the Inside Out: Rebecca Fitzpatrick
Photos by Keith Borgmeyer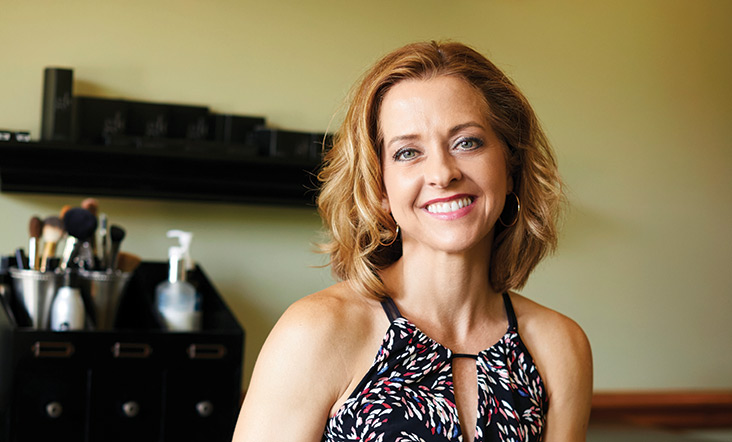 An up-close look at the Columbia women who help us feel beautiful.
Whether your beauty regimen includes facials, mani–pedis, and hair styling or you simply like to indulge in a relaxing massage or body wrap once in a while, Columbia offers many options in the way of spas and salons. Three such oases are owned by women whose love for esthetics and cosmetology is matched only by their passion for serving their clients with care, skill, and excellence.
Rebecca Fitzpatrick
Rebecca's Day Spa
Rebecca Fitzpatrick has a motto: To spend life living. When she's talking about Rebecca's Day Spa, which she opened in a small, cozy office at Victoria Park on Forum Boulevard in 2011, every sentence shows her focus on providing genuine care for her clients so they too can spend their lives living to the fullest.
"That's what sets me apart — true care for my clients," Rebecca shares.
The Shelbina, Missouri, native, who turns 47 in September, has had a few different careers over the years. She served six years in the Missouri National Guard military police, and then she became a certified orthodontics assistant. After her children were born, she was a stay-at-home mom with a part-time job at the Dillard's makeup counter at Columbia Mall.
"That's when I fell in love with skincare," Rebecca recalls. "I was a very good makeup artist. A customer hired me to do her whole wedding party, and that planted a seed to go into business for myself. I didn't know what esthetics was, but I knew I wanted to be a professional, licensed makeup artist."
Rebecca completed her education at Columbia's Cosmetology Concepts Institute in 2006, and then drove twice a week to Overland Park, Kansas, for two years to complete additional training at the Bioelements Learning Center.
During her training in Columbia, she was introduced to massage and says she discovered the gift of her hands. In addition to her relaxing facials and nail and waxing services, Rebecca enjoys providing clients with relaxing Swedish massage. For Rebecca, providing these services to a client goes more than skin deep.
"It's more than a manicure to me. It's a ministry," Rebecca explains. "I enjoy connecting with women from all walks of life. It's amazing to me when you're in a quiet, relaxing, and safe environment how women will open up. I have had many conversations during my one-hour manicures. It's been life-giving to me. "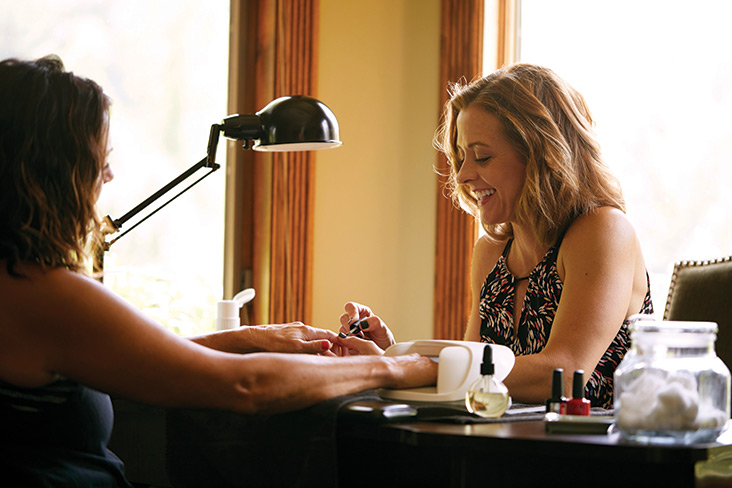 As the sole employee, Rebecca typically sees eight to 10 clients per day and is booked up to eight weeks in advance. She says being her own boss allows her to give her full attention to each client, as well as have time for self-care and family.
Rebecca gets up early every morning and relishes the time to herself before going to work. She also runs and practices yoga to replenish herself. Her routine helps her live in the moment and be present with her clients, her family, and herself.
"Family life, faith, work. It's all about balance for me," she says. "It replenishes me so I can give to my clients. I want to be able to change and impact women in a positive way."
Meet Susan Lueders, owner of Dermistique Face & Body.
Meet Marcie Olivas, owner of Regeneration Salon & Spa +Wellness.