From the Inside Out: Susan Lueders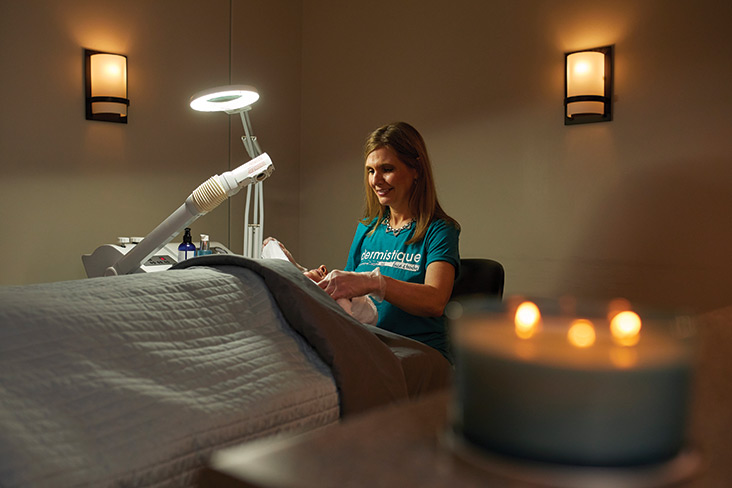 An up-close look at the Columbia women who help us feel beautiful.
Photos by Keith Borgmeyer
Whether your beauty regimen includes facials, mani–pedis, and hair styling or you simply like to indulge in a relaxing massage or body wrap once in a while, Columbia offers many options in the way of spas and salons. Three such oases are owned by women whose love for esthetics and cosmetology is matched only by their passion for serving their clients with care, skill, and excellence.
Susan Lueders
Dermistique Face & Body
Life changes significantly when you're diagnosed with cancer and lose your job in the same year. Just ask Susan Lueders. In 2000, at the age of 26, the Jefferson City native was going about life in St. Louis when she learned the dark spot on her arm was basal cell carcinoma, a type of skin cancer that came about from years of using tanning beds. She was then laid off as an office manager at a Y2K company that folded when the new millennium arrived without incident.
Susan's skin cancer was successfully removed and she found a new job. To deal with the stress, she started going to a spa for relaxing facials and fell in love with the services she received. She had found her calling in life: professional skin care. She became a licensed esthetician and moved to Columbia in 2003, where she worked at a few different salons before deciding to go into business for herself in 2008.
Now 44, the wife and mother of two is the owner of Dermistique Face & Body, a full-service spa located in The Shoppes at Stadium. The spa focuses on skin care, offering an array of corrective skin treatments and facials along with waxing, massage, nail, and makeup services.
"What I love most about skin care and esthetics is that they can truly transform the way a person looks and feels about their image," Susan says. "Corrective skin treatments can make a huge improvement for the customer in improving acne, lightening age spots, or just basic anti-aging. And, with the relaxing facials, it's extremely satisfying to hear someone say 'Wow, this feels like heaven! Thank you so much!'"
In addition to her love of skin care, Susan is savvy at business ownership and passionate about teaching her trade, and she strives to create a work environment in which her employees can grow in their careers.
"What I love most about my work, aside from working on the customer, is providing opportunities for the employees. It's a lot of work, but it's very rewarding," Susan says. "In this industry, the sky's the limit. It's all about helping our clients look and feel their best."
When Susan isn't at Dermistique, she's spending time with family, and admits that balancing home and work life isn't always easy. She says her family helps her achieve that balance by doing things together, like family game nights, hiking, fishing, and biking the Katy Trail. When Susan is enjoying that family fun outside, avoiding sun exposure is top of mind — not just because of her history of skin cancer, but also because she wants to set a good example for her clients.
"Today, if I'm outside, I re-apply sunscreen every two hours, wear a hat to shield my face, or even sit in the shade," she says. "And for the bronzed glow I love so much, I choose to wear a self-tanning lotion or get an airbrush spray tan."
Meet Rebecca Fitzpatrick, owner of Rebecca's Day Spa.
Meet Marcie Olivas, owner of Regeneration Salon & Spa +Wellness.