From the Inside Out: Marcie Olivas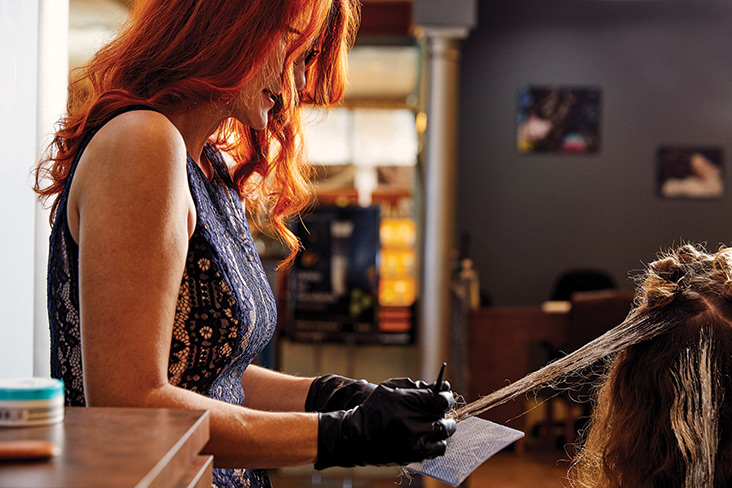 An up-close look at the Columbia women who help us feel beautiful.
Photos by Keith Borgmeyer
Whether your beauty regimen includes facials, mani–pedis, and hair styling or you simply like to indulge in a relaxing massage or body wrap once in a while, Columbia offers many options in the way of spas and salons. Three such oases are owned by women whose love for esthetics and cosmetology is matched only by their passion for serving their clients with care, skill, and excellence.
Marcie Olivas
Regeneration Salon & Spa + Wellness
"For me, it started when I was just a kid playing with my Barbie dolls, cutting their hair and making them beautiful," says Marcie Olivas, owner of Regeneration Salon & Spa + Wellness. "It just seemed to be a part of who I was. As I grew up, I was always cutting hair and doing makeup for weddings before I really knew what I was doing," she laughs.
Today, at age 50, the wife and mother of two definitely knows what she's doing. With 32 years of experience, Marcie is licensed in both esthetics and cosmetology, holds an instructor's license, and is a certified wellness coach with specialties in yoga and essential oils. Marcie is all about providing excellent professional services and training others to do the same.
Marcie grew up in Biloxi, Mississippi, where she received her training at a Pivot Point International satellite school. She then became an artistic hair designer for Matrix, a hair care and color company that is part of L'Oréal USA. She traveled extensively with Matrix, living in Colorado and Tennessee for a number of years before settling in Boonville, where she originally opened Regeneration as a small studio in 2009.
In 2014, Marcie was ready to expand to the current 5,000-square-foot location in Columbia's West Broadway Business Park. The salon has 12 employees who see 100 to 200 clients per week with services for hair, skin care, nails, massage, and coaching in mindfulness, yoga, and essential oils. Marcie does a lot of hair and skin care and is one of six instructors on staff.
"I love my business. Every day is different," Marcie says. "I love the guests who come in and I love making them over: cut, color, facial, makeup. I get the biggest thrill when they feel amazing and know they look good. I want people to look at themselves and see the reflection of what's inside of them."
As a hair stylist, Marcie spends a lot of time on her feet. Plus, she still travels with Matrix for hair shows and to train others in hair color, styling, and business practices. With her training in wellness, she knows just how to take care of herself so she can keep doing what she loves.
"I have a relaxation room at the salon. When we need a time out, the team and I use it just as the guests do while they wait for their appointments. We spend a lot of time at work, and a little lunchtime rest helps everyone," she says. "I have a regime for my hair and skincare, and I have a great team that takes care of one another so we all stay looking and feeling good."
The Regeneration mantra is "We transform beauty to beautiful." Marcie has devoted most of her life to helping others achieve that transformation and celebrating who they are inside and out.
"Beauty is what we have, but beautiful is how we feel," she says. "There isn't anyone who has beauty inside of them that you can't bring out. All we do is enhance what is already there."
Meet Rebecca Fitzpatrick, owner of Rebecca's Day Spa.
Meet Susan Lueders, owner of Dermistique Face & Body.