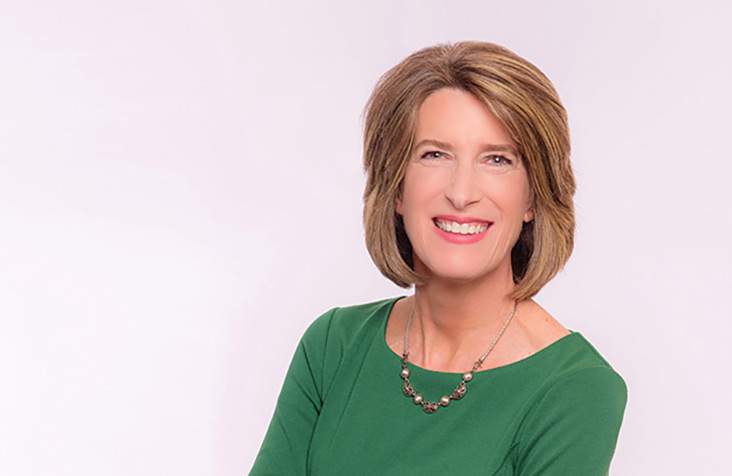 Former news anchor Teresa Snow writes her next chapter with MU Health.
photos by Justin Kelley
In public, Teresa Snow still gets asked about the weather or latest local news. It's a conversation that always makes her smile, especially since she hasn't sat behind the anchor desk at KRCG in almost four years.
"People don't realize that I ever left the news," Teresa says. "They don't know that I'm not still there."
The innocent mistake is a testament to the respect and influence Teresa established during her 26-year tenure as a newscaster, including 24 years between KMIZ and KRCG in Columbia. The community connected with her heartfelt storytelling and upbeat personality.
So if Teresa, whose dream of being on the news blossomed in fifth grade, has put her first love aside, what keeps her busy these days?
"I call it a newsroom on steroids," Teresa says.
Don't get intimidated by Teresa's official title: executive director of strategic communications and media relations for MU Health. At the core, her primary role is to shape and lead a robust newsroom focused on spotlighting MU Health's five hospitals and network of more than 50 primary and specialty clinics.
Her savvy and experienced team pushes out stories across a variety of platforms, from print to web to television to newspapers, that show the depth and breadth of the care being provided throughout the system.
It's been a fortuitous next step in her career. She has found a home where storytelling still courses through her veins, albeit with a bit more intensity and a new purpose.
"I was able to do well on television because people trusted me, and I think that MU Health Care trusts me to handle my area," Teresa says. "I was built for this chapter."
A New Era
On Monday and Thursday mornings, Teresa and her team fill a conference room in Responsibility Hall on the MU campus. These meetings bring together all the elements that have been essential to what Teresa has been shaping since joining MU Health in September of 2014.
First, there are the people. From day one, she has focused her efforts on assembling a collection of 18 professionals from all backgrounds of journalism. What has happened since has been a mushrooming of talent and energy to bring inspirational, hard-fighting patient experiences to life.
"We've got a lot of great content creators," Teresa says. "We have people who know stories and think about stories."
Then there is the collaboration. A writer cannot work isolated from the photographers and the videographers or vice versa. They want multifaceted stories and constantly explore how each one might translate into other formats.
"You have to collaborate here," Teresa says. "You can't just do your story and live in a bubble because that story can cross platforms. Everything weaves together."
That leads to the final element: the impact. Teresa's enthusiasm is never more apparent than when she describes how MU Health wants its good news to reach and educate the public.
To do this, Teresa has worked tirelessly to form media partnerships. Every week you'll find an MU Health-sponsored story in the Columbia Daily Tribune, as well as all GateHouse Media newspapers across the region, and on KRCG and KMIZ. They also have regular content in Inside Columbia magazine and Zimmer radio stations.
A National Impact
"In my role, I have to fly above the radar and find new opportunities for my people to create," Teresa says. "I'm opening a lot of doors for them to create."
But the intent isn't to stop with a strong regional presence. "When I joined MU Health, they were on this upward trajectory," Teresa says. "We want to be known nationally for what we do here in teaching, research, and patient care."
Teresa looks at Mayo Clinic for inspiration. That newsroom generates stories for local and national media every day. MU Health isn't quite at that level, but momentum is building. When Teresa started, an MU Health story got picked up nationally a handful of times a year, and in the past year, that's increased to a weekly basis. One recent video story about a patient who was diagnosed with melanoma via a telemedicine appointment ran on more than 64 TV stations across the country.
Equipping her team with the latest technology makes sure these sorts of stories continue to get produced. There are former dorm rooms filled with photo and video equipment, high-speed computers, a WhisperRoom (for audio recording), and more.
One of her proudest moments was getting the green light to purchase a ReadyCam video studio. This enables MU Health to quickly respond to live TV interview requests. If the "Today" show or Fox News calls for an expert, they could go live in minutes.
"The organization has supported our initiative," Teresa says. "They basically said we have the confidence in you, we see your vision, and we're going to invest in you. So here I am, at the end of my career, with great equipment, great space, and a great team. They've let us be really innovative. And people are really going to start seeing it."
A Different Mission
Teresa's only regret is that she doesn't have more time to go out and report. She's done a couple stories, including one on Rock Steady Boxing, a workout class for people with Parkinson's disease, but mostly she's content to focus on the big picture and push the team forward.
Even Teresa's family misses seeing her on television. In fact, they struggle to understand her current job. But whatever confusion exists is offset by the fact that Teresa, a mother of two sets of twins, has a more normal schedule. She started working nights in 1998, and part of her decision to leave television was motivated by the desire to be more present with her kids as they started high school. One set of kids recently graduated, and the other two will graduate next year.
Now Teresa is having a lot of conversations about their futures and what they want to give their lives to. One of her sons has a part-time job delivering food trays to patients at MU Health. They were talking recently about how he could be serving food at Taco Bell — also a perfectly fine job, but at the hospital, the mission is different.
Teresa likened it to her current situation. She might not be serving up the news anymore, but she's still promoting something that is worthwhile.
"I'm doing the same thing, but my mission is different, and I'm good with that," Teresa says.
"If we're educating the public, we're doing a good service."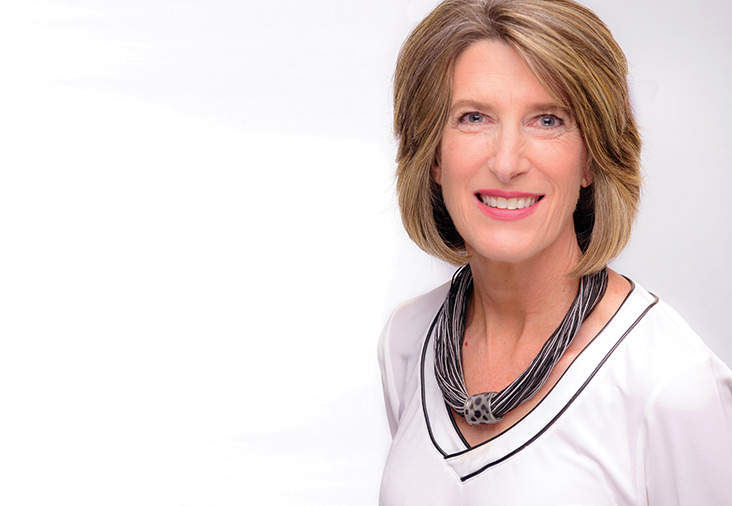 Who's Who in Communications
and Public Relations at MU Health
Justin Willett
Former editor and business columnist, Columbia Daily Tribune
Joe Walljasper
Former sports editor, Columbia Daily Tribune
Noel Feldman
Former video team member, Bleacher Report
Former content strategist and editor, Influence and Co.
Paula Morehouse
Former reporter and anchor, KY3 in Springfield
Deidra Ashley
Former Walt Disney Imagineer
Jennifer Coffman
Former anchor and reporter, KRCG
Former assistant director of outreach, The District
Caroline Dohack
Former lifestyle editor, Columbia Daily Tribune
Former adjunct instructor, Stephens College School of Design
Eric Maze
Former anchor and reporter, KRCG
Former senior director of news, WFTX in Fort Myers, Florida
Derek Thompson
Former news editor, Garden City Telegram in Garden City, Kansas
Jesslyn Chew
Former health news strategist, MU News Bureau
Justin Kelley
Former photographer, Fulton Sun
Kon Kostin
Former videographer, KMIZ and KRCG
Megan Noe
Former reporter and anchor, WQAD in Moline, Illinois
Ben Stewart
Former commercial producer, Networks of Mid-Missouri
Kent Faddis
Former producer, Cooperative Media Group at MU Extension
Former reporter and anchor, KODE in Joplin