A Capitol Conversation: Transition of Power: Introducing Governor Mike Parson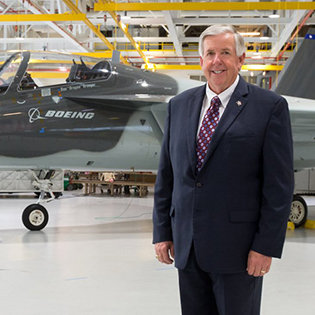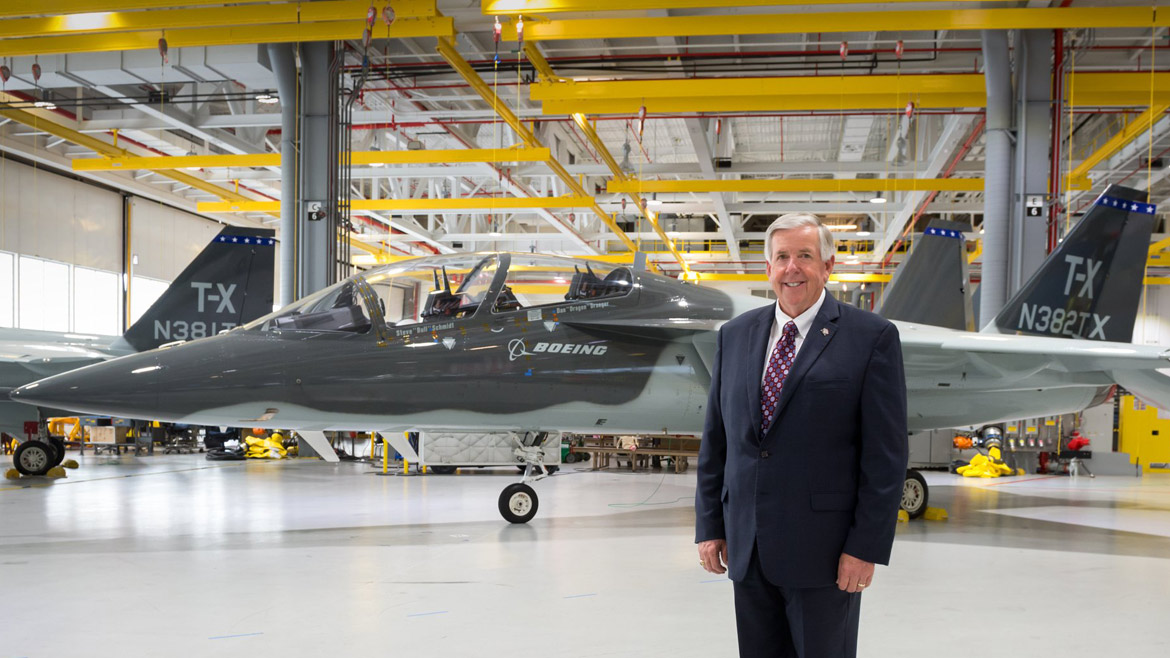 Sometimes, fate is realized with irony.
With all of the political drama surrounding the resignation of former Governor Eric Greitens and the ensuing elevation of former Lieutenant Governor Mike Parson to the office of Missouri governor, it's tempting to assume that Parson was thrust into a spotlight for which he was not really prepared. The story that he was putting up cattle on his farm in Polk County when he got the official news of Greitens' resignation certainly feeds that notion.
Some people might not remember that two years ago Parson had sought the top job only to change his mind and opt instead to pursue the office of lieutenant governor (possibly after seeing the big money going to other candidates).
He brought to that office — and subsequently to the governor's office — a background in county law enforcement and legislative representation both in the Missouri House and Missouri Senate. Even so, it's a safe bet that a lot of people across the Show-me State discovered him only when he became their governor.
Parson's credentials as a conservative lawmaker appear solid and familiar. Serving in the legislature for 12 years, Parson championed several high-profile causes. In 2010, he signed the pledge to not raise taxes, a promise championed by Americans for Tax Reform, the group led by conservative activist Grover Norquist. In 2014, he backed the "right-to-farm" amendment, giving farmers protection from environmental lawsuits. More recently, Parson championed expansion of Missouri's "castle doctrine," the second amendment legislation that allows people to use lethal force to defend themselves, their families, and their property without fear of lawsuits.
Unlike Greitens, Parson is an advocate for low-income housing tax credits. Greitens painted the program as a scam in which developers got rich off taxpayer subsidies without producing a return. Parson has described the program as essential to getting adequate housing into rural Missouri. He has put on the brakes, however, telling capitol reporters he intends to create a task force to study the efficacy of the program.
At this writing, Missouri voters have not yet weighed in on the right-to-work referendum on the August 2018 ballot. In 2015, Parson supported the idea of ending closed union shops, saying it was "worth a try." Reporters have also asked the new governor about the fuel tax question that will appear on the November ballot. Parson has responded by saying he is committed to improving Missouri's infrastructure. That's not an outright endorsement, but it's at least an indication he will not stand in the way of a tax increase for that purpose.
In his first speech to state lawmakers, Governor Parson called for a "fresh start." He subsequently has promised a level of transparency most reporters would not associate with his predecessor. And this comes from a policymaker who once was the target of a lawsuit over transparency.
Three years ago, Parson, then a state senator, barred news cameras (as well as cameras operated by advocacy organizations) from hearings held by his small business committee on right-to-work legislation. He promised access through gavel-to-gavel video shot by the Senate communications staff, but that entailed some delay. That led to a lawsuit by the liberal advocacy group Progress Missouri naming Parson and two other senators.
Ultimately, the lawsuit failed. The courts said the Senate can make its own rules and is not subject to the open meetings protections of Missouri's Sunshine Law. Even so, Parson appears to have turned a page. His gubernatorial staff says he will no longer block users on his social media accounts, as he did while serving as lieutenant governor.
Going forward, the sun could shine on the vacancy created by Parson's ascension to higher office. On June 18, Parson appointed Senator Mike Kehoe of Jefferson City to replace him as lieutenant governor. Like former Governor Jay Nixon (who once vetoed legislation to require a special election), Parson concluded that he has the legal authority to fill a lieutenant governor vacancy. Mike Wolff, a former Missouri Supreme Court judge and dean emeritus of St. Louis University School of Law, has noted that there is no law that authorizes such an appointment. Within hours, the Missouri Democratic Party sued the appointment.
At this writing, that question is pending before the courts.
Kermit is an award-winning 45-year veteran journalist and one of the longest serving members of the Missouri Statehouse press corps.