April Joy and Daniel Church met in January 2011 while working at University Hospital. April had just moved to Columbia for graduate school, and Daniel was training April at her job, which called for a lot of time spent together.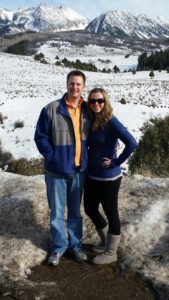 April was definitely interested in Daniel to begin with, noticing how great he was with his patients and how caring he was in general.
"I would drop hints like, 'Hey if you guys do anything after work, let me know!' But he never said anything so I figured he wasn't interested. Then when he left the job, I went to his going away party, figuring I didn't have anything to lose. We've been dating ever since!" April recalls, adding that, "Daniel claims he didn't receive any of my hints."
Daniel knew he wanted to marry April because he could be his total self around her.
"I loved how she adopted my dog and cat (my children) as her own," Daniel jokingly adds.
Daniel proposed on Dec. 10, 2015, which also happened to be his birthday. The two were at Daniel's house celebrating. April had already given him all of his presents when he suddenly turns around and says, "Will you give me one more present?"
"I was kind of like, 'Sorry, I don't have anything else; that was it…' Then I realized he was down on one knee in front of me holding the ring. Once I realized what was happening I was like was like 'Oh…! Of course! Yes!' Then after it had sunk in we called our family and I was like, "So… Daniel is not the only one who got a present today!"' April recalls.
April and Daniel are both looking forward to working together towards their goal and having someone for all the little things life brings. Their wedding will be in this Fall 2016 in April's home state of Minnesota.