Jessica Young and Jarrod Talbert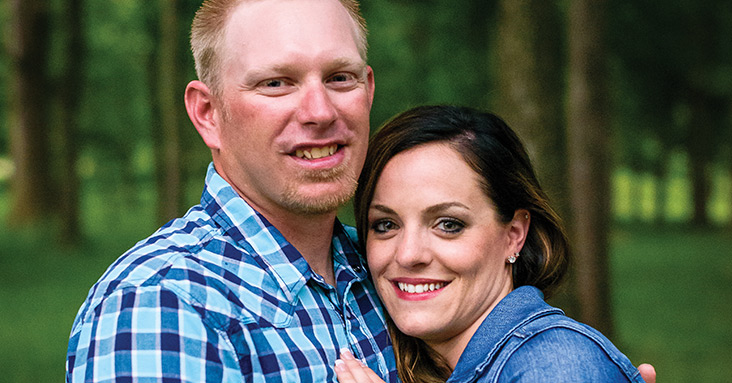 On their fourth anniversary, Jessica Young picked up a card for her now-fiancé, Jarrod Talbert, after a busy day at work, knowing that they were going to celebrate officially that weekend. When she came home, she saw a candlelit dinner, flowers, chocolates, the same exact anniversary card (which Jarrod had also picked out for her), and, of course, a custom designed engagement ring.
Jessica is a paramedic at University Hospital, and Jarrod works for Kansas City Southern Railroad, out of Slater, Missouri. Jarrod and Jessica enjoy the outdoors — hunting, fishing, golfing, playing with their dogs, playing softball, and having barbecues. They have both participated in mud runs, and Jessica says that Jarrod travels with her and cheers her on during triathlons and other races. They also enjoy country music.
In fact, they met at Whiskey Wild, at a concert that neither one had originally planned to attend. Jessica went with a friend, and Jarrod went with family. Jessica's friend recognized Jarrod and introduced them.
"Never one to be the center of attention, he was a hard one to convince to dance," Jessica says. Jarrod eventually agreed during a slow song. "Even to this day, he isn't much for dancing. Every once in a while, you can get him to dance to a few slow songs. We spent the rest of the concert together dancing to the slow songs and just enjoying the others. When the concert was over, he walked me to the car and asked me for my number and to go out on a date with him."
Jessica and Jarrod will get married in May 2017 at Sacred Heart Catholic Church, with an outdoor reception at Alpine Park and Gardens.
"Most of our wedding is planned," Jessica says, including the colors for the wedding and her plans for nails, hair, cake, flowers, tuxes, and photography. Jessica says she is just waiting on the dress, and for the day to come.