The Dish – Schmitt Crumb Cake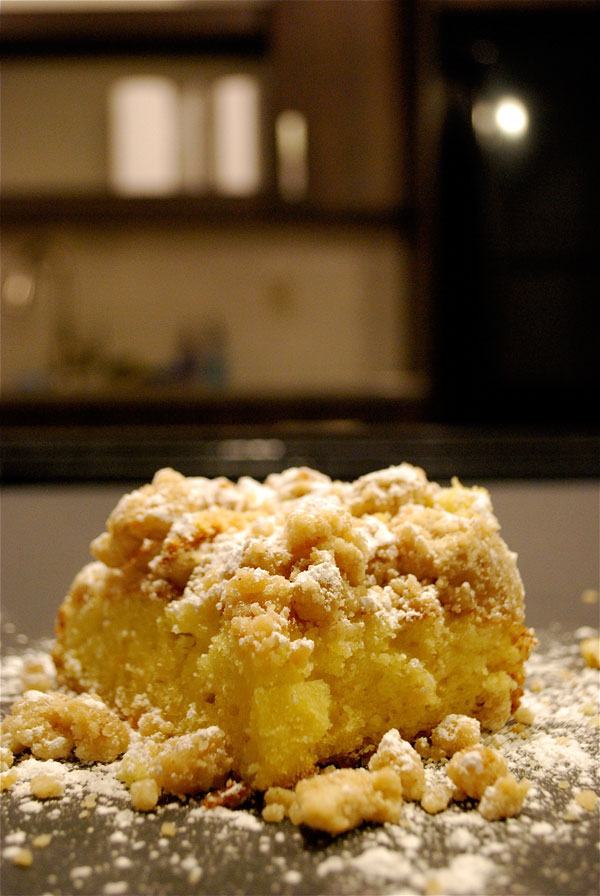 When my mom, Eileen, was a little girl, her mom used to make this yummy crumb cake recipe for bridge club. She and her sister, Cathy, would always wait in the kitchen for any possible leftovers after the game night! When we moved to Columbia in 1996 my mom misplaced the recipe. This past August, she and her sister went to a cousins' reunion in New Jersey and discovered that one of their cousins had the same recipe for her mom, Aunt Irma. I'm happy to have it in my collection now and for many years to come! This recipe is so moist and delicious with the perfect amount of crumb on top. You can use a little bit of powdered sugar to make it look picture-perfect. Thanks for the recipe, Mom!
Cake:
1 box Duncan Hines Butter Recipe Cake Mix
4 Eggs
2/3 C Milk
2/3 C Vegetable Oil
Crumb Topping:
4 C Flour
2/3 C Sugar
2/3 C Light Brown Sugar
1 Tablespoon Cinnamon
1 Tablespoon Vanilla
2 Sticks Margarine (I used Imperial)
1 stick Salted Butter (not off brand!)
Desired amount of confectioner's sugar for serving.
To prepare cake:
Spray and flour a 9x13in pan. Blend together cake mix, eggs, milk and oil for 4 minutes and pour into pan. Bake for 15-20 minutes at 350 degrees. Make sure that your cake is still a bit doughy when you remove from the oven.
To prepare crumb topping:
Melt margarine and butter, add vanilla and let cool. Mix flour, cinnamon and sugars. Mix into melted butter and vanilla mixture. Crumble and spread the topping on the cake. Bake for another 15-20 minutes at 350 degrees. Check middle of cake with a cake tester and bake longer if needed. After the cake has cooled, sprinkle with confectioner's sugar.