Cooking what's in season this summer

Summer is so much more than a season; it's a mindset, a mood, a way of life. Not only can you feel it arrive, but you can also taste it. With so many foods at the peak of freshness, every bite seems a little lighter and alerts your taste buds that the best time of the year has arrived. And with minimal effort, the ingredients that brighten your palate can be found in your own backyard. Columbia is blossoming with resources to help new and established gardeners take advantage of all that the season has to offer.
Kale
The super food that's perfect for stir-fries or smoothies
As one of the lesser-known but more versatile vegetables, kale deserves a spot in your garden this season. The leafy green is gaining considerable popularity for its distinct taste and unmatched nutritional value. "It has a really great vitamin content and is chockfull of health benefits," says Adam Saunders, public outreach coordinator at the Columbia Center for Urban Agriculture. "It's a very dynamic plant."
Grow it:
Adam suggests planting kale from early spring to early summer, though it's adaptable enough to be started virtually any time. The earlier you plant, however, the sooner you get to enjoy the fruits of your labor. Kale is ready to harvest when the leaves reach approximately the size of your hand. "The key is to harvest the bigger outer leaves and always leave at least three in the center to spur new growth," Adam says. "It loves to grow, so the more you harvest, the more it will produce."
Cook it:
The options for eating kale are virtually limitless. You can bake individual leaves to make kale chips, add it to a smoothie for a vitamin boost or throw it in a stir-fry, which is Adam's method of choice. He typically harvests whatever is available from his garden to get started. Some of his favorites include potatoes, carrots, beets, kohlrabi, radishes, asparagus and peas. After washing, he simply chops each ingredient into bite-size pieces, adds them to a skillet with a generous amount of olive oil or butter and lets them cook. He recommends adding kale and any other leafy greens in the last two minutes, along with your favorite seasonings such as salt, pepper, basil, thyme, oregano, rosemary or dried red pepper flakes. You can also add ground or cased meat after cooking it in a separate skillet for an easy variation.
Learn all about it:
Want to learn more about this increasingly popular plant? The Columbia Center for Urban Agriculture offers everything from one-on-one garden coaching to edible landscaping installation services. Explore its offerings at ColumbiaUrbanAg.org.
Tomatoes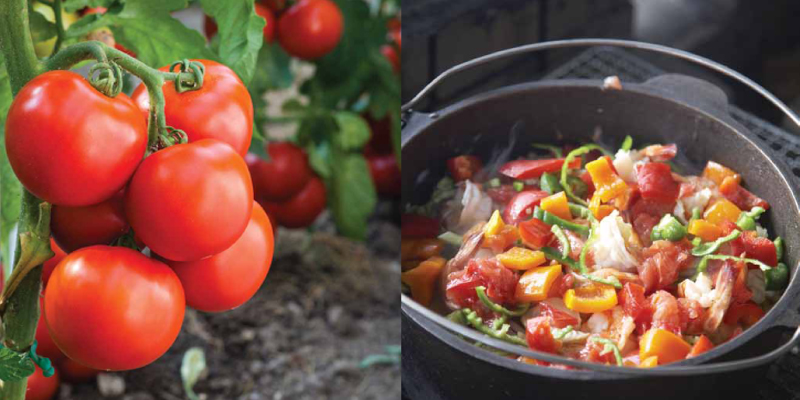 A classic option with countless uses
Nothing says summer like a fresh sliced tomato with a sprinkle of salt, at least to Steven Sapp, owner of local greenhouse Strawberry Hill Farms. According to Steven, adding tomatoes to your garden is an easy choice because of their high productivity and ease of care. "Compared to other vegetables, they have a high yield per square foot, so you can get a lot of tomatoes without taking up a lot of real estate," he says.
Grow it:
Tomatoes love light, so Steven recommends planting them in direct sunlight. "The more, the better," he says. "You just have to be diligent and keep them well watered." He also emphasizes the importance of maintenance. By removing the offshoots, or "suckers," that develop on the joint of two branches, you can stimulate further growth. "Caging or tying up your tomato plants as they grow will also ensure better production. Be sure to keep weeds pulled and lay straw around the base of the plant to hold in moisture, too. That way you will have a healthier plant that will be less prone to disease."
Cook it:
"My family loves tomatoes because they're a very multipurpose crop," Steven says. In fact, they often cook their tomatoes into sauces during the summer months and freeze them to enjoy throughout the year. To recreate their favorite recipe, simply combine crushed tomatoes, grated onion and other veggies of your choice in a skillet, and cook them until brown. Then add crushed garlic, basil, oregano, a pinch of sugar and any other seasonings you prefer to taste. Simmer for 10 minutes before adding a swirl of olive oil and salt and pepper to complete your sauce.
Learn all about it:
As a family-owned and operated garden center, Strawberry Hill Farms knows its plants and can provide extensive insight into growing, planting and caring for a variety of plants. Take a look at all the greenhouse has to offer at StrawberryHillFarms.net.
Strawberries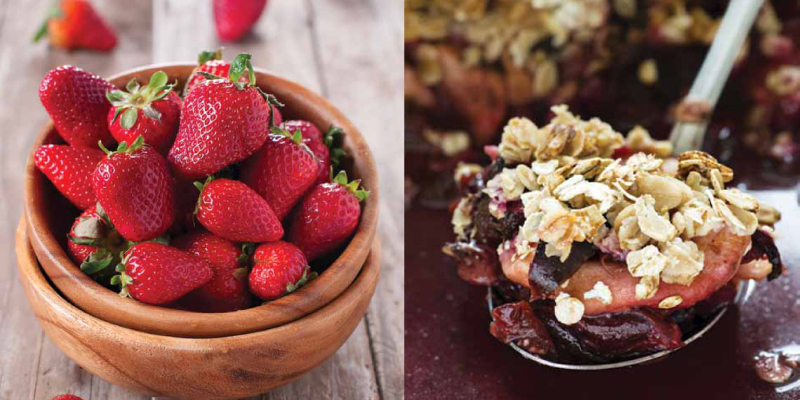 A sweet treat for early summer nights
From a quick snack to a decadent dessert, strawberries are a summer kitchen staple. You don't have to fight the masses at the market or store to get them either. "They're an ideal option for the garden," says Maggie Hopper, manager of the farmers market and commercial kitchen at Lincoln University. "Unlike other fruits, they don't take a whole lot of effort to produce."
Grow it:
Perfect for ground cover, strawberries are sprawling plants and should be planted at least 20 inches apart. "They help choke out weeds and are a great way to keep raised beds weed free," Maggie says. Strawberries don't get along with vegetables in the cabbage or broccoli families, so it's important to keep them spaced apart. The biggest issue you'll face with strawberries, however, is keeping wildlife away. "Squirrels are typically the culprit at my house. You have to cover your plants with bird netting to protect your fruits or be the first one up in the morning to claim them early."
Cook it:
Maggie's favorite summer dish is a warm berry cobbler. After preheating the oven to 375 degrees F, she whisks together ¾ cup of flour, ¾ cup of granulated sugar, 1 teaspoon of baking powder, ¼ teaspoon of cinnamon and ¼ teaspoon of salt. Then add ¾ cup of milk, and continue to whisk until the batter is smooth. Next, pour the batter into an 8-by-8-inch pan along with 2 tablespoons of butter. "The trick is to not stir," Maggie says. "The butter will pool around the sides and top, and that's totally OK." Lastly, she places an assortment of mixed berries evenly over the batter and tops it with nuts and brown sugar. Bake for 45 to 50 minutes or until golden brown.
Learn all about it:
Hosted at Lincoln University, the farmers market not only offers an array of locally produced food but also a wealth of information. Stop by and talk to Maggie and her team from 9 a.m. to noon on Saturdays and 5 to 6:30 p.m. on Thursdays.