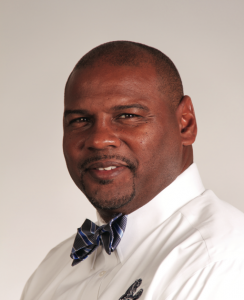 Name: Michael A. Jones
Title and company/organization: Head football coach, Lincoln University
Age: 45
Job description: I'm in charge of producing a successful program and recruiting, maintaining and graduating student athletes at Lincoln University.
Years lived in Columbia/mid-Missouri: Four years in mid-Missouri
Education: History major at the University of Missouri
Community involvement: Blue Tiger QB Club; Lincoln Foundation; Guns, Hoses and Roses football game and powder puff football; Casino Night; Chase Daniel football camps; the Heart Ball; Demetrious Johnson turkey giveaway; Linn, Missouri, Christmas parade
Professional background: I'm a twelve-year NFL veteran: six years with the Los Angeles/Oakland Raiders, four years with the St. Louis Rams and two years with the Pittsburgh Steelers. I played football for MU from 1987 to 1990. I also spent six years as a high school football coach for the Hazelwood East Spartans. Our team won the state championship in football in 2008, and I received the AP Class 5 Coach of the Year award the same year. I'm now entering my fifth year as a collegiate football coach (my fourth year as head football coach).
A favorite recent project: Casino Night, a fundraising event for the Blue Tiger QB Club. A 200-by-60-foot tent is erected in Dwight T. Reed Stadium, casino tables and dinner tables are set up, and it's a great night of fun for a worthy cause. Super Bowl champion head coach Dick Vermeil has attended two of the three Casino Nights. In a three-year period, the event has raised more than $60,000.
A Columbia businessperson I admire and why: Gary Pinkel and Mike Alden. As a former player at MU, I can truly appreciate the phenomenal job Coach Pinkel has done to resurrect and build the Mizzou Football program. The football program is competing and winning conference championships and BCS bowl games. Mike Alden has raised more money and built new facilities for all athletic programs at MU. Alden and Coach Pinkel have done and continue to do a great job of promoting the university.
Why I'm passionate about my job: Coaching is a labor of love. Your time, involvement and compensation can never be measured.
What I do for fun: I am a big movie fan.
Family: I am the middle child of nine. I have four daughters: Taelor, 24; Moriah, 23; Ashley, 18; and Sierra, 14.
Favorite place in Columbia: G & D Pizzeria
Accomplishment I'm most proud of: Winning Super Bowl XXXIV and winning the 2008 Missouri Class 5 Football State Championship.
Most people don't know that I: I played running back in college but played my entire NFL career as a linebacker.