Brynna Eads' Room of Hope
Brynna Eads battles leukemia with the support of a whole community and in the comfort of her home.
Picture a scaled-down version of ABC's Extreme Makeover Home Edition. You know, all the volunteers lined up with their tools, matching T-shirts, a crew of designers spearheading the redesign…the whole bit. That was the scene at the home of Stefani and Matt Eads.
The pink and blue T-shirts adorned by more than 15 volunteers read: "Brynna's Battle is my Battle," and represented the immense support for the Eads family by community members, family and friends. Brynna Eads, a three-year-old girl was admitted to University Health Care System's Women's and Children's Hospital at the end of January after her mother, Stefani, had noticed some unusual changes over the course of a few weeks.
"She had unexplained bruising on her body, and she wasn't eating like normal," Stefani says. "I took her into the doctor, and after they ran some blood tests on her, they admitted her to the hospital."
The blood tests confirmed that Brynna had abnormal white blood cells and to the horror of the entire Eads family, Brynna was diagnosed with Leukemia.
"It was incredibly devastating to hear the news," Lisa Christoffersen, Brynna's grandmother, says. "Before this, I didn't know much about leukemia."
And neither did anyone in the Eads family. Prior to Brynna's diagnosis, they had an overall healthy family history.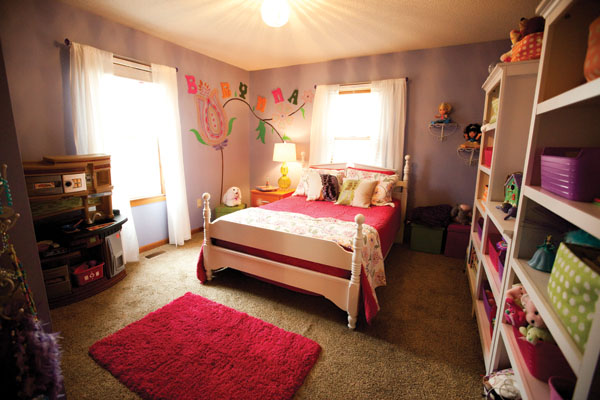 The New Normal
Once Stefani had had been informed of the news, her life was immediately flipped upside down. "I couldn't breathe when I heard the words come out of the doctor's mouth," she says. "And when I came home to get our things, I couldn't find anything."
From January 27, until February 21, 2014, Stefani lived with Brynna at the hospital. No, not at the Ronald McDonald House in close proximity but rather right next to Brynna.  She spent each night sleeping with her little girl in the hospital bed. "I just couldn't leave her side."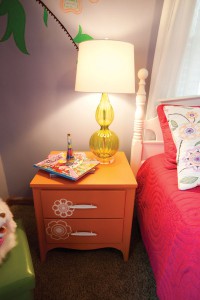 While Stefani spent every waking and sleeping hour at the hospital, Matt, Brynna's dad, would commute back and forth between home and the hospital. Lisa temporarily moved her things and work up from Branson up to the family's home between Pilot Grove and Otterville.
"I came up here to help keep Braedan's life as routine as possible," Lisa says. Braedan is Brynna's 7-year-old brother who understands his sister is sick but not quite how sick she is, according to Lisa. "It's hard when you don't understand what's going on, and your sibling is getting all the attention, especially from Mom and Dad."
A Community of Support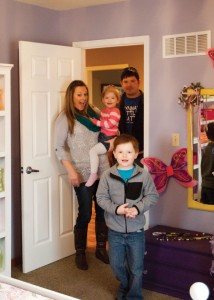 To say the towns of Pilot Grove and Otterville have created a small bit of hope for the Eads family would be an extreme understatement.
"Everyone in the community has reached out to help," says Jaclyn Inskeep, one of the volunteers who helped put together Brynna's Room of Hope. "Anything from T-shirts to Thirty-One Bags have been sold to raise money. People have even stop me at the bank to ask how they can help."
"Not everyone volunteering even knows the family personally," says Marcia Twenter, who rounded up the group to help assemble and create Brynna's new room, along with designer Sherry Hockman. "Within 30 minutes, I had all the volunteers we needed and then some."
And it wasn't just the manpower that helped make the transformation a success. Local businesses including Otelco and Unlimited Opportunities where Marcia and Paula Bishop, another volunteer, work granted their employees the day off to help without using vacation days. Unlimited Opportunities also provided lunch for all the volunteers, and snacks and goodies prepared by Katy Manor, Stefani's office.
"It's amazing to work with a community so willing to help," says Sherry Hockman, designer on the project. "People here are so willing to give of their time, talents and finances."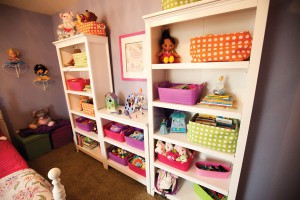 In comparison to other rooms that Sherry and her team have completed through Room of Hope, this one in particular posed a few more challenges. They are the same challenges that the Eads family experience when Brynna needs medical attention—distance.
"Being so far out from Columbia, you can't just run to Wal-Mart," Sherry says. The small town is located about an hour outside of Columbia, and one of the closest Wal-Marts is located in Sedalia. "But these women are used to that. The transportation of pieces here was the most challenging part, but I'm sure the community could have built it in a few days if they needed to."
The Road Ahead
For the majority of Brynna's stay at the hospital, she was running a fever, so she was unable to leave her room. Now, the three-year-old is battling her disease from her home. She takes medication daily and is under careful watch of Stefani and Lisa. However, the comforts of home only last for short periods of time. For the next one to two years, Brynna will try a new form of treatment each month depending on how her body reacts.
"I just have to stay strong for her and my family," Stefani says. And hopefully the gift of hope will help her to do that.
Originally, the family applied for Room of Hope with intentions of receiving a revamped space for Brynna where she could get better in a brand new room. And a redesigned room is exactly what she received: a reorganized space, storage for all of her toys, a mural painted on the wall to mimic the floral pattern in her new bedding—a room fit for a princess. But in true Sherry Hockman style, one room was not sufficient. "The reveal day is supposed to be a special day for everyone," she says.
Stefani and Matt also received a new bed fit for a king and queen. Instead of their full-sized bed that was often crowded with their children, Sherry brought in a king-sized bed and new bed frame. The window seat in their room was upholstered and pillows were added, nightstands were added next to the brand new bed and curtains were hung to create a relaxed atmosphere. And because Sherry could leave out Braedan, she also made sure he received some new games for his Wii.
"It's the little things that really matter," Marcia says, who knows the hardship the family has been through because of her own husband's battle with cancer. "Before you have an illness in your family, you don't get the whole picture. It's hard to see until you experience it yourself."
Brynna's health will continue to be a battle for both herself and her family, but at least she is now surrounded by walls that represent the power of community.
"You have to put a lot of faith in god," Lisa says, "and trust that he knows what's best."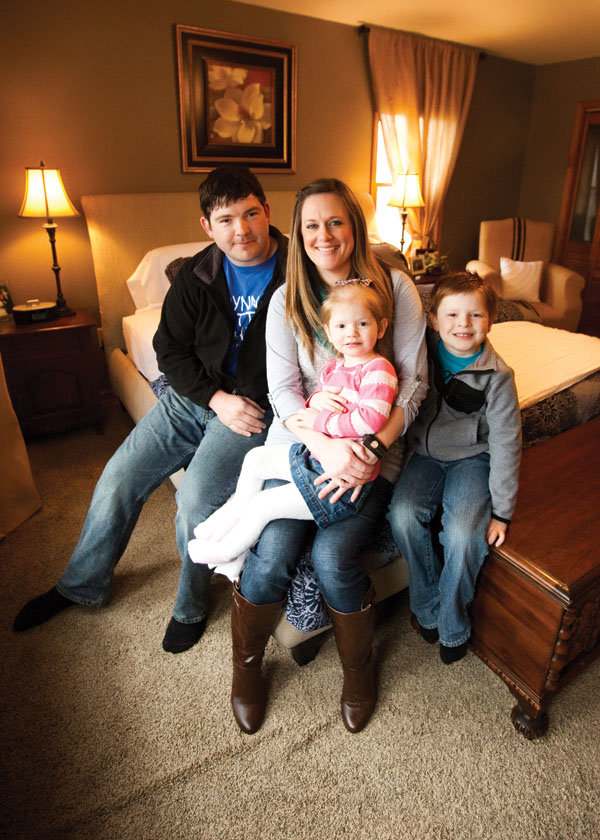 A Big Thank You To Everyone Who Made This Room of Hope Possible:

Sarah Arnold, volunteer
Paula Bishop, volunteer
Michelle Day, volunteer
Amanda Dill, volunteer
Carla Gerling, volunteer
Billy and Jaclyn Inskeep, volunteers
Andrea Siegel, volunteer
Marcia Twenter, volunteer
Valarie Twenter, volunteer
Lisa Christoffersen, Brynna's grandmother
Brandi Scott, Brynna's aunt
Leslie Davis, Sherry's team of help
Dietlinde Sitzer, Sherry's team of help
Slumberland Furniture for providing the bed
Gaines Moving for transporting the bed

Sherry Hockman, University Health Care System and Columbia Home have teamed up together to bring patients at University Health Care the opportunity to have a gift—a gift of hope. Each chosen patient receives a room redesign to help them cope with their medical challenges and feel at ease. These projects would not be possible without the help of volunteers